I have always loved Middle Eastern foods. The fresh vegetables, the liberal use of herbs and seasonings, including a touch of spiciness at times, and the casual way of eating that the food encourages. Meze is the term that's used to define all the "little plates" that get brought out to begin in a meal, served in little bowls often with pools of olive oil in the middle, waiting to be sopped up with soft pita or other flatbreads.
When I wrote about the Lebanese meze I'd had on a trip to the Middle East, I didn't realize that a number of people were all that interested in what vegetables went into it. (But who can blame them? I wanted to remake it, too.) Like a lot of those foods, people aren't necessarily following recipes – they're following their nose, and yup, you got it – they cook by taste.
Lebneh is made by draining full-fat yogurt for a few hours, or overnight, where it thickens and gets extra-tangy. To make a vegetable-flicked version, when it's done, you can mix in finely diced vegetables. But don't do it too far in advance as you want to vegetables to remain somewhat distinct. And in my case, the red radishes tinted the labneh just a little pink. Which isn't the fin du monde, but I usually like my labneh snowy white.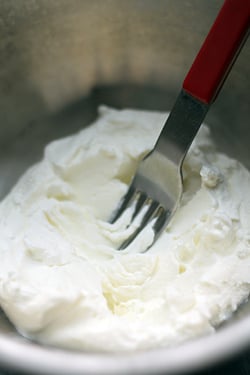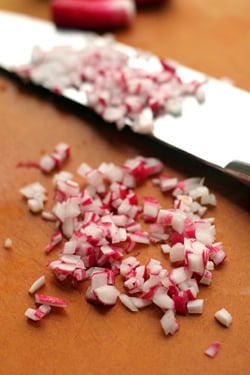 In French, you would call the dice of vegetables a mirepoix, and I remember one of my first restaurant jobs, I worked for an obsessive chef and he required the we make mirepoix for stock. It seemed like a colossal waste of time, but I'd spend hours finely dicing the vegetables (he would get mad if they weren't perfectly square – even though I often mentioned to him that many vegetables came rounded), only to watch him dump all the vegetables into the big pot of simmering liquid, only to be strained out later, and tossed.
Avoid the tendency to want to jazz it up too much. And I mean it. Instead, sprinkle herbs or whatever you want on top, so they don't get lost in the mix. Flat leaf parsley, tarragon, or fresh mint would be wonderful chopped up and scattered over the top. And resist the tendency to complicate it. Like many Middle Eastern foods, the flavor comes from using good olive oil. And unless you want to stir up any more conflict in the region, I would heed my advice.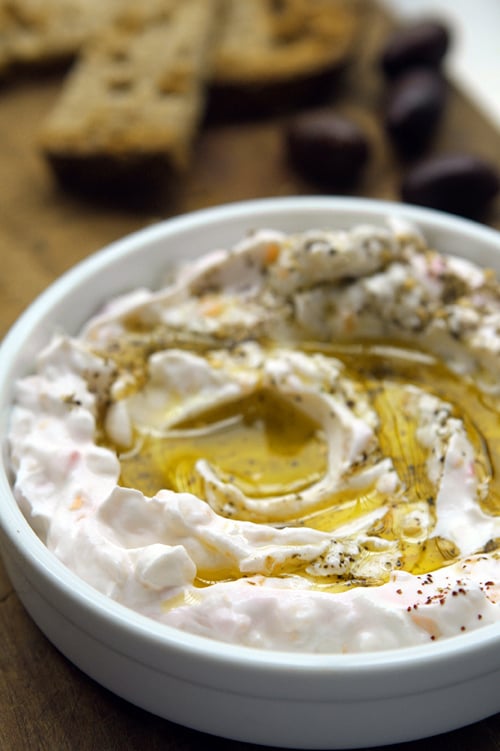 Labneh with Fresh Vegetables
You should use full-fat yogurt for best results. Not sure how lowfat would work, but this is pretty healthy as is and a little goes a long way – if you can resist it! If you want your labneh very thick, you can drain it for up to 24 hours. But I like it a bit soft and velvety. Finely diced celery, carrots, radishes, celery, kohlrabi or any firm-textured vegetable would work. Just beware that if you add red radishes and plan to keep it for any length of time, you'll find that the skins will tint the labneh a soft, rosy hue like mine did here. If you wish to swap out other vegetables, use about 1/2 cup (75g) of chopped vegetables, total. You can also make a half recipe, although it keeps for a few days in the refrigerator and it's nice to have something to dip into. It also makes an excellent sandwich spread, with sliced vegetables, hard-cooked eggs, or whatever else you like on sandwiches. I added za'atar and an extra pinch of sumac. You can find them in Middle Eastern markets,
online
, or make za'atar yourself.
1

quart (4 cups, 960g)

full-fat plain yogurt

big pinch

of salt

1/4

cup (40g)

finely diced radishes

1

tablespoon

finely diced scallions

,

spring onions, or green garlic

2

tablespoons

finely diced carrots

,

(peeled)

Extra virgin olive oil

Za'atar

,

or fresh herbs
Line a nonreactive strainer with a few layers of cheesecloth or muslin cloth (called étamine, in French.) Set the strainer over a deep bowl, one deep enough so that the bottom of the strainer is a few inches above the bottom of the bowl, where the strained liquid (whey) will collect.

Stir the salt into the yogurt, then scrape the yogurt into the lined strainer. Fold the ends of the cheesecloth or cloth over the yogurt and refrigerate for 8 to 12 hours.

Remove the strained cheese (labneh) from the cloth, which will be thick, and put it into a bowl. (Some people save the liquid whey and use it in soups, or as liquid in bread recipes.)

Stir in the diced vegetables.

Transfer the mixture to a shallow serving bowl and make a few swirls in the labneh, then drizzle in a fairly generous amount of olive oil. Top with za'atar, or some lively fresh herbs, and serve with bread for dipping.
Notes
Storage: While it might be tempting to make it all in advance, I prefer to add the vegetables as close to serving as possible so they retain their crunch and remain a bit distinct. You can make the strained labneh up to four days in advance.
Related Recipes
Za'atar (101 Cookbooks)