La Brocalou le Titoustock – French Antique Store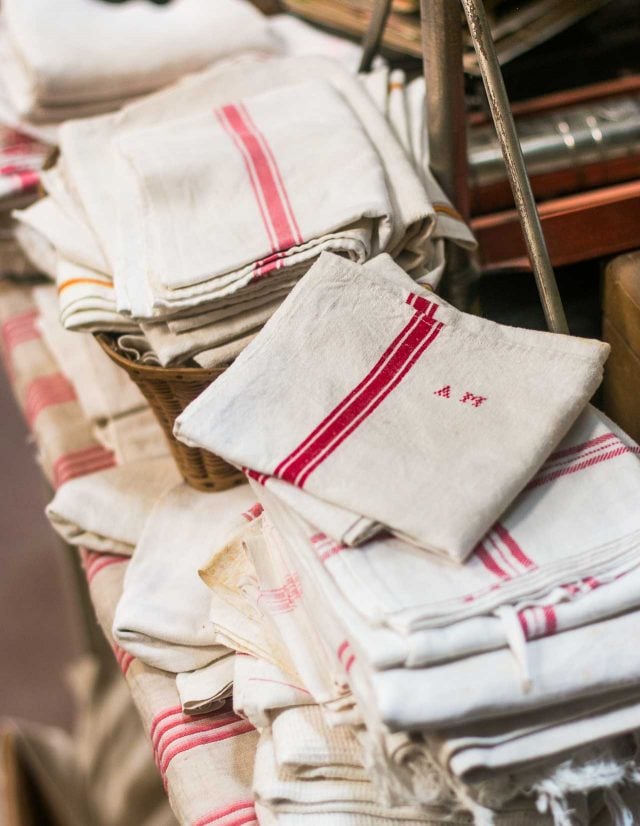 "Je n'en ai pas besoin, mais…"
Those are words I constantly tell myself when I'm at a flea market or brocante (antique or secondhand shop) and come across something that I like (or want). Piles of gorgeous French linens, mortars without (or without) pestles, French jam jars, and no longer loved café pitchers, get a once-over from me, as I ask myself that question: "I don't need it, but…"
While I'm asking myself that question, I might share a photo on social media, and soon others are chiming in with other questions, like "Where do you put all that stuff?"
For the record, I don't buy everything that I touch, or photograph, although it sometimes seems that way, I suppose. I do use a lot of the things that I buy for cooking and baking, although I think people would get irked if I posted a cake recipe that was made in some highly unusual (and unusually sized) cake pan or tart ring that I found in the bottom of a box at a flea market. So being a people-pleaser, I do practice more restraint that people imagine.
What I do buy, or more specifically, where I put it all, can be answered in L'appart, my book about building my kitchen.
So those enquiring minds (or inquiring minds) who want to know "Where do you put it all?" can rest assured that I didn't buy everything shown in this post. Although I did regret not buying this baguette cutter, even though I don't need it, mais…
But another question I get is, "Where is this?!" which I'm happy to answer here. While it's true you can score things at Paris flea markets and thrift shops, most of the good stuff is found digging around outside of the city. So you need to get out of town, like we do in the summer.
When looking for antiques and cast-offs at flea markets, I tend to focus on kitchen stuff, so imagine my surprise one day when we were driving near Angoulème, and I made Romain pull over when I saw a "Brocante" sign, something he's now used to. I think he's the only Parisian I've ever met that will ever back up for anything. And for that, I'm thankful, because it happens with great frequency when we're on road trips.
A favorite shop is La Brocalou le Titoustock, although to call two giant hangers packed with stuff a "shop" is kind of a stretch. Shopping there is more like a tournament, and you never know how, or what, you might score.
An eagle-eyed follower on social media pointed out that some of the things that I referred to here as being in an "antique store" don't qualify as antiques. True, I think the unofficial definition of an antique is something that's over thirty years old. And the unofficial definition of a collector is if you own three or more items of something, you're a collector.
Being well past thirty, and having a fair amount of things in numbers greater than three (whisks, spatulas, café au lait bowls, used kitchen knives, cake pans, cocktail glasses, etc…I won't go on, because someone will ask where I put it all…), I don't mind being called an antique myself (although I would prefer to be described as "vintage") but I definitely add to my various collection(s) every time I shop here. And sometimes, I start a few new ones.
Yannick Pons, the owner, presides over the place, and it takes me at least 10 minutes to get in the store, because there are so many things out front to look at before I even step inside…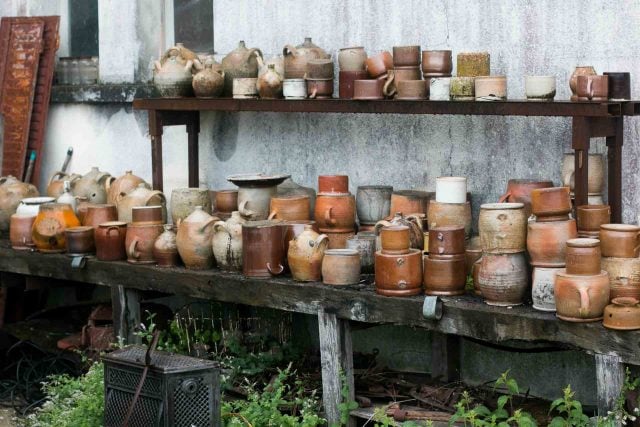 Some things have seen better days (as have I), so you need to sort through stuff, which I don't mind. But unlike other stores, Yannick has organized things by "type," so you'll find terrines lined up in one place, crockery in another, enamelware grouped together, and books and records stacked in separate bookshelves.
Romain has been a good cohort in my search for things. Not just because he has a station wagon, and goes through brake pedals as fast as I go through French butter, but because we're not in competition for the same things. Whew!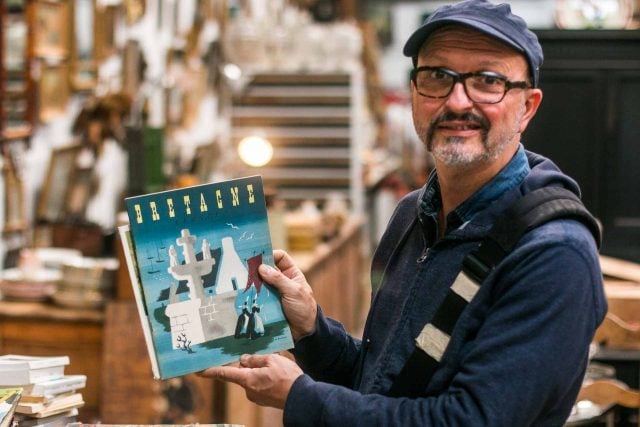 He also has a lot more patience than I do when antiquing and is more intrigued by things like books and pamphlets about regions in France, than he is over absinthe glasses and apéritif pitchers.
I added a few things to my collection(s) on this trip, including an old knife, some bottles and jars, and glassware, which I use daily.
I purchased a mortar and pestle last time I was here, but it's somehow developed a chip in the lip, just sitting on my counter (hmmm….) so I am sticking with what I've already got – warts, chips, and all.
I'm also overstocked with French jam jars, too, as is Yannick. I love the beautiful shapes of them, some old and some more recent. All are lovely, but I left them for others. You're welcome.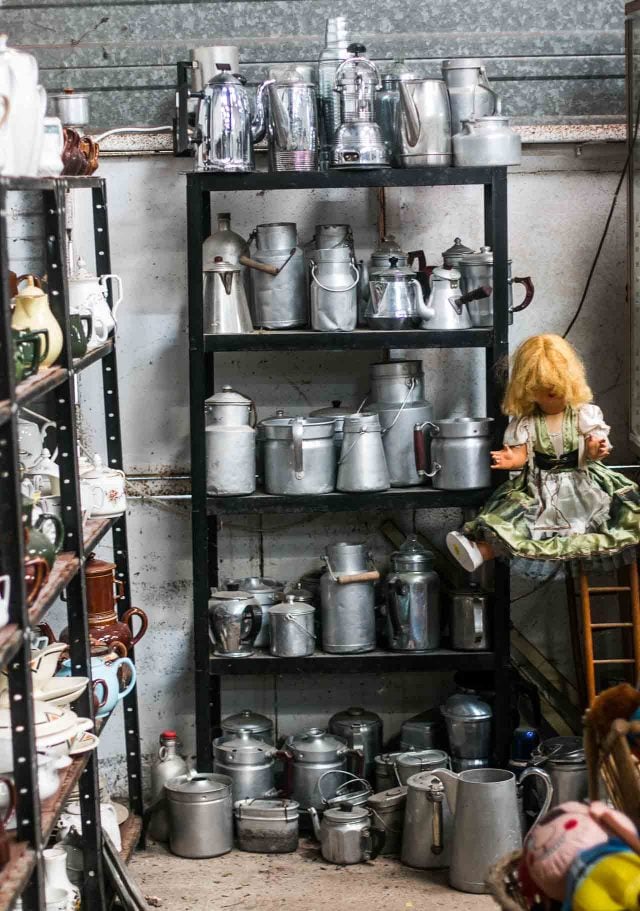 Drinks pitchers are something that falls into the "tiny cordial glasses" category: Things that look charming, and you're sure you'll use for all your subsequent next dinner parties. But somehow, you never do. Still, it doesn't hurt to admire them.
I didn't design my kitchen with a place for a bottle dryer, but I wish I did, because after rinsing and washing all those bottles I use for house-made apéritifs, I've been balancing them in my sink with a Rube Goldberg-like maze of contraptions, crafted from various items around my apartment, holding them vertically in place until they're dry.
And occasionally, due to my flawed engineering and miscalculations, I'll awake to a loud crash in the middle of the night. So I'm now on the lookout for a bottle dryer, one that's Paris apartment-sized.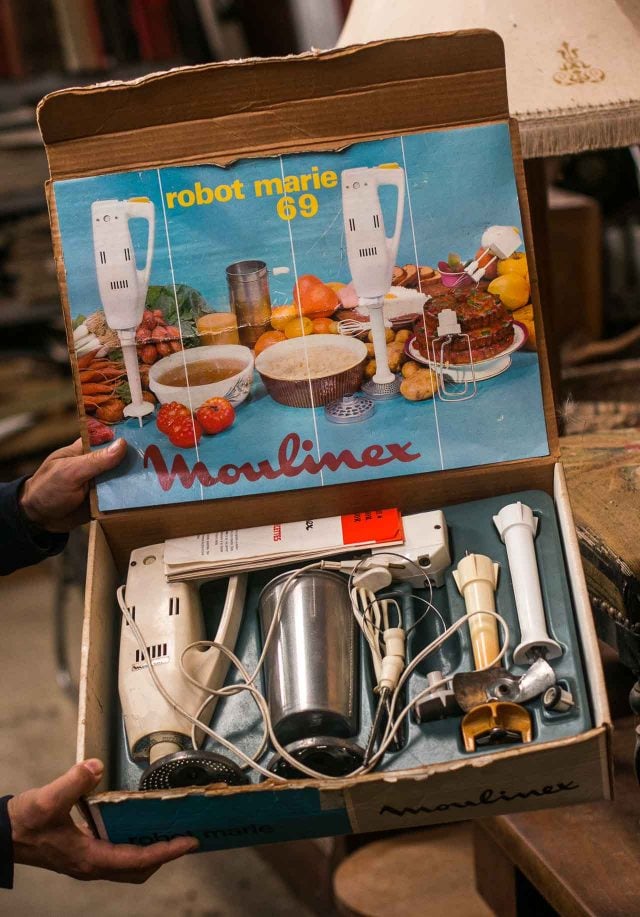 In another era, I was a collector of 50s and 60s things when I lived in a mid-century modern house in California. Items from that époque don't seem to jibe with my current aesthetic, but as my mother often said (when driving me around early Saturday mornings, with a list of garage sales in our town), it never hurts to look.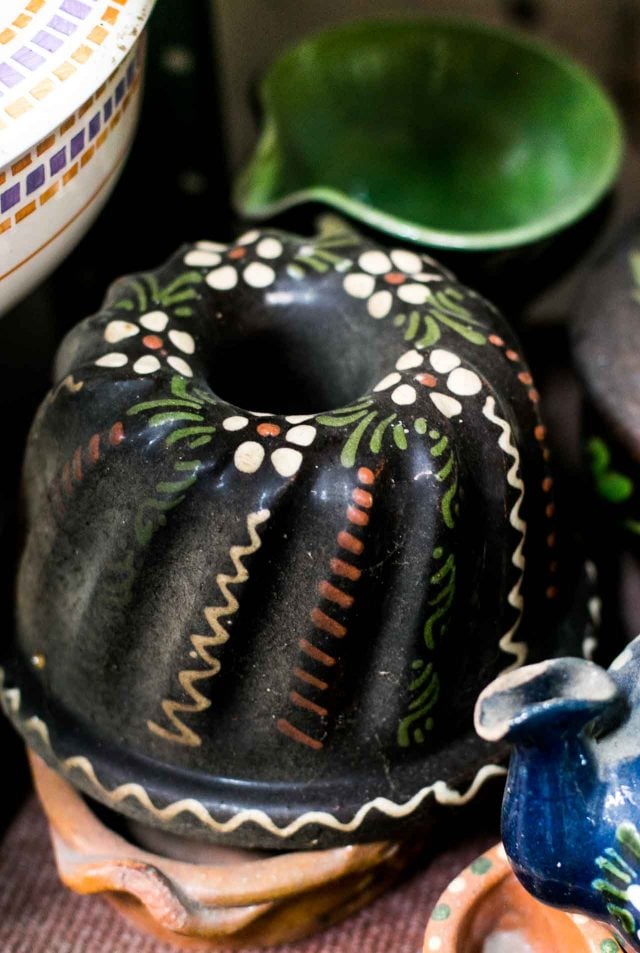 Before I wrap this up, I will confess that did come home with two others things that I didn't mention: Two gracefully vintage porcelain molds, to add to my collection of French pottery. The sizes don't correspond to any recipes that I have, or would come up with to share (unless anyone out there has a couple of soufflé molds that also are 6 7/8- and 8 1/3-inches, or 17.64 and 21.08cm), so I will probably end up admiring them from afar. But still, I couldn't resist them. And into the back of the station wagon they went, along with the rest of the stuff I bought.
Le Brocalou le Titoustock
2, route du Four à Chaux
79190 Mairé Levescault
Tél: 06 12 30 87 98
Shop hours can vary. The owner, Yannick Pons, often posts them on his Facebook page. You can send him a text/SMS (rather than call) to see if he's open as well. He speaks good English.
Related Links
Antiquing Outside of Paris – A shop with a good selection of vintage housewares, located less than an hour outside of Paris
Our Tour de France – Post with other addresses in France for antiquing
Paris Thrift Stores and Flea Markets
5 Tips for Negotiating at French Flea Markets (Marjorie R. Williams)
The Marché d'Aligre – Daily outdoor market and flea market
La Tuile à Loup – French pottery store in Paris