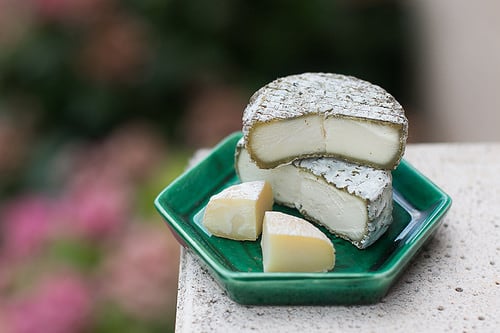 The French often say, "There's no need to leave France – we have everything here!" While it's easy to brush it off as chauvinism, it's true — for a country that could fit inside of Texas, there is a huge diversity of climates and terrains in one, single country. You can find everything in l'hexagone, from the windy shores of Brittany (where we've huddled around the fireplace, wearing sweaters in Augusts of yore), to the sunny south, where beaches are clogged with tourists and the few locals that choose to stay in town, to bask in the abundant sun of the Mediterranean.
After living in France for a while, I sometimes get the feeling that the country never gets a break on the summer weather. While it can be gorgeous, we were told that the day after we left Paris, the weather turned grey and cool. And while we had some nice days during our two weeks of travel, we hit quite a bit of uncooperative weather ourselves, that always seemed to be creeping up on us.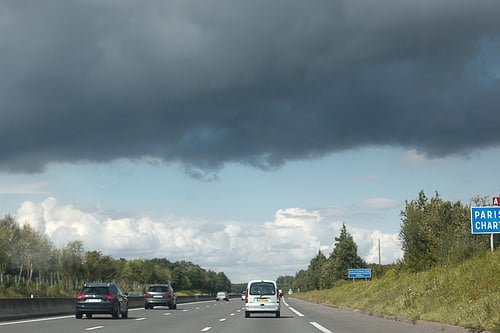 Being from San Francisco, I never look at forecasts and simply plan for everything. And anything. (And you'll see that in spite of my best efforts with photo editing software, I was unable to add in sunshine to the shots.)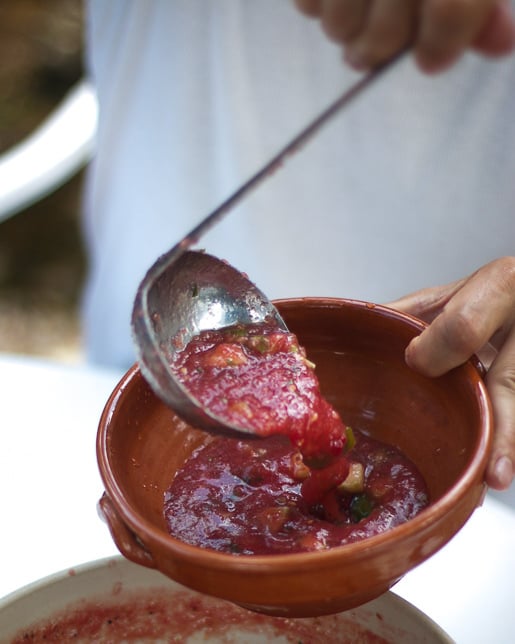 Since we were mostly éponging (sponging) off friends, by staying with them as we traveled, I had to brush up on my morning small-talk skills. I'm hopelessly terrible at responding to enthusiastic greetings of "Good morning!!" or "Hi! How did you sleep?" first thing in the morning.
It doesn't help that Romain is so talkative first thing in the morning that I often check his back, to see if I can take the batteries out. I need at least thirty minutes, minimum, to adjust to the new day – preferably without any commentary.
I also realized that I had to adjust to multiple systems of making coffee: staying with five different people meant five different coffee-making systems over the span of fifteen days – from contraptions that would confound Rube Goldberg, to jars of dark, water-soluble powders, probably best left uncapped. (And although I like to make my own coffee, whenever I made coffee, my French friends kept watering it down, saying it was too strong. So I eventually left it up to others.) If there wasn't the blowback about bringing my own kitchen tools when I travel, in the comments, I'd bring my own coffee pot as well. It's a little too simple, I suppose; you put water in the bottom, coffee in the top, then put it on the stovetop until done. No dials, no valves; only three parts to fit together. Voilà.
Our departure coincided with the first Saturday of the French vacation period, when there is a mass exodus from Paris (and elsewhere) outta town. It's one of the busiest days of the year at airports and train stations, and on the autoroutes. Of course, it was the day that Air France had a ground crew strike (good planning!… what ever happened to fraternité?) so we left at 5am, to get a start on our trip.
In addition to overly complicated coffee-making devices, another challenge is finding a good place to eat along the autoroutes. I try to avoid fast-food restaurants and chains serving pre-prepared foods. Since we weren't really in any hurry, at lunchtime, we decided to forge out on our own, going rogue from usual fast-food and chain restaurants on the highway, to find a bite to eat.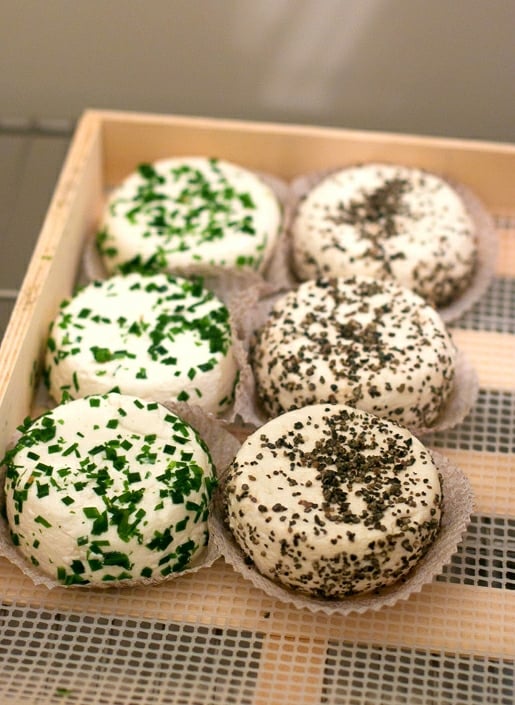 Even away from the highways, you really need to be poke around towns and villages, because small restaurants just might be serving cuisine Metro, named for a chain of superstores that sells ready-made food to restaurants and cafés. My strategy is to ask at a (good) bakery or fish market, where to eat.
At a bakery that looked good, we picked up a few Kouign Amann's to tide us over. And when I saw they were selling sacks of locally milled flour that they used for their "Breton" bread – with the symbol of Brittany embedded on top with, we asked for a local restaurant recommendation. And the woman pointed us to a nearby crêperie.
Unlike the other crêperie that we'd passed, one that was triste, as they say, or "sad", which was empty (and dingy), this one had a Fait Maison sign out front and was full.
After sitting down at a table at Crêperie la Violette (6, place Henri IV, Bain de Bretagne, 02 99 43 90 92) when we were handed menus, on page one – front and center – was a list of all the producers where they got their ingredients – everything from local goat cheeses and free-range chickens, to buckwheat flour and ice cream churned up by a local artisan. Then the owner came by to recite, proudly, where everything else was from. When I ordered a bottle of the local cider, which proved to be outstanding, the owner nodded in approval.
So in spite of the ruckus the new Fait Maison symbol (above) is causing, and a few people stretching the definition of fait maison (like the guy at an outdoor market we went to, who was, indeed, baking his tarts on premises…but using store-bought tart dough), and contrasting messages from a stop on the autoroute, with the mixed promise of homemade sandwiches (on the door), with the reality of a big, red machine (just inside) that spews out hot sandwiches…
…(someone on social media astutely noted the convenience of the garbage can next to the machine, which happened to be out-of-order)…the new symbol is giving restaurant owners who are using fresh products, and making things on the premises, a platform to be associated with.
The modestly priced hotel that we stayed at the first night, Le Relais des Îles, had a restaurant on the top floor, which proudly displayed the logo as well. And sure enough, at breakfast the next morning, instead of the individual plastic packets of jam and coffee so bad that you wanted to head back to bed, our hotel had locally made confitures, in flavors ranging from blueberry and elderflower, to tayberry, a hybrid between raspberries and blackberries, a berry that I hadn't seen since I'd left the San Francisco area.
The French woman at the desk told me that a local farmer was growing them. (Who was British.) And she told me when they first starting getting the jam, she had to look up the name online to find out what they were. They also had not one, but two easy-to-understand espresso machines for guests to use, rather than the usual thermal pots of jus de chausettes (sock juice), as the French say.
After visiting some family, it was onward to the Poitou-Charentes, where we stayed with friends who are farmers and have an organic farm, so we knew we'd eat well there, too. At our first dinner, we had sliced tomatoes with basil from their garden, homemade bread, and a giant bowl of arugula, undressed, which sat in the center of the table. Since they're pretty casual, it's not unusual to dip into salads (and anything else on the table) with your hands to munch on greens.
Romain and I were momentarily stunned at how delicious and fresh the greens were. Living in a city, it's easy to forget how much better lettuce and salad greens taste when they're pulled right from the garden. Heck, you don't even need dressing. Every day after that, I'd sneak away to the garden and pluck little leaves of peppery roquette (arugula) and snack on them. I didn't even miss my usual chocolate treats that I've conveniently scattered around my apartment.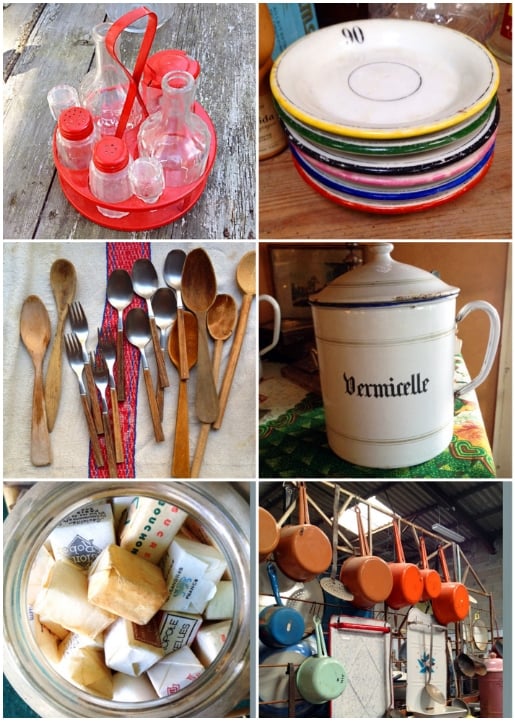 Fortunately we were driving on this trip, so that we could stop at all the dépôt-ventes and brocantes (antique stores) along the way. And having a station wagon made it easier to stock up! Although we almost had a few accidents when I screamed at my patient other-half to stop, when I spotted a brocante sign off in the distance.
I got scolded at a flea market for taking the picture of a few red-capped condiment bottles, on a wooden table near a fence (shown above), which I guess was because I was stealing their soul or something. So I only took a few random snaps, because I've been getting reprimanded a little too much lately. And it's no fun getting reprimanded. (If I want to do that, I go on social media.) Although I kind of wanted to bring it home, the owner persuaded me not to ; )
The first was the massive La Brocalou, a giant hangar of kitchenware, which was so full of great stuff that I told Romain that I needed a wide berth, and that he wasn't allowed to talk to me for the next twenty minutes while I took it all in. Everything was organized by type, from cutting boards to whisks, pots and pans, casseroles, and plates. It wasn't a bargain-basement, and you had to inspect items for chips, dings, and cracks. But I got away with a stack of vintage white coffee bowls, a 1950's book on French housekeeping, a few baking dishes, and some kitchen tools that I know I could live without. But life would be more enjoyable with them in my kitchen. So I got 'em.
Because many people asked where we shopped, not including the place where I got yelled at, here are the very good places we went to: La Brocalou Titoustock, Emmaüs de la Couronne, La Caverne d'Ali Baba, Guy Delestage, Le Tri-Cycle Enchanté. And good sites to find flea markets across France, of which there are many of in the summer, are Vide-Greniers and Brocabrac.
Speaking of Instagram, there was a kerfuffle on my Instagram stream when I showed a picture of someone eating foie gras, which is what the Lot and Gers are known for. And those regions were our next stop.
While even in France, foie gras has its detractors, it's still a part of life, and the culture, in the southwest of France. A local friend bought me an ancient gavage (feeding) gizmo, which I'm not sure what I'm going to do with. Perhaps use it for people that are cheating on the fait maison deal?
We had lunch at the beautifully situated Restaurant du Centre in Bassoues, whose limited menu featured chicken and steak. And judging from the looks of the place, and the prices – the fixed menu, which we didn't order, was around €12, including wine), we were going more for fun, than the food. The salads were loaded with duck confit, gizzards, duck tenders, and slabs of foie gras.
Speaking of getting reprimanded, if you don't liked boxed wine, this probably isn't the place for you because they had 20 liter (about 5 gallons) of boxes of wine, going at full-tilt with spigots, which they continuously filled the pottery pitchers with.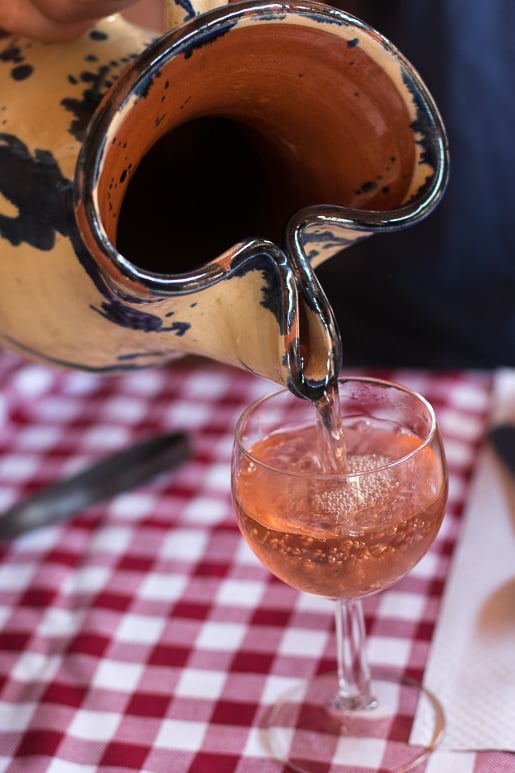 (Interestingly, the place just across the place sold pottery. And had a few pieces on display outside with a big sign of a camera with a photo interdit logo. I thought it was pretty funny and was going to take a picture of that because honestly, it was a table of pitchers and bowls. But even though I bought a few pieces, when the guy upbraided someone taking a picture, my apologies to you, but I thought better of it.)
Because it was vacation, I was concentrating on relaxing and enjoying the shopping, meals, and beverages served, which were part of the comedy of the restaurant. When we asked for mustard, one of the very friendly, hard-working young servers said that we needed to wait until the other table was through with it. (There were about fifty tables located around the square, which is an arguably pretty big task for one pot of mustard to manage.) We also had to wait for coffee, since they didn't have enough cups. So if you go, and want mustard (and salt), you might want to bring your own. Or buy some cups across the street. Just don't take any pictures of them until you do.
We had a lovely time in the Lot, a region that doesn't get as much attention at other parts of France, most notably, Provence. But I love the trees and greenery, as well as the magnificent stone buildings with pigeonniers (towers where pigeons lived, and their droppings were collected for fertilizer) and ancient chateaux.
Our friend pointed to a tangle of roads on a map of the Lot, waved his hand around, and said , "Just get lost in this area" which we kind of did. (No GPS, phone, or 3G service — quelle horreur! However, fortunately, I seem to have a built-in GPS for honing in on antique stores and brocantes.) But the area is small and although I'm an expert at getting lost, we found it. Mostly because when you pass something as magnificent as the Château de Bonaguil in Fumel, it's better than a GPS because there is nothing that can keep you from getting to it.
Since it was lunchtime, after parking the car, as we were considering going to one on the restaurants near the foot of the castle, a party of four was getting up to leave (before being served), and said to us "C'est pas très agreeable." ("It's not very nice.") So we opted from a place down the hill, which was just as touristed at the other places, but we had a decent meal and the servers were very agreeable.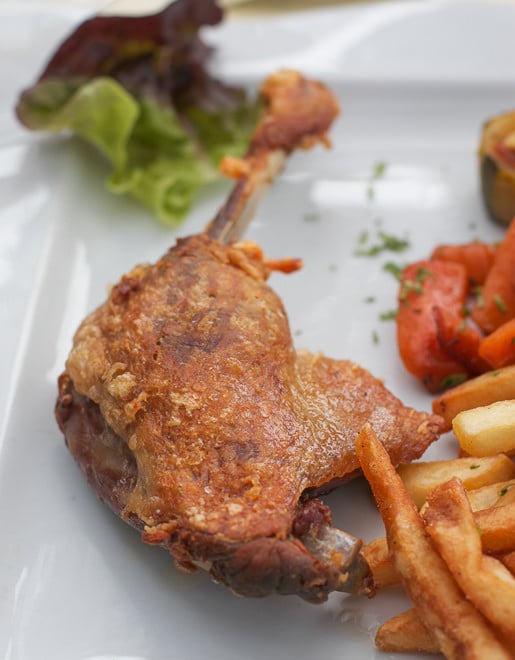 The confit of duck had a lovely, extra-crispy skin, which made me glad I insisted that Romain order the same thing, so I wouldn't have to give him any bites of mine. The desserts, unfortunately, were not fait maison and when I asked Romain how his Île flottante was, he replied, "Pas mangeable." ("Inedible.") I left 9/10ths of my Gâteau basque behind as well. Which was fine, because we figured dinner with our friends, with vegetables from their potager (garden), would be a treat to make up for it.
I hate when people complain about having too many tomatoes in their garden, because to me, there's just no such thing. I think Americans are hard-wired to eat tomatoes in the summer, and corn. And that's all I want for lunch and dinner in July and August. Seriously, nothing makes me happier than a big plate of tomatoes, except maybe some crisp duck skin, although once they had a big bowl of duck cracklings left over at Chez Panisse at the end of the meal, which the line cooks gave me to polish off after my shift. Later that night, I learned that yes, you can overdose on duck skin.
The ripest specimens made it into a big, chilly bowl of gazpacho (using the recipe from My Paris Kitchen), along with a trio of Cabécous – little cottony-soft local cheeses made from goat's milk, that are often sold in groups of three – that, interestingly, were bought at the local convenience store. (Maybe not fait maison. But kudos to 'em for carrying local products.)
We also indulged in some acorn-fed jamon Iberíco, aka: one of the best things in the world, that our friends brought back from a recent trip to Spain (which is driving distance away – another argument for road trips), that they served generously. And that we ate greedily.
Speaking of greedy, we had stopped at a goat cheese farm in the Gers the day before (Fromagerie du Raguet, Riguepeu), and had plenty of cheeses on hand from them.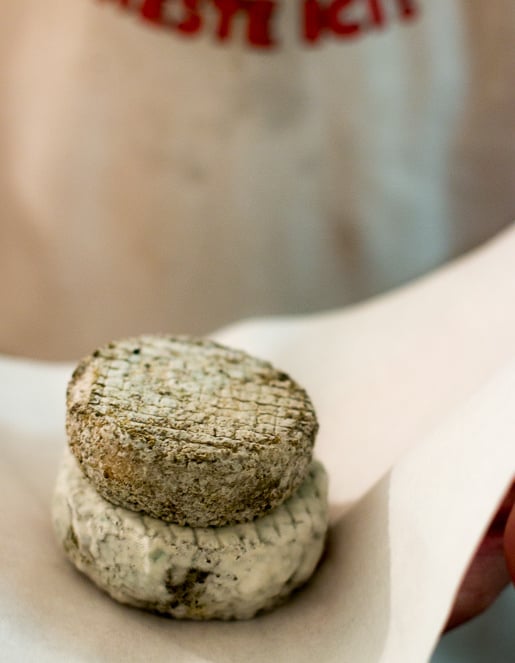 We'd been invited to a dinner the night before, and for dessert, out came an entire when of Brie de chèvre, a steering wheel-size round of cheese that was so gooey and oozing, that it had to be spooned from a big platter onto our plates.
In spite of the fact that everyone knows (or thinks) that French women don't eat, a French woman originally from the region, who was back for a summer visit from her home in New York City, had three generous portions of the cheese. I had two, and wanted more. So I asked our hostess to take us to the cheesemaker the next day, to get more.
After an hour's drive, of course, he didn't have any. (He also told me, "Sometimes it's good, sometimes it comes out just okay.") Fortunately I've learned while traveling to just enjoy something when you're there, and don't worry about getting any more, or taking it home. So eat up when you can!
(And fortunately, our hostess was kind enough to give us a big wedge to bring home. Which by the next day, was a big, goopy – and delicious – puddle of goaty goodness.)
She also gave us a few bottles of a leftover rosé from a tasting we did the night before. #9 was pretty awful, a new hybrid of rosé and port, meant to capitalize on the trend of drinking rosé. Since the French drink sweet white port as an apéritif, I guess someone thought combining the two was a good idea. (And no, I didn't dial-up that color in Photoshop.) Judging from how much was left over, I think they need to go back to the drawing board. Or better yet, just leave well enough alone.
We did make good use of the others, though…
I did, however, want to be a good houseguest…
So after visiting the biquettes (slang for goats), I stocked up on little rounds of goat cheese, which we had with our gazpacho dinner.
Our only concern was that apparently, there are a host of maladies that will befall you if you sit under a noyer, or walnut tree. I was told that walnut trees emit humidity, therefore making them completely unsuitable for sitting under. We decided to risk it anyway, and nothing serious happened. But I'm letting you know, just in case someone invites you to dine under one.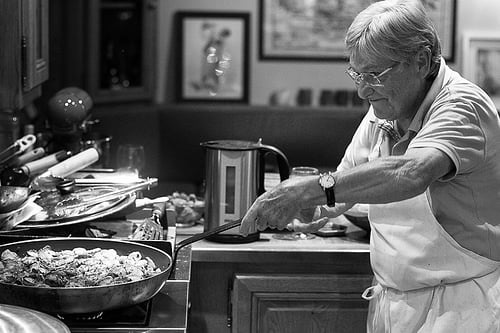 In spite of the nut tree emissions, people in the southwest reportedly are in good forme because they eat duck fat. I always keep a jar in the freezer for sautéing potatoes, but chef Dany Chouet came by to make us dinner (she had a French restaurant in Australia, then came back to the Lot in 2000, to live, and cook – which she wrote about in So French), she didn't skimp on the duck fat. Like, at all.
She poured a melted a few cups of fat into skillets and got to work on pommes sarladaises and frying up a few magrets of duck, which are the breasts from the ducks that produce foie gras.
As the potatoes cooked, and sizzled, we chopped a generous bowlful of fresh garlic for her to add at the end, along with a handful of parsley. She called me over at their neared completion, to listen closely to the potatoes "talking," after she had drained off most of the fat. During that critical period when the fried potatoes reach their final stage of crispness.
Once they were done, we headed outside – yes, under that hazardous tree – for a copious dinner of foods from le sud-ouest.
After polishing off all the potatoes, platters of duck breasts, a multitude of cheeses, a big leafy salad, and the rest of the wine, we hit our beds, ready for the following day, when we'd drive on to our next adventure.
---
Continued here…