Fête de Charcuterie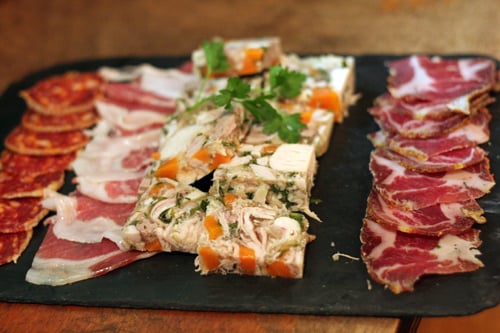 Someone recently asked me if people in Paris have started raising chickens in their backyard. I had to pause for a minute, and wanted to remind folks that Paris wasn't Brooklyn, nor does anyone have – at least in my circles – a backyard in Paris. And if they did, they could afford a country house and would raise their chickens out there. But French people also don't celebrate "the pig" with the same enthusiasm as the current craze in America, England, and other anglophone cultures.
There's no overpraising meat, fat, or pork products; things like pâté, rosette (salami), saucisson sec, and even museau (head cheese) because in France, they're all extremely common. Although things have changed a bit and nowadays, I would venture to say that many young folks would wrinkle their noses up at a plate of head cheese or tête de veau, and I was recently at a dinner party with a mix of French, Swiss, and Italian friends and everyone squirmed when the subject of consuming rabbit came up; I was the only one who said that I sometimes do eat it.
But lest you think I'm a killjoy on both sides of the Atlantic, I love charcuterie with as much gusto as the next guy (although being Parisian, I need to keep from over-expressing any feelings) and I'm perfectly happy to make a nice dinner out of a board, preferably, (not slate) of charcuterie, some pâté, a couple of wedges of cheese, crusty bread, and a glass or two of wine.
And wine bars are my favorite places to eat in Paris because the atmosphere is always fun and convivial. Plus the young people who work there are very friendly and are usually concerned with offering top-quality charcuterie, as well as being well-stocked in the vin department, too. In spite of it all, though, the idea of charcuterie isn't a cause for celebration or a fête in France (and to be honest, anything ending in "—palooza" probably has to be deemed as untranslatable) as much as it is in America, and Charcutepalooza took off last year as an online event, fueled by a combination of fermentation, fat, and a soupçon of fraternité.
It's popularity spread and eventually the organizers decided to run a contest, which was held on Food 52, and the winner got a trip to Gascony to cook with Kate Hill. And this weekend, a dinner was held in Paris at Le Volant (13, rue Béatrix Dussane, 15th) to fête the event. I'd never been to the restaurant but it was charming and the staff friendly, and the food offered various tastes of the Basque region, with the dried red pepper powder, known as piment d'Espelette seasoning a few dishes, and there was no shortage of disks of fatty chorizo sausage and cured hams to snack on with glasses of cold white wine, provided by the nice folks at Truffle Pig.
(And I must say, I've got a fondness for sturdy, colorful Basque linens that borders on the unnatural. Maybe I need to start Frenchlinenapalooza…?)
Peter of cookblog won the Charcutepalooza contest, which had some formidable competition. And we toasted his victory – as well as his free trip to France – (and meeting him, it couldn't have happened to a nicer guy) – over Basque wine and charcuterie, as well as fried duck hearts and circles of crisp blood sausage.
I skipped the blood sausage, but the duck hearts were great. And even though someone caught me ripping the stringy bit of fat off one of the slices of ham and setting it aside (in my defense, I'd had three tacos al pastor for lunch that day…and a potato-chorizo quesadilla…and guacamole & chips), I was still game to try a few things on the Basque-inspired menu.
I was happy to see lapin (rabbit) on offer. And although it's not something I would buy at the butcher, then tote the whole critter home to roast off, I occasionally like it in restaurants. There was so much pork passed around as appetizers that people took it easy when ordering mains, although a few of us gathered up our last bits of strength for dessert, scooping up spoonfuls of dense rice pudding which would have been nice with a drizzle of Armagnac caramel – or even shots of Armagnac alongside. But most seem to have had their fill and eventually we all said goodnight and stumbled out to go our separate ways.
I've been told that most good parties end with you waking up the next day with a tattoo affixed somewhere on your body. I made it home pretty late and when I woke up, I had a vague recollection of being initiated by Mrs. Wheelbarrow into the not-so-secret society of pork lovers. I'm not quite sure why, but I think they managed to turn a blind eye to that strip of pork fat I set aside, and those duck hearts I ate helped tipped the scales in my favor.
And while I'm no stranger to the sausage, I've now got a "handy" tattooed reminder of my fidelity to flesh and fowl, in the form of charcuterie…in all shapes, sizes, and textures. I just hope at a future date I don't find any others, embedded anywhere else. Gulp.