Fresh Corn Soup
When I was on book tour last spring, a charming woman brought me a personally signed cookbook that she thought might have once been mine. As some might know, I am still waiting for the two cases of cookbooks that were signed to me, that I sent from the states to Paris when I moved over a decade ago. Yes, I've been patient. Every time there's a knock on my door, I think that – yes – this is finally the moment when me and my precious, irreplaceable cookbooks, will be reunited.
Yet I have to tell you, I was starting to lose faith. I know, I know. I should keep my optimism aloft. But that woman brought a glimmer of hope (thanks!) by handing me this worn, paperback volume of The Taste of Country Cooking by Edna Lewis.
However two pages after the dedication to "David," in June of 1987 (which would be about the right timeline), there's another dedication to someone whose name begins with "S", who had it signed by Miss Lewis in March. So there's a mystery there, as somehow it got re-signed just three months later. Hmmmm…another mystery begins?
I had the pleasure of meeting Miss Lewis, as she was called, who had a lovely, quiet dignity about her. She was probably the most soft-spoken person I'd ever met, and you had to lean in very, very closely when she spoke. She was also beautiful, with a lean face, a prominent nose, and exquisite long grey hair pulled tightly back into a bun or ponytail, as if she was already ready to cook something. Famed cookbook editor Judith Jones took her on as an author, perhaps seeing the same appeal of her honest Southern cooking, that she did in Julia Child's book – and take – on classic French food as well.
Her book, and style of cooking, are certainly from a different time. An author today might have their head handed to them (from an editor, or the public), for noting in a recipe when a cake is done, by saying "Listen for any quiet noises from the cake. If there are none, that's a sign it is done." And I can imagine the comments if I put up a recipe that called for "5 gallons of well water."
Another cooking astuce (tip) that Miss Lewis told me when I'd met her, that when she or the other cooks in her household used to make biscuits, or other recipes that called for baking powder or baking soda, they'd use whatever would fit on top of a dime or nickel when you dipped it in the tin of baking powder, as units of measurement. (However rest assured that in her books, she uses new-fangled teaspoons and tablespoons.)
However like the saga of my still-missing cookbooks, this one didn't end quite as anticipated. (Although at least with the recipe, I have some closure.)
The corn pudding tasted lovely, but was the milk and eggs separated into soft curds with butter floating in rivulets on the surface. It tasted great, but I didn't know if I could share it without giving it another try, or perhaps retooling it. I did some searching online and saw that the folks at Food+Wine (and Miss Lewis, in a subsequent book) did retool it as summer corn pudding, adding some flour to bind it, and replacing some of the milk with heavy cream. (As for me, all was not lost: I ended up blending the custard with some honey, sugar, and a shot of tequila and churned it into a delicious ice cream, which I'm saving to treat some Mexican friends to, when they come back from summer vacation.)
In the meanwhile, since fresh corn is so precious in Paris — one supermarket was selling two shrink-wrapped ears for €3,15 — I waited until the day of my local outdoor market, where there are a trio of super nice fellows that always have fruits and vegetables that appeal to a wide variety of cultures. So I was happy to find they had fresh corn priced a little more gently – two ears for €1,50 – and I brought a few more ears home.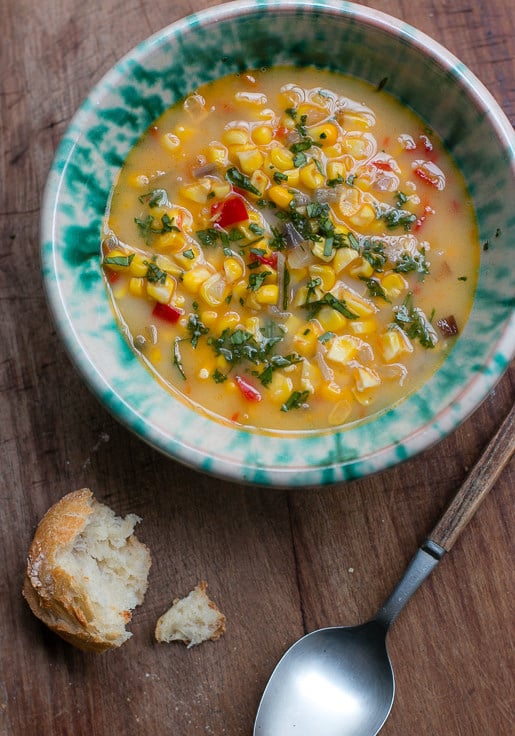 I had linked to the Beekman Boys' smoky corn chowder recipe, from The Beekman1802 Heirloom Vegetable Cookbook, on my Facebook page. And when a friend from my Chez Panisse days, who lives in Northern California made it, and gave it her thumb's up, I thought I'd give it a try.
The technique was great: roast the corn and peppers in the oven, make a broth from the spent cobs, then mix them all together with a dash of smoky chipotle powder. I've not seen a true poblano in Paris, but I did get a long, red pepper when I bought my corn, so I used that. I also used whole (or rich) milk in my soup, rather than the heavy cream they called for. If you choose to go that route, just be sure not to overheat it. (Unless you want a couple of pints of corn ice cream, too.)
From The Beekman1802 Heirloom Vegetable Cookbook by Brent Ridge and Josh Kilmer-Purcell. As mentioned, I used whole milk in lieu of heavy cream. You can use cream (or crème fraîche) if you want to make the soup richer. If you don't have chipotle powder, you can use good-quality smoked paprika. Not into smokiness? Use sweet paprika. The red pepper that I used was long and somewhat mild, similar to an Anaheim or poblano pepper. To dial-up the smokiness, add bits of crisp bacon or cubed smoked tofu to the soup, during the final warming.
1
fresh pepper
(Anaheim or poblano)
3
tablespoons
butter,
salted or unsalted
1
small red onion,
peeled and diced
2
cloves
garlic,
peeled and minced
1/4
teaspoon
chipotle powder or smoked paprika
1/2
cup (125ml)
whole milk or heavy cream
For garnish: Chopped fresh basil,
flat-leaf parsley, or chives
1. Preheat the oven to 375ºF (190ºC.)
2. Shuck the corn and holding each ear of corn vertically over a baking sheet, use a chef's knife to slice off the kernels of corn. (Reserve the cobs.) Remove the stem of the pepper, slice it lengthwise, and remove the seeds. Dice the pepper into pieces the size of the corn kernels.
3. Toss the corn kernels and pepper with the olive oil and salt, spread evenly on the baking sheet, and bake for 25 to 30 minutes, stirring a couple of times – roasting until the corn just starts to brown a bit.
4. While the corn is cooking, cut the cobs into 4 pieces and put them in a saucepan with the water. Bring to a simmer, cover, and let cook for 30 minutes over low heat, to extract the corn flavor.
5. Melt the butter in a large saucepan. Add the onions and garlic, and cook over medium heat, stirring frequently, until translucent, 6 to 8 minutes.
6. Add the roasted corn and peppers to the pot, then strain the corn cob liquid into the pot as well. Stir in the chipotle powder or paprika, and bring to a boil. Simmer for a few minutes, and add the milk or cream. Taste for salt, adding more if desired. When warmed through, ladle the soup into bowls. Top each with chopped basil, parsley, or chives.
Storage: The soup can be made up to two days in advance. The flavor actually gets better if it sits for a day.
Related Recipes
Sweet Corn Ice Cream (Saveur)
Roasted Poblano Corn Chowder (Simply Recipes)
Winner's Circle Corn Pudding (Weelicious)