Antiquing Outside of Paris
I'm sure I've caused more than my share of near automobile accidents when I see a signpost by the edge of a road pointing towards a brocante or Depot Vente. After slamming on the brakes, I do a San Francisco-style U-turn, backing up to head into the parking lot.
(The week I moved to San Francisco, my roommates, who were natives, told me; "Whenever you see a parking space, no matter what you have to do to get it—do it.")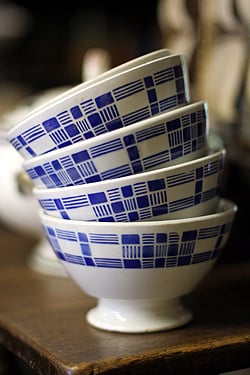 Aside from parking spots, I can't pass by a promising antique store without stopping everything. And there's plenty of them dotted throughout France. Not all of them are great, but once you're out of Paris, the prices drop by at least half, and once safely parked, I race inside in search of bargains.
If you go to La Chineuse, near Coulommiers, don't expect to find those four blue café au lait bowls…because they're sitting in my kitchen cabinet.
A whole cabinet was filled with coffee bowls like this, some obviously well-used, others pristine. These four bowls were the latter, so I swooped them all up. I'm going to do everything I can to keep them that way, but I'm not going to let them fall into the Too Good To Use category, let me tell you.
Not that I have much room, but I was able to resist a kugelhof mold since I already have one. Although I have about two dozen café au lait bowls, so that's not a very convincing excuse, is it?
I did fall in love with these heart-shaped molds, which would make a lovely dessert for someone you love. Singular or plural. Since there was only three, you could conceivably make a trio of lovely desserts for your favorite ménage-à-trois, so I left them for someone who is a bit more adventurous than I am. And there's plenty of that around here…at least that's what I hear. I'm too busy prowling around antique stores (and chocolate shops) to get into trouble. Really.
Every time I see all this stuff, I can't help but think, "In New York, those three cups would be a hundred dollars." Still, I resisted, since in the morning at chez David, there's never more than two at the table—I swear, so they stayed behind, too.
I loved the shape of the teapot, but I don't drink tea. And it was topless, to boot. But my pile at the register was growing steadily. Aside from the bowls, I bought just one gracefully-tapered perforated porcelain mold to go with the rest I have sitting in my cabinet that I plan to use to make a drained cheese dessert someday. I swear on that one, too. And now that I found a forth, I don't have any excuse to make them for an upcoming dinner party. Because I'm a show-off (obviously), I'll share them when I make it. I swear.
What I love about La Chineuse is that it's a lot of kitchen stuff. And for just a few euros, you could outfit your kitchen with, say, a jumble of flatware, all mismatched—unless you had a few hours to spare to sort through it all. I love a funky mix of forks, knives, and spoons, but I didn't poke through them as I needed to utilize my time better here because Romain, although not as swift as I am at scooping up bargains, was doing pretty well while I was picking though coffee bowls and cake molds. I'm not particularly competitive, but get me in a hangar-sized room full of vintage bakeware, and I pity the pauvre who gets between me and les articles de cuisine.
We both made piles of stuff to take home, and Romain carefully crossed the street to the car to get his haul back safely. The petit Parisien got a fantastic circular cake cooling rack…and he doesn't even bake! Thankfully my birthday is around the corner and if I get a round gift, I'll be one happy baker.
If you do go, before you leave, don't forget to look up. The top shelves and cubby holes may yield other treasures, including eggbeaters, pots and pans, whisks, and strainers of all sorts.
Who knew the French were so into pouring?
There were just too many pitchers to count. I had them wrestle down a 3-foot long whisk since I'm more of a beater than a verseur (pourer).
Speaking of poorer, I can honestly say I left the shop only slightly so. I can't swear that you'll score like we did (and in the presence of Jesus, I'm not sure swearing is such a good idea anyway), but the owner told me that she has two huge warehouses full of stuff, so you just never know.
This is a pretty nifty part of a day trip out of Paris, especially if you want to hit the lively Sunday market in Coulommiers, famous as the epicenter for Brie de Meaux. But do call first as hours can vary.
La Chineuse
Bernadette Wetzel
627 avenue de Gal Leclerc
Mouroux
Tél: 01 64 20 24 40 or 06 83 02 00 19
Best to call first as hours can vary/