Le Bon Georges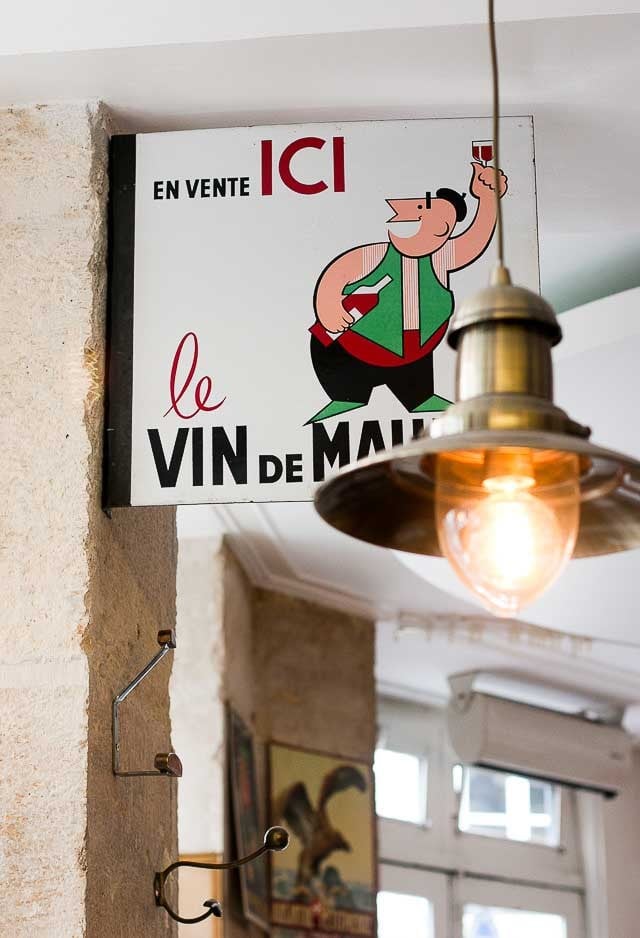 Many of what are called the "new" bistros of Paris are actually just restaurants with hip young chefs painting plates with a straight line of sauce, adding some powdered radishes and a shiso leaf next to pieces of pork belly, or doing the "line-up" of food (ie: a smear of root vegetable puree down the center of the plate, with herb leaves, flowers, a dice of vegetables, and three pieces of meat). The word bistro means "quick", harking back to a time in the early 1800s when occupying Russians soldiers would pound on the tables shouting "Bystro!" imploring the servers to more food and drink – and to do it faster.
So it's nice to walk into a place that is simply a Parisian bistro that doesn't have aspirations to be something else. Even though speed isn't what they're known for nowadays, bistros are still beloved by many because they serve unpretentious food in casual, sometimes well-worn, surroundings. They take people back to a time when dining was about eating well without feeling self-conscious about it, and you didn't have to worry about being served a plate of food with so much going on that you can't discern what the main ingredient in it is.
But truth be told, I don't really go out to eat all that much. Mostly it's because I like to cook. I get a lot of enjoyment roaming around the market, checking out what's available at the stands, from ripe strawberries and wedges of oozing brie de Meaux, to bulbs of purple spring garlic (that invariably find their way into my mortar and pestle for a batch of aïoli), and ending with a stop at the charcuterie for a slab of terrine de canard with figs or perhaps a few links of herb sausages, to make a nice lunch for ourselves at home.
(Although I'll confess that often my thoughts are on the rôtisserie parked outside the butcher shop that I know I'll pass on the way home, loaded up with chickens sporting a crackly skin, which is holding in the juicy, tender meat underneath. Carrying the warm bag home, knowing what's inside, makes me walk extra-fast to get home. And no matter how much I've bought at the market, I'll tear into that chicken bag as soon as I get in the front door, setting my market haul aside while I yank off the skin and chow down on the poulet rôti, starting with the crispy wings, and not stopping until I realize that lunch is actually still two hours away.)
On the other hand, I live in Paris and in addition to easy access to spit-roasted chicken, and outdoor markets, there are lots of restaurants that need to be checked out. I'm often disappointed in some of the newer places, where the chefs are working hard to be creative or "make their mark," but not necessarily putting the customer experience first. Chef and restaurant owners should think about what it's actually like to sit down as a guest and eat the food. That's what running a restaurant is all about. I just want good food, prepared and served by competent people who take pride in what they're doing, whether it's a falafel sandwich, a roasted chicken, or a fancy, three-star dinner.
Tastes have certainly changed, but the emergence of Le Bon Georges, which has gotten a lot of accolades, makes it clear that people still hunger for the classic Parisian bistro. And for good, honest food prepared by a staff that cares.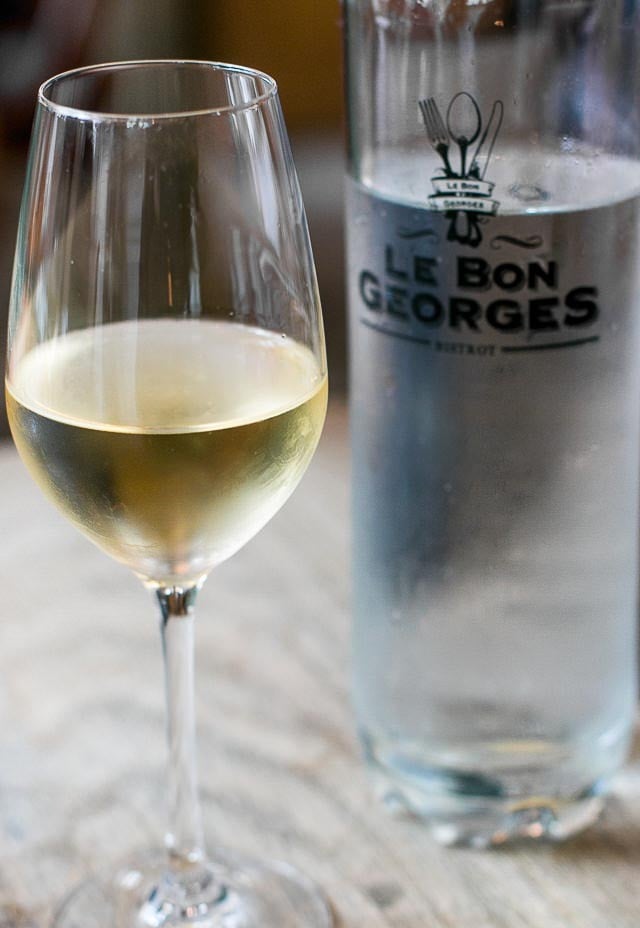 Owner Benoît Duval-Arnould has managed to reinvigorate the Parisian bistro, making it relevant to today by carefully sourcing his ingredients from the best French producers. Benoît grew up on a farm and while he spent a few years working for an American-based food company, he left that world to go back to his roots and focus on the quality of farm-fresh ingredients, incorporating them into the bistro genre.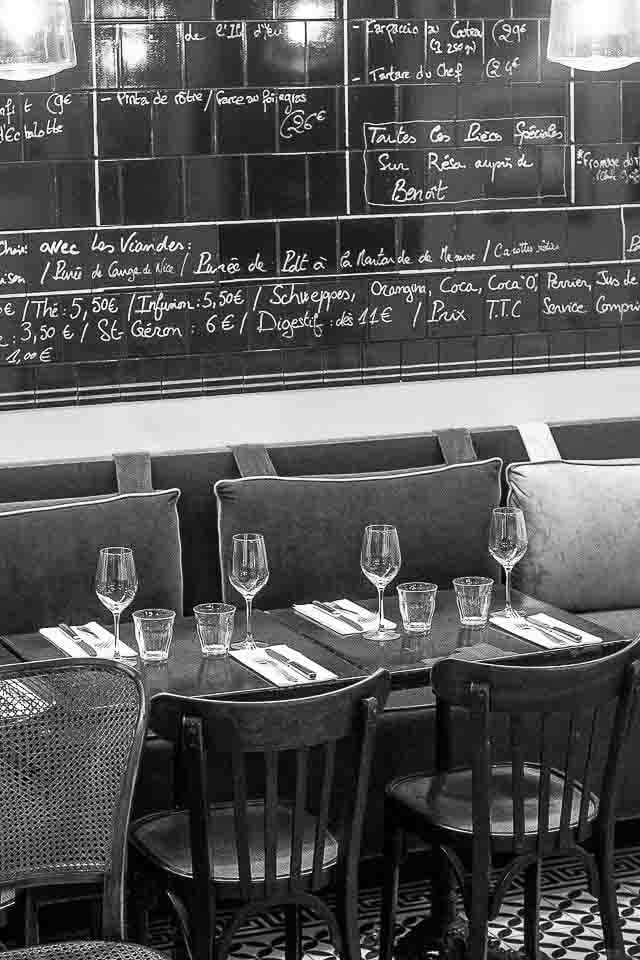 The beef is carefully sourced from Polmard and vegetables are from Terroirs d'Avenir or Joël Thiébaut, where many of the hot-shot chefs, and Parisians who live in the swanky 16th arrondissement, get their vegetables.
We ducked in for lunch recently and were sat at one of the warmly worn wooden tables. Because we both had impending dental appointments that afternoon, we split a glass of white wine, and I started with Œufs mimosa, a contemporary take on Deviled Eggs, which came out deconstructed with finely diced egg whites and a barely cooked yolk floating on top, next to a pile of flaked bonito.
Alongside were mounds of Dijon mustardy mayonnaise (and yup, a straight line of more Dijon mayonnaise, with herbs and leaves), all meant to be mixed and scooped up onto the excellent baguettes that they serve.
Being a Frenchman, Romain wanted beef. And since it came with frites maison, housemade French fries, I didn't stop him from ordering the Steak haché. At Le Bon Georges, they twice-fry the frites, which Benoît told me are different every day because of the potatoes. Some days, he said, the fries will be nicely bronzed. Other days, they'll take longer to cook and resist crisping up. Since the potatoes arrive daily, with the rest of the produce from small farms, it's hard to standardize how they'll cook up. But we didn't leave any behind this time. (Heads up: If you dine with me, I always dive to the bottom for the crispy ones, before anyone else can get them. Romain hasn't caught on to that yet…)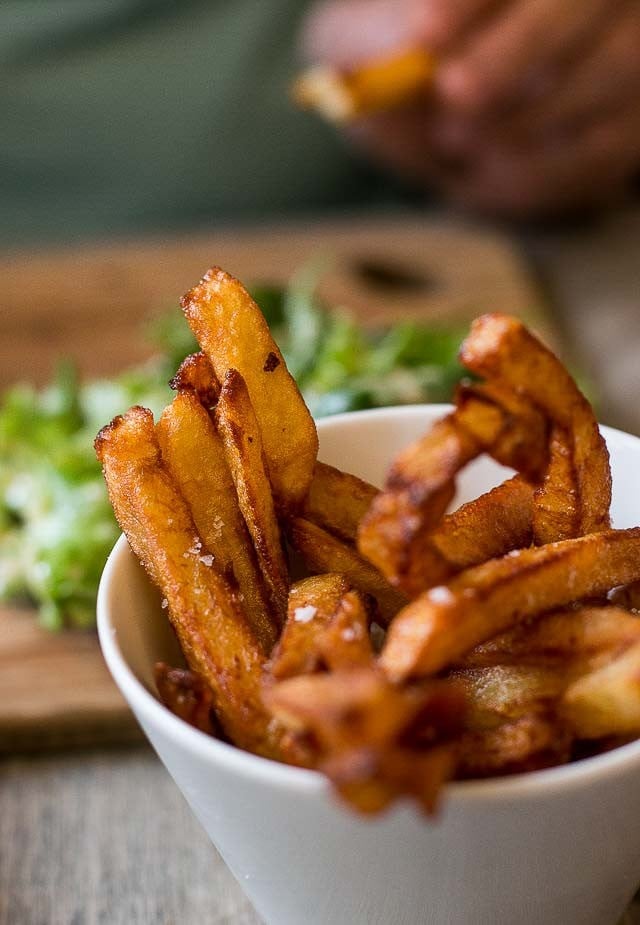 For steak lovers, at dinner or lunch, you can order Bœuf Polmard, a thick-cut steak served with those frites maison or, uncommon for Paris, a vegetable side. They change daily but we had roasted sweet carrots with lunch as well as the fries. Other times I've dined here, the chalkboard menu listed roasted leeks, fennel or beets as options.
The Steak haché clocks in at 250 grams (about 8 ounces) worth of ground beef. But it's not ordinary ground beef. The beef is aged, also uncommon in Paris, and three different cuts are used to make up the patty.
While I don't always advise people ordering Steak tartare unless you know the place takes appropriate care of the meat so it's of the highest quality and freshness, at Le Bon Georges, it's one of the places that I wouldn't worry about it. And a few diners nearby weren't concerned either as they dug into a big mound of the raw beef, loaded up with mustard, capers, and the other appropriate condiments.
I ordered the Poulet chasseur (Hunter's Chicken) for my main course, made with coucou de Rennes, a flavorful chicken which the server told me had very firm flesh – and they were right. It was un peu dur. While some might be fine with that, I'll stick with the beef and fish dishes.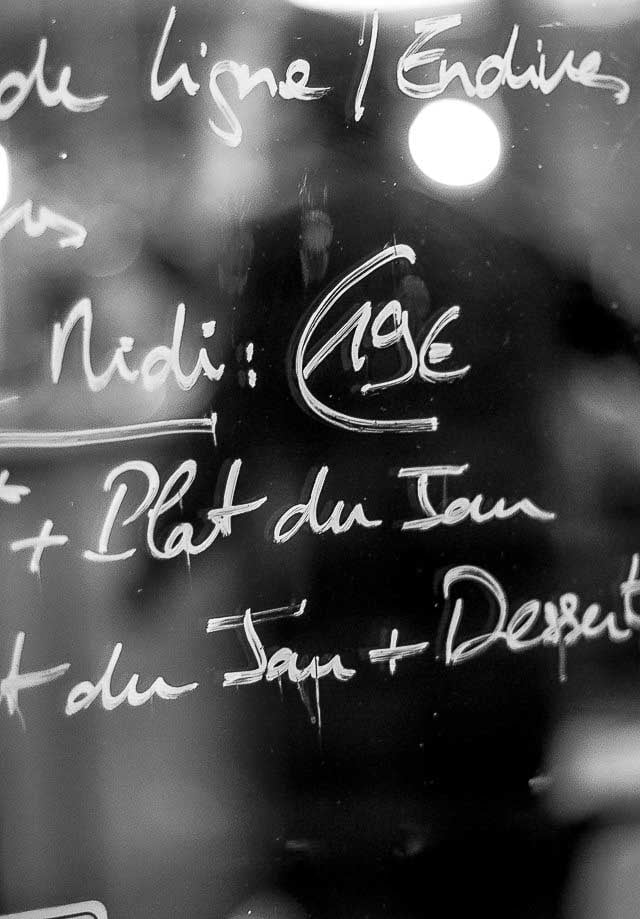 On another visit, I tasted a Poitrine du cochon (pork belly), that was meltingly soft, and ordered a slab of Bonito for myself, that was served over a plate of freshly sautéed spring vegetables.
On this instance, because we were both had a few hours in the dentist chair facing each of us, we went light on dessert. My (dining) partner isn't a fan of rice pudding, so we sadly skipped the Riz au lait and ordered the house-made Paris-Brest, which came out as three huge, very rich mounds of hazelnut praline-filled pâte au choux puffs, accompanied by small cups of very strong, richly dark coffee from L'Arbre à Café.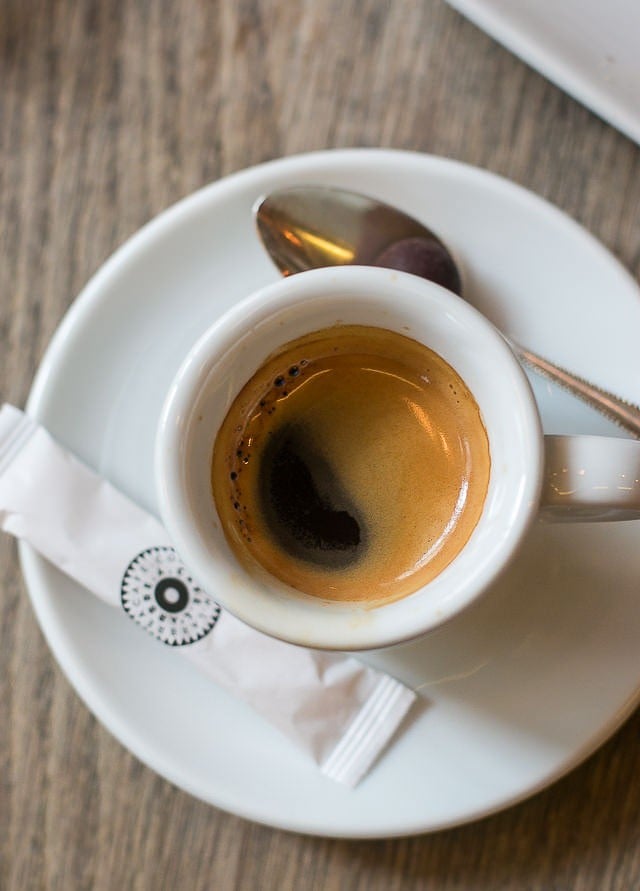 Like most items on the menu, the desserts change daily, depending on what's in season. I've had raspberry tarts on a buttery sablé (shortbread) cookie, as well as a very dark, unadorned (just the way I like it) Mousse au chocolat, a creamy chocolate bomb that had the husky taste of cocoa powder as a backdrop to the bittersweet chocolate.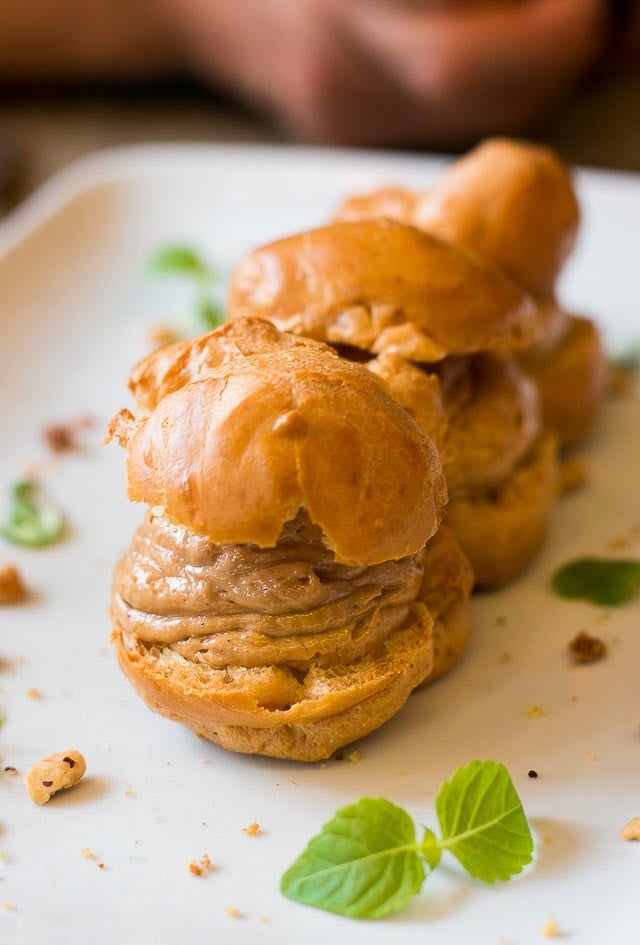 For tourists and visitors looking for a place where there aren't any tourists, or visitors, I was the only American in the place at lunch. But dinner is a mix of everyone and as I always say, if you're a visitor and you don't want to go to any restaurants where there are other visitors – well, I hope people don't feel the same way about you – or me!
The staff is great and friendly to everyone. Like most bistros and restaurants in Paris, they're busy, so don't expect to be on the first-name basis with your server. But they will help you decide what to order and keep your wine glasses filled. (Unless you have a dentist appointment just afterward.) However even if they are busy, you'll find that they're sharp and witty if you catch them in a rare moment when they aren't rushing around the always-full dining room.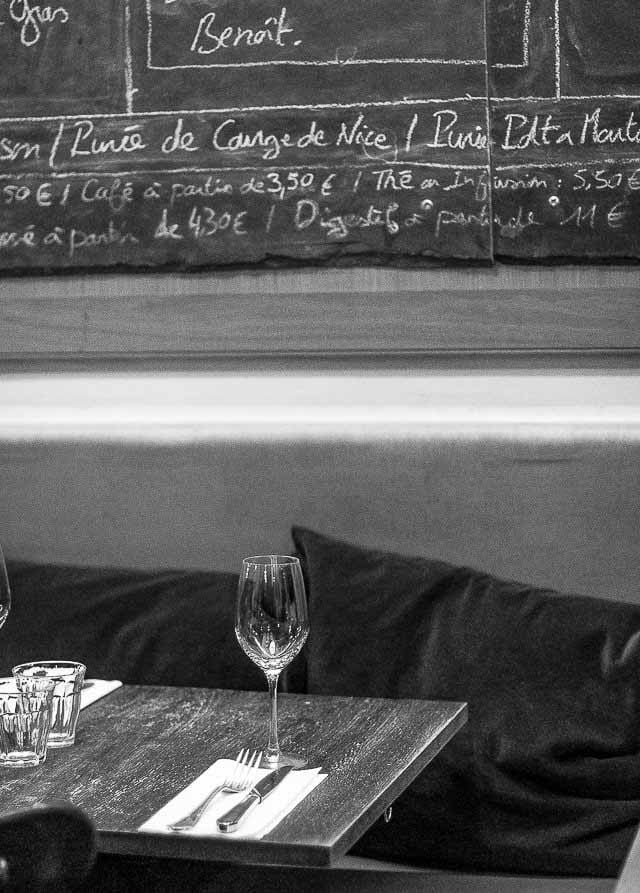 Le Bon Georges
45, rue Saint-Georges (9th)
Tél: 01 48 78 40 30
(Reservations strongly recommended.)
Metro: Saint-Georges