Ginger-Soy Sauce Chicken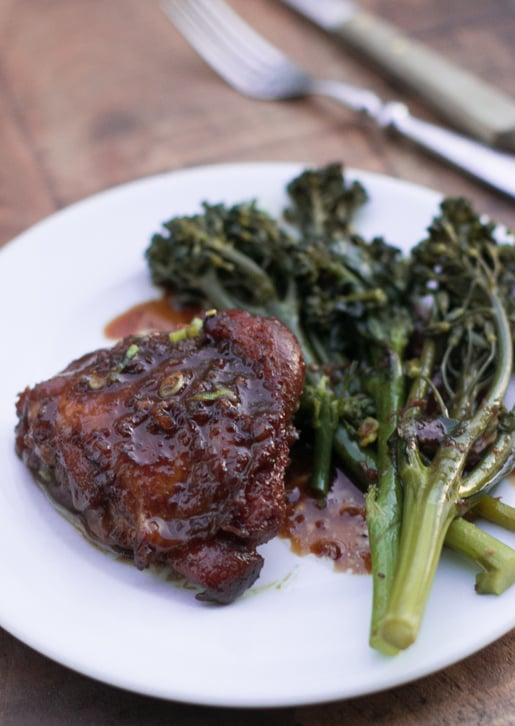 Whenever I visit a foreign country, I go to the supermarket. I've found myself pushing carts through supermarkets in countries, from Mexico and Lebanon, to Italy and Portugal. Not only does it help with my vocabulary, and provide a little glimpse of how the locals actually eat, but I invariably find a number of things to stash in my suitcase which are better souvenirs than t-shirts and refrigerator magnets. (Although someone once gave me a set of wooden refrigerator magnets depicting French foods, like tubes of Dijon mustard and canisters of grey salt, that I kinda love.)
Even though America isn't really a foreign country to me, it's interesting to see what's available in the grocery stores when I visit. Sure, there's no shortage of cookies, snacks, and soft drinks, but it's also nice to see things like goat milk from nearby farms, tomatillos and plantains, raw honey, live seafood in tanks, bundles of stewing greens, and locally roasted coffee. On my current trip, I found it interesting to also scan the meat aisle because every once in a while, when I'm writing up a recipe for something – like cassoulet or beef bourguignon, I need to know what's available elsewhere so that readers outside of France can actually make it.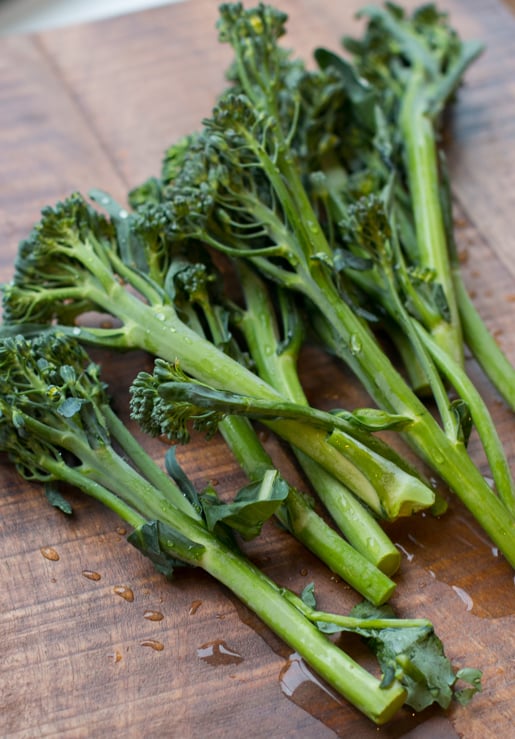 Although there still are butchers in some places in America, they're not as common as they are in France. (There are three within a 2-block radius of my apartment in Paris, not including the ones that are at my outdoor market.) If you don't know what you want, or don't speak French, it can be intimidating to have to stand there and make a decision when people are lined up behind you.
No matter. I've learned to ask a lot of questions and engage with butchers, since it's the only way to learn. And most people who are good at what they do are proud to help customers make the best selection, so I take my time and don't worry about it. And I often compare waiting in line in France to the lines for the restrooms on airplanes: You wait and wait and wait. But your turn comes around, suddenly you have all the time in the world. And I take it.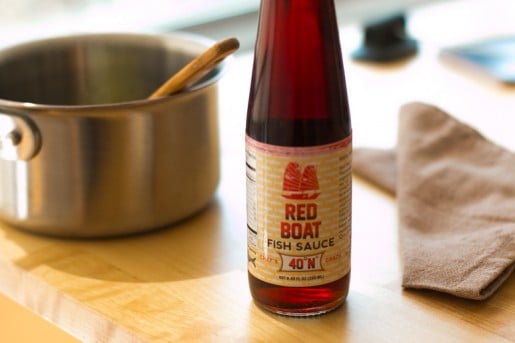 Fortunately we have lots of outdoor markets in Paris because the supermarkets aren't my favorite places. I usually have to steel myself before going, which I do once a week to get things like milk for my café au lait, and other staples. The meat aisle can be interesting, though, especially for a foreigner (which is why I tell people to go visit supermarkets in other countries) and you can find a number of things, like duck legs, tripe, cheval (horse meat), rabbit, calves brains, pig snout (museau), and other delicacies. Note: I don't partake in all of them. You're welcome to speculate which one(s).
In French supermarkets, and even at the voillailers (poultry sellers), there are plenty of chicken breasts, boneless and otherwise, as well as whole chickens, but you rarely see just chicken thighs. You can get thigh and leg portions, but I don't think I've ever come across les avants cuisses, what we would call the thigh without the leg attached.
A while back, I was having a back-and-forth with someone who said they didn't have time to cook. I hear ya' on the clean up — who wants to do that? But I like to cook and always make time for it. But if you're one of those time-pressed people, this is the recipe for you. Not only can everything be made in one bag or bowl, if you have a mini-chopper, you don't even need to pull out the knife and cutting board.
You can let the machine do the work, although I used to figure that it was faster just to use a knife to chop larger quantities of ginger and garlic because by the time I took out the food chopper, and cleaned it, I could have all the garlic or ginger chopped for whatever recipe called for. But I've never timed myself doing each side-by-side, because, well – for one thing, I can't do both and time myself. And another, if I do them one after the other, I've made the project twice as long, which kind of defeats the purpose of the whole exercise in the first place.
Since I am the master of my own domain, ie: my kitchen, I made an executive decision to go low-tech, deciding to use my zester to "chop" up the ginger and garlic. Although I think for quantities that are required here, a knife — or maybe a mini food chopper may be the best way to go? (However in the time I've talked about it, you could have made the marinade and have the chicken soaking in it.)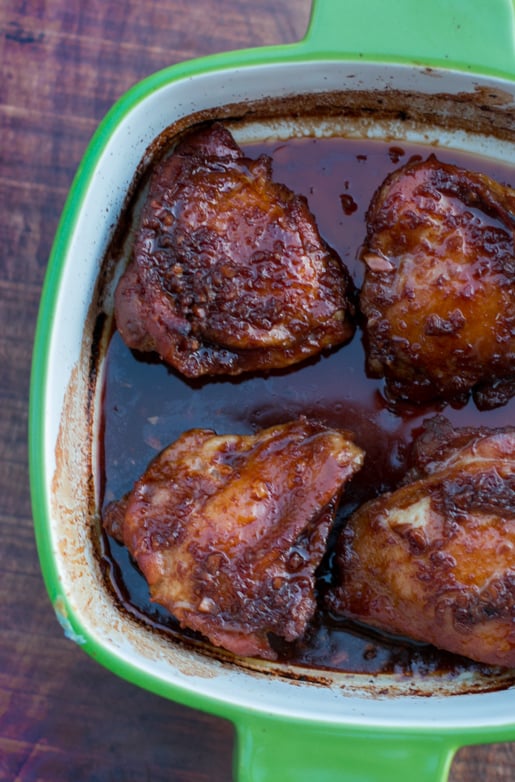 I love chicken done this way, redolent with lots of zippy ginger, a generous handful of garlic, and the ying-yang of salty soy sauce and sweet honey, with a bit of vinegar to accentuate the alliance between the two. The recipe couldn't be easier; you chop, combine, marinate, then bake. Also great is that unless you are feeding more than two people, you'll have leftovers. And if you do have a family and want leftovers, double the recipe and cook them in two separate dishes at the same time – unless you have a pan big enough to cook sixteen thighs at once.
I steamed some broccolini and served it on the side. The next day, the leftovers made a terrific makeshift bibimbap, a Korean rice bowl topped with sliced chicken, kimchi, matchstick carrots tossed in sesame oil, broccolini, and a poached egg nesting on top.
| | |
| --- | --- |
| Ginger-Soy Chicken | Print Recipe |
If you are gluten-free, use wheat-free tamari in place of the soy sauce. If you don't have rice wine vinegar, substitute apple cider vinegar in its place. Fish sauce adds a wonderful umami background flavor and I just discovered Red Boat fish sauce, slow-aged in Vietnam from anchovies which is more expensive than regular fish sauce but is pretty lovely stuff. (I bought it at Whole Foods, but it's also available on Amazon.) You can get standard fish sauce in most Asian markets. If you don't want to use fish sauce, well then, just leave it out. As for the chicken, if you can't get thighs, feel free to use whole chicken, cut up, or other parts. I gave the approximate weight so you can use that amount for the quantity of marinade given. Although I don't have one, you could probably cook these off on the grill. I might suggest reducing the sauce a bit and basting the chicken with the sauce while you're grilling it.
1/2
cup (125ml)
soy sauce
2
teaspoons
toasted sesame oil
1
tablespoon
rice wine vinegar
3
tablespoons
minced fresh ginger,
peeled
2
tablespoons
minced garlic,
peeled
optional: 2-3
teaspoons
fish sauce
8
(about 3 1/2 pounds, 1.6kg)
skin-on chicken thighs
1. Mix the honey, soy sauce, sesame oil, vinegar, ginger, garlic and fish sauce (if using) in a sturdy zip-top freezer bag. Add the thighs, expel most of the air, and seal the top. Massage the chicken in the marinade and refrigerate overnight, turning the bag a few times to assure the chicken is well-marinated on all sides.
2. Preheat the oven to 350ºF (180ºC).
3. Arrange the thighs skin side down, in a single layer in a baking dish, and pour the sauce over them. Cover the pan tightly with foil (or using the lid), and bake for 30 minutes.
4. Remove the foil, turn the temperature of the oven up to 375ºF (190ºC), and flip the thighs over, so they are skin side up. Continue to bake the chicken uncovered for 20-30 minutes, until the sauce is a thickened to about the consistency of warm maple syrup.
Serve the thighs with steamed rice or vegetables, such as broccolini, broccoli, snow peas, green beans, buckwheat noodles (cold or hot), garnished with sliced scallions, if desired.
Storage: The thighs can be marinated for up to 24 hours before cooking. You can freeze the thighs in the marinade for up to 2 months. Once cooked, the thighs will keep in the refrigerator for up to three days.
Related Recipes
Roasted Chicken with Caramelized Shallots
Sweet and Crispy Chicken Wings
Vietnamese Rice Noodle Salad Bowl