A few years back, all of us elderly ladies and gents who were blogging for a while were suddenly surprised (and delighted) at a group of young 'uns, in their teenage years, who up and started food blogs. And let me tell you, it's really nice to see young people doing something worthwhile with their time — like cooking and baking, for example.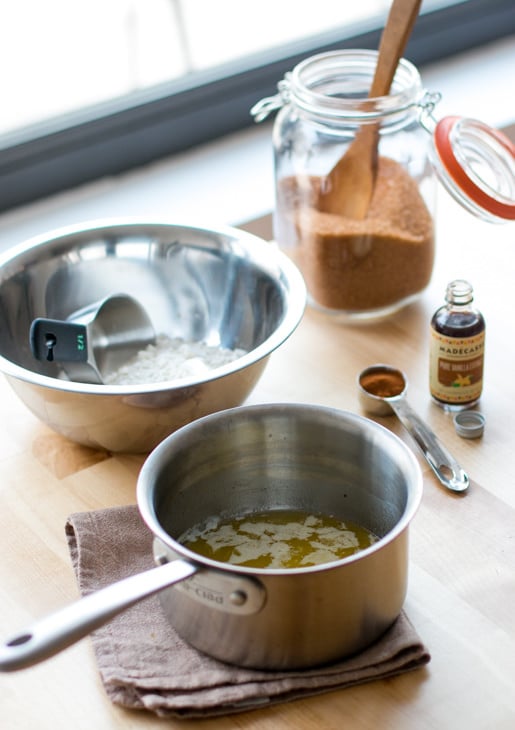 My introduction to them came when I was in an elevator at a food blogging conference and found myself surrounded by 17-year olds when the door closed and we all introduced ourselves. One of them was Kamran Siddiqi, who created a beautiful blog, The Sophisticated Gourmet, then went on to write and photograph his own book, Hand Made Baking. I don't know about you, but when I was seventeen, the last thing I wanted to do was be trapped in an elevator with some tired-looking man, who looked like he just got off a five thousand mile flight. Which I had.
A few months back, his book landed in my apartment, filled with homespun favorites. What particularly caught my eye was what Kamran calls "Brooklyn Crumb Cake" because, according to him, "Brooklyn is known for its crumb cake." Since he's a born and bred native New Yorker, and I'm not, I'll hand it to him. But even though it's been a long (long) time since I was seventeen, back then in New England, we called them coffee cakes and most of our experience with them were made by a large-scale bakery, which was, I just discovered, founded in Brooklyn.
And in fact, coffee cake does go well with the borough-wide beverage of choice: coffee. The rest of the time, beer seems to have taken over. (And I've not seen anyone eating cake with their beer in Brooklyn – although why not?)
Like most things in America, this cake likely comes from overseas. With a heap of buttery crumb streusel topping, probably someone from Europe came over with a recipe – or maybe they co-opted pound cake, then saw the American propensity for excess, and decided to go overboard with the streusel strewn over the top and baked on. And I'm okay with that.
I upended the recipe, changing a couple of things, including the way the cake is made. All in all, it's a pretty simple recipe to put together. A yogurt-enriched batter gets covered with a brown sugar topping, which melds into the cake while baking. When done, you have yourself nice square of crumble-topped cake cake with a whisper of cinnamon, that compliments a nice shot of dark coffee perfectly. Or come to think of it, perhaps even a beer.
Coffee Cake
Adapted from
Hand Made Baking
by
Kamran Siddiqi
Kamran says that he "doesn't skimp on the crumb topping," and boy, is he right. I thought for sure it was going to be too much, which are too words you don't often hear bakers say together. The original recipe called for sour cream but I found the acidity in the yogurt gave the cake a better push, which lightened it up just a bit. Be sure not to overbake the coffee cake; because of the topping, the cake can tends to be dense and overbaking will make it too crumbly.
Topping
1 1/2

cups (210g)

flour

2/3

cup (120g)

packed light brown sugar

1

tablespoon

ground cinnamon

1/4

teaspoon

salt

1/2

cup (115g)

unsalted butter

,

cubed and melted

1 1/2

teaspoons

vanilla extract
Cake
1/2

cup (115g)

unsalted butter

,

cubed, at room temperature

3/4

cup (150g)

granulated sugar

2

cups (280g)

flour

1/2

teaspoon

salt

1/2

teaspoon

baking powde

, preferably aluminium-free

1/4

teaspoon

baking soda

3/4

cup (180g)

plain whole milk yogurt or sour cream

1

large egg

,

at room temperature

1

egg yolk

2

teaspoons

vanilla extract

optional:

Powdered sugar

,

for dusting the cake
To make the topping, mix together the 1 ½ cups flour, the brown sugar, cinnamon, salt, 1/2 cup of melted butter, and vanilla in a medium bowl. Stir in the butter and vanilla until the mixture is well-combined and crumbly. Set aside.

Butter a 9-inch (23cm) square cake pan and line the bottom with parchment paper or dust it with flour and tap out any excess. Preheat the oven to 325ºF (160ºC.)

To make the cake batter, in the bowl of a stand mixer fitted with the paddle attachment, or in a large mixing bowl using a spoon or spatula, cream the 1/2 cup of softened butter and granulated sugar until light and smooth. Add the egg and the yolk, stopping the mixer to scrape down the sides.

In a medium bowl, whisk together the 2 cups of flour, salt, baking powder, and baking soda, until well combined.

Stir in half of the dry ingredients, then the yogurt or sour cream and vanilla, then the rest of the dry ingredients, mixing just until the dry ingredients are moistened. Don't overmix. If using a stand mixer, you may want to finish mixing the batter with a spatula, by hand.

Drop the thick better into four large dollops, equally spaced apart, into the prepared pan. Use a metal offset spatula, or another utensil, to spread the batter as even as you can making sure you the batter reaches into the corners.

Going by handfuls, strew the topping over the cake batter in the pan, gently pressing down each handful into the batter as you go, with enough pressure to gently "fuse" it into the batter but not enough to crush or flatten it. Any monster-sized chunks can be broken up with your fingertips, but it's nice to have both large and small chunks in there. (Although just be aware the big chunks will fall off when you slice it. However they're excellent gobbled up as a "bakers bonus.")

Bake on the middle rack of the oven for 45 to 50 minutes, until a toothpick inserted in the center comes out clean. (The original recipe gave the baking time as 60 to 70 minutes, although mine was done around the 45 minutes mark. Yours may take longer.) Let cool completely, then slice into squares.
Notes
Storage: The cake can be kept at room temperature for up to four days, well-wrapped. It can also be frozen for up to two months.
Related Recipes
White Chocolate Cake with Lemon Glaze