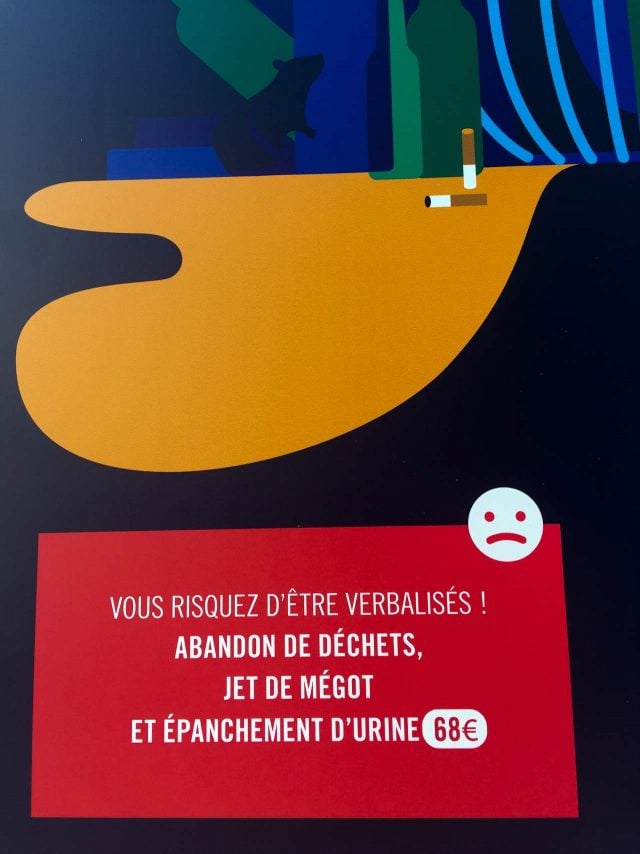 One of the things that affect everybody, whether you're a local, or a visitor, is that ya gotta go. Or as the French say, "Faire pipi." Although people readily discuss bodily functions in France, going to the can is something where a little more discretion is called for. It's not something everyone wants to talk about, but let's face it, everyone's gotta do it – except for the French. Or at least it feels that way to me.
(A head's up: This post refers to bodily functions. The images are taken in public spaces, and they're things you'd see on the streets in Paris. So for those with delicate sensibilities, you might want to come back in a few days, for the next post.)
For many years, Polly Platt's book, French or Foe, provided guidance to those of us who were planning on moving, or spending a lot of time in France, deciphering and explaining some of the cultural differences. Topics like smiling, taking up space, and tips on what words will open the magic gates of customer service, were part of her seminal guide.
One that I was most curious about, prior to my departure, was that it wasn't advisable to use the bathroom when you're a guest at someone's home. Times may have changed, but I still seem to be the only one getting up from the table, or making a pit-stop in the loo, before heading home from a party.
I used to drink a lot of water, but I stopped as I learned there are few places to get rid of it. Which possibly the popularity of le café express, rather than a more leisurely, and generous (albeit more costly), café alongé. As I get older, I find myself needing to find more and more for them, without a huge amount of success, which may explain why Frenchmen tend to get a little, uh, creative, with where they go.
I haven't gone against a métro wall yet, but It's only a matter of time before I have to resort to a more Depend-able solution to meet my needs. Perhaps that's because I was never trained to 'go' at certain times, like these strict hours posted at a local elementary school. I don't know about you, but I'm not sure I could hold it from 10:33 am to between 3:50 pm and 4:03 pm.
One of the reasons that it's not common to use the bathroom in someone's home is that the French tend to be a little more private regarding their homes, which is why behind an ordinary-looking door in Paris, lies a magnificent courtyard or a resplendent garden. You also don't get an extensive home tour when you walk into a French person's house or apartment, whereas in America, the kitchens, bedrooms, and – yup – even the bathrooms, are open for inspection.
I've learned to prefer the French way, which means you don't have to clean your entire home when you're having guests because no one will be snooping around your place. Unfortunately I have the only partner in France who didn't get the memo that bedrooms are off-limits, because he likes to take people on the tour, including our bedroom, which I've learned to clean up before a dinner party because I don't want people seeing my pajamas bunched up on the floor, twelve chapsticks on my nightstand (because, God forbid, I wake up in the middle of the night and one isn't there…) or seeing the galaxy of creams, ointments, pellets, and pills lined up in the medicine cabinet. (Although few are shocked, because I'm not alone.)
In spite of Polly's warning, I do use the bathroom, because I figure the alternative is more embarrassing than asking. But when you're out-and-about, you've got to plan your pit stops on your way from stop A to stop B, because if there's too much lag time, you don't want to find yourself caught in a slippery situation.
Some men take matters into their own hands, in spite of some heavy – and sharp! – discouragement.
And some cities have been painting the spaces between walls and sidewalks with hydrophobic paint, discouraging people by redirecting the stream back to where it came from.
But I'm not there yet (and I like my shoes too much), so do my best to find a proper place to go, rather than resorting to urine sauvage. However, things are often hors service…
…or otherwise unavailable.
Making me need to scramble for an alternative.
A number of tourists say to me, "I just go into a hotel or café pretend I'm a guest…and waltz right into the bathroom!" Well, I must not look like a tourist anymore because I've been scolded for doing that. Living like a local isn't all it's cracked up to be, so that's out of the question.
Out in the countryside, it's a little easier. (And I don't mind ducking behind a tree, which is obligatoire for Frenchmen, who get to rekindle their love to nature by using it, as nature attended.) Unlike Paris, even in the smallest of villages, there's usually a public place to "go" that's just as bucolic as a stroll through the woods.
In the big city, bathrooms are still such are a commodity that you pay to use them, especially in train stations, at the Louvre shopping center (…€1,50!) and Printemps department store (€1,50), which infuriates the locals, too. One online reviewer called it une scandale.
I guess this is the next generation of Madame Pipi, a profession that is dying out. (This profession may be the reason why it's also considered mildly impolite to ask people in France what they do for a living.) These women are, or were, responsible for making sure things were clean and papier hygiénique was there if you really needed it. Which, while spendy, we all can agree is not the time to be haggling over the price.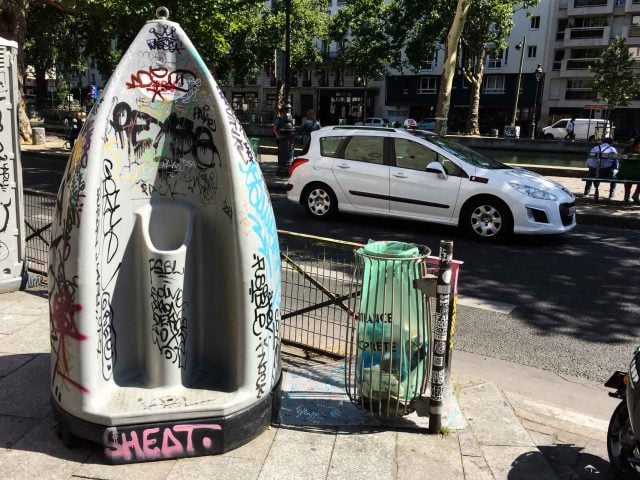 As a public service, the city of Paris has taken to putting open-air places to go in places where young people gather, where young people do what they normally do: Drink beer. And to do what people do when they drink a lot of beer. But lest you think they're sexiste, a French company has come out with a male/female model that may help our lady friends not so reluctant to remain hydrated, too.
In some cases, women do get a pass, which I guess is reason to jump for joy. Cafés will let pregnant women use the restroom. But no matter how hard I try to push my stomach out – and the older I get, the less I have to work that hard to do that – I've been banished from using bathrooms unless I have a drink at the bar first. Which starts the cycle all over again.
But with several verts initiatives being implemented by Paris, in a move to make the city lovelier – and greener, a company called Uritroittoir came up with a plan to "civilizez les pipis," and be ecological at the same time, by providing open air recipients for the pipi sauvage, which composts at the same time.
Personally, I applaud this move. It seems to be working and you'll find men lined up outside the train stations, making Paris greener, and cleaner. Now I've gotta run, because I've got a train to catch. But first…