10 Common Ordering Mistakes People Make in Paris Restaurants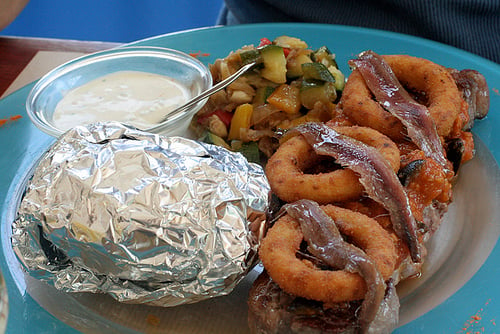 The other night I was sitting at Le Garde Robe, minding my own business, trying to get down a glass of natural wine. Being seven o'clock, naturally, in addition to being thirsty, I was starving, too.
And the lack of food (and sulfides) must have started affecting my brain because I started thinking about how I often hear tales from visitors, such as when they told a Parisian waiter they didn't eat meat and shortly afterward, were presented with a plate of lamb. Or they ordered a salad, that was supposed to come with the sandwich, and was actually just a single leaf of lettuce. Hoo-boy, and yes, I've made a few gaffes of my own, too: I once ordered a glass of Lillet (pronounced le lait, which isn't well-known around Paris) and the perplexed café waiter brought me out a long, slender glass of le lait (milk), presented with great panache, on a silver dish with a nice doily. Of course, everyone was staring at the grown man who ordered a tall glass of milk. And I don't think it was because of the starched doily.
Anyhow, I was scanning the chalkboard at Le Garde Robe, looking at the various charcuterie and cheese on offer, and noticed filet mignon, and thought, "A steak is a funny thing for a wine bar to serve, especially one that doesn't serve hot food." Until I remembered what it is in French. And if everyone wasn't already staring at the idiot at the wine bar, nursing a stemmed glass of milk, I would've kicked myself for thinking that's a big, juicy steak. Which it's not, in France.
1. Mixing Up the Mignons
Mignon in French means "cute". And to my pork-loving friends and readers, that can only mean one thing: pigs. French people think cows are attractive.
So much so, that they've even issued stamps with various cow breeds depicted on them. But in this case, a filet mignon is pork tenderloin, not the lean, thick-cut steak that you might be used to.
Which doesn't explain why Le Garde Robe, which doesn't have a kitchen, had filet mignon on the menu. Which means I have to go back to the wine bar. Oh well…all in the name of research. Of course.
2. Don't Order an Apéritif in a Restaurant
Apparently, no one orders a kir anymore. (Update: Or maybe so?) A refreshing drink made with aligoté white wine and a dapple of cassis, before I found out I'm not supposed to drink them anymore (the memo must've blown off my porch, or something..) a kir makes a nice apéritif on a warm spring or summer evening—at a café. Because I was recently informed that they are no longer in fashion, I suppose it'd be best to cut them out entirely. (And yes, that means the sparkly kir royal, made with Champagne, too. Merde!)
Which brings me to ordering an apéro in a restaurant, which is something you very rarely see in Paris. Most people go to a nearby café for one, perhaps to sit on the terrace, before heading to a restaurant. So when the waiter asks, "Vous desirez un apéritif?", you don't have to feel obligated and say, "Bien sûr!", especially since a round of four will set you back at least €25 ($36 at today's exchange rate), and a round of kir royals is likely to set you back a whole lot more than that. And there's likely a fairly good bottle of wine you could get for the same price. Like Sancerre. Sancerre rocks, and if I could only drink one wine for the rest of my life, it would be Sancerre.
3. Drink in only the sights on the Champs-Elysées
It boggles my mind when people come to Paris, and have a soda at a café on the Champs-Elysées, then go wild when they get the check. Image going to the most expensive hotel in New York City or Los Angeles and ordering a Coke. You're standing on some of the most expensive real estate in the world on that street and you're going to pay for that privilege if you choose to park your backside in one of those chairs.
If you want to sit there and enjoy the view, fine, order that €8 Coke, and suck it up. (Watch your belongings!) But I advise skipping a drink on that boulevard (and really, you should be drinking wine, like Sancerre, instead of soda in France anyways..), unless you're really, really thirsty. In which case, hit the supermarket at the end of the street, number #52, to be precise, and grab a beverage there.
4. Fish (a little) for Scallops
I fell for this once, a long time ago in Switzerland, and ordered the escalopes, thinking I was going to be tucking in some fork-tender, round nuggets of under-the-sea goodness. Hardly. Instead, I was presented with a few thinly-pounded pieces of leathery veal. It wasn't all that bad, in a chewy-meat kind of way, but I was definitely not getting misted with that dewy, salty spray of the sea.
In French, escalope refers to any kind of boneless meat or poultry (and fish, although rarely) that is thinly-sliced and usually pan-fried. If you want those sweet scallops, order the Coquilles Saint-Jacques, a moniker which has been commandeered by Americans as a dish with scallops served in their shell, with a bunch of other stuff mixed in to fluff it up a bit.
In France, though, the term just means the fresh scallops, sold in their shells, which can be prepared in a variety of ways. Just ask your friendly waiter. Without the shells, they're called Saint-Jacques or sometimes noix de Saint-Jacques, even though they don't have any noix (nuts) in them. Perhaps you have to go to a triperie, or a place that specializes in offal to find scallop nuts.
5. Ban the Butter, or Be Breton
I love French butter. Especially the amazing salted butter from Normandy and Brittany. But you'll never find it served with bread, except in upscale restaurants, in Paris. Bread is meant to be an accompaniment to a meal, not a before-the-first-course course, grabbing for the rolls as soon as the bread basket hits the table. And the French don't pick up a slice of bread and yank a wad off with their teeth. Bread is meant to be eaten by pulling off a mouth-sized piece, and placing it between your lips. Your teeth should not be showing in public when you eat bread. Which is why, as soon as I get in the elevator of my building alone with a fresh baguette, I rip my incisors into it like a savage beast.
Butter isn't normally spread on bread except in three instances: 1) Salted butter goes on rye bread, eaten with oysters from Brittany or elsewhere, 2) At breakfast, bread is spread liberally with butter, because it's from the day before and needs it, and 3) With sausage or cheese, especially bleu cheese. It's good. Try it!
Waiters are semi-used to being asked for butter by my compatriots, so if you want it and they give you a snarl, tell them you're from Brittany, a region filled with French people that aren't as enamored with cheese as they are with butter. So just tell the waiter J'ai besoin d'amann, which is butter, in Breton. I don't know how to say "I need…" in Breton, so anyone out there who speaks that mystical language is welcome to enlighten me.
6. Don't Turn Off the Tap
People. The French Middle Ages were ages ago. They haven't sent anyone to the guillotine since 1977 (er…) and people don't use rags to clean the streets anymore. (er….) and yes, the tap water in Paris is fine to drink. It truly is and live to tell you about it.
Just like there is a movement in other places to stop drinking water in plastic bottles, it's time to cut down on this folly, which is a huge waste of money and resources. (Disclaimer: I buy water only for my espresso machine and for traveling. But to balance it out, I don't always flush when I go #1, and sometimes resort to other water-saving measures.)
Even though by now you've probably lost your appetite, by law, in a restaurant in France, if you ask for tap water, they have to give it to you. Sometimes it takes a few times for it to sink in that you're not buying water, and to get the free stuff, but don't be bullied. And you know those waiters who you don't want to think you're a cheapskate order tap water when they go out to eat, too. (Just like those queens with the perfect stubble and 28″ waists at Gucci who sneer at you because you can't afford that €385 shirt. I never feel bad because if they didn't work there, they wouldn't be wearing a €385 shirt either.)
Never feel intimidated into ordering a bottle of water, either just because you're in Europe and you think you're supposed to, or because you're afraid of French water. Just say "Non" to bottled water, in any language.
7. Bring On the Rosé
For some unknown reason, some visitors think it's very downscale to drink rosé. But much of the rosé in France is pretty good, especially in the summer. And in fact, rosé has overtaken white wine in France and I'm proud to say I've done my part to help tip those scales.
Unlike those sugary pink wines from, well, you-know-where, you will rarely come across a sweet rosé in Paris: few people here like drinking sweet wine. So you can order rosé with impunity and not feel like a cheapskate or a dolt. Heck, I even put an ice cube in mine. Just like they do in Marseille. And Parisians know better than to mess with les Marseillais.
But just in case, I included a picture of a carafe that was served to me in Marseilles last summer, which you're welcome to print out and carry around with you, like I do in case anyone gives me a hard time about putting ice in mine.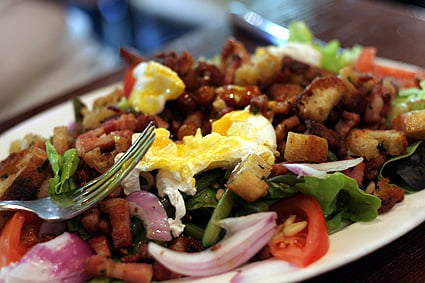 8. When is a salade Not a Salad?
I read on one of those travel bulletin board where everybody whines and complains (I'm always, like, "Dude, get a blog. It's awesome!"), from a furious hotel guest in Paris who ordered a hamburger which the menu said came with salade, and…damn those cheese-eaters!…there was only one leaf of lettuce on his or her plate.
In French, the word salade on its own means lettuce, as in either a head of lettuce, or by-the-leaf. Usually a meal-sized salad is called something like salade Parisienne and can have all sorts of wonderful things on it. Like the salade œuf mollet, above, with bacon, crisp croûtons, and a warm poached egg from Le Nemrod, which I couldn't resist showing you. (You don't have to print it out if you go there. They know it already.)
If you want a green salad, ask for a salade verte, a simple "green" salad. Which goes ecologically well with that "green"-minded tap water you've ordered, I might add.
9. Hold the Veggies
Some veg head friends of mine came to Paris and went to a vegetarian restaurant up near Montmarte. The next day, they told me how stunned they were that there weren't any vegetables on the menu. Yes, being a vegetarian can pose a challenge in Paris, although I've seen more and more vegetarian restaurants coming across the radar lately, and cafés and other casual places often feature vegetarian dishes, too.
However in regular restos, some non-meat eaters are surprised when they tell the waiter they don't eat meat, then are presented with a salad…oops, I mean asalade, piled high with ham or bacon. France has an interesting way of categorizing things (and if you don't believe me, let me tell you about my last appointment at city hall) and at a butcher shop, you'll find beef and lamb, and sometimes pork. Chicken is at the volailler, although in butcher shops, too. But at a charcuterie, you'll find pork products and fresh pork, but you won't find fresh beef or lamb, and not chicken. And if you're looking for horse to eat, you'll have to go to a chevaline.
So if you say you don't eat 'meat', that can be translated in a variety of ways. But just to be safe, I've memorized how to say that I don't eat horse in every conceivable language. (Except in Breton. But I think I'm safe.)
Hey, where's Number 10? Oops, I guess I just made a mistake, too. Okay, so I told you some of my foibles and mishaps in Paris restaurants and cafés. Got any of yours to share, or any to add to this list?