Pith Helmet
When I was in London, it just happened to be Wimbledon weekend and even though there wasn't a tennis ball in sight where we were, all we wanted were pitchers of Pimm's Cup. To our dismay, a number of places didn't have them, and at the one restaurant that did, we were unimpressed. (So much so that the waiter took it off the bill.) Since it's the perfect summer refresher – and it's nice to serve drinks by the pitcher, so you can spend more time with your guests – I decided to take matters into my own hands and make a batch as soon as I got home.
I hit a couple of liquor stores in my neighborhood and, of course, no one had Pimm's No. 1 Cup. One vendor confessed that he did know what it was, but that he didn't carry it. So I made the inevitable trip over to La Maison du Whisky, which may be my new favorite place in Paris (they have everything!) and picked up a bottle of Pimm's – as well as a few other things to keep me well-stocked for summer.
Knowing what sticklers people are for accuracy. I knew that I needed to strictly follow an official recipe. So I opened up Bitters, A Spirited History of a Classic Cure-All, which a friend had sent me, which has recipes for making your own bitters as well as a quirky collection of cocktails, each one sounding more enticing than the next.
After scanning the index for "Pimm's", I landed on a page with a recipe for a Pith Helmet, a bracing cocktail which augmented a shot of Pimm's with a shot of gin, and added another dimension with an herbal syrup made with fresh basil and lemon zest.
The friend who had given me the book (who photographed and designed it – and got to sample almost everything in the book), had been nice enough to include a sampler pack of bitters, which contained everything I needed to shake one up. One gulp and I realized it was everything I wanted in a cocktail – refreshing, with a hint of citrus, icy-cold, and most of all, it went down easy.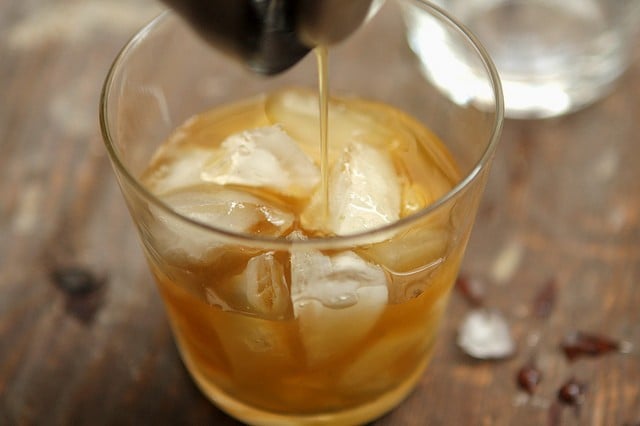 Adapted from Bitters by Brad Thomas Parsons The author recommends Fever-Tree Bitter Lemon or high-quality tonic water. I used regular tonic water and the drinks were fine, although if you can find either of those, I recommend using them. (They do sell it at La Maison du Whisky, I think. But I took the bus round-trip across town and it was hot and sweaty, and wasn't especially anxious to go back.) If you can get one of those French carbonated lemonades that isn't too sweet, it might work nicely and I'll probably do that next time. If using a regular cucumber, the kind with a lot of seeds, you might want to scrape the seeds out, which can be a bit bitter. Speaking of bitter, if you don't have the recommended bitters on hand, I wouldn't fret – I would simply use another bitter in their place. Brad Parsons says to pour the drink into a highball glass, which I don't have. So I used squat glasses and the drinks were a bit stronger than they would be in a taller glass – but no one complained!
1/2
ounce
lemon-basil syrup
(see below)
1/2
ounce
fresh lemon juice
2
dashes Angostura bitters
Tonic water or Fever-Tree Bitter Lemon
(see headnote)
1. Crack the peppercorns in a mortar and pestle, or in a ziptop bag, using a hammer. Put them in a cocktail shaker with the cucumber slices and lemon-basil syrup and muddle until the cucumber slices are completely broken down into a pulp.
2. Fill the shaker halfway up with ice, then add the gin, Pimm's, lemon juice, and bitters. Shake the mixture until very cold, then pour through a cocktail strainer into a tall glass filled with ice. Top with tonic water or Bitter Lemon, add a cucumber slice and basil leaf as a garnish, and grind a bit of black pepper over the top.
To make the lemon-basil syrup, wash and dry 6 large basil leaves. Put them in a small saucepan with 1/2 cup (100 g) sugar and 1/2 cup (125 ml) water, and add the zest of one lemon (unsprayed). Heat the mixture, pressing the basil with the back of a spoon as you heat the syrup, stirring a bit, to encourage the leaves to release their flavor and the sugar to dissolve. As soon as the syrup just begins to boil, remove from heat and let cool completely. Once cool, strain the syrup into a jar and refrigerate until ready to use. The lemon-basil syrup will keep for up to one month. Makes about 3/4 cup (180 ml.)