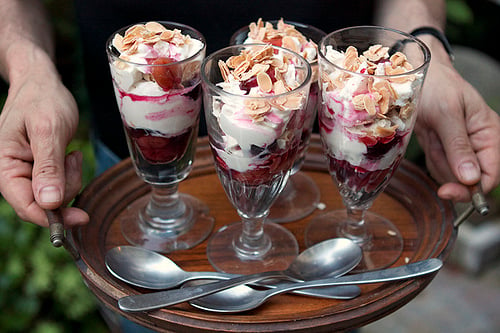 Faced with an overload of cherries, I had no choice but to make a mess. On a trip to London, and at a dinner in Paris, I was served a couple of messes, an English dessert that traditionally incorporates whipped cream, crumbled meringues, and berries. But like most messes (present company included), they can often go in unusual – and unpredictable – directions.
Over the years, it's evolved and I've seen versions that use everything from stewed rhubarb to tropical fruits. Since we are smack-dab in the middle of cherry season, I can't resist hauling as many as I can carry home and eating them right off the stem. I keep buying several kilos of cherries at a time while other market shoppers around me are having the vendors weigh little brown paper sacks, most containing a mere poignée (handful) of cherries, and they seem to be content with that.
I made a mess – actually, I made four – for Bastille Day, or le quatorze juillet – July 14th, (or la Fête Nationale), as they say in France. On a slightly related story, a few years ago I was in the Bastille and some tourists sidled up to me and asked, in halting French, where they could find the Bastille prison. I felt bad telling them that the prison was no longer there – aka the French Revolution – but told them there were remnants of it used to build another greatly feared institution that now rests there: un banque.
Folks from afar also ask me what traditional foods are eaten in France on Bastille Day and to be honest, there aren't any – at least that I know of. All the articles I read about what to eat on Bastille Day are interviews with French chefs who live in America (or American chefs who live in America), who make special meals for their restaurants, in America.
In France, it's a day of picnics or whatever; there doesn't seem to be any cohesive "menu" items, although just to be sure, when I asked Romain what people ate on Bastille Day, he looked kind of puzzled, and finally said "Méchoui." (North African roasted lamb.) Indeed, if you live in the Provinces, the village and town celebrations often feature roasted meat of some sort if there is a communal celebration. But I wouldn't take that as cast-in-stone and I'm sure the most important thing is to have plenty of wine, especially rosé, on hand.
But basically, people just get together and the day informally marks the start of summer, when the last wave of les vacances kicks in and people desert the cities in droves, leaving the rest of us behind to eat all the cherries. So as I wandered the half-empty market this week by my lonesome, I continued with my weekly cherry haul and felt perfectly comfortable making a mess for this year's dessert.
I made a version with both cherries and almonds, two flavors that go particularly well together. If you're not a fan of almonds, simply use vanilla in its place. That's the good thing about being an adult – you can do whatever you want.
Most of the components can be made in advance. You can make the cherry compote a day before; a leisurely rest will give the juices time to thicken nicely. The candied almonds and the meringues can be made up to five days ahead, and each can be stored in a separate air-tight container at room temperature, so you can enjoy spending more time with friends, whatever and wherever you're celebrating.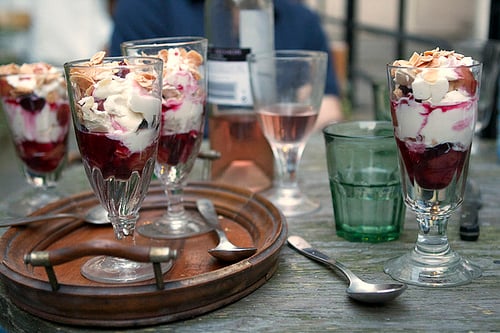 Cherry Mess
Feel free to swap out fresh berries for the cherries; hulled and quarter strawberries, raspberries, and blackberries all are good. Toss them in a generous sprinkle of sugar, and perhaps a spoonful of
kirsch
. If using berries, you can fold some of them into the cream with the meringues to make a more cohesive "mess." (But if you fold the cherries into the cream, because they are so juicy, them will make the cream too loose and affect the color.) To take it easy, you can buy and use pre-made meringues, although since I always seem to have
extra egg whites on hand
, I make them myself. Because it's hard to make meringues with just one egg white, you will have extra meringues left over; extras can crumbled over ice cream or frozen for future use.
Cherry Compote
1

pound (450g)

fresh cherries

,

stemmed and pitted

1/4

cup (50g)

sugar

A few drops almond extract

optional: red wine
Candied Almonds
1

cup (80g)

sliced almonds

,

(blanched or unbalanced)

1

tablespoon

sugar

1

tablespoon

water

pinch

of salt
Meringues
2

large egg whites

,

at room temperature

Pinch of salt

1/2

cup (100g)

sugar

1/8

teaspoon

almond extract
Whipped Cream
1 1/4

cups

heavy cream

2

tablespoons

sugar

4

teaspoons

amaretto (almond-flavoured liqueur)

,

or to taste
For the cherry compote
Put the cherries in a saucepan with the sugar and add a pour of red wine, just enough to make a film on the bottom of the pot. (You can also use water, adding just a tablespoon.) Heat the cherries over medium heat, covered, checking and stirring them frequently until they are completely cooked through and softened, about 10 minutes. (As they cook, they can foam up and spill over – so be sure to keep a close eye on them.) Transfer the cherries to a bowl and set aside, or refrigerate until ready to use.
For the candied almonds
Preheat the oven to 325ºF (160º C.) Spray or lightly coat a baking sheet with vegetable oil. Heat the water and sugar in a skillet until it starts to boil. Remove from heat and stir in the almonds and a pinch of salt, until well coated.

Scrape the almonds onto the baking sheet, break up any large clumps, and cook for 10 to 15 minutes, stirring once or twice during baking so they toast evenly. Remove from oven when golden brown and crisp, and let cool completely. Store in an air-tight container until ready to use.
For the meringues
Reduce the heat of the oven to 225ºF (110ºC.) Line a baking sheet with parchment paper.

In a clean, dry bowl, or with a stand mixer, whip the egg whites on medium-high speed with a pinch of salt until they start to hold their shape. Add the sugar a tablespoon at a time, while continuing to whip, until it's all incorporated and the meringue is stiff and shiny. Whip in the almond extract.

Divide the meringue into 6 mounds on the baking sheet, then flatten each one into a disk with a spatula or the back of a spoon. (Dipping the utensil in water, then shaking off the excess, will help keep the meringue from sticking.)

Bake the meringues for 1 1/2 hours, then turn off the oven and let the meringues continue to remain in the oven with the door closed, to dry out further, until they are cool.
For the whipped cream and assembly
In a chilled bowl, whip the cream until it holds its shape when the lift the whisk. Whip in the sugar and the amaretto liqueur until the whipped cream is thickened, but not too stiff.

To assemble the desserts, choose four wine glasses or other vessels. Spoon some of the cherries in the bottom of each glass with a little bit of the juices. Crumble 3 or 4 of the meringues into rough 1-inch (3cm) pieces and fold them into the whipped cream – the cream should be pretty-well riddled with meringue pieces. Spoon some of that mixture over the cherries in the glasses and add a bit of candied almonds over the cream.

Continue to layer each glass with more cherries, a bit of their syrup, more cream with crumbled meringues in it, and a few candied almonds, however you wish, ending with a few cherries and some of their syrup on top. Sprinkle each mess with a scattering of candied almonds and serve.
Notes
Variations: If you're not a fan of almond flavoring, substitute vanilla extract for the amaretti liqueur in the whipped cream, to taste. For those fortunate to have access to fresh sour cherries, replace some of the sweet cherries in the compote with pitted sour cherries. Similarly, you can add a handful of dried sour cherries to the fresh (sweet) cherries, adding them toward the end of cooking.