I hate to tell you this. But not everyone in France gets five weeks for les vacances. While it's true that most people in France get a five weeks of vacation, I am not quite there yet. Nor am I at the point where I get 7 weeks of vacation, as a few of my friends do. (But that's what I continue to aspire to*.) Take, for example, this summer my vacation time is less than twenty-four hours.
In French, les vacances is/are almost always plural. Perhaps it's because everyone just does it en masse. So I'm not sure if I have to right to call my twenty-four hours vacation, in the plural. But who has time to quibble over grammar (French or English) when I am this close to collapsing.
Fortunately a neighbor who works with Les Étangs de Corot took pity on me sweltering in my office during the heatwave, staring at words on a computer screen for hours at a time while fusing to the plastic of my office chair, gulping ice water, and invited me to come to the hotel and spa for the night, knowing that even the hottest American – the one who is remaining in Paris (not necessarily the one with the hottest backside) – needs a break.
After being stuck in one of the traffic jams that plague Paris on Friday afternoons in the summer, when everyone is making a ligne d'abeille (bee-line) outta town, I arrived at the hotel. And once I checked in, and looked out over the calm étangs (ponds), I realized what a ball of stress I'd become – and I started the gradual process of unwinding.
In fact, I didn't realize how tired I was until I could barely get out of bed the next day. It's amazing what a night of restful sleep can do, especially when you're not waking up to the sound of jackhammers on three sides of your apartment all day (yes, really), 90º (32ºC) heat, poring over 119,908 words – scanning, correcting, and tightening up each itty-bitty word on a computer screen, and aspiring to getting more than five hours of sleep a night. Although I'd like les vacances, I'll take la for the time being.
Aside from awesome bed where I was wishing I could spend the rest of my life in, because it's France, there are plusiers restaurants at this spa and hotel. After a great facial that left me never wanting to touch my face again, and let only the experts do it, we had dinner in Restaurant le Corot, the restaurant gastonomique on their nifty little terrace.
The young staff was super friendly and one of the servers, who could have been a model, was going about her job wearing these amazing shoes that looked like the kind my mother had, that I tried on when I was four years old, and realized I had no future as a cross-dresser. When I asked how she did it, she told me that taking them off was the best part of her day.
But she and her co-server could not have been nicer and we started with Cannelloni of crab in fresh, striped pasta with radishes from the gardens of Joël Thiébault, as well as Breton lobster served on a mound of nuts and pickled wild mushrooms that was lovely – although didn't need the creamy egg sauce and quivering yolk alongside it. (Pass the drawn butter!)
Because the hotel is part of the Château Smith Haut Lafitte family, along with Caudalie spa (hence the kick-ass facial), there is a special focus on their wines.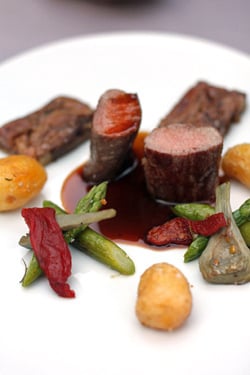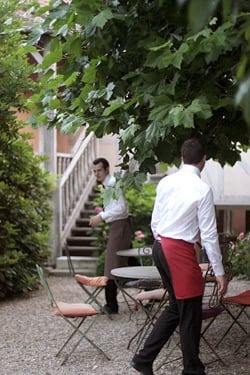 I'm no expert on years, vintages, and so forth, but the 2011 Les Hauts de Smith white wine that the sommelier poured was ripe and fruity, with a delicate crispness, creating the perfect balance in the glass. I have a tendency to drink dry, minerally white wines, so it's nice to step out of my routine – as long as I do the stepping in sensible shoes.
Romain had Quercy saddle of lamb and shoulder confit with turnips and a truly high-test garlic sauce, which you wouldn't find in a tame Parisian restaurant. So big points for that. Because I've been overeating a lot lately, and I'm becoming more and more upset about the skinny young French guys around here with microscopic waistlines, I had wild turbot with fresh shelling beans and cockles. The food was all made with great ingredients and well-prepared, although I would have liked a little more zing with the fish – some contrast added courtesy of some acidic ingredients and a few bold seasonings here and there – bring on the garlic sauce!
One dessert was a Limoncello Soufflé and the other was simply called "Lemon", which was a whisper-thin meringue shell with cheesecake inside and lemon verbena sorbet. I'm not a fan of the lemony liqueur (although I suppose if I was vacationing on the Amalfi coast, and someone handed me a limoncello made with the local lemons, I could be persuaded), but we marveled at the brittle meringue shell encasing a bit of le cheesecake and icy sorbet.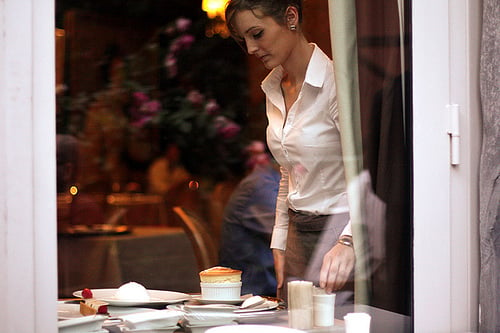 The daylight had disappeared and the sky turned a vague violet color, and after the sommelier offered two glasses of a silky-smooth Jurançon, I barely made it back to the room – and slept like there was no tomorrow.
Fortunately there was. And breakfast the next morning was certainly worth waking up for!
I won't go through everything that was on the tray because you will likely hate me and I don't want to ruin the permanent blissful expression on my face from the masque de beauté I am still wearing, but with raw milk salted butter from Beillevaire and jams and honey from Alain Milliat, how could you stay in bed, no matter what the thread count of the sheets were?
I loved opening the little bags of croissants and pains au chocolat that came with everything, which was a nice touch. As was the fresh-pressed orange juice and crisp bacon they topped my scrambled eggs with. (Not shown, because I ate that right away.) I normally dislike room service which always makes me uneasy, but you can't beat waking up to a tray like this and the only thing you need to do is slip on a bathrobe (preferably before you open the door for the person who delivers it, unless you have a French partner who doesn't care), and pull up a chair on the balcony and sip coffee and butter croissants all morning. Which definitely beats listening to jackhammers on three sides of you, from 8am to 7 pm.
The stress of deciding what to have for lunch was somewhat abated by taking a walk around the étang, or pond, which was where the artist Corot painted. I didn't see any artists, but there were young men fishing, a few locals picnicking, and gaggles of ducks swimming around the lilypads, catching whatever it is that ducks catch in the water. (And that, my friends, was the biggest problem I had to unravel all day.) We split a platter of Pata Negra ham, which is one of the best things in the world, with slivers of Ossau Iraty cheese, from the Basque region.
(I just hit a button on my keyboard and this whole paragraph disappeared and I'm too hot to try to find where it went. But since the heat is already starting its full-on broil in Paris, I'll just recap that the soup shown above was a chilled green pea gazpacho with smoked lard mousse. And if someone could deliver a bowl for lunch today, that'd be great.)
Our main courses were pretty good arguments for adopting a less-is-more philosophy when it comes to cooking – for summer, instead of a cooked tomato sauce with pine nuts, make a fresh cherry tomato salsa with basil or tarragon? Or a dice of avocado and pineapple with some basil seeds or crunchy little bits of pistachios, a squeeze of lime juice, and some curry powder?
For dessert, we stuck to a less-is-more philosophy and honed in on a trio of sorbets made by a local glacier, and some tasty French strawberries with a coy layer of ridiculously high-fat crème d'Isigny smeared underneath. But we managed to find it.
After downing two cups of café express each, to gear up for the afternoon drive back, we hit the pond one last time, unrolling a blanket – where I promptly passed out again. And I think I dreamed about spending the rest of my life in baggy linen pants, the kind that make my butt look big, lying prone on the side of a pond in a shady spot, on a patch of grass.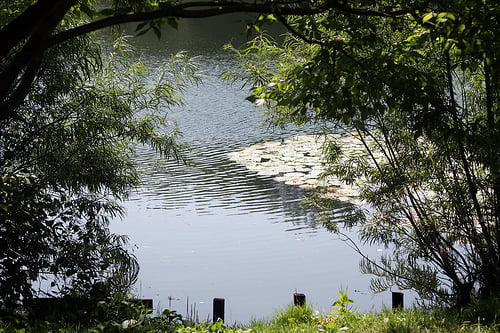 Back down to earth, it was time to go. And you know your partner is a Frenchman when you tear the back of your favorite summer pants on his car door, and he says; "C'est pas grave…they were ugly." But maybe he's right, and who needs pants that make your derrière look big?
By the time we'd gotten back the city, we'd been gone nearly twenty-four hours. If we'd spent any longer there, I guess it might have qualified for les vacances. But I'm not complaining. (Although I would certainly not be complaining even less if I got seven weeks.) I've got a faceful of clear pores, I can tick 8 hours off the 364 hours of sleep I'm still missing, and I've almost made the decision of whether I should look for another pair of linen pants, or a less-honest traveling companion. Or a case of that 2011, to get me through the rest of the summer.
---
*I have to admit, I'm one of the growing number of locals who like Paris in the summer, especially in August, because most of the city has cleared out and it's really calm. And now that I no longer live in a searing-hot, top-floor apartment, the clammy temperatures are a little more tolerable. The downside is that since most people flee the city, they choose to have construction done while they are away, so Paris turns into a zone de travaux for a few months.
**Note/Disclosure: I was a guest of Les Étangs des Corot.