Arriving in New York on the Queen Mary 2
It's been a couple of days since our ship landed (as opposed to my ship coming in) and arriving in New York City by ocean liner is a rather extraordinary experience. Even more astounding is that I actually was able to wake up at 4am to catch the underside of the Verrazano Bridge as we glided below it, then slowing crept up on the softly glowing statue of liberty and all of Manhattan as it was waking up.
During the one week ocean crossing, the weather changed daily. In fact, it changed hourly.
One morning it would be overcast and a little bleak, then an hour later, the sun would be shining and we'd all hit the deck of the ship and park ourselves in cushioned deck chairs and collectively gaze out over the ever-changing, sweeping waters of the Atlantic.
This isn't the kind of trip where everyone is waiting to arrive at a Mexican or at a port in the Caribbean, where hoards of people unload from the boat and invade a town filled with souvenir stands and margarita bars. People who take a transatlantic voyage are doing so for a purpose, which they've been doing for over a hundred years, and that's to cross the ocean to get from one place to another. The only sightseeing is peering out over miles and miles of ocean.
But of course, who wants to be somewhere for a week and not eat well? So I found myself eating fish & chips rather than stale chips & salsa. And warm fig, gorgonzola, and prosciutto flatbread.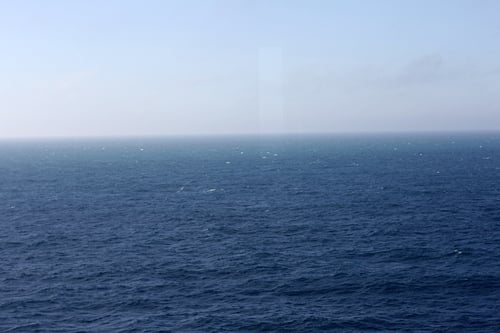 I'd never been on a trip like this and was glad to have had the chance to make the crossing at least once in my life. And when I mentioned it to others, quite a few responded with the same sense of purpose that being on an ocean liner is like. It's not just a vacation, but you're actually going somewhere and it really is a mode of travel, but one which has disappeared in favor of faster means of getting from one place to the next. Here's a few notes about the trip…
Seasickness
I was pretty surprised the first few days at how calm the ocean and ship were. I took another trip on the ocean once on a boat that had a stabilizer which vibrated the vessel constantly, and made everything creak a bit. I had a hard time sleeping because I felt like I was sleeping in a haunted house.
This ship felt quite stable and things weren't moving so much for the first few days. On day three, I awoke to the Queen Mary 2 rocking a bit more assertively. Things were rolling around and getting out of bed, I knew I was on the water. When I went to breakfast, a couple of people looked as though they would have rather have stayed in bed. I didn't feel queasy, but did bring over-the-counter medication in case I did, which I didn't need to take and the minimal swaying which lasted for just a few hours didn't bother me. But for those who do feel like they need it, there are remedies on the ship, just in case.
Price
A few years ago, airfares skyrocketed and when I checked recent airfares, it was pretty shocking and they seem to continue to go up. At the time of this writing, airfares to the states are approximately $1300 or more. A quick look at one of the online cruise booking websites revealed the lowest price for a trip on the QM2 was hovering under a thousand dollars per person*. Of course, prices are subject to change and you need to get yourself home. But considering that there are no extra charges for additional luggage – you can bring as much as you want – it can work out to a decent value depending on how you book the trip and when you go. Pets are allowed as well, and have their own kennel and exercise area. (Although not one of them looked very fierce to me.)
Room Steward
When you check into your room, you are assigned a room steward, who personally makes sure everything is okay during your voyage.
I want one.
Food
To be honest, I was pleasantly surprised at the quality of the food. Of course, they're cooking for well over a thousand people a day. But the menu changes with each meal and they seem to be happy to make allowances for allergies and intolerances. Plus there is a variety of ethnic foods to choose from, including Indian and Italian dishes.
Also there are a few different levels of service you can choose from as a guest on the ship – the upper ("Grill") levels mean you can eat in the more intimate dining rooms and have the same servers all week (which I had) although to be honest, I took breakfast in the main buffet since I'm not a fan of being waited on in the morning and am happier helping myself. And usually people are happier not to be around me first thing in the morning either.
In spite of the fact that we could dine in the smaller dining room, we ended up eating a few times in the main restaurant of the ship, the Britttania, which was a multilevel restaurant and had the feeling of a vintage ship's dining room, which was more bustling and fun. Afternoon tea is also included daily, as is room service, depending on your room. I felt pretty well-fed and did partake in tea (and scones) most days. For those concerned with their diets…or for those who eat too many scones mid-afternoon, there is a "spa" menu available at dinner and other meals.
Pub fare is also represented and passengers can enjoy a pint and eat by the window, watching the ocean lulling outside, and snack on fish & chips or a Ploughman's lunch.
Chef Todd English has a restaurant on board which I ate at one night (there's a small surcharge for eating there and the two photos above, and one below, are from his restaurant) and the food was copious and good, but I especially loved the "Truffled Potato Love Letters", potato-stuffed ravioli with a generous amount of butter and Madiera glaze, although it was quite rich and I think I've just forgotten how filling American-sized portions are (either that, or I over-ordered), and it was hard to finish everything on my plate.
Spa
Speaking of spas, Canyon Ranch runs the spa on the Queen Mary 2. There are plenty of treatments available in various price ranges. You can also pay something extra to get a day spa pass which allows you to use the co-ed hydrotherapy center with various steams rooms, whirlpools, and best of all – and my favorite – the relaxation room.
On my trip, the spa offered a few daily specials, including a $99 massage which is a pretty good deal considering you get a one-day pass to the day spa facilities. It's normally $40 to use it for the day, but if you get a spa treatment (like a $99 massage), it's included. I had a facial that was great
Amenities and Extras
I didn't notice a single scuff on a wall or anything that wasn't in tip-top shape on the ship. The multi-ethnic staff was friendly and professional without being intrusive. But if you wanted something (like directions around the ship, which I needed the first few days), there was someone nearby to point me in the right direction. Because the ocean liner travels from England to the United States often, there is a very British air to the boat and everyone on staff speaks excellent English.
Liquor and wine aren't included but I found the prices extremely fair. Cocktails started at around $6 and British beers were available on tap and in bottles. There were various cocktail bars on the boat and the two I liked the best were the Commodore Club (which has whiskey and martini-tastings), which had a few innovative cocktails (like a "molecular" Cosmopolitan with Cointreau mousse on top) and an extra-fruity Pimm's Cup, and the Fizzless G & T, a mixture of gin, Lillet, orange bitters, and a few leaves of cilantro, which is now officially my favorite cocktail. But even better was the Chart Room, which had a fitting nautical theme and equally fitting bartenders, who were some of the friendliest people on board.
There's a movie theater and planetarium, and a computer center which offers free classes and was stocked with rows of iMacs for usage. Satellite internet service on the ship is available at an additional charge. I am putting in a request for an on board espresso bar.
So that was the crossing and I found the whole thing rather thrilling. And now I'm in New York City, having woken up before the sun to see the city in its early morning glory. The night before the Captain announced the chain of events for the next day and I woke up to the lights of a small boat circling our ship, presumably making sure we made it into the port smoothly, which we finally did just a few hours later.

Related Posts
Inside the Kitchen of the Queen Mary 2

(Notes: *I did a basic online search for informational purposes and found various fares as low as that. But for confirmation, it's best to contact a travel professional, booking agency, or the cruise line itself. As mentioned in the first post in this series, the trip was hosted by Cunard due to a previous culinary excursion I was to make, which was cancelled due to the ash cloud which disrupted travel. There was no financial compensation for writing about the crossing. But I would like to thank the skilled staff who worked on the ship, who did a great job providing services as well as the folks at the cruise line for making arrangements.)