Inside the Kitchen of the Queen Mary 2
The phrase "runs a tight ship" isn't applicable anywhere more than in the kitchens of an ocean liner. When you've got over two thousand guests to feed, plus a staff of around a thousand or so, a "tight ship" is essential. But also having the right temperament to deal with various needs that might arise is important, especially when you're dealing with a multicultural staff, special events, nearly a dozen kitchens, and – well, you name it, it's likely the kitchen staff on the Queen Mary 2 has seen it.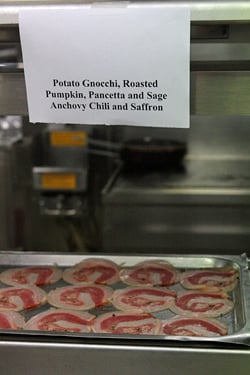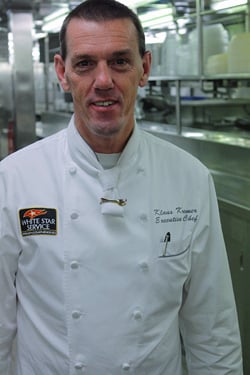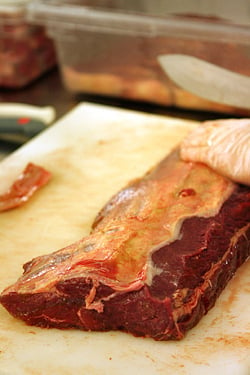 Chef Klaus Kremer has been with the company for twenty-three years, and stands at the helm of the nine kitchens on board. And I'm sure if you sat down with him for a while, he could tell you stories of all he's seen. I spent some time with him and I'd venture to say, for most of those twenty-three years, he likely hasn't had much time to take a seat.
Handling the needs of thousands of passengers and crew members is a major task and orders are sent into the kitchen by waiters, where each dish is displayed on a screen for the kitchen staff then promptly prepared in the gleaming stainless steel kitchens. Each morning the crew starts from scratch; I was surprised when Chef Kremer took me on an extensive tour of the kitchens during his hectic day and told me that no mixes or bases were used in any of the food served on the ship.
(Guests are welcome to tour the main kitchen during a certain period and because they can't shut down the kitchen for the tour, Chef Kremer told me, "The guests form a single line that snakes through the kitchen…about six or seven hundred guests. It's quite a sight!")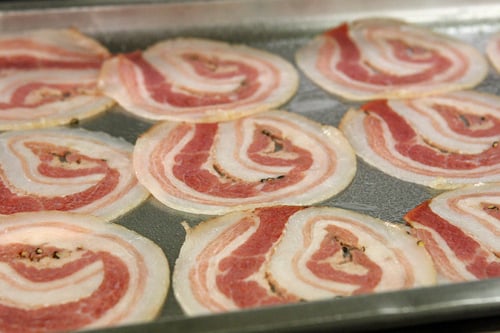 Each morning the bones from the previous evening are made into stock. And although they didn't use my leftovers, we were served very good pork ribs for dinner one night with real corn on the cob. Just for that lunch alone, the kitchen marinated 220 racks for the various diners on board.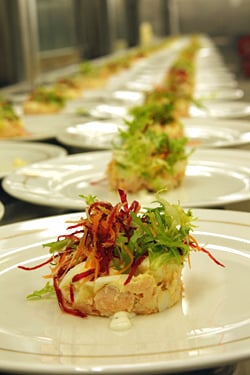 On a single week-long journey, the kitchen goes through 12 tons of beef, seafood, and chicken. And that's 12 tons of each. All the beef is American because the chef likes the consistent quality (like quite a few chefs outside of the states, I've discovered, do) and there is a dedicated butchering room to handle all the steaks and beef that pass through the kitchen.
It's almost incomprehensible how many meals they turn out each day, cooking a majority of the food to order. But what impressed me the most – even more than the butter and ice sculptors at work – were the bread and pastry stations.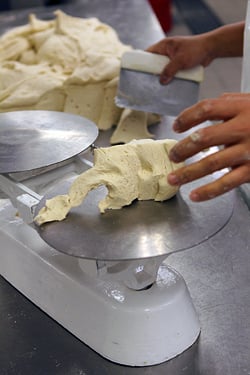 All the rolls, breads, and pastries served on the ship are made from scratch – as well as the buttery scones, using the British flour they stockpile when in the port of Southampton. The kitchen rolls out eight hundred croissants per day and over a thousand scones. Which means that only half of the guests on the boat have a scone in the afternoon. (Which makes me wonder – what the heck is wrong with the other half of the guests who don't have one?)
Chef Kremer got his start in pastry, which is why he insists that everything be made from scratch and when I told him that I learned to make puff pastry by hand (without a rolling machine), he was a bit stunned. But then again, I wasn't making thousands of pastries a day.
One interesting tidbit he shared was that he never drinks and has never smoked. And whenever the ship docks, he hops on his mountain bike and heads toward the nearest hill to climb. So I can see where he got his drive to overcome such odds of running such a massive organization with so many people and menus to keep track of.
He said when he was eleven he tasted a sip of beer, didn't like it, and never touched the stuff again. (Although he adds certain liquors to foods, like Cointreau in fruit salad, and so forth.) And he also told me that the staff knows he is German, which keeps everyone in line: even though he was completely calm and at ease, I could imagine if there is a problem he takes care of it swiftly and efficiently. He confided that although he doesn't drink or smoke, like any chef, he does know how to yell ; )
After seeing a bit behind the scenes, it just made me realize how dedicated and focused one has to be to prepare and cook for a transatlantic journey such as this. The QM2 is the only passenger ship that crosses the Atlantic and most of the time, I just gaze off into the distance, unable to even see the horizon, and am awestruck at how vast the great ocean is. While teams of cooks are down below, waking up early to roll and bake brioche and croissants.
While they were all cooking, last night I saw what I thought was a glimmer of lights way, way off in the distance. There's no birds or anything out here, and we haven't passed another boat since we shoved off from the coast of Southampton last week.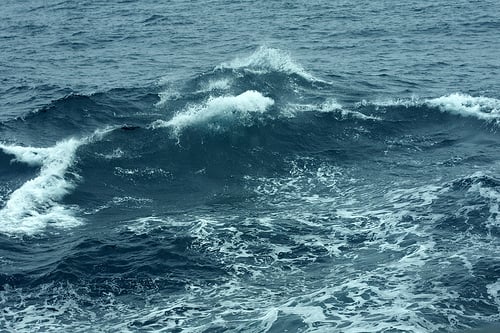 As I pondered before, it's both eerie and exciting to be so far removed from anything. But we're all eating well, thanks to a hard-working kitchen staff. (The Kaiserschmarrn, the classic Austrian dessert, composed of a broken up pancake with roasted red plums for dessert at today, was particularly delicious…as was the all-American Boston Cream "Cake".) New York seems to far away, I can't see anything but water and sky. Yet it's reassuring to know that somewhere on this ocean liner, something like a batch of fresh scones is waiting to be baked off in the kitchen for our next meal. And if anyone doesn't want theirs, well..I'll take it.

Related Posts and Links
The Manic Job of Cooking for the Masses (New Zealand Herald)


(Note: This trip was hosted by the Cunard cruise line.)