I never really "got" London. It was always this hulking city that I struggled to navigate, overwhelmingly large, with a subway system that seemed like a tangle of routes and directions that I just couldn't unravel. But part of it is my fault as I never really spent a lot of time trying to figure it out. I just accepted defeat early on. So this time, I decided to walk from one side of the city to the other, to get a feel for it. And I have a London-sized callous on my foot, but it was worth it. I got to see the neighborhoods and the districts while I wandered and stopped in cafes and coffee shops, and just sat and watched snippets of everyday life in London. And now, I "get" it. London is pretty fun – and delicious.
Spending nearly a week there gave me some time to make a few discoveries – finding some new places, and revisiting some old favorites. Such as the pastries at Ottolenghi in Islington and a trip to Neal's Yard (where they happily hand out samples, which – of course, makes you powerless to resist buying slabs of – well, everything), all accompanied by a pleasant friendliness and efficiency.
And I even mastered the Tube (subway) and managed not to get lost during the entire time that I was there, which is a first for me. All of it is – as the French like to say are (although they should probably tweak it a bit, to comply with grammatical rules) – "So British!", such as black cab drivers opening the door for you with a peppy greeting, and getting dairy delivered in glass bottles for a spot of milk in your morning coffee.
Indeed, the British have a particular sense of humor, and I passed a pub a few years ago called The Bung Hole, which, when I asked a local if that meant what I thought it did, he confirmed that yes, did. Then when we passed The Spread Eagle in a cab, a friend who I was traveling with almost had to have her lower jaw surgically reattached to her mouth.
Equally surprising are ads on the underground that offer to pay men to spill their seed. My mistake, but I always thought that that was something you discussed in a more, um, intimate venue. But I guess if you're going to name your pub after sexual positions or deep recesses of the human body, you may as well invite men to come and get paid for the fruits of their labors.
And on that note, changing the subject…I went to London participate in Food Blogger Connect, speaking on panels with Ren, Niamh, Ceri, and Emma, and hanging out with folks from across Europe, a few from the US (including photographer Penny De Los Santos), we well as folks from Asia and India.
It was also the kick-off for the release of my friend Bethany Kehdy's book, The Jewelled Kitchen. Her brother Eli came from Beirut to grill corn-on-the-cob to roll in spicy butter when it was just hot off-the-grill, which one American in particular – (moi) – made a bee-line for. (And I don't think bee-line should have a hyphen, so better not make any more cracks about other culture's grammatical errors – or cultures'? – when I can barely master my own language.) There were crispy venison and sour cherry nests, silky roasted eggplant puree, and sambousek, tiny crescents filled with lamb enveloped in pastry that I never quite managed to get the hang of sealing properly as the little old ladies in Lebanon, and Bethany, were able to do effortlessly.
After I got all teary-eyed telling a story during my keynote speech at the conference, one of the other highlights of the 3-day event was a workshop Penny, where she helped us work on our photo skills as we practiced shooting the Moroccan citrus salad that is on the cover of Bethany's book, which was pretty easy when you have such beautiful food. (The book will be released in the United States as Pomegranates and Pine Nuts, in October.) I did get in trouble for not shooting in RAW nor shooting in the Manual mode nor using Lightroom (honestly, all those buttons and dials and switches freak me out!), which I promise to correct by the next time I see her. I swear.
Unfortunately the one skill she didn't teach was how not to get your French partner to stop reaching in front of you to grab a duck fat chip (thick-cut French fry) when you are trying to take a picture of them. Am thinking a brisk slap on the hand might do the trick, although since I got bonked on the nose taking my luggage off the rack on the Eurostar which resulted in a huge welt – which I hope isn't permanent – I think I'd better be on my best behavior because with a schnozz like mine, my options are now much more limited.
And really – who can blame him when there were duck fat fries/chips that were brilliantly crisp in front of us, like the ones we had at Beagle?
Fries, or chips, like these makes me think they should pass one of those laws in France, the kind they seem to always be considering, which mandate that all potatoes be fried in duck fat. To start the meal, I really (really) wanted a Pimm's Cup, as it was Wimbledon weekend. But instead they offered up a Summer Cup, which was a superlative cocktail of gin, elderflower, peach, apple, citrus juice, and tonic water. If I could recreate it at home, I would and it would be my summer drink that I'd keep in my refrigerator by the pitcher and drink morning, noon, and night. (Although on second thought, I don't think that's an especially good idea.)
Penny snapped away on her smartphone and we had excellent salads heaped with garden fresh vegetables – radishes, green peas and beans, and shards of Parmesan on one, and grilled asparagus with a pheasant egg, perfectly cooked, perched in the sauce on top for the other.
There was excellent bread from E5 Bakehouse. But the piece de résistance was an amazing plate of sliced roast beef with tomatoes and pickled walnuts and a big mound of peppy horseradish cream, which probably had a ratio of one part cream one part grated fresh horseradish root. The meat was so tender, due to being aged (I wonder if that's true of most beef in Britain?) and made me think there should be a law that all beef needs to be aged as well, which could be something that becomes an international decree.
We finished the great meal off with a Treacle tart accompanied by a hefty boule of milk ice cream and Romain said "C'est rare d'avoir un bon dessert dans un restaurant." ("It's rare to get a good dessert in a restaurant.") So note to some restaurants back home: Time to up your game, mes amis!
Treacle tart is a dessert I've always wanted to make. But on the other hand, like those bottomless pitchers of Pimm's Cup, I'd probably eat the whole thing. So I think I'll stick to indulging on the other side of the channel.
The fun Marylebone market is a true farmer's market, where vendors are happy to hand out samples (which is something I'd encourage more of in Paris – think of all the sales – I was ready to buy everything!) I sprang for a few treats, such as my first Flapjack (the British version of a granola bar, which wasn't as exciting as the lead-up to it was), Romain had a cheese croissant that he wolfed down, and there was a side of beef "confit" that had been roasted for 14 hours. (Neither of us were sure why it was confit since it was not preserved. Maybe they were getting the French back for "So British!" ?) Whatever you call it, it looked beautiful and when I asked for a portion, they cut off a big, honking slice. Which was perfect. Well, until then they started mixing the lovely slice around in the sauce surrounding the beef, breaking it up and turning it into a big, brown puddle of beef.
When I asked (then begged) him to stop, he said "No, that's the way it's supposed to be", and kept stirring and stirring and stirring, until it had been reduced to a wet mound of food. Romain said it reminded him of cafeteria lunches when he was in grade school, which he would hide it in his cheek and get rid of when no one was looking.
Then we went to La Fromagerie, one of my favorites places in London for cups of excellent coffee, and to gaze (and chill down from the heat) in their cool cheese locker.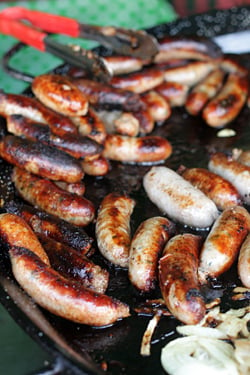 Another day, I had a nice – and very filling – lunch at Koshari Street, where my friend Anissa Helou consulted on the menu, bringing this popular Egyptian street food to London.
"So Egyptian!"
Koshari a big bowl of lentils, rice, garbanzo beans, and pasta with spicy tomato sauce, topped with dukkah and a heap of nicely caramelized onions. And although it may not look like much in the plain little plastic tub, the hommus was some of the best I've had. Better than any I've had in the Middle East.
A little birdie friend at Twitter told me to get to Lupita, a Mexican joint, which she said was her favorite places in the city.
I had to teach my Frenchman about the "lean-and-eat" part of eating tacos, especially when wearing a white shirt. (I know, I know. Who wears a white shirt to a taco bar?) But he performed magnificently and the tacos – carnitas and grilled beef – lived up to the hype from my San Francisco connection.
The guacamole could have been better, though. The avocados weren't all that flavorful and if I can get fresh chilis in France, they could probably get those in England instead of using canned jalapeños. Major kudos to the server, who was excellent and made the experience that was – "So Mexican!" – really fun.
Drinks later that day were at the Grain Store, in the new "happening" area behind the terrific St Pancras train station. (Kudos to them for have clean, free restrooms, fresh food options, and WiFi.) I had gin-based Tuberose Collins, with tonic, lemon juice, and tuberose.
Wasn't so thrilled with the white wine, a grenache blanc that was infused with smoked paprika. It didn't taste all that smoked. (I think someone got the "sweet" and "smoked" paprika mixed up.) The restaurant of French chef Bruno Loubet looked great, and although we had plans to dine elsewhere, we were thinking of staying there and eating. Speaking of smoked, and eating, we did fill up a bit on blistery padrón peppers (Note to the French chef: Please ask your cohorts in Paris to give those padrón peppers a try!)
For dinner, we met up with a British friend at Newman Street Tavern, a gastropub that ages its beef on site.
Starters were Brown Crab and Smoked Mackerel that were both great. (The mackerel especially.) My only was beef, so to speak, was that the slabs of bread were so hefty that the ratio of carbs to seafood was out of whack.
The British love beef and I did find the quality of it everywhere I ate to be excellent. So we were delighted when we found out that the night we were there, which was a Monday, was a special beef night. There was a special menu of Galloway beef, cooked over charcoal and served with triple-cooked fries.
British friends confirmed that there is a penchant for cooking beef to a fare-thee-well, and although I don't like my beef to be à la semelle, or like shoe-leather – as they say in France, I also have a hard time sawing through the tough, hard-to-cut (often nearly-raw) steaks in France. Unfortunately even though we specified the beef to be served medium-rare, my sirloin strip and my dining companion's beef on-the-bone was pretty well-cooked all the way through. (The fries were okay, but perhaps one of the three times they fry them, they could do it in some of that duck fat?) We fared well with desserts: An elderflower jelly with gooseberry compote and an excellent Amalfi Lemon Granita with candied lemon peel that I scraped clean from the British pottery bowl.
In addition to conquering London, one of my dreams is to go to (but not conquer) Iran, which unfortunately isn't on my itinerary for the near future. So I was thrilled when Anissa invited us over for a Persian dinner in her spiffy London loft.
I came over a little early to watch her make Jewelled Rice, otherwise known as Morasa polow. Which is otherwise now known to me as The Best Thing in the World.
Anissa had soaked the rice in advance and just after I got there, she starting assembling the layers of saffron, almonds and pistachios, advieh (a spice mixture), dried orange, tart barberries, and basmati rice, then covered the pot with a towel and a lid, to let it cook gently for about an hour.
While we were waiting, we sipped Lebanese rosé and scooped up roasted eggplant mixed with fried onions and labneh topped with saffron and walnuts and a cucumber yogurt dip that was gloriously heavy on the fresh dill.
By the time the rice was ready, so were we and she piled it into the bowl and scraped the shards of crisped rice (tahdig) from the bottom of the pot, which are the best parts, and served it forth. It was the best thing I had during my time in London. Actually, I think it was the best thing I've had all year.
To end the meal, she'd churned up saffron and raspberry ice creams, Middle Eastern-style, with salep, which gives the ice cream a dense texture. I was so full from eating the magnificent rice that I could barely polish it off. Next time she comes to Paris, I am going to beg her to make it for me in my kitchen and I'll share it. If anyone wants to hasten the project, get that Kickstarter campaign going!
My last meal in London was where I had dinner the first night I arrived, at Nopi, the restaurant of Yotam Ottolenghi and Sami Tammini. I was kind of in a daze the first night when I had dinner with the man himself due to being bonked on the nose so I think I may have been a little woozy for most of the night. (I was especially in a stupor because the entire train car was filled with teenager who apparently were finishing up a big bicycle trip, and it was obvious from the smell on the train car that they hadn't had time to do with laundry and wash their biking clothes.)
The food and service at Nopi are always great. Everyone works efficiently, is knowledgeable about the food, and seems generally happy to be working there. Which is a good thing because I am always happy to be there. And so were my dining companions, who had never been. They were in for a treat.
After all the Pimm's and so forth that I downed in London, I could not drink any more wine or cocktails so I had a carrot-ginger-apple juice, which was a bit of a cure-all, a lead up to my detox I'm starting when I land back in Paris. However I could not resist the Truffled polenta chips which I made sure no one reached for before I could share them with you.
So don't say I never did anything for you. And all thoughts of overcooked beef melted away when the waiter landed a gorgeous sirloin in front of us with a generous heap of wild watercress. The beef was perfectly cooked; crusty on the outside and very tender when you chewed it.
My Frenchman wiped the plate clean and from the look on his face, was perhaps considering being the 400,001 Frenchman to move to London. Once again, there was no worries that dessert would be good. Sure enough, we shared an outstanding bowl of mango-passion fruit sorbet with chili powder and shredded young coconut, and a couldn't-stop-eating Rhubarb "mess" with bits of meringue, lychee sorbet, candied ginger, and small dollops of whipped cream.
After this trip, I no longer fear London. I've unraveled the tangled Tube system, I've pledged to go RAW with a photographer I've previously admired only from afar, I've learned where to pick up some extra cash in London if I ever find myself short – or long, and can confirm (and have the nose to prove it) that I'm not aging quite as well as British beef, at least in regards to my ability to handle heavy luggage. I don't feel 'So American!' anymore. In fact, with a nose like mine, I can give even the most French of Frenchmen a run for his money, although I'm still not ready to be the 400,002th quite yet.
---
Having made the trip to London a few times, here are a few tips about taking the Eurostar between London and Paris:
1. Book Eurostar tickets as far in advance as possible. The prices don't go lower to mirror supply and demand, as can happen with airlines, so best to shop for tickets as far in advance as you can. Surprisingly, flying is often cheaper but consider the cost of ground transit when making the decision.
2. Buy carnets of Paris métro tickets (packs of 10) and Oyster cards (London transit cards) on the café car of the Eurostar. The lines at the Gare de Nord in Paris to buy tickets can be very lengthy since everyone is arriving at the same time and there is just one or two ticket windows. (There are machines, but on a recent trip, they were malfunctioning.) So best to buy them on the train beforehand.
3. If you plan to take a taxi from the Gare du Nord to a destination in Paris, to avoid the long wait in line as hundreds of people arrive from the train at once, you might want to consider calling a private car service to pick you up. You can find various services on the internet or order a cab in advance using G7 or another cab company. There are also services like Uber and Le Cab which you need to sign up for in advance, and have an internet connection to use.
(Note that calling a cab in advance will be more expensive since the meter starts when the cab is dispatched to pick you up at the Gare du Nord in Paris, not when it arrives. But it may be worth it to avoid the lengthy wait, especially at peak hours.)
4. There are a number of ATM cash machines at St Pancras in London and the station is clean and well-lit. However there are no ATMs at the Gare du Nord in Paris so you may want to get some euros before you come. (Update: A reader noted in the comment that there is an ATM machine near the currency exchange booth, although the Gare du Nord is not a place you want to linger around handling cash if you can help it.) Similarly, keep an eye on your belongings at all times there, to make sure that your belongings arrive safe and sound with you.
5. When leaving the train, be careful taking luggage off the upper luggage rack of the train. Unless you want an impromptu nose job.