Orange Margaritas
I don't mind spending part of my winter this year in New York. Even though it was one of the coldest winters in history, and on the first day of spring, we had a snowstorm, the beautiful snow blanketed everything in a thick white layer, which reflects the light and kept my mood cheery and optimistic. It rarely snows in Paris and la grisaille (the gray skies, sans la neige — or without snow), can augment the sullen mood around town. And the only people who you'll see braving the cold are the hardy smokers, God love 'em, clustered in the doorways of buildings and businesses, trying to get as many puffs in as possible before they can't take it anymore and head back inside to the cozy warmth, with the rest of us.
As much as I give kudos to the locavore movement, it's not easy to be an active participant during a New York winter. When I lived in California, even during the winter months, the markets were a colorful riot of citrus from local farms; bright orange tangerines, cheerfully sweet Meyer lemons, and lusty blood oranges, bursting with intense, sweet-tart flavor. Back in Paris, the markets are heaped with clementines from Corsica and Spain, oranges from Malta, and pink grapefruits from, of all places, Florida.
Here in New York City, climbing over drifts of snow to get to shop, the markets only carry locally produced fruits and vegetables, so the selection is pretty limited. And right now, the stands are down to apples, and apples, and more apples. As much as I like apples, they're not the fruit that first comes to mind to use as a base of margaritas. And because it's one of my least-favorite appliances to clean, I don't have a juicer, to juice them. Although a long time ago, I had an outstanding apple margarita at somewhere whose name escapes me* – I want to say that it was somewhere in the American southwest, near Santa Fe? But I think it may have been made with bottled juice. (With all the apple cider at the local markets, though, perhaps I should give them a try myself.)
At a natural foods store I saw a mound of Cara Cara oranges, which are navel oranges with a blushing pink juice, and thought it'd be nice to make cocktails from them. So I squeezed 'em up, along with a couple of limes, and added tequila and Triple Sec to the bright juice. I didn't have a shaker, so I stirred it all together in a pitcher. And lo and behold, I found the perfect antidote for winter, and raised a glass to mark the end of it.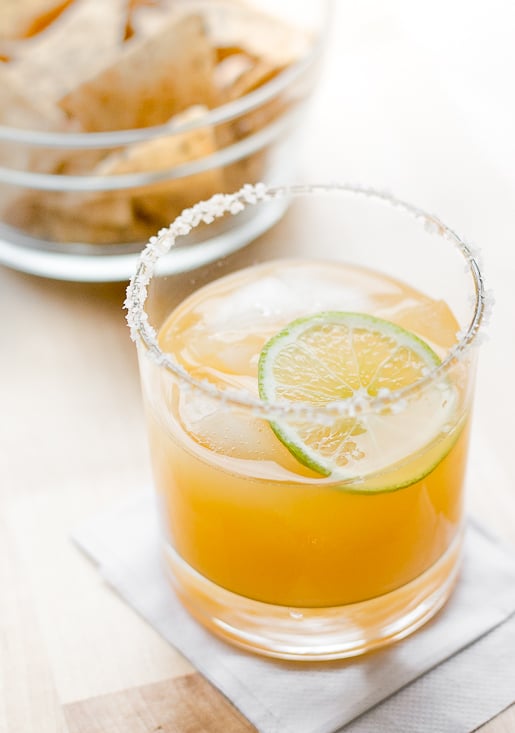 | | |
| --- | --- |
| Orange Margaritas | Print Recipe |
I made these in a pitcher and served them over ice cubes. You can also put the mixture in a cocktail shaker with some ice and give it some good shakes to get it cold, before straining the drinks into glasses. (Depending on the size of your shaker, you'll likely need to mix them up in a couple of batches.) You can use any kind of oranges, or tangerines. Cara Cara oranges are pretty mild, so depending on the flavor of the citrus you have, you may want to use less lime juice, then add more to taste.
9
ounces (1 generous cup, 270ml)
freshly squeezed orange juice
2 to 3
ounces (4-5 tablespoons, 60-90ml)
freshly squeezed lime juice
2
ounces (1/4 cup, 60ml)
Triple sec,
or another orange-flavored liqueur, such as Grand Marnier or Cointreau
2
teaspoons
honey or agave nectar
fresh lime slices,
for garnish
1. Rub the rims of 4 glasses with a piece of citrus to wet it. Sprinkle some flaky sea or kosher salt onto a plate and dip each overturned glass in the salt, pressing and turning it so the rim is coated.
2. In a pitcher, stir together the orange juice, 2 ounces of lime juice, Triple sec, tequila, and honey or agave nectar. Taste, and add additional lime juice, if desired.
3. Fill glasses 2/3's full with ice then divide the margarita mix into the glasses, adding a slice of fresh lime.
Related Recipes
*Update: Here it is.