Vegan Strawberry Ice Cream
I was thinking of having "If you change the ingredients in a recipe, results will vary" tattooed on my forehead, but there wasn't enough room. (Although if my hairline keeps receding at this rapid pace, it may happen sooner than you think.) When I used to teach classes, folks were always wanting to tinker with recipes, especially ice cream, replacing the cream with what-have-you. Or to replace the sugar with something else. I'm not sure why, because I spend an inordinate amount of my life developing and testing recipes to get them just right.
Unless I've personally tested it, it's pretty hard to give my nod of approval and tell what will and what won't work in recipes, especially when it comes to swapping out sweeteners and dairy products since their counterparts behave quite differently than one might think. Ice cream, of course, depends on cream to give it that particular texture and flavor. But I do like and use non-dairy alternatives at home on occasion and saw no reason why I couldn't churn up a batch of ice cream without a drop of dairy.
I started with soy milk, thinking that it had the richest flavor of them all and was the most readily available. But my first batch of ice cream had a murky taste, perhaps because I used agave nectar as well with it. It wasn't bad, but I wasn't digging my spoon back in to the container or licking the canister clean when I pulled out the ice cream.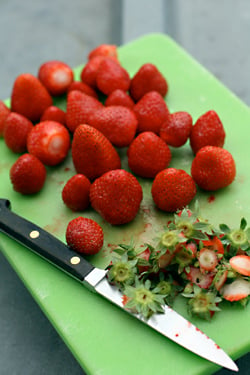 I then considered rice milk, which has a less-pronounced flavor, although it's slightly less-rich than soy milk. I invited over Theresa Murphy, who teaches vegetarian cooking classes in Paris to come by for a taste and she said the best rice milk in France is an Italian brand, Isola. So I dashed right over to biocoop, a chain of natural food stores in France, and grabbed a liter.
Because rice milk is light, and macerating the strawberries for an hour before blending them up augments their flavor, you'll find this strawberry ice cream will have a very intense color and the flavor of the strawberries will really come through. One trick I'll pass along is that if you're strawberries aren't perfectly ripe, you can add a tablespoon of crème de cassis. I usually keep a bottle on hand just for that purpose, although I didn't need to use any here because it's the middle of strawberry season and the strawberries were pretty terrific.
I also get plenty of questions about alternative sweeteners, and while I like agave nectar, I found that when used as the primary sweetener in this ice cream, the flavor overpowers the strawberries. So I stuck with granulated cane sugar. (You can use refined or light unrefined.) I add a few spoonfuls of honey which add a nice background sweetness and helps keep the frozen ice cream scoopable. I realize that I'm probably stepping on a minefield with that one since there is a debate in the vegan community whether or not honey is vegan. If you don't eat honey, replace it with an equal amount of another liquid sweetener or sugar.
Adding a bit of kirsch or another liquor keeps the ice cream softer once churned. Traditional ice cream has fat to keep it smooth. But if you don't plan to eat this ice cream shortly after churning, you might want to take it out of the freezer to let it soften until it's scoopable. The kirsch is optional and you can check out other options at Tips for Making Homemade Ice Cream Softer.
Folks often ask why chunks of fruit freeze too hard in ice creams. It's because fruit is mostly water (most fruit is at least 80% water, and strawberries are nearly 91% water ) and we all know what happens when water freezes. So unless you plan to eat the ice cream soon after churning, they're going to freeze pretty solidly. For this ice cream, I puree it just to the point that it's liquidy, but there are still slight bits of strawberries. You can also puree it until completely smooth and strain out the seeds, if that's your preference. (See? I do offer some choices.)
Good non-dairy accompaniments to a scoop of this strawberry ice cream are a nice dousing with chocolate sauce, alongside a dish of warm nectarine and cherry compote or red wine-poached rhubarb.
Or serve pieces of candied ginger alongside, spoon crystals of strawberry granita alongside and serve them together in a large goblet, or serve a scoop in a glass with a splash of peach leaf wine.
Vegan Strawberry Ice Cream
Use very ripe, tasty strawberries for this. Rice milk has a neutral flavor so the strawberries should really do most of the work in this. I don't strain out the seeds in this ice cream. But you can strain them all out, or just some of them. As mentioned, I did try soy milk and didn't like the taste. But for a richer ice cream, you can replace half of the rice milk with coconut milk. For those who eat dairy, you can use heavy cream in place of the rice milk. I left the liquor optional because some people avoid alcohol, but it does help keep the ice cream softer once frozen; since rice milk doesn't have the fat of cream, it helps to keep the ice cream smoother. As mentioned, because this ice cream has much less fat than traditional ice cream, it will become quite firm when frozen for a long period of time. So eat it shortly after churning or remove it from the freezer before scooping, to give it time to soften.
1 1/2

pounds (700g)

fresh strawberries

,

rinsed and hulled

1/2

cup (100g)

sugar or honey

,

(or 1/2 cup, 125ml agave nectar)

2

tablespoons

honey

1 1/2

cups (375ml)

plain rice milk

2

teaspoons

fresh lemon juice

optional: 2

teaspoons

kirsch

,

vodka, or orange liqueur, such as Grand Marnier
Slice the berries and toss them with the sugar (or agave) and honey, and let them macerate for one hour at room temperature.

Puree the berries and their liquid with the rice milk, lemon juice and liquor, if using, with a standard or immersion blender. You can puree it until completely smooth and strain out some or all of the seeds by pressing the mixture through a mesh sieve. Or you can leave it slightly chunky and omit straining it.

Taste, and add more lemon juice or liquor*, if desired.

Chill thoroughly, then freeze in your ice cream maker according to the manufacturer's instructions. *You can add up to 3 tablespoons of liquor to this ice cream; the alcohol softens the texture so the more you add, the less-hard the ice cream will get. You can find more tips at the links below.
Related Posts and Recipes
Making Ice Cream Without a Machine
Tips for Vegetarian Dining in Paris
Vegetarian Restaurants in Paris
The Vegan Scoop (Amazon)
Ingredients for American Baking in Paris
Agave-Sweetened Chocolate Ice Cream
Tips for Making Homemade Ice Cream Softer