Six Books I've Been Enjoying
Stacks and stack of books are piled up here and there, in every possible space around my apartment. I can't help it — I love books! I've got books on my nightstand, there are three stacks on my coffee table (and two precariously high stacks next to the sofa), and, of course, several on my kitchen counter with recipes that I've bookmarked. It's not possible to write about all of them – that post would be as long as a whole book – but here are a few that I found especially interesting.
50 Foods: The Essentials of Good Taste by Ed Behr
I haven't read 50 Foods: The Essentials of Good Taste cover-to-cover, which is actually fine, since the book is a collection of chapters that you can easily flip through and invariably land on something fascinating and enlightening. Ed Behr is the editor of The Art of Eating, a well-written newsletter, and when I moved to Paris. I'd brought along one particular issue, with an in-depth article about a croissant-maker in the 14th. The writing and descriptions were so good, they made me anxious to try his croissants. (Of course, as always seems the case with me, the day I went there was a fermeture exceptionelle. And I never crossed town to go back.)
50 Foods is one of those books that you can learn something with every sentence that you read. So you can open to a chapter and learn why some honeys crystallize and why others remain liquids (and what big manufacturers do to prevent it from happening). Why the best goat milk cheeses are not available in the winter months. How the preparation of rice various from culture to culture – especially how Asians treat it differently than Italians. And how the normally technique-obsessed French don't give rice any special treatment at all.
Chocolate gets its due, with a discussion of how it's made, what's the most satisfying way to eat it, and what wines go well with it. I agree with Ed's proclamation that "Chocolate destroys most wines." And while red wine is a popular, go-to choice for many, I share his feeling that chocolate needs a wine made from sweeter grapes, and Banyuls, a fortified wine from the south of France, and sometimes Madiera, which support and accompany the flavors in chocolate better than tannic reds.
Although this book contains no recipes, we had a few e-mail exchanges about recipe testing. When I'd mentioned that I had met a newbie cookbook author who expressed surprise that she had to test some of the recipes…up to three times!" we had a virtual laugh, and Ed said something that stuck with me: You can't "know" a recipe until you make it many times – as many times as it takes to get it right. Which is why we have favorite recipes that we return to over-and-over, because we know that recipe. It's that kind of insight that made me enjoy 50 Foods, which Ed said represented almost a lifetime of research, learning, and experience. And it shows.
Cooked: A Natural History of Transformation by Michael Pollan
I've often been reluctant to pick up a book by Michael Pollan, fearing that I'm going to get reprimanded for how or what I eat. (We have social media for that, now.) When I finally read The Omnivore's Dilemma, I found his writing highly engaging, as well as educational, without any hint of high-handedness. Then, a few months ago, I was at an airport scoping out a book for the plane, and saw Cooked: A Natural History of Transformation. Even though I was skeptical that it was going to be a little heavy an airplane read, I picked it up.
I was glad I didn't pick up the US Weekly or In Touch Weekly (as much as I wanted to keep abreast of what the Kardashians were up to), because right off the bat, I was engaged with the book, which talks about how techniques of cooking have evolved and how they've integrated into our culture. Divided into four sections; Fire, Water, Air, and Earth, each topic is handled by Pollan's explorations into how we cook using these four transformative techniques.
In Fire, as someone who has eaten – and written about – some excellent barbecue, i was interested to read his take on why everyone thinks their barbecue (or insert bagels, coffee, etc.) are the best of their genre. And how tribal true American bbq is (long cooked foods, over fire), and how it's as close to basic cooking as we can get. Water focuses on braising, Air explores the wonders (and difficulties) of making a great loaf of bread (I plan on tackling his recipe shortly…stayed tuned — maybe!), and finally, Earth talks about fermentation, and how different cultures use, trap, exploit, and enjoy, various foods that are precariously close to rotten.
There are a lot of great ideas and discussions in this book, presented reasonably and with an open mind. I was especially intrigued by his thoughts on the DIY movement in America, since it's a massive circling back to our roots. One of his conclusions about the DIY movement is that it connects us to so many things – bacteria, nature, land, and other people. I once bought a tub of organic yogurt, and when I opened it, it was still liquid, which somehow delighted me. Ditto with tasting some of the new bean-to-bar chocolates in America. Some have flaws, which often pique my interest: often things that are handmade are more appealing than something that is without distinctions (or flaws). I'll take a blemish, or a distinctively different flavor, in something that's unexpected, over something that is mass-produced.
Michael Pollen also offers theories about why odors that we find repugnant, such as worn gym socks and barnyard droppings, when found in cheese, inspire rapture. And umami, which is abundant in ketchup (and in soy sauce and fish sauce), probably explains much of their popularity around the world. Reading this book taught me a lot about how we've evolved, and how we've developed as cooks. And will likely to continue doing so. (Especially me, if I finally tackle that bread!)
Duck, Duck, Goose: The Ultimate Guide to Cooking Waterfowl, Both Farmed and Wild by Hank Shaw
Years ago, I was cooking with some comrades from Chez Panisse in France, and we had decided that sautéed duck breasts would be a good main course to serve for a special meal. The chef, Jean-Pierre Moullé, chimed in with, "In France, duck breasts are not special. They are everyday fare." And indeed, duck legs, thighs, tenders, and breasts, are easily available in any supermarket.
However in America, duck is still something reserved for special occasions, which is a shame because it makes such a wonderful meal. The meat has a gamey, savory flavor, with the portionability and ease of cooking, that is part of the appeal of chicken. Duck also lends itself beautifully to long braising, which usually improves its flavor, so it's the perfect food for entertaining. If you'd like to explore cooking duck, or goose, I can't say I've seen a better book than Duck, Duck, Goose. To be honest, it's not a topic that I've given that much thought about, since I tend to make the same preparations (long braises) of duck over and over.
But I'm intrigued by dishes like Duck Chili, Chinese Char Siu Barbecued Duck (shown with a beautiful spicy-sweet glaze), Red-Cooked Duck with soy, ginger and Shaoxing wine, French Duck Wing Soup (because I never know that to do with all those duck wings…), and the classic Salmis of Duck, which Hank Shaw describes as "an ancient French dish" where duck gets roasted in a very hot oven, and served with croutons toasted in duck fat. Why haven't I had this dish before?
If you don't know much about duck, there's plenty of helpful, easy-to-understand information about the different types of duck (and geese, of course), including varieties, species, and where to get it, with step-by-step instructions and photos on how to cut up duck, so you can get going on that salmis yourself.
In Search of the Perfect Loaf by Samuel Fromartz
I met Samuel Fromartz when I was in search of the perfect loaf. I was trying out a very popular recipe that was going around the internet a few years, and not having much luck. I didn't like the taste. And while the technique was interesting, I found the results lacking. Through the wonders of the internet, I found myself in touch with Sam. We had some great conversations about bread-making, and how I could improve the loaf I was trying to master. And although I decided to go back to buying me bread from the experts (ie: my local boulanger), I was happy to make his acquaintance.
I met Sam in person when he came to Paris, to work at Boulangerie Delmontel, getting up at 3am to start the daily bread baking with the head baker. Sam isn't a professional baker, but a writer, who found himself suddenly unemployed. He was making bread as a hobby so pitched an idea to a burgeoning travel magazine, to come to Paris to learn to make baguettes in a French bakery. They bought the idea, and off he went on his explorations, which he chronicled in his book, In Search of the Perfect Loaf.
I had some of his bread at a fête in Washington, DC last spring, where he lives, and his loaves rivaled (and surpassed) some of the bread I've had in France. I've got his recipe for Emmer Flatbread bookmarked, and he gave my Socca recipe an American twist (don't tell the people in Provence!), but I enjoyed simply following his journey to becoming a bread maker, and traveling around the country (and France) to learn from professional bread bakers, in his search for the perfect loaf.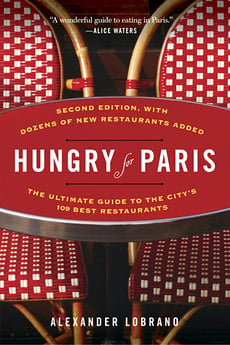 Hungry for Paris by Alexander Lobrano
Paris is constantly changing and although the magazines and journalists list the hot spots, no one is "on the ground" in Paris more than Alec Lobrano. Alec claims in the book to go out "5 nights a week" and for full-disclosure, on occasion, I've been fortunate to join him. I actually met him after I read the first edition of Hungry for Paris, and as much as I enjoy his writing, he's a great dinner companion. But the next best thing is reading his stories about Paris dining. (And frankly, I can't join him in eating out five nights a week.)
In the all-new, completely revised edition of Hungry for Paris, he's added dozens of new restaurants, and crossed a few off his lists. Alec seems to find what makes a restaurant work, calling one place out for its "forgettable decor," but lavishing praise for the food, noting that it "might serve as a model for what the Parisian café genus could and should become." Another place is noted as not being a place for "cutting edge dining" but a great spot for "first-rate old-fashioned comfort food," which visitors are invariably in search of, when dining out in Paris.
The book isn't just a list of restaurants, but each of the hundred-and-nine entries gets its due with the story behind the restaurant, explaining why it's included, or how he found the place, or what to expect when dining there. It's not just "order this, avoid that," but written so you actually feel like you are dining out with Alec. The book is arranged by neighborhoods, with each entry ending with "In a Word," which encapsulates the essence of the restaurant, and the chef, and "Don't Miss," which gives you guidance what to look for when you go. This book will certainly make you hungry for Paris. But even if you aren't in the Paris, his tales of French dining will seduce you into feeling like you are here, sitting in your favorite bistro or sharing a carafe of wine with a witty friend at a neighborhood hotspot.
Egg: A Culinary Exploration of the World's Most Versatile Ingredient by Michael Ruhlman
I've used more eggs than any normal person could count. remember when I arrived in France, and was writing my The Perfect Scoop, supermarket cashiers would be stunned by l'américain who'd unload six or seven cartons of eggs at a time. I know eggs like the back of my hand, but found lots more information in Michael Rhulman's latest treatise on what some call the perfect food; the egg.
Everything you could want to know about eggs is in Egg: A Culinary Exploration of the World's Most Versatile Ingredient. Divided by chapters, including Cooked in Shell, and Cooked Out of Shell, Egg is a compendium of recipes that just the yolks, and others that feature dishes that only use the whites. But Michael doesn't just gives recipes, but talks about the hows and whys eggs work the way they do in recipes, with his usual opinionated candor. If you're the kind of person that wants to know what eggs do in a dish, and how they work when you fry, fold, blend, or whip them, the answers are all here.
There's a towering quiche, his famous aged eggnog, French buttercreams, popovers, and œufs en Meurette, the famous French dish of eggs gently poached in red wine, all of which exploit the power and wonders of the incredible egg.
---
Books listed are linked to Amazon, where I'm an affiliate. They are also available at your local bookseller, as well as Barnes & Noble and IndieBound, online.