Butter & Scotch Bakery and Bar, and Rock & Rye Milkshake recipe
With over 1200 pastry shops, Paris has no shortage of places to satisfy one's sweet cravings. That is, unless it's after 8pm, when all the bakery shelves are wiped clean and they close up for the night. Then you're kind of stuck. That happens to me a lot. And while the cocktail scene has revved up in Paris and there are plenty of places to have a libation after dark, desserts get the short end of the bâton when it comes to after-hours enjoyment.
Butter & Scotch is my happy place. Although it's a few thousand miles away from Paris, Allison Kave and Keavy Blueher opened their mash-up of my two favorite things – cocktails and desserts – in one swell joint, in Brooklyn. Just walking in the door for the first time made me happy. And if they opened one nearby, I'd be happy every evening for the rest of my life.
I love cocktails, and I love desserts, so it's nice to find a great place that combines the two. The only issue for me is that it's 3000 miles, or 4828 kilometers, away. So I have to wait until I'm in Brooklyn to get my fix. Thankfully some of their treats are available to go, like their caramel corn, but I'm done lugging bottles across the Atlantic, no matter how interesting they may be. I swear.
My first visit was with Liz Gutman of Liddabit Sweets, who suggested we meet up for a drink there. I had heard about Butter & Scotch, and loved the idea of a craft cocktail bar and bakery and was thrilled when she suggested we give it a shot for a late Sunday afternoon rendez-vous.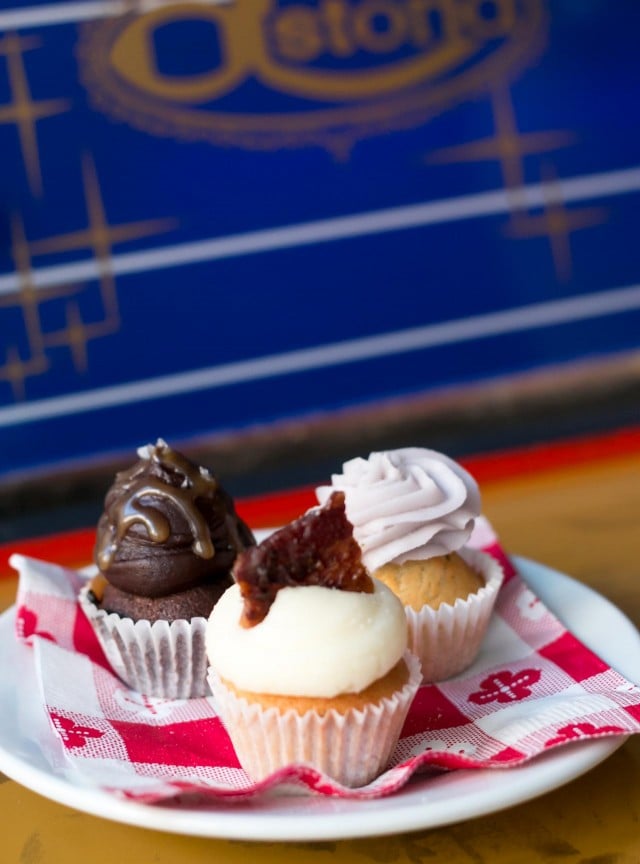 Allison and Keavy have known each other for years – Allison had a business making pies, and Keavy was baking up cupcakes professionally. Allison also bartended for ten years so she's an ace not only in the baking department, but behind the bar as well. My dream is to excel at both. And although I pour a respectable Manhattan, I've not taken up the task of combining desserts and drinks. Perhaps I should leave my resumé with them on my next visit, in case they have an opening?
But it seems natural to me to combine the two. For a flash, there was a period in Paris when young chefs were combining sweet and savory, not always with great results. I will eat anything with marshmallows on it, except for shellfish…and the rabbit stew that was served in Paris with strawberry-flavored Tagada marshmallows on it – but if it's with a lush chocolate custard smoothed over a buttery, slightly spicy graham crack crust, then brûléed, I will be happy to travel thousands of miles to have a slice. (Although the recipe is in her book, First Prize Pies, which I snagged a copy of during my visit, so maybe I don't have an excuse.)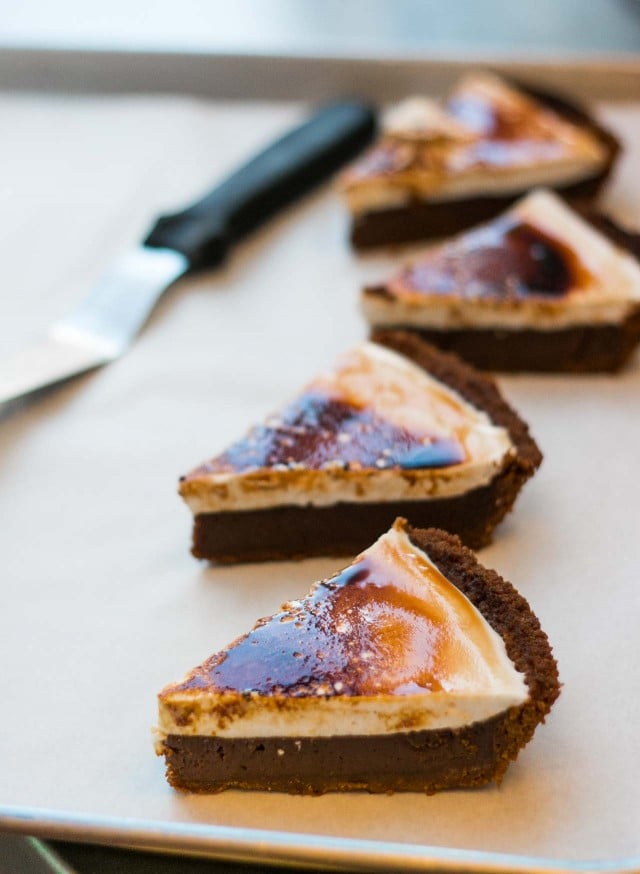 I know this sounds odd, but the S'mores Pie that I had during my first visit to Butter & Scotch was one of the best desserts that I'd ever had. And no, it wasn't my Honeychile Rider, with Dorothy Parker gin, passion fruit, spicy honey and Tiki bitters talking. It was really that good.
Liz and I managed to polish off a few stiff ones that Sunday afternoon, along with some of their popped-to-order sesame/red pepper popcorn, along with a wedge of Negroni Pie (Campari, gin and vermouth custard with orange zest whip, served in a buttery crust) and that S'mores Pie, which made me stop mid-fork and almost push poor Liz away so I could hoard the pie for myself.
They also make a few varieties of caramel corn, but my favorite was the one made using roasted Hatch chiles from New Mexico, which they call their green chile-margarita popcorn. Warning: It's addictive.
Although Liz couldn't make it back with me for my next trip to Butter & Scotch a few days later (or maybe she was miffed because I bogarted the pie?), I went back on my own and sampled a few more treats.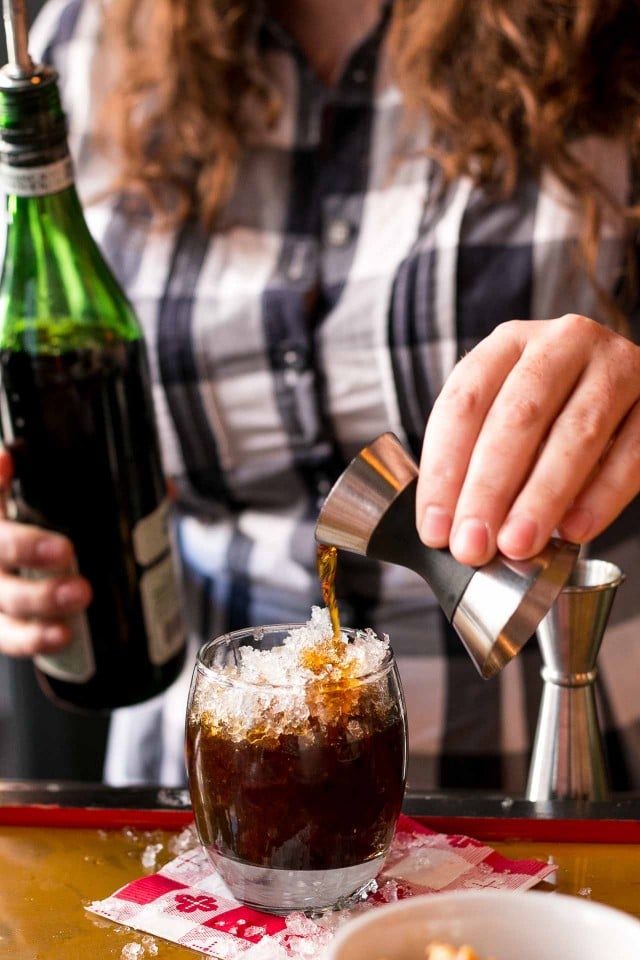 All the bar syrups are made in-house and I watched Allison pour up a Menta Make a Julep with Old Overholt Rye, Branca Menta, and molasses. It looked so good, I swiped a little sip but knew better than the down the whole glass. Yes, that darned politeness.
There was a recent discussion about bloggers taking freebies and I am going to confess right off the bat that the first thing they offered me when I walked in the kitchen were brownie ends. And yes, I know I'm supposed to be taking pictures and notes and all that. But for goodness sakes – chewy brownie ends? Count me in…
I was trying to be professional and not let on that I was fully prepared to eat the whole container, but when I took a nibble, politely, of one edge, I found most of my politesse went out the window. And if it wasn't for that remaining bit of politeness (um, thanks mom!), I would have eaten them all.
In the kitchen, the bakers were busy decorating cakes laden with rainbow sprinkles, something that I've been on a bender about because of a deeply disturbing trend that I've noticed when you order rainbow sprinkles on ice cream, they take a spoon and sprinkle a few sprinkles over the cup or cone. I want to say, "Hello? When you put rainbow sprinkles on something, you should not see what's under them." And that goes for chocolate sprinkles, too. Adding a dozen or so rainbow sprinkles to anything doesn't cut it with me.
There are cupcakes, of course, which sometimes suffer from derisive comments. But goodness, folks, what's not to like about a little cake that you can have all to yourself, that you don't have to share? Nothing in my book. And if you polled my drinking and dining companions, they would probably say the same thing. (Especially if there was S'mores Pie involved.)
And if you think cupcakes are for kids, try one with a Rock n Roll, made with Mister Katz's Brooklyn-made rye. It's infused with rock candy, cherries, orange zest and sour cherries and is ideal for the base of a cocktail with a cup, or slab, of cake. It made me rethink my decision to stop hauling bottles across the Atlantic.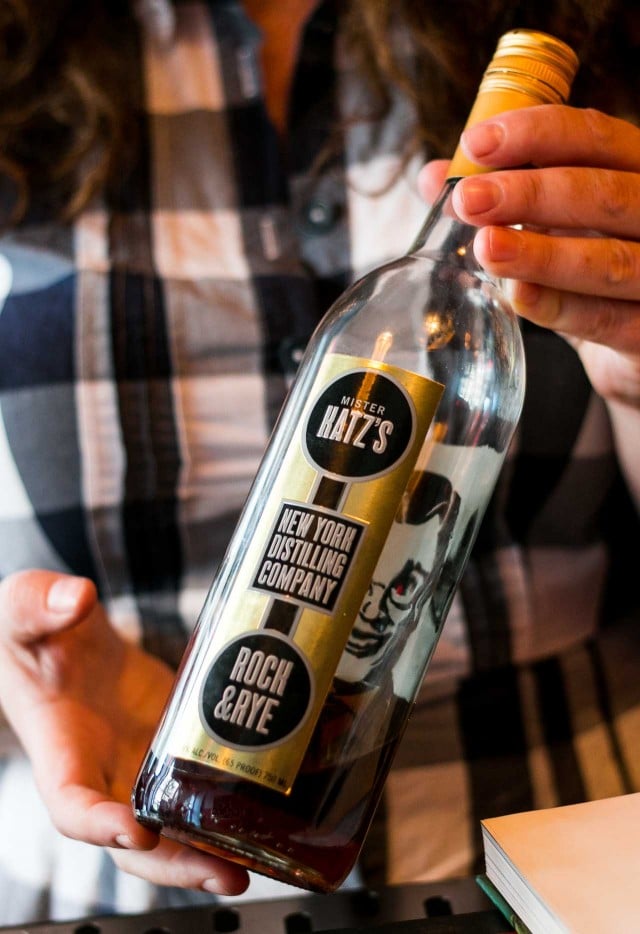 Although I was full on brownie ends, when Allison offered to mix up a Rock & Rye Milkshake, combining my favorite flavors – rye whiskey, ice cream, coffee, and sour cherries – it was hard to say no. Plus it came with a cherry on top. Bingo!
If this post is starting to sound a little loopy, you'll have to forgive me. My notes went one way, and I went the next. And before I knew it, other people were filing into Butter & Scotch, and Allison started mixing drinks and shakes for others, including a neighborhood mom who stopped in for a boozy float.
Called Pretty in Pink, this milkshake starts with Aperol, rosé wine, and a dash of seltzer. A few scoops of strawberry ice cream are added, and you've got one more happy mom on the streets.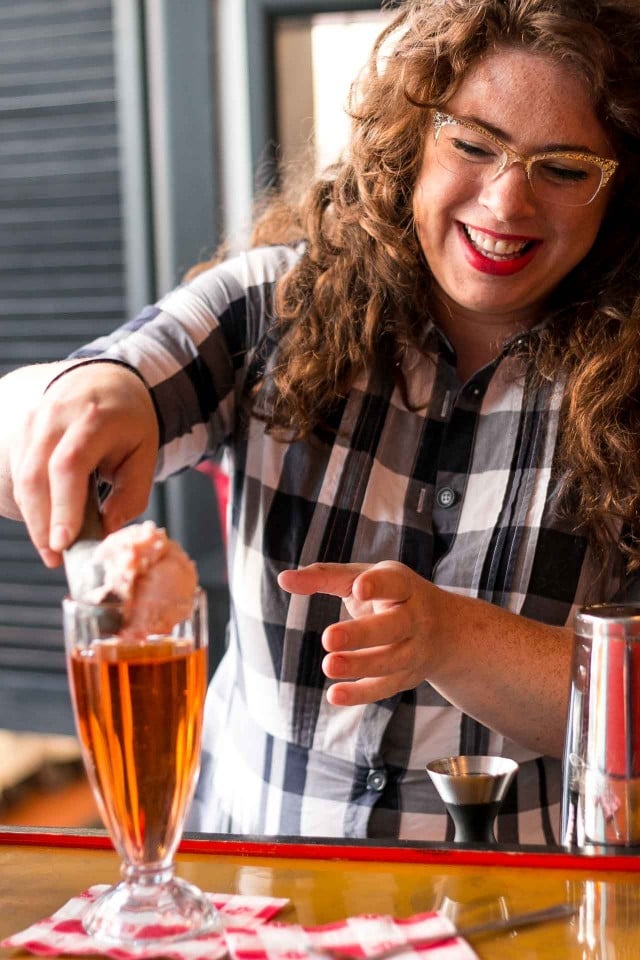 Dessert and cocktail pairings are available, and my only wish when I left was, "How can I open a place like this in Paris?" Am not sure boozy milkshakes would go over as well with Parisian mamans as they do with Brooklyn moms, but they'd do just fine for me. A slice of Negroni or S'mores pie, and a hardcore amount of rainbow sprinkles would be part of my recipe for happiness, and perhaps a jell-o shot or two to finish up. Although it'd be fun to put a French twist on things. Hmm….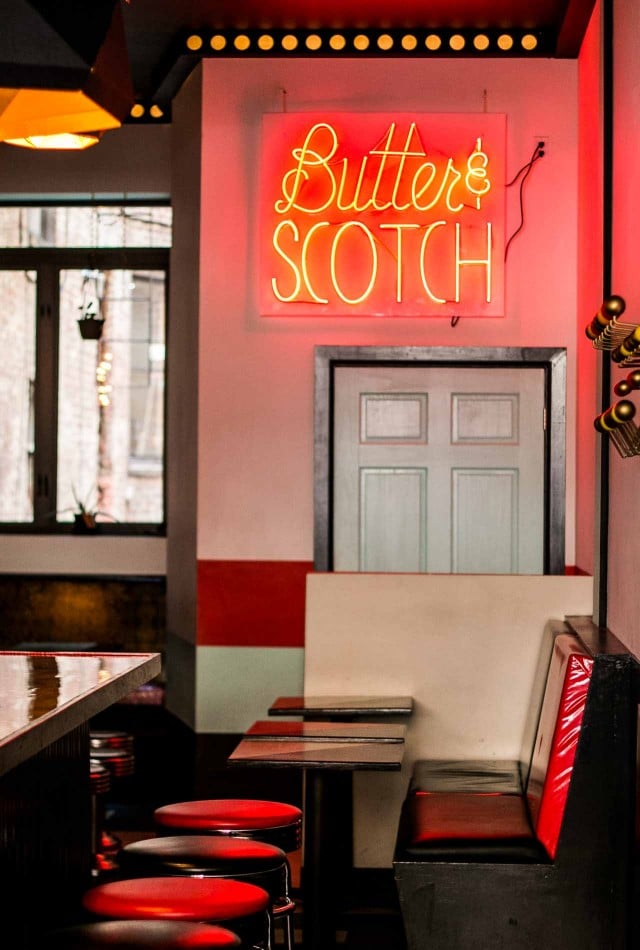 Butter & Scotch
818 Franklin Avenue
Brooklyn, NY
Tel: 347-350-8899
(You can follow Butter & Scotch on Instagram and Facebook, too.)
| | |
| --- | --- |
| Rock & Rye Milkshake | Print Recipe |
Butter & Scotch uses frozen sour cherry puree for this drink, but one could puree frozen or fresh cherries in a blender, until smooth. Another option would be to soak dried sour cherries in hot water for 30 minutes, squeeze them dry, and puree them.
1.5
oz
Mister Katz's Rock & Rye
3
scoops coffee ice cream
Whipped cream & a Luxardo cherry for garnish
In a blender, combine the rock & rye, cherry purée, and ice cream, and blend until smooth. Pour into a parfait or pint glass, top with whipped cream and a cherry, and serve with a straw and a spoon.