It's hard to write or talk about a place like Fäviken. Not that I have trouble talking, as those around me can attest to, but making the trek top the restaurant far north of Stockholm is as much about the experience of being in a certain time and place as it is about eating the food they're serving.
Although I don't necessarily follow all the hype about starred restaurants and culinary "experiences", etc, I do know that regardless of cuisine, price, and location, like a perfect glass of wine or bite of chocolate, it's not possible to fully describe it – nor will it be the same for everyone else.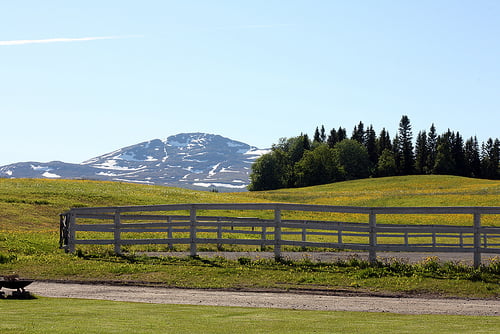 Aside from loving a good carne asada burrito in a taqueria as much as I do a côte de bœuf in a Parisian bistro, it's sometimes nice to break out of what you are used to in order to experience something completely different.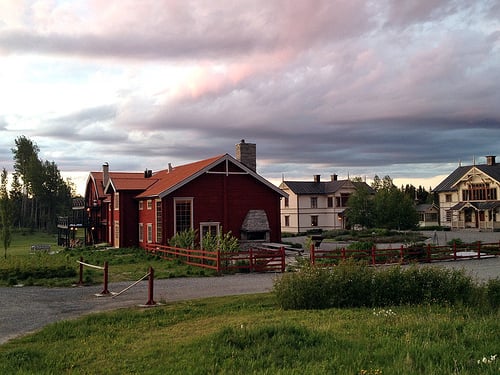 I am pretty sure that I live under a culinary rock because I hadn't heard of Fäviken when I was a participant at a chef's festival in Sydney a few years ago and didn't know any of the "big name" chefs also presenting there.
In fact, I think a few were miffed that I didn't know who they were when we were introduced. (Which is fine, because they probably didn't know who I was either.)
One of the highly anticipated events was a presentation by Magnus Nillson, the chef at Fäviken, a restaurant located in a remote part of Sweden.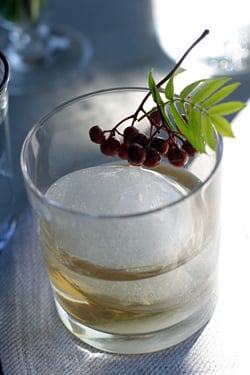 Magnus had worked at a few of the great restaurants of the world, including a few in Paris. And thought about opening something in France. But instead, he went back to the part of Sweden where he grew up to do something even more extraordinary. And in 2008, he opened his own restaurant there.
It's not all that easy to get to Fäviken and we decided to go without doing a huge amount of research in advance. The two ways to get there are to fly into the north of Norway and drive in (the rental car prices were astronomical) or head to Stockholm, then fly northward.
When we arrived, we found we had landed in a remote little corner of Scandinavia, surrounded by lush green hills, sturdy wooden buildings, and outside was a table of chefs, sitting communally, eating their meal. I know that staff meal is sacred and you never disturb cooks while they are eating together. But we were led up to our rooms by a staff member who greeted us, which were simple, but functional. I had bunk beds (like summer camp!) and other rooms had twin beds. Bathrooms are shared and there is a communal sauna, should you wish to commune with the other 12 guests. (Fäviken only serves thirteen diners each night.)
At the culinary festival in Sydney, I had dinner with Magnus and some of the other chefs one night. Even though I didn't do my homework and learn about who everyone was, it was interesting to meet chefs from around the world. Later in the week, folks were talking wildly about the raw beef heart that Magnus served to the unsuspecting crowd, which sounded a bit challenging even to me, but it was audacious and something you're not going to get every day. (I served chocolate cake with ice cream, caramel sauce, and candied peanuts.)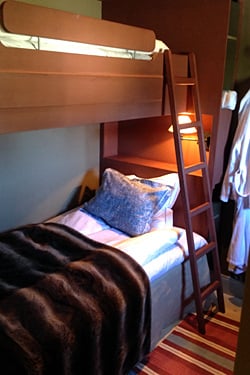 So diners at Fäviken should be prepared to be challenged (rhubarb wine, anyone?), and to try new things. Part of Magnus' raison d'être is to revive ancient Swedish foods, traditions, and techniques. And lest you think Fäviken is a "destination" restaurant, two of the five tables were occupied with locals; one was two middle-aged Swedish couples and the other was two local women, perhaps in their twenties.
Parched after the journey, we visited the bar area, which later would serve as the space where appetizers were served, then we'd head back to later, for after-dinner treats and infusions.
Behind the bar were jars of herbs and roots, and what-have-you, infusing and aging. We had a splendid aged cocktail of gin, bitters, and local roots with pickled rowanberries hanging from the rim. (I am pretty sure they said they were billberries, but others have told me they were, indeed, rowanberries.)
It was so good, we then had another.
With it were slices of house-made sausages. (Although I will not continue to use the term "house-made" any more, as everything here is house-made…including the oversized oval of ice in the drink, and the outstanding butter.)
We were then led upstairs, to one of the big, rough wooden tables encircling the room, with a view of the counter and a wooden chopping stool, later used to saw open bones before extracting the marrow. Because of the configuration of the tables, some diners have their backs to the "action" and although I normally don't care about being in an "open kitchen", I felt I was missing something and they happily let me reconfigure the table so I had a view. My only complaint about the restaurant is that they should reconfigure the seating so that everyone can see the cooks, and the servers (who are as important to the experience as the cooks are), since that is part of the experience of Fäviken. And as much as I liked my fellow diners, I saw them the rest of the week. (Although not in the sauna!)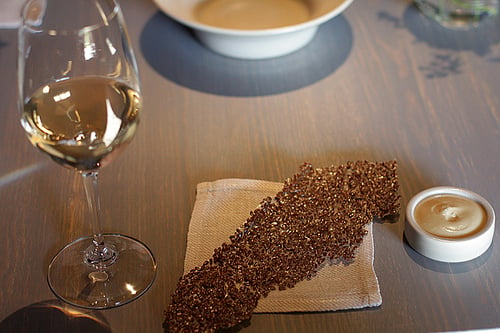 We started with ultra-crisp flax seed and vinegar wafers with blue mussel dip, which was a moist, creamy little puddle of pure shellfish essences. It was pretty divine. Then out came a small, quivering dish of just-made cheese with warm whey a bit of dried lavender. I liked that too, but wouldn't have minded a whisper of salt to perk it up.
Fried pigs-trotters were presented on branches, resting in stones, which drew superlatives from me and my fellow diners. They were great.
Then there was an even bigger surprise; a crust made of pig's blood, encircling wild trout roe, that was the perfect bite. The crusty shell was whisper-thin, and the roe a little salty. Both just kind of melted away as you ate them. Who'd of thought that one up?
Speaking of surprisingly, during the meal, the staff happily accommodated photos. Unlike other places where it might interrupt the meal and the flow of dishes, there is a certain theatricality to a meal at Fäviken that encourages participation to whatever degree the diner wants. Of course, you don't want to ruin the dining experience (for you or others) or ask the staff to behave a certain way while you compose a shot. But on the other hand, it's so special what they are doing that taking a few snaps seemed to be part of it all. Or getting up to take a closer look at what the cooks are doing, which I did a couple of times.
Other tastes before the meal included crunchy lichen (which didn't have a lot of flavor, which might be a good thing), a marvelous salted and aged (for two years) herring, that was dotted with crunchy rusks and curds, and was probably my favorite dish of the night, then the first courses ended with rosy slices of cured wild goose.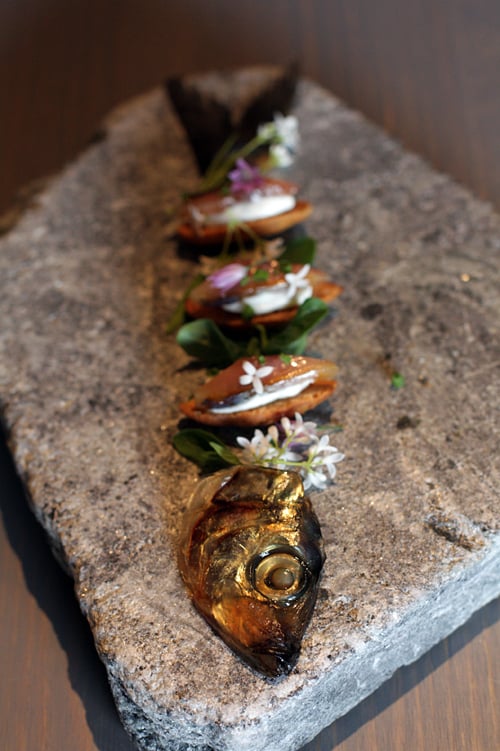 The whole meal keeps moving forward, with servers bringing large wooden boards up from the kitchen, to finish the dishes in the dining room. Magnus participates in the meal with the staff, explaining things to the diners when merited. Then he retreats to the counter to plate up the food. Out came a jumbo scallop cooked over burning juniper.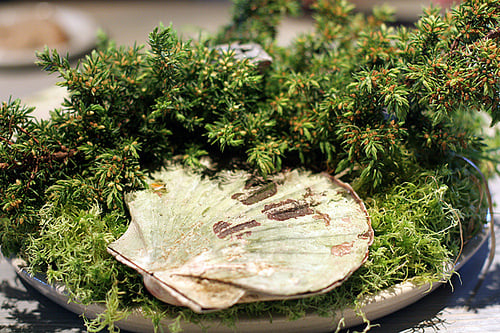 Following that was a tender langoustine tail served with burnt cream, that was sigh-worthy.
Skate and steamed onions came with a vivid sauce made from green onion stalks.
A piece of dry-fried cod was served with a sweet garden carrot cooked in whey, which might have come off as precious (I was once served a 1/2 of a roasted shallot on a huge plate by a 3-star restaurant in Paris, which, indeed, looked silly) – had the carrot not have been one of the most perfect pieces of vegetable that one could imagine. Save that whey next time you make labneh, folks!
Then there was the famous – or infamous – dish of marrow, raw cow's heart finely diced, and flower petals. (I scraped the bowl clean, on that one, although am not quite ready to give up serving chocolate cake and candied peanuts.)
We were presented with magnificent rib-eye steaks, from a retired dairy cow, whose meat had aged for four months before being cooked over open fire with some dandelion leaves and grains leftover from Magnus beer-making project. (Which we happily saw again, the next day. I may not be chopping up beef hearts, but I'm thinking of starting to make my own beer, just for the cast-offs.)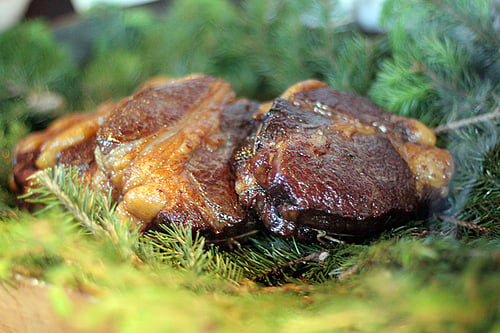 Then there was dessert, which are prepared by the kitchen staff (there's no dedicated pastry chef or pastry cooks – everyone does everything), which began with long spoons with fermented lingonberries, a dab of cream, and blueberry sorbet in them.
After having a rather magical "egg" that you need to eat whole, whose shell is made of what looked like fragile white chocolate that melts in your mouth (when I went to take a picture, the server said "Don't wait too long, it you won't be able to eat it!) But when I asked, they said it was something known as colostrum that had been formed to resemble egg shells. It all happened so fast, it was just a fleeting moment – and I just let myself enjoy the sensation after I popped it in my mouth – then it was gone.
Next up was a jellied egg yolk that had been preserved in sugar syrup served on pine bark crumbs, with meadowsweet ice cream that came out on a frozen stone slab.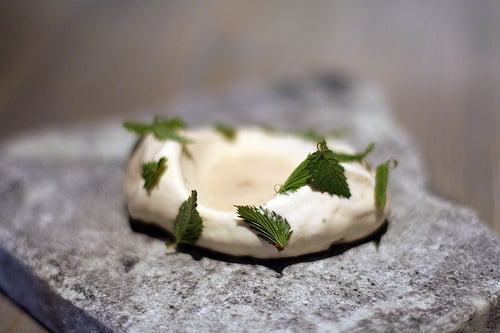 We were told to mix the whole thing together vigorously, which made a sticky-sweet confection, with and almost too-intense richness provided by the gooey yolk.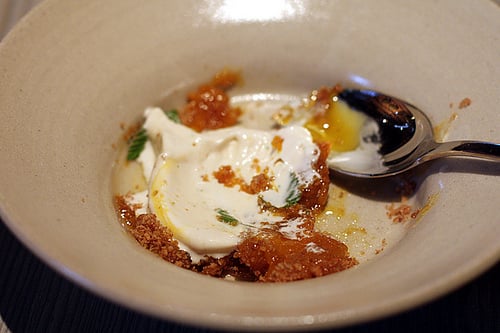 Underneath a blanket of whisked duck eggs, prepared similar to sabayon, was a scoop of sour milk sorbet, which they finished churning in the dining room, with lingonberry jam.
After the meal ended, we were invited to go back downstairs where Magnus and the other cooks were awaiting with pots of herbs, roots, and other things cultivated from the woods around the restaurant, which they patiently explained to each guest, so we could pick whatever we wanted them to brew for us.
Then, the loveliest box of sweets you could imagine was brought out. A tray of dried berries, meadowsweet hard candies, licorice (after all, it's Sweden), sunflower seed nougat, anise seeds coasted in honey and beeswax (in a separate bowl), smoked toffee, and pine resin shards, which I think you need to be Swedish to appreciate. It was one of the few sweet things that I have eating in my life that I had to extract from my mouth. And when I asked the Swedish server, she laughed and said, "We love those. They're a memory of my childhood."
We then had flutes of digestives, me enjoying a glass of amber-colored bitters and one of my friends trying the egg liqueur. (They also had one made from sour milk that sounded interesting, although I was happy with my choice.)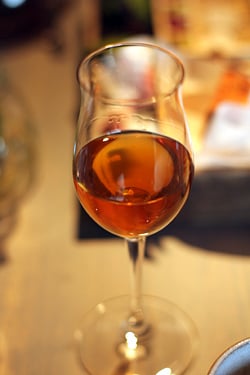 Sated, I chatted a bit with Magnus and he offered to take me to the butchering shed and the garden. It was nearing 11:30pm and the Swedish midsummer sun was about to go down (it came up around 3am the next morning – thank goodness I never travel without my sleep mask), and the dramatic violet-gray skies covered the rolling hills of green that we walked through. It was sort of magical being up there, trudging on the lush grass over the hills with him.
I slept well that night in my cozy lower bunk, and woke up to an astounding breakfast which included fresh bread and excellent butter (although different from the night before, and when I asked for the other, they said it was all gone – the staff probably ate it..and I don't blame them!) There was local honey, salty fish pastes, inky glasses of black currant juice, creamy cheeses, cups of very strong coffee, and the most incredible warm porridge made of the leftover grains and hops from Magnus' beer-making operation. I didn't want to leave. In fact, I wanted breakfast all over again, for lunch.