Pistachio and Chorizo Cake Recipe
I'm now used to sitting down for dinner at 8 or 8:30pm…or 9…or 9:30pm…or 10:30pm…or whenever…but when I first moved to Paris, those first few months were a bit rough and I wasn't quite sure me, or my stomach, would be able to adjust.
My tummy would start a-grumblin' around 5 o'clock and I'd start wandering around my apartment, lopping of pieces of bread and cheese, gnawing on radishes, or raiding the chocolate bin—which usually I started in on a bit earlier, I'll confess, than the other choices.
I am always hungry and the interminable wait between lunch and dinner spans terrifying seven-plus hours here.
There's the goûter, or le snack, which is taken around 4 o'clock and is often something sweet like choquettes or….well, I can't think of anything else. For some reason, I always crave choquettes. Although I'm kind of scared to make them at home since my recipe makes 30 and I'd certainly eat them all—so I usually head to a bakery for a small sack, which contains a more modest 8 to 10.
But closer to dinnertime is l'heure d'apéro, or drink-time, when everyone's getting off work (except for those of us who work at home, who can take a belt whenever we darn well please). Although I'm always up for a glass of wine, it's nice to have a drink like Suze, a very bitter, electric-green distillation of gentian root, which might cause some wincing at first sip, but is pretty enjoyable when accompanied by un snack.
Once in a while, to go alongside, I'll make a cake (pronounced "kek"), made from a batter studded with various savory ingredients. I was recently at a dinner party and some guests were raving about a bread they made all the time, and the more they talked about it, the more anxious I was to get the recipe out of them.
When they told me it was from Chocolate & Zucchini, the cookbook by Clotilde Dusoulier, everyone's favorite Parisian (…and I'm not jealous, since I'm certain I'm a close second), I was all hopped-up to give this recipe a try.
Clotilde's recipe combines spicy chorizo sausage, cut into a little dice, a handful of crunchy pistachios, and tangy sun-dried tomatoes. Although the original recipe called for oil-packed tomatoes, I only had dried ones, which I tossed with the chorizo and let sit for a few hours to moisten up. If using oil-packed tomatoes, drain them well before chopping.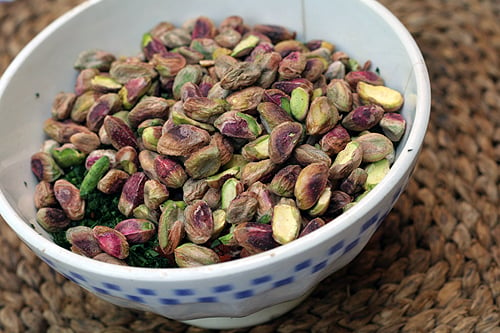 You could certainly futz with the ingredients, swapping out the chorizo for diced ham or bacon, or even something vegetarian (Nothing comes to mind right now except smoked tofu, although I don't know how well that would work.) But for nuts, toasted almonds or pecans would be nice.
I'd run out of white sesame seeds and only had black ones—or so I thought. When I went to look for them, in my cabinet, I found a tiny trail of dark little pellets. Not sure if they were sesames or mouse turds, I decided to quit my search (which was a good thing, since who knows what else I'd have found if I kept searching back there), and instead headed to the Indian market for a fresh, unopened bag of sesame seeds. White ones, so I wouldn't have to worry about them.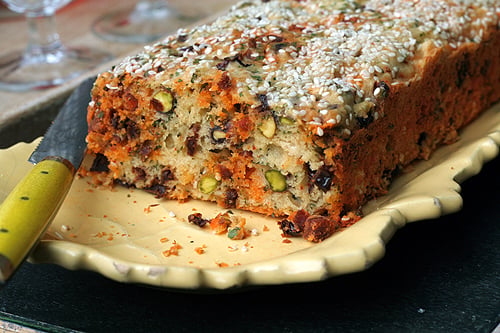 Chorizo and Pistachio Cake
2

tablespoons

sesame seeds

1 1/4

cups (150g)

flour

1

tablespoon

baking powder

,

preferably aluminum-free

1/2

teaspoon

fine sea salt

1/4-1/2

teaspoon

chile powder

3

large eggs

,

at room temperature

1/2

cup (150g)

plain

,

whole-milk yogurt

3

ounces (85g)

chorizo

,

preferable spicy, skinned and finely diced

8

sun-dried tomato halves

,

finely diced

3/4

cup (100g)

unsalted shelled pistachios

1/4

cup (15g)

Chopped flat-leaf parsley

butter

,

for greasing the pan
Preheat the oven to 350F (180C).

Butter a 9-inch (23cm) loaf pan and sprinkle in 1 tablespoon of the sesame seeds, tilting the pan to distribute them.

In a small bowl, whisk together the flour, baking powder, salt, and chile powder.

In a medium bowl, mix together the eggs and yogurt. Sift the dry ingredients into the egg mixture, stirring until barely incorporated. Don't overmix.

Gently fold in the chorizo, tomatoes, pistachios, and parsley. Scrape the batter into the prepared pan, smooth the top, and sprinkle with the remaining sesame seeds.

Bake for 40 to 50 minutes, until the cake just feels set in the center. Let cool for 15 minutes, then tilt it out of the pan onto a cooling rack.
Notes
Serving and storage: Once cool, cut the cake into thin slices and serve as is. Leftover cake should be wrapped snugly in plastic and will keep up to five days at room temperature. I often cut savory cakes in half and freeze part to have on hand for emergency cocktail parties. Note: Chorizo is available in well-stocked supermarkets and food stores. It's also available from La Tienda, although any fully-cured, spicy sausage available locally should work.
Related Links: