Vietnam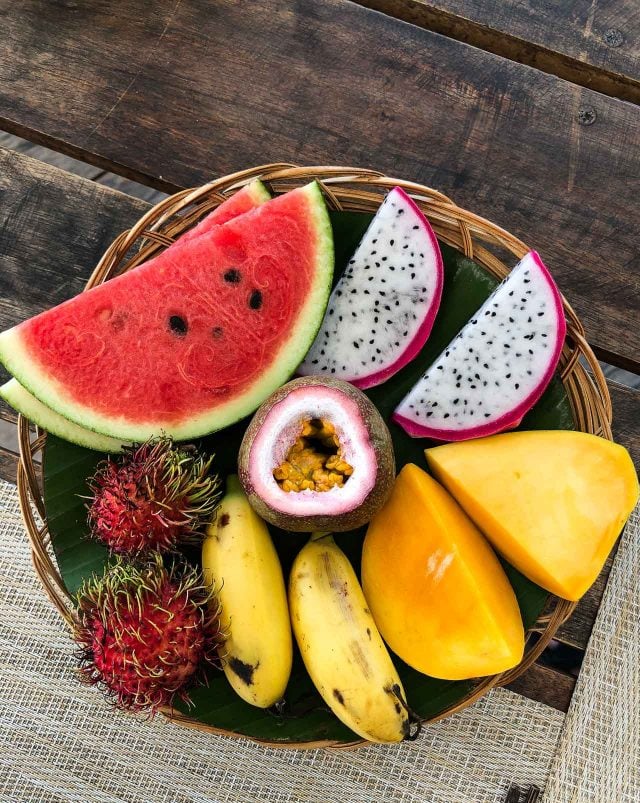 I wrote a story in my next book about all the places that I'm supposed to go to, or want to go to, or should go to. For a long time, Vietnam was near the very top of that list. We have friends that live in Vietnam, settling there after a few years of living in Japan, Laos, and Thailand. An assortment of commitments had prevented us from visiting them in Vietnam (and previously, in Laos and Thailand, two other places on my list), but when we saw them last summer in France, we sat down together in front of my computer and bought our plane tickets, so we'd have no choice but to go.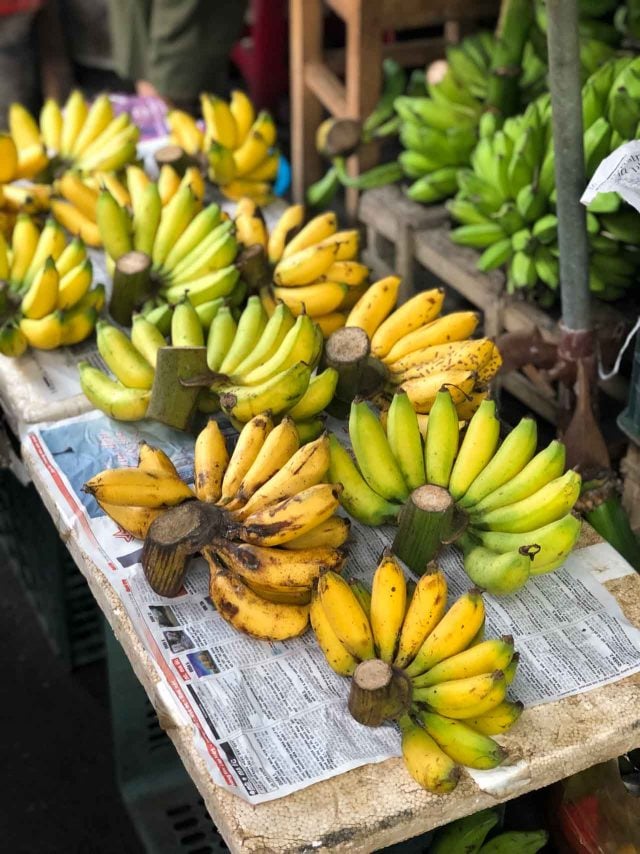 When we landed at Ho Chi Minh City after the long flight a few weeks ago, our eyes and brains took a few moments to reset ourselves from the bleary winter weather we were escaping, adjusting to the warmth and sun of Vietnam. We had arrived in the land of sandals, open-air eateries, and lots and lots of gorgeous fresh fruits seemingly everywhere we looked. At the airport, even the snack bars were pressing fresh passion fruit, dragon fruit (below), and oranges for juice, or offering fresh coconuts with a straw stuck in a hole in the top, so you could drink the liquid. Quelle difference!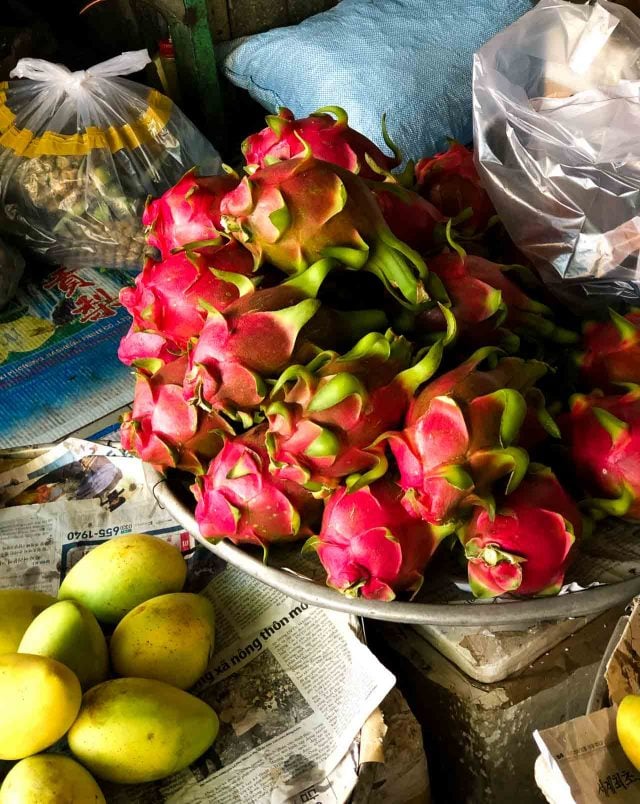 Being a combination of a vacation, and a visit with friends and family, it wasn't the kind of trip where I took on a lot of pre-planning. To be honest, all that stuff is overwhelming to me nowadays. I get when people come to Paris with lists of places they want to eat, and bakeries they want to try. You can walk or take a métro from one place to another. Ho Chi Minh City is huge, and while there are taxis (the public transit system they built was supposed to open in 2009, and doesn't appear to be opening anytime soon), we mostly rode on motor scooters, which the majority of the Vietnamese people use to get around. There are very few cars on the road and it was rare to even see a truck. So I let myself get led around.
Everywhere we went in Vietnam, the streets are swarming with scooters; many times I saw families of three or four people neatly packed on the same two-wheeled scooter. Another time we were behind a man moving an entire tree, with the root ball, perched under his arm, with the wide branches splaying out in all directions ahead of him, blocking the entire lane of traffic, while other riders patiently waited behind him, as he puttered along the roadway. The difference between scooter drivers in Vietnam, and drivers in a city like Paris, is that they aren't aggressively trying to get ahead of each other, or revving their engines when they're stopped at a crosswalk as people are crossing the street (why do people do that?) They honk and swerve and speed up and slow down, but it's all in rhythm with other scooter drivers. Even if someone is coming at your straight from ahead, they casually pass each other without any anxiety or anger. The fluidity is remarkable.
The downside of the scooters are the fumes – cough, cough – and one morning, after being out for a few hours the night before, I woke up and realized why a majority of riders wore masks. It made me wonder how different cities would be if all scooter were electric – probably quieter, for sure.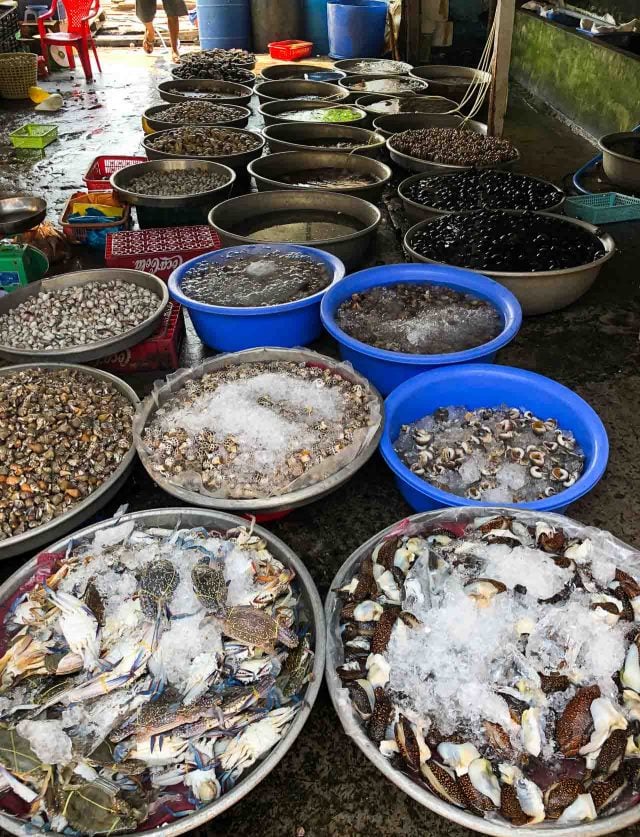 Almost everywhere we went, people were lovely, even those living in the humblest of circumstances. But the Vietnamese have been through a lot and I recommend watching the documentary The Vietnam War (which is on Netflix), even if you don't go to Vietnam, to understand their history, and the conflicts they have endured for centuries.
Because our friends lived there, they planned a few excursions and travel for us. One was to the island of Phu Quoc, and the other was to visit Da Nang, Hue and Hoi An. Five places in two weeks seemed like a lot for me, as I often like to stay in one place and really get to know it (and so I don't spend my entire vacation at airports or in bus stations), but it worked out well. For those concerned, next time Hanoi is going to be our base, or at least our starting point, since I'm sure it merits more than just 2 or 3 days.
Our first meal the night we arrived was one of the best we had in Vietnam, at Spice Bistro where we had what they called "deep-fried spring rolls" on the menu (above), that were excellent. You can also order from the menu at Hum, the adjacent vegetarian restaurant, and we tried a lot of things. But those rolls were the most memorable. It was also great to be able to eat outside and we were happy to dine en plein air. Surprisingly (and fortunately), people in Vietnam don't smoke so much, so dining outside is enjoyable.
The next day we hit Com Ga Dong Nguyen, a multi-level place, which was a lot of fun (above) with lots of little dishes of things to eat. The roast pork and taro root served in little earthenware dishes was really good, as was the sautéed morning glory, which aren't bouquets of flowers but is another name for water spinach. The cuisine here is Chinese and it's a popular place…with good reason. (Excuse the less-than-stellar photos. All the pictures in this post were taken with my smartphone.)
I should also point out that prices in Vietnam are very reasonable. A bowl of soup, such as Pho or Bun Bo Hue at a casual restaurant will run about 40,000 Vietnamese Dong, which is around $2. Unless you're eating someone on the fancy side, most of our meals were about $10 to $20 per person. We mostly drank fruit juice because it was so enjoyable, or trà da, pitchers of tea, although occasionally we had draft Tiger beers or a glass of wine.
Speaking of drinks, it's easy to see the French influence with the number of coffee shops and cafés everywhere. The coffee is quite different, though, and is made by pouring water through metal filters over ground coffee (usually robust robusta coffee), where it slowly drips into glasses. Robusta coffee isn't as smooth as arabica coffee, but the Vietnamese found a way to turn it into the best drink in the world: Vietnamese coffee.
I had one whenever I could and my favorites were always the iced ones, served with a glug of sweetened condensed milk. It's hard not to drink a lot of these in Vietnam – they're so good! And they're also really rich; I spilled one, and only the ice came tumbling out of the glass. The thick coffee stayed inside. You can also try Egg Coffee, a specialty from Hanoi, made by whipping egg yolks with condensed milk and adding coffee, and Coconut Coffee. Note that you'll hear the words ca phe or cafe sua da for Vietnamese coffee, which sounds like coffee "soda," and a couple of times, I doubled back to the server saying I didn't want a coffee soda, until I finally figured it out. D'oh.
We wandered through the market and stalls in Ho Chi Minh City, whizzing through the streets on the back of our friend's scooters, and I told them to brake if we passed any that sold restaurant supplies. They did, and I bought a knife for less than $2 with a red wooden handle, similar to these Thai knives, that are also a deal, although the one I got is a little less polished. There were a lot of stainless steel strainers (for making soup), steel bowls, and cutting boards.
We also stopped at a crazy store that just sold phone cases. The phone cases were jammed against the wall, overflowing from boxes, scattered on shelves, and falling from the ceiling. Or at least it felt like they were. We had to take our shoes off before going in, which was understandable because they were even covering the floor. I realized how different our languages are when I tried to explain "IPhone 8" even showing them my phone – and handing it to them (when the woman took off with it, I got a little nervous), but they were very eager to help me get the right phone case. While we shopped, the rest of the family was having lunch parked in a niche they'd made in one of the aisles. Vietnamese people really like to eat, and I had to explain to Romain that not everyone ate meals at strictly prescribed mealtimes. (You'd think after all these years, he'd be used to me eating all the time, even between meals.)
We saw lots and lots of fruits for sale everywhere. It's impossible not to see fruit in Vietnam. People sell coconuts on the sides of the roads, stands on sidewalks are piled with melons and pink-skinned dragon fruit. Tables are laden with stinky, but delicious, durian (below). I once made a Durian cream pie when I was a pastry chef at a restaurant in San Francisco, and a diner (a well-known chef) sent a message back to me in the kitchen that only said, "How dare you."
Others sell only mangoes. Or watermelons, Or the stand, below, that only had bananas and pineapples. They had at least a half-dozen types of bananas hanging from hooks. They taste about a thousand percent better than the standard Cavendish supermarket variety, and when I lived in San Francisco, I always went to the stores in the Mission to buy red bananas from Mexico. Occasionally I come across them in Paris, and always snatch them up.
Pomelos were also abundant, possibly because Tet (Lunar New Year) was just around the corner and they're said to bring good luck and happiness. Pomelos are very thick-skinned citrus fruits, which resemble oversized grapefruits. Grapefruits are actually a hybrid of pomelos and oranges.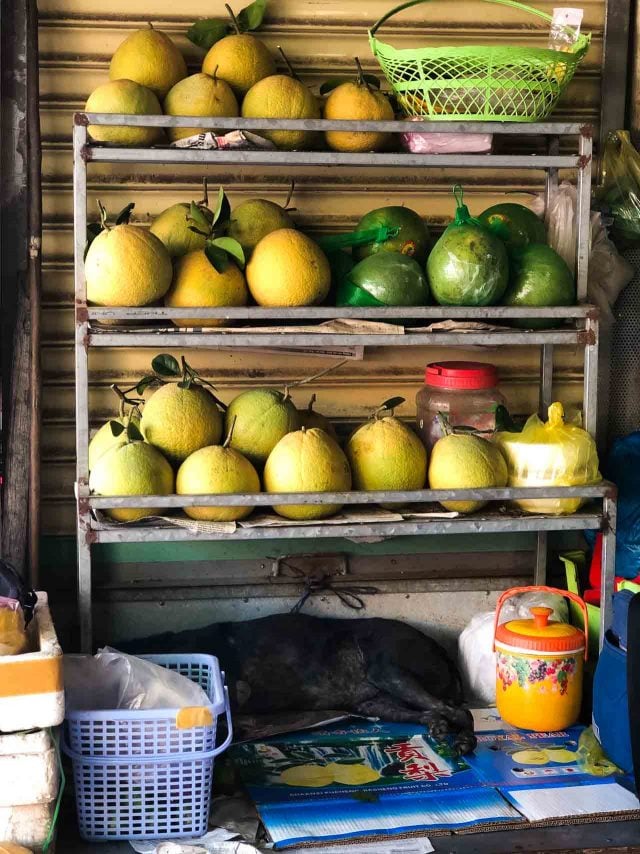 The dog snoozing below this shelf of pomelos wasn't as excited as about them as I was, but I tried to have some pomelo every morning for breakfast.
From Ho Chi Minh City, we took a short plane to Phu Quoc, an island off the west coast of Vietnam. The island is getting built up with some larger hotels, but it's still fairly low-key. We stayed at the Mango Bay Resort, whose charms I appreciated right away.
The rooms are nice, but not super-fancy. There's no AC as the resort is eco-friendly, and the bathrooms don't have plugs, if you use a hair dryer – so it's not for everyone. But I loved our bathroom. It was behind our bedroom, just outside a door, with privacy provided by a thicket of palm trees and wooden walls.
The food at the hotel was also remarkably good (the grilled pork and mango salad with rice crackers we made sure were part of every meal) and since the hotel isn't really walkable to other places, we were happy to have dinner there most nights, on the deck overlooking the beach. The staff was very, very friendly and helped me navigate a trip to Red Boat. If you go and want to see a number of things on the island, you can hire a local driver for a half-day, or a day (the rates were about $32 for a half day, $38 for a day), although note that the drivers are not guides so have the hotel prepare your list of places you'd like to visit (like the pepper farm) in Vietnamese, so the drivers understand where you want to go.
Most people want to go to the pepper farm and fish sauce factories. The pepper farm is more of a garden, and you can see the pepper growing, and a well-stocked gift shop, filled with all kinds of pepper and pepper products. We skipped going to a fish sauce factory since we'd seen the best, although Red Boat isn't open for tours.
We had a good driver that the hotel called for us, who couldn't understand a word we were saying, and vice versa…until I discovered Google Translate has a feature that translates anything for you. He broke into a big grin when he (finally) understood what I was asking him. In Vietnam, regardless of where you stay, I would recommend hiring drivers (or renting bikes, or scooters) through your hotel to avoid any problems. The price for us was the same as if I ordered one myself, but if the hotel recommends them, there's more assurance you won't have any issues, and we didn't. Our hotel in Hue actually jotted down each cab license number when we arrived in one, and when we left the hotel in one, just in case we left anything in the cab – or so they told us.
I'm a grumpy morning person but it was hard to be dour in the a.m. when breakfast began with a lovely plate of tropical fruit on the table, and an extra-large iced Vietnamese coffee, and we were sorry when it was time to leave. The hotel was pretty strict about us checking out of the room promptly at noon, although we could have stayed another three hours in the room and paid the half-day rate they offered us (about $90), which seemed kinda steep. (Especially since no one was booked in that room that evening.) So we left our bags at the desk and had massages at the spa instead, which were terrific and only cost around $25 each. So I recommend if you have a flight that leaves later than your stay, treat yourself to a massage or facial, and save some money. (Now there's some useful information. Aren't you glad you scrolled and read this far?)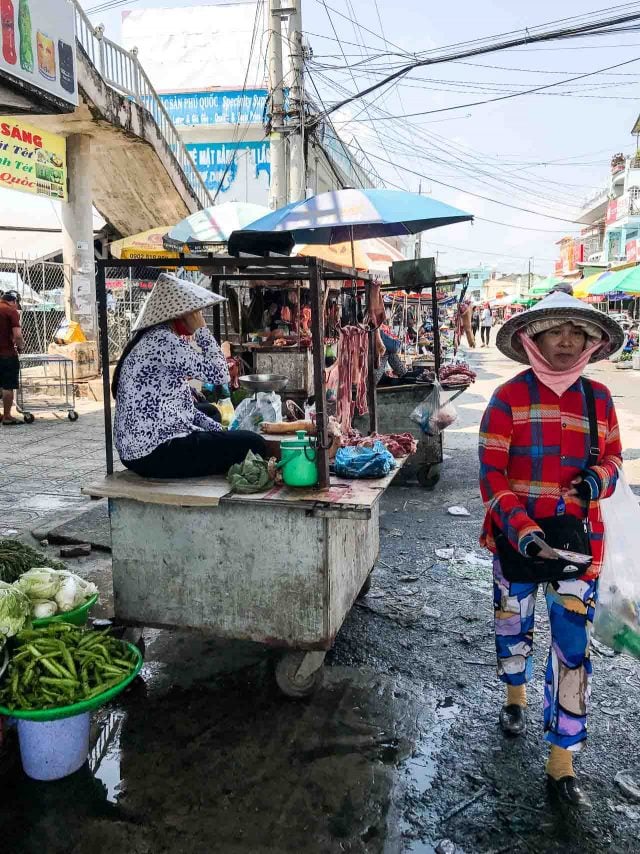 While in Phu Quoc, we went to the Dinh Cau night market. It was fine, but a bit on the touristy side. (Nope, that's not the market, above. I'm getting to that market in a moment…) We walked around for a while, then left the well-lit market and ate Pho at Pho Sai Gon. It was a simple place, serving soup assembled on a cart on the street, and the soup was quite good. If you go, get the "Hue-style" soup, whose broth is a little more lively than their regular Pho.
Pho is a beef-based noodle soup, considered the national dish of Vietnam (either officially, or unofficially). The broth takes hours to prepare, and everyone seasons theirs differently. It's affordable street food and is consumed for breakfast, lunch, and dinner. At the table, extra seasonings are provided – such as fresh herbs, red peppers, and various sauces, like sweet red chili sauce or hoisin. In Hue, they eat Bun Bo Hue, another Vietnamese beef-based soup with a livelier broth, which you can find around Vietnam. I found I actually preferred that to Pho.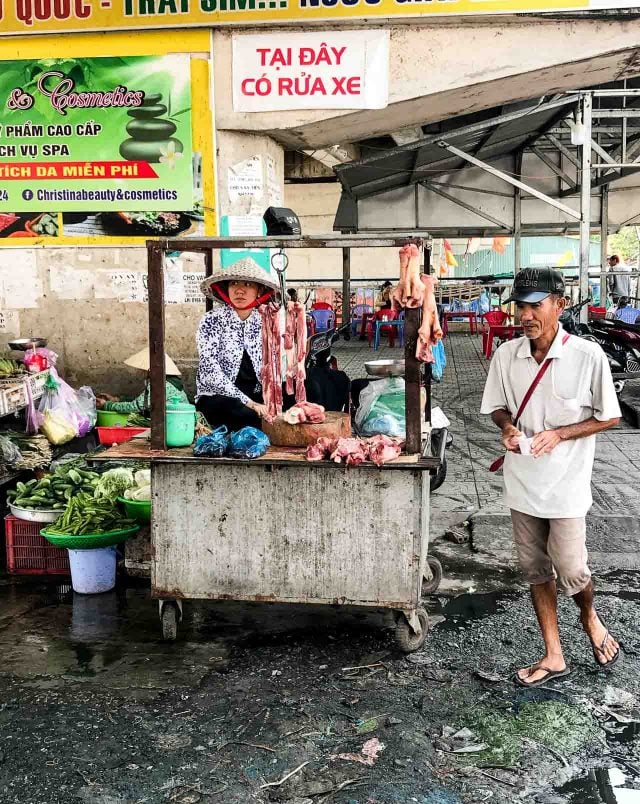 While we found the Night Market fine for a walk-through, the next day, thanks to Google Translate, I asked the driver if he could take us to a supermarket. I love supermarkets in foreign countries and he lit up when Google Translate got the words right. A short while later, he parked next to a side street and said "Supermarket. There." And out we went down a long backstreet, in seach of the supermarket.
We soon realized that his idea of a supermarket (or supermarché, in Romain's case) was different than ours. But what we found was even better. Streets lined with vendors selling all kinds of seafood, fruits and vegetables, herbs, meats, and even pre-shredded vegetables in case you want to make your own banana flower salad, which was one of my favorite dishes in Vietnam, in addition to the green mango salads, which are exactly the kinds of foods I like to eat in warmer weather. Actually, I like to eat them any time of the year.
I'm pretty sure where we were was called the Duong Dong market. This site said the market is best experienced between 6 and 9am, although we arrived in the early afternoon and there was still plenty to see. And there was no way I was leaving our hotel at 5:30am, and those platters of tropical fruits, unlimited Vietnamese coffee, and Com Tam, braised pork belly on rice, which I sometimes supplemented with a fried egg.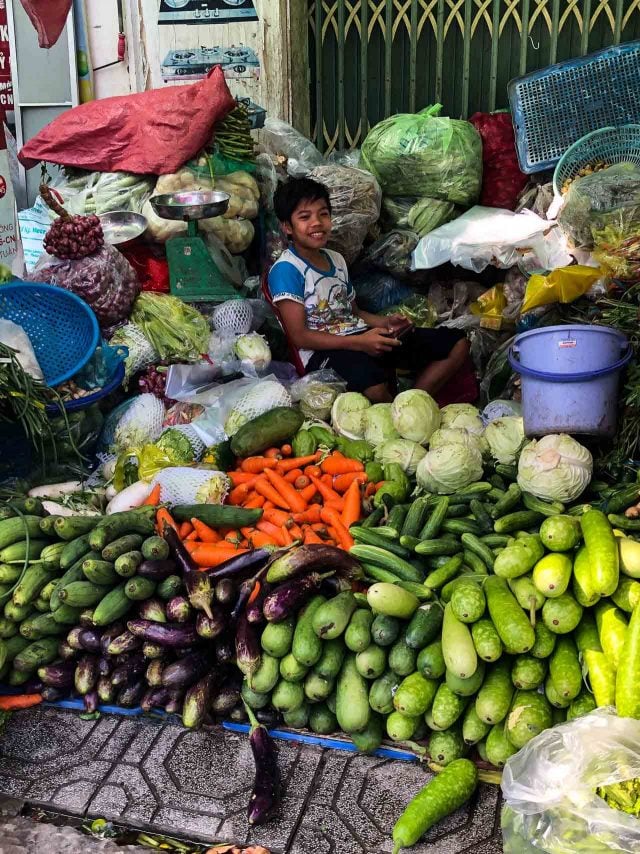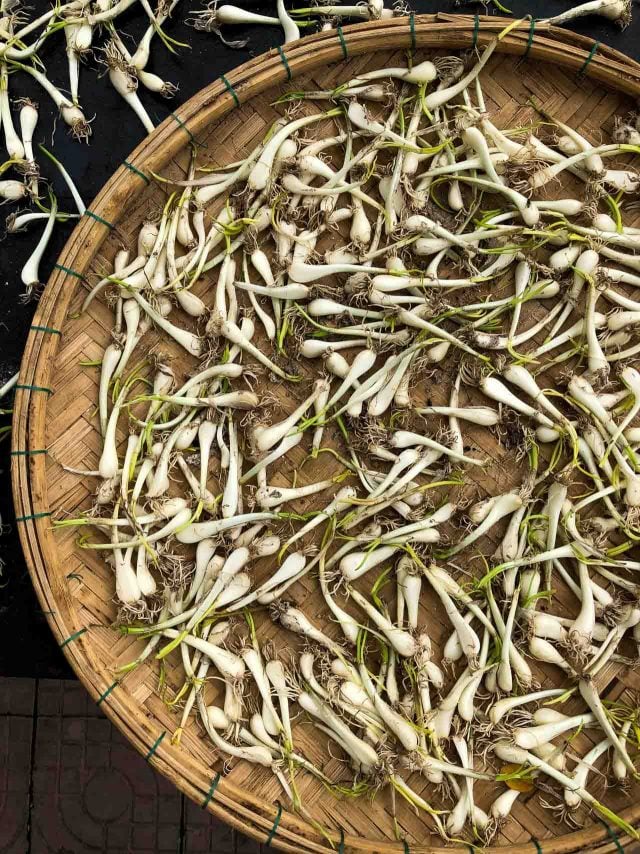 There was everything at this market, although it's decidedly untouristy, so don't wear your Prada sandals because you'll be walking through some mucky stuff. Note: If you want to buy pepper*, which Phu Quoc is famous for, this is the place to do it. The white and reddish peppers are the most notable. The fresh green peppercorns are excellent, and very zippy, although they don't travel as well as the dried varieties, and you may not be able to bring them home.
*Another website that gave an overview of the types of pepper available noted that the white pepper is "much less sought after," which I don't agree with. I'm not a huge white pepper fan, but the white pepper from Phu Quoc is fragrant and doesn't have that dirty sneaker odor that white pepper can have. While I was there, Carl Sutton who makes vermouth wrote to me, to make sure that I got some. And vermouth-makers usually know their spices and seasonings.
A reader enthusiastically recommended Son Hai Quan (Thanks, Amelia!) at Starfish Beach for lunch, a place that sits on stilts over the water, but the driver said it was a far trip. (I think that's what he said. Or he might have said, "It's the best restaurant in the world and you'd be an idiot to miss it.") But he said it was over an hour away, so we didn't go. Instead, we went to Song Xahn, recommended by a local. He also said, "Only get the sardine rolls, and the crab rice. That's it."
The sardine rolls were, indeed, excellent; fresh filets of fish which you roll up with the usual (and always welcome) bounty of herbs they bring you in restaurants in Vietnam, and the crab rice was very good, too, which was enough food for both of us. Except…
…someone wanted to try some of the fresh seafood floating in the tank, so we ordered four live prawns, that the waiter fished out with a net, to be grilled. A few minutes later, out came the prawns, are long as rulers, nicely cooked. But Romain admitted they weren't any better than the langoustines we get back in Paris. When the bill came, they were $60. (That was about 85% of the bill, and by far the most expensive things we ate in Vietnam.) When I asked my friends when we got back to Ho Chi Minh City about the price, their eyes almost fell out of their heads. So always ask the price of things that aren't listed on the menu.
After spending a few more days in Ho Chi Minh City, it was onward to Da Nang, Hoi An, and Hue.
Continue to read part 2 of Vietnam here.