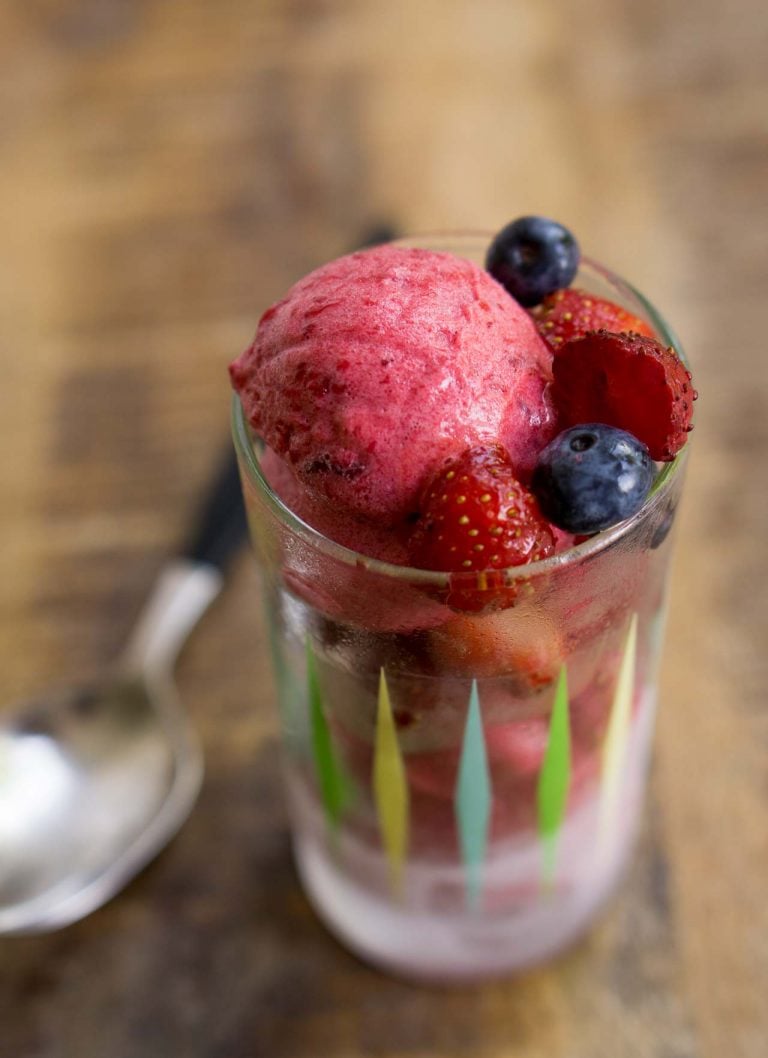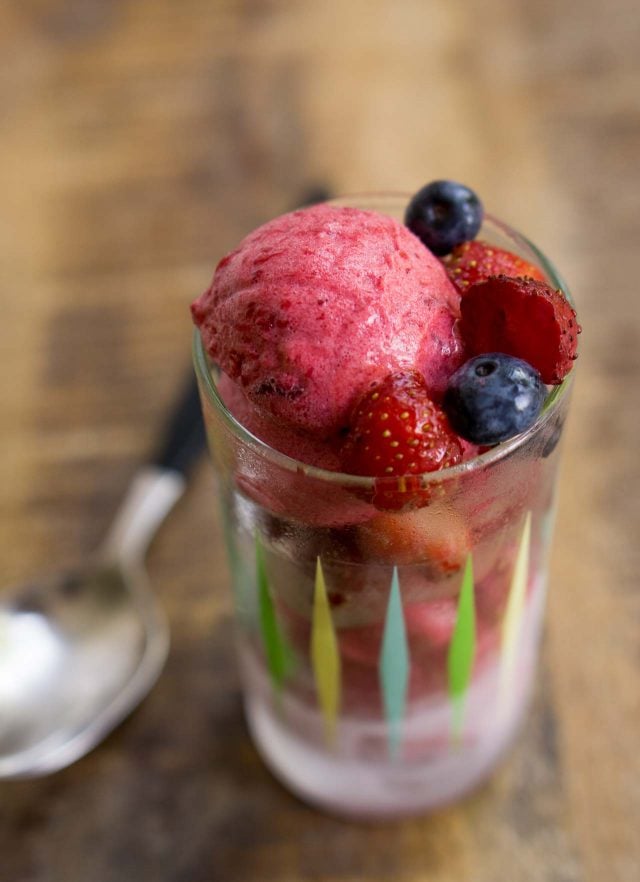 When I wrote the first edition of The Perfect Scoop. I only allowed myself to use the word "refreshing " once, which I'm pretty sure I did. When you write a book, there's a tendency to include everything that you possibly can, but a number of things can nudge them out, such as having photos, which everyone loves. So although I included Plum-Blackberry Swirl Ice Cream, Plum Granita, Plum Ice Cream, Plum-Raspberry Sorbet, Plum-Rasberry Swirl Ice Cream, and a Plum-Berry Compote (whew!), I didn't include a Plum Sorbet recipe.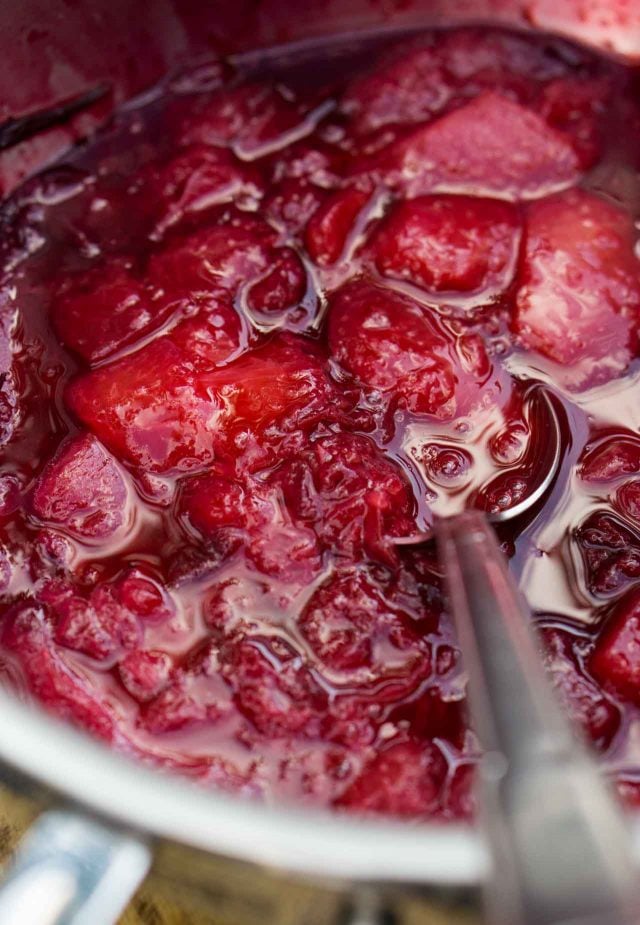 It probably didn't include it because I would have had to use the word "refreshing" to describe this distinctly tart-tangy Plum Sorbet, which tastes like the best of summer is one remarkably colorful scoop. Since this recipe is on the blog, I'm gonna invoke the "Do whatever you want, it's your blog" rule and go ahead and say that this is, indeed, very refreshing.
I'm a fan of any and all plums, and never met one I didn't like. I even add a salty Japanese umeboshi plum to the pot when I make rice. When the rice is done, I pluck out the fermented fruit and eat it, which is said to be good for all sorts of things that might ail you.
Most of the flavor of plums are in the skins, especially that tangy flavor we all love. In France, big, red juicy plums, called prunes (a word which always trips me up, because that's the word we use for dried plums in English, which in French are pruneaux…) are harder to come by. We get amazing Reine Claude plums, and the cult-like forces make an appearance at the mention of the word "Mirabelle," but I'm also a huge fan of Santa Rosa, Elephant Heart, and other lush, pulpy, purple plums.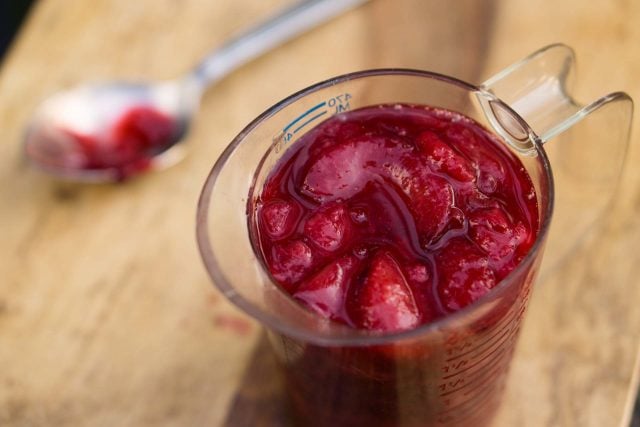 Much of that adoration I owe to a personal hero of mine, Luther Burbank, a horticulturalist from Northern California who cross-pollinated fruits in the late 1800's and came up with a number of hybrids, including the russet potato and plumcots, but most notably the Santa Rosa plum, an excellent, all-purpose plum that's still popular today.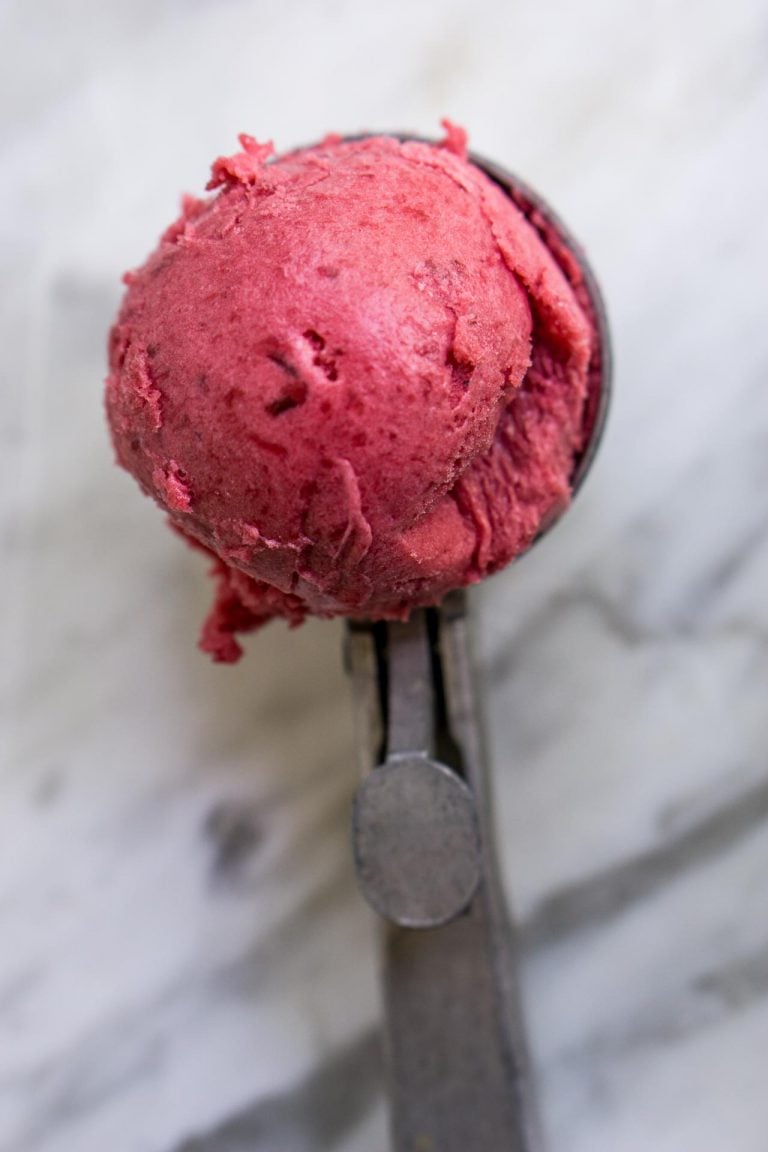 There's nothing more satisfying than cooking up a pot of plums, too. They don't get peeled and that peel, in addition to adding spectacular flavor, gives them a color that, when churned up into Plum Sorbet, is terrific on its own, but especially shines when paired with other seasonal fruits and berries.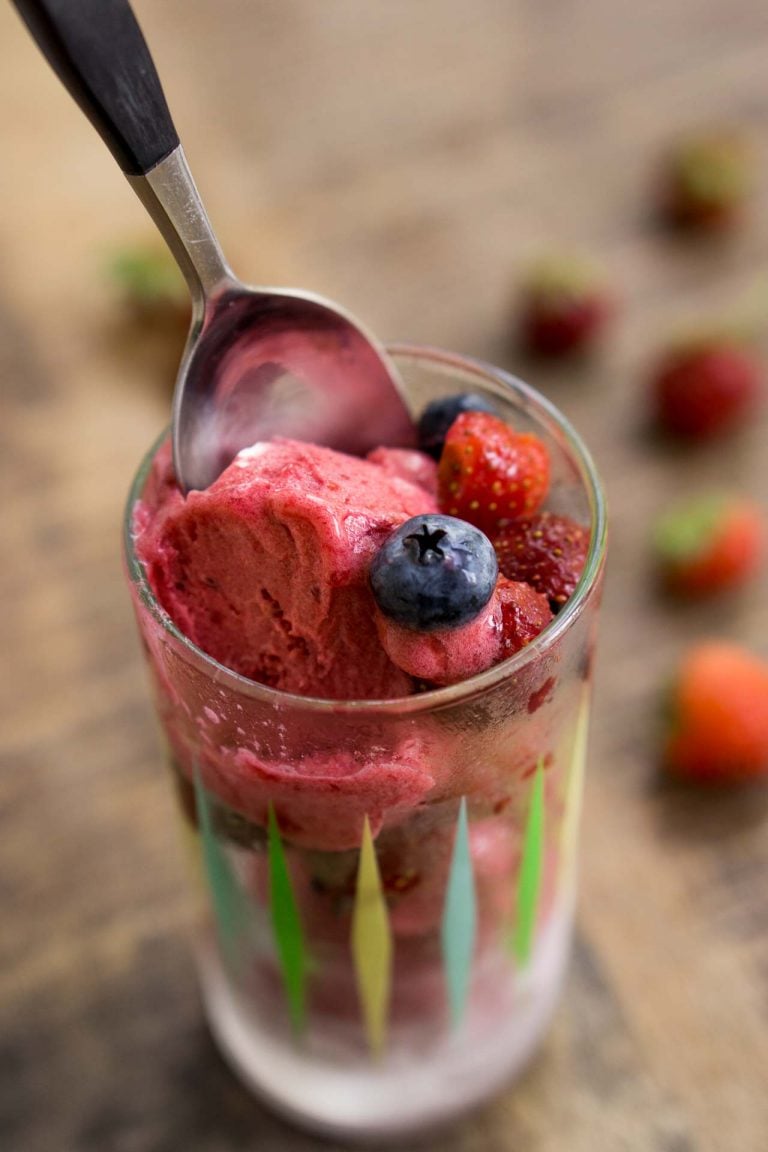 Although not salty, or fermented, this Plum Sorbet is very good for curing what ails you. It's especially refreshing, and I've been using it this summer to cool things down, making it just what the doctor ordered.
Plum Sorbet
1 1/2

pounds (680g)

plums

1/2

cup (100g)

sugar

,

or 1/3 cup (65g) sugar plus 2 tablespoons light corn syrup

2 to 3

teaspoons

kirsch, maraschino liqueur, or vodka

a few drops

fresh lemon juice
Pit the plums, slice them, and put them in a medium-sized saucepan with 1/4 cup (60ml) water. Cover and cook over medium heat, lifting the lid and stirring occasionally, until the plums are soft and completely cooked through. Remove from heat and let cool to room temperature.

Blend or puree the plums. You should have about 2 cups (500ml) of plum puree.

Put the sugar, or sugar and corn syrup, in the saucepan with about 1/2 cup (125ml) of the plum puree and cook it over medium heat, stirring, until the sugar is completely dissolved. Remove from heat and stir it into the rest of the plum puree. Mix in the kirsch or maraschino and a few drops of lemon juice, then chill the mixture thoroughly, preferably overnight.

When the sorbet mixture is thoroughly chilled, freeze the sorbet in your ice cream machine according to the manufacturer's instructions.
Here are a few pointers and tips about the recipe:
Why do you cook the plums? Can I make this with raw plums?
Much of the flavor of plums comes from the delicious, tart skin. Cooking the fruit draws out that flavor and melds it with the flavorful juicy flesh. So I cook the fruit.
Why is my sorbet so hard after it's been in the freezer?
Fruit is around 90% water, so sorbets tend to freeze harder than ice creams, which have more fat to mitigate that. Also, home freezers tend to be much colder than the freezers used at ice cream shops. This sorbet is softer than others, and plums have less water than citrus and other fruits, so isn't as much of an issue in this sorbet. For tips, check out my post, Tips for Making Homemade Ice Cream Softer.
Do I need to use an ice cream machine?
Nope, although the steady churning of a machine gives the sorbet a nice consistency. (For tips on ice cream machines, check this post.) If you want to make this without using an ice cream machine, freeze the sorbet mixture in a shallow, freezer-safe container; one that's plastic will make it easier to remove the sorbet mixture in chunks when it's frozen. Once frozen, break the sorbet mixture into rough chunks, place them in a food processor, and pulse the mixture until it's smooth.
Why is my ice cream machine so noisy?
Many small appliances with motors are noisy, such as blenders, stand mixers, and vacuum cleaners. (My defense against not wanting to vacuum is that I can't stand the noise.) When someone invents a noiseless vacuum cleaner, perhaps they'll work on a whisper-quiet blender and ice cream machine. If I need quiet, I put mine in my office, next to my kitchen, and close the door. But I don't mind the noise too much coming from my machine since I know something good will come out of it…
Can I use less sugar?
Yes, but the sorbet will be much firmer when it comes out of the freezer. If you want to reduce the sugar substantially, you may wish to make granita. To do so, pour the sorbet mixture into a shallow, freezer-safe container and rake the mixture with a fork as it's freezing in regular intervals, to create little crystals. For more information, check my post on Baking Ingredients and Substitutions.
Can I omit the alcohol?
Yes, but alcohol will help keep the sorbet softer in the freezer. If you omit it, it will be firmer so best to take it out of the freezer 5 to 10 minutes in advance of scooping it. You can use other spirits or liqueurs in this, such as Grand Marnier, Triple Sec, Cointreau, white rum, vodka, gin, or a fruit-forward eau-de-vie.
Why use corn syrup, and what are some substitutes for it?
I offer up two version of sweeteners for the recipe. Check my post: When to use, and not use, corn syrup in a recipe. Spoiler: The corn syrup that you buy in the supermarket isn't high-fructose corn syrup, which is something you should avoid. Natural food stores carry organic, non-GMO corn syrup, which you might prefer to use over supermarket brands.
Can I use other types of plums for this?
I use purple plums, which are my favorite types of plums for baking and cooking, due to the tartness in their skins. If using a sweeter plum, such as Reine Claudes, Damsons, Italian prune plums, greengages, or Mirabelles, you might want to augment the tartness with additional lemon juice.