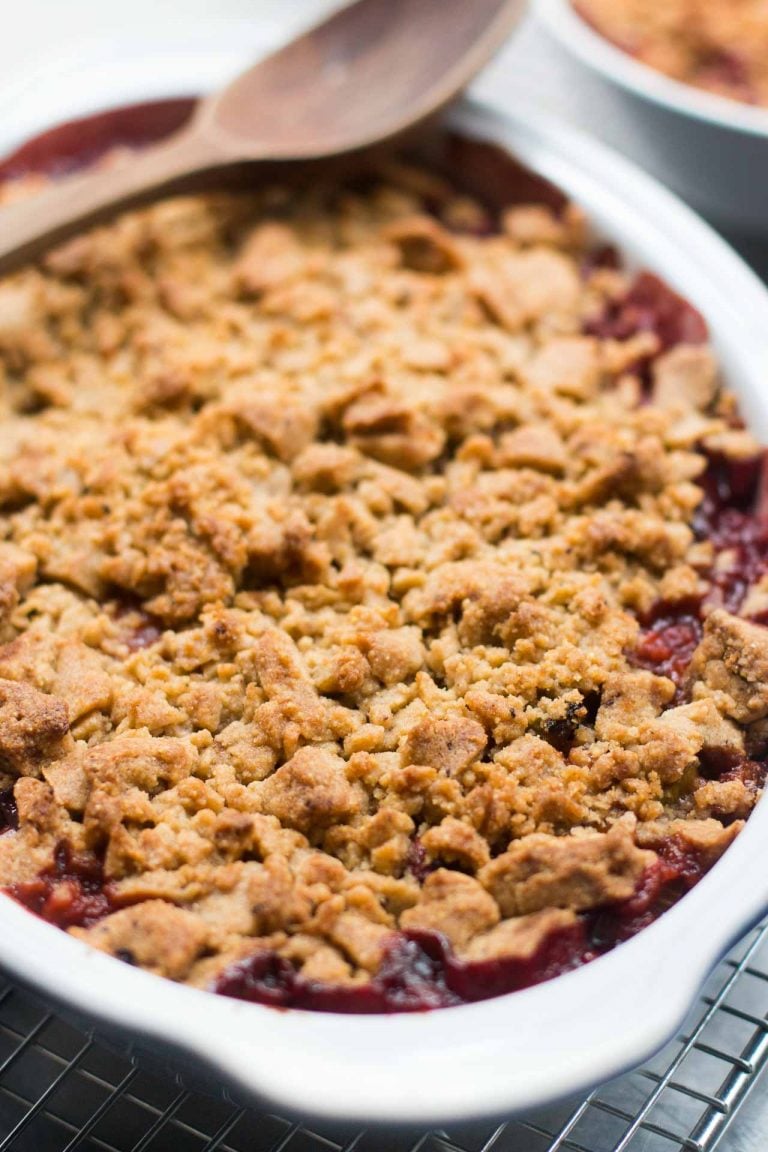 I'm not sure if I just returned from lunch, or if I was privy to a top-secret breeding ground for a race of super lovely people, that also happen to be amazing cooks.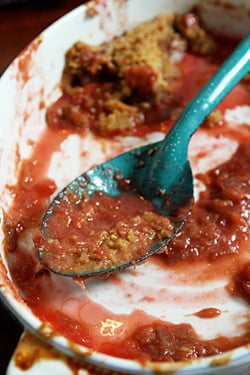 When I walked into the home of Rachel Allen, who'd invited a few of us traveling through Ireland for lunch, I was stunned by A) The stunning kitchen, b) The stunning view, and C) The wonderful people.
Rachel is a wildly popular cook in Ireland; the driver of our mini-van almost lost his Guinness when she came out, and her programs are now being broadcast in America. She's not yet made it to France, but if there's any better ambassador for the terrific modern food of Ireland, Rachel is it. Her mother-in-law, Darina Allen runs the famed Ballymaloe Cookery School, just a short drive away. And all of the produce in her kitchen comes from their abundant, lush organic gardens.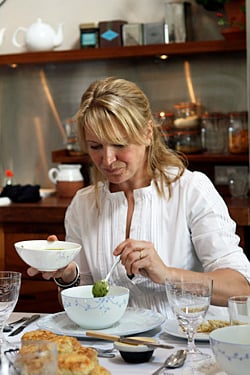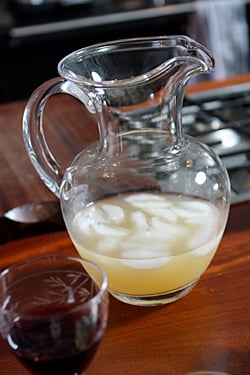 Lunch began with Isaac, her broadly smiling husband, releasing a tray of Cheese and Herb Scones from the thick iron baking sheet. The dark metal turned any bit of errant cheese that happened to slide off during baking into crunchy caramelized bits. Of course, he and I dove on them as fast as we could. (Although I'm a little surprised I could eat anything with my mouth agape.)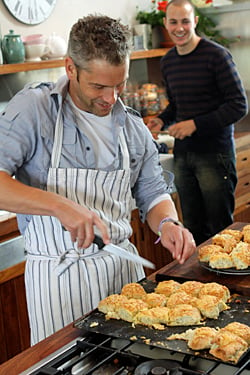 I was a little disheartened to find out we were having a "light lunch", which was going to feature soup. And potato soup at that. Was this the luck of the non-Irish?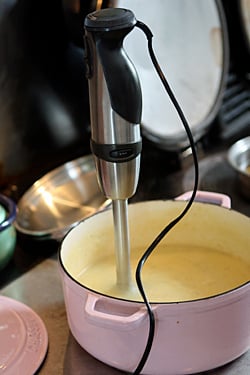 But oh my goodness me, this steaming bowl of soup was the best soup I've ever had in my life. Actually, it was one of the tastiest dishes I have ever eaten in my life. Period.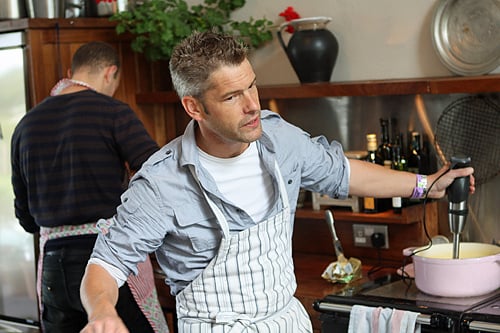 She called it Potato-Thyme Leaf Soup, in that particularly Irish way of giving something simple as thyme a little bit o' nobility, making it worthy of the status of being in the highly esteemed 'leaf' family. But I like leaves, so why not? When I asked what exactly was in this bowl of whiteness I was spooning up faster than it was cooling, Isaac said, "They're potatoes from the garden, Irish cream, and a lot of butter." Then he concluded, "If I told you how much butter, you wouldn't eat the soup."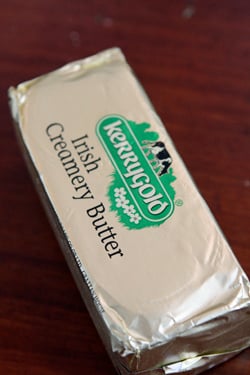 I don't know if that's true, but with the parsley pesto made with plenty of garlic swirled around the island of double-cream in the midst of all this potato goodness, I had no trouble scraping this hottie clean.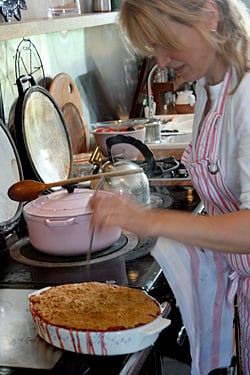 While I ate, I kept gazing out of the floor-to-ceiling picture window, overlooking a large body of water with an old Irish castle in the distance, am was thinking to myself, "Good lord, if I was Rachel, I would just sit on the couch all day filing my nails, look out the window, have my husband feed me, and let my assistant do the dishes. And reflect on how fantastic life truly is."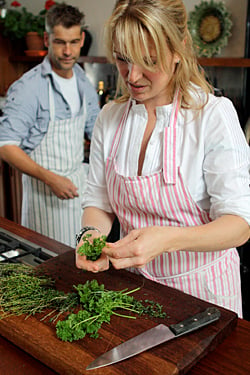 Speaking of assistants, if I had room in my carry on, I'd definitely try to squeeze in Josh, who was speeding around the large wooden kitchen counter island, pulling things out of the oven, poking scones to see if they're done, and cutting seedy oat and apricot bars into squares which he wrapped for us to take later on, for the road.
Even though he's an import from England, he adopted that wonderful sense of Irish hospitality of Rachel and Isaac, and he came bounding over to me to say hi, having just finished doing an internship at Chez Panisse. With all the gorgeous produce everywhere and the smell of searing Irish butter permeating the entire kitchen, I could see the connection and why he was so happy. On the other hand, for a strapping young lad, I'm not sure an apron with all that pink really suited him. But I'm sure he's a charmer in, or out of, an apron.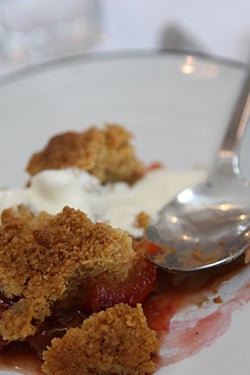 For dessert, we had a perfect Plum and Rhubarb Crisp. I've had a zillion crisps in my life, but this one was fragrant and bubbling, and I couldn't wait for Rachel to finally break through the top. But as good as it was, this dessert had one little nod áisiúil that took it over the top. Which even Josh couldn't resist.
Just under the crisp topping was a thick layer of warm plums bits and tart rhubarb, both from the gardens at Ballymaloe (the rhubarb was the last of the season, so it was kind of them to splurge on it for me). Rachel said, "Now if Darina was here, she'd say—'You simply cannot eat crisp without double-cream on top!'"
The thick cream, which could stand up a spoon, was indeed the right choice as an accompaniment. But what really made it special, and something I never would have thought of; they passed around a small bowl of soft brown muscovado sugar to sprinkle on top. I was perplexed at why you would sprinkle more sugar over an already sweetened topping. But I did as I was told (including the double cream…and Darina was right) and the sugar did add a lovely molasses-like contrast to the crisp. And it brought to mind how we often use a finishing salt over foods, added just at the last moment, even though the food may already be seasoned.
I was certain that John and Isaac were going to have to fetch a crowbar to get me out of here, but Rachel stood on the steps of her home to say goodbye. If I was blessed with rugged Irish good looks, perhaps they'd let me stay in the kitchen with them, plucked pits from plums, chopping thyme leaves, and spooning Irish cream over everything in sight.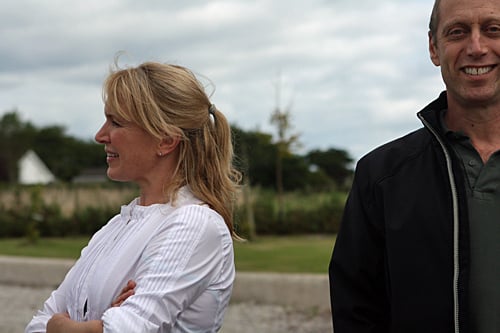 But it was time to go to visit the garden. I wasn't sure if I could ask them to stay and discover the secret of their wonderful cookery, their welcoming Irish hospitality, or their other secrets.
It's probably late in the game for me to learn any more of the Irish language than a few words, if I had any hair left, it would not likely be blond and beautiful, and I don't really look good in pink. And let's face it, I'm not the sweetest person in the world. But I'm content and happy to have a new fruit crisp recipe in my repertoire, with a spoonful of sugar on top.
Plum and Rhubarb Crisp
From
Favorite Food at Home
, by
Rachel Allen
. When Rachel made this for us, she didn't use either the cardamom or the ground cinnamon, so you can either add them or not. This is a lovely, simple dessert, and if plums or rhubarb aren't in season where you are, you could adapt it to other fruits as well. I recently updated this post, and recipe and replaced 1/2 cup of flour in the topping with polenta (fine or instant, although regular works well, too, but is a bit more coarse), which made a delightfully crunchy crisp topping. I also didn't scatter sugar on top of the topping, so some of the newer photos show the crisp without it. Next time I'll remember to do so!
For the fruit:
4

tablespoons (55g)

butter

,

salted or unsalted

1/4

cup (45g)

packed light brown sugar

14

ounces (400g)

rhubarb

,

washed and sliced into 1/2-inch (2cm) pieces

8-12

dark red plus

,

pitted and quartered

1

tablespoon

honey

the seeds from 6-8 cardamom pods

,

crushed

1

cinnamon stick

,

broken in half

1

half-inch wide strip lemon peel
For the topping:
2 1/2

cups (350g)

flour

6

tablespoons (70g)

light brown sugar

2

teaspoons

ground cinnamon

14

tablespoons (205g)

butter

,

salted or unsalted, melted

1

tablespoon

granulated sugar

,

for scattering on top
Preheat the oven to 350ºF (180ºC).

To make the fruit filling, melt the 4 tablespoons of butter in a large saucepan and stir in the 1/4 cup brown sugar. Add the rhubarb and plums and a tablespoon of water.

Add the honey, cardamom (if using), cinnamon stick, and lemon peel, and cook for five minutes, stirring regularly.

Meanwhile make the topping. Mix together the dry ingredients and add the 14 tablespoons of melted butter, mixing quickly but lightly to form a crumbly texture.

Remove the broken cinnamon stick and lemon peel. Transfer the fruit mixture into a 2 quart (2l) low baking dish, then scatter the crispy topping on top. Do not press it down or it will get mushy. Scatter a tablespoon of granulated sugar on top and bake for 20 to 25 minutes, or until the top is golden brown and the juices are bubbling. (You may want to put a sheet of aluminum foil on the rack until the crisp in the oven to catch any bubbling juices.

Remove from the oven when the top is deep golden brown and you can plunge a paring knife into the middle and the knife meets no resistance, indicating the fruit is fully cooked.

Serve warm, with a bowl of thick cream and another bowl of muscovado sugar, for guests to add themselves.