When I was in Mexico last year, after they were able to uncurl my iron-clad grip on the airport entrance door frame because I was having a hard time leaving all those warm, freshly made corn tortillas behind, on the walkway to the departure gate, I realized I had a few extra pesos jingling in my pocket. Thankfully aside from a lot of great Mexican peanut candies and lime-spritzed peanuts that I stuffed into every pocket of my carry-on, the duty-free shop had a pretty large selection of tequilas, where I figured I could spend the bulk of my leftover funds.
I don't know much about tequila but apparently there are plenty of people who do, judging by the racks of tequilas on offer—and some of their prices.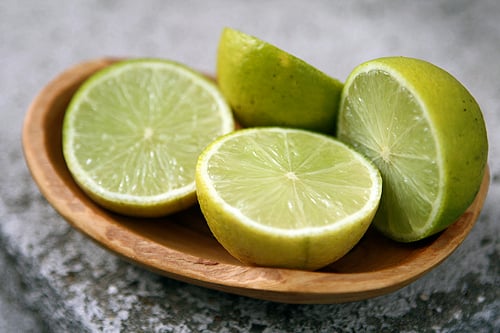 Fortunately they were offering shots…er, I mean tastes, for free, so I picked a bottle out from their selection and bought it. The only downside what that they only take US dollars. (The upside, however, is that I have some pesos left over so I think I need to go back to Mexico this winter to use them up.) In Paris, although minty mojitos are prevalent at many cafés during les happy hours, margaritas are rarely seen. The French are more smitten by Cuba and the roguish Fidel Castro than Mexico. But that's a situation I'm always working pretty hard to change.
I thought the tequila I got might find its way into a few margaritas, yet a year later, it's still unopened on my always-crowded liquor shelf. Since melons are in full season, I decided to finally crack it open and make a sorbet to serve to friends, which was likely more approachable than an icy, frozen cocktail, something you won't find easily in Paris.
(As an aside, I recently read an amusing joke: Q: Why don't the French make ice? A: Because no one could agree on the recipe.)
However after mixing in all the ingredients and giving it a taste once churned, my usually good intuition told me I'd done the right thing, but my mouth said otherwise. I should've known, as I've learned it's often best to dribble alcohol on top of ice cream or sorbet, rather than mix it inside where it loses its verve. So I fished out the cocktail glasses from their long-dormant position in the back of the cabinet, revved up the mighty blender, and whizzed up some frosty margaritas to toast the final days of summer.
There's likely a whole panel out there devoted to what constitutes a true margarita. Most have an orange-based liqueur in them, such as Triple Sec, Cointreau, or Grand Marnier. I opted not to add one because the lime and melon are fruity enough.
And lastly, since we're goin' roguish here, it's not necessary to run the sorbet through an ice cream machine if you don't have one—since you're blending the whole thing up with ice and even more tequila, you can use my method for freezing ice cream without a machine. You can also pour the mixture into ice cube trays and pop them out and blend them with the other ingredients when making the margaritas.
Frozen Melon Margaritas
Of course, this recipe can be increased if you wish to make more than the two indicated. I'm a big fan of salt, but often people put too much on the glasses. So I take a tip from the
Zuni Café
in San Francisco, which dips only half the rim of the glass in salt, which seems like just the right amount.
For the melon-tequila sorbet:
1

medium melon (2-pounds, 900g)

,

peeled and seeded

1/4

cup (60ml)

fresh lime juice

3

tablespoons (45ml)

tequila

1/3

cup (65g)

sugar or 1/4 cup (80g) agave nectar

big

pinch

of salt
For the frozen melon margaritas:
6

scoops (8 ounces, 240g) melon-tequila sorbet

1/4

cup (60ml)

tequila

4

ice cubes

2-3

tablespoons

fresh lime juice
To make the sorbet, cut the melon into chunks and puree them in a blender with the 1/4 cup (60ml) fresh lime juice, 3 tablespoons (45ml) tequila, the sugar or agave, and the salt, until smooth.

Chill thoroughly, then freeze in your ice cream maker according to the manufacturer's instructions, or use one of the methods in the last paragraph of the post. Another option is to simply pour the mixture into ice cube trays and freeze.

To make the margaritas, blend the scoops of sorbet with the 2 ounces of tequila, ice cubes, and 2 tablespoons of lime juice. Taste, and add more lime juice is desired.

Serving: Chill margarita glasses then sprinkle some sea salt on half of a small plate and press half of the rims of the glasses in to salt them. Then divide the mixture between the two glasses.
Related Posts and Links

Milk Chocolate and Black Pepper Ice Cream
Ginger-Basil Margaritas (Steamy Kitchen)
Meyer Lemon Margaritas (White On Rice Couple)
How to Freeze Ice Cream Without a Machine
Tips for Keeping Homemade Ice Cream Soft
Melon Sorbet (Simply Recipes)
Tequila by Joanne Weir (Amazon)
Agave-Sweetened Chocolate Ice Cream
Blood Orange Margaritas (Wasabimon)