When I originally came up with this ice cream, the year was 2009, which seems like a long, long time ago, in so many ways. Absinthe had been banned in France since 1914, blamed for a host of societal ills, even being accused of causing people to go crazy (which has since been debunked; most blame additives added to cheap absinthe, which caused brain damage), and the spirit was revived and legal again, nearly a hundred years later.
Distillers quickly hopped back on the absinthe bandwagon, the green anise-flavored drink revived everywhere, from Switzerland (where it was originally created), to France and California. People went a little crazy again, inventing everything from absinthe gummi bears to absinthe cake. Eventually some of the hoopla subsided as people realized – with its high-proof (many hover in the 60-75% range) – that absinthe was something best enjoyed in small doses. Or in my case, with chocolate.
Finding myself with a few bottles of modern-day absinthe on hand, I decided to revisit it, which made me realize how much I love absinthe in ice cream. Even without the absinthe-flavored truffles, it's a terrific scoop, paired with a wedge of bittersweet chocolate cake or brightly-flavored orange sorbet.
The color of absinthe can vary, ranging from clear to pale yellow, to red or bright green, depending on the brand. Due to its strength, absinthe is always diluted, and I can't think of a better way to enjoy it that in this ice cream. My original absinthe ice cream alluded to the truffles, which I didn't include in the original recipe, but I added them here.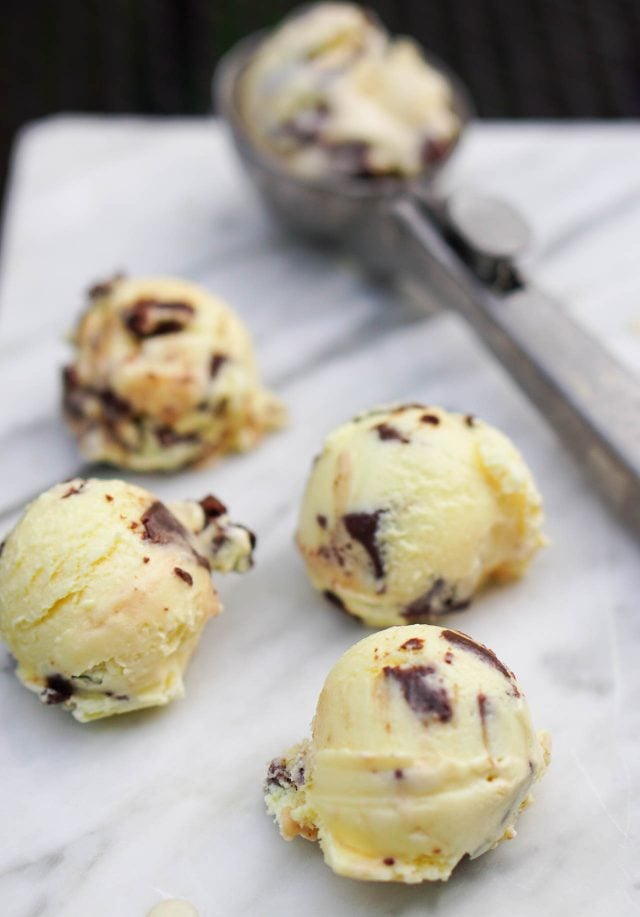 One thing you'll like about this ice cream, aside from the dynamic anise flavor, is the smooth texture of both the ice cream and the truffles, which I designed to stay soft in ice cream. Even for those who are not fans of anise, it works incredibly well in this ice cream, and may surprise you.
Absinthe Ice Cream
I folded absinthe-flavored chocolate truffles (see Note) into this ice cream, but you can swap out regular chocolate chips, or serve it without the chocolate, and garnish scoops with chocolate shavings, a few
candied fennel seeds
scattered over the top, or doused with
chocolate sauce
.
1

cup (250ml)

whole milk

pinch

of salt

2/3

cup (130g)

sugar

2

cups (500ml)

heavy cream or half-and-half

5

large egg yolks

3-4

tablespoons

absinthe

about 1 1/2

cups

chopped chocolate truffles

,

or chocolate chips
Heat the milk, salt, and sugar in a saucepan.

Set up an ice bath by placing a 2-quart (2l) bowl in a larger bowl partially filled with ice and water. Set a strainer over the top of the smaller bowl and pour the cream or half-and-half into the bowl.

In a separate bowl, stir together the egg yolks. Rewarm the milk then gradually pour some of the milk into the yolks, whisking constantly as you pour. Scrape the warmed yolks and milk back into the saucepan.

Cook over low heat, stirring constantly and scraping the bottom with a heat-resistant spatula, until the custard thickens enough to coat the spatula.

Strain the custard into the cream or half-and-half. Stir over the ice until cool, then refrigerate to chill thoroughly. Preferably overnight.

Stir in 3 tablespoons of absinthe. Taste, and add an additional one if desired, before freezing in your ice cream maker according to the manufacturer's instructions. Once churned, fold in the chocolate truffles.
Notes
Note: To make the chocolate truffles (adapted from The Perfect Scoop), heat 1/2 cup plus 1 tablespoon (140ml) heavy cream and 3 tablespoons light corn syrup in a small saucepan until it starts to boil. Remove it from the heat and add 6 ounces (170g) chopped semisweet or bittersweet chocolate, stirring gently until the chocolate is melted and the mixture is smooth. Stir in 2 to 3 teaspoons absinthe, to taste.
To shape the truffles, pour the mixture into a small bowl and chill thoroughly. Once firm enough to scoop, use a teaspoon to scoop up little bite-sized pieces of the truffle mixture and set them on a plate lined with plastic wrap or parchment paper. Freeze until ready to use.
Related Links
Absinthe Frappé (Imbibe Magazine)
The Wormwood Society (Absinthe FAQs)
Salted Butter Caramel Ice Cream
Making ice cream without a machine
Meet your maker: buying an ice cream machine
Espresso Granita Affogato (Recipe)