Chocolate Coconut "Candy Bar" Cake
When I was a kid and we went trick-or-treating for Halloween, we're run around the neighborhood, collecting candy from various houses, filling our bags with candy bars, sour bites, an occasional apple (ugh!, for a kid…), and assorted other goodies. Once home, we'd spill our loot onto the floor and commence with some serious trading.
The ne plus ultra of candies to get were coconut-chocolate bars, namely Mounds and Almond Joy. Those never got traded, at least for me. You could keep your beige-filled nougat bars coated with sweet milk chocolate, black licorice, and anything jellied and green, I was happy to trade away.
It was hard (for me) to part with anything that had peanuts in it, but were as precious to me as coconut bars dipped in dark chocolate. The tropical flavor of the juicy coconut, whose shreds scrunched pleasingly between my teeth, enrobed in bittersweet chocolate (and yes, it came in two pieces, which was like getting two-fer) was my bonus for a job well done. And I deserved it.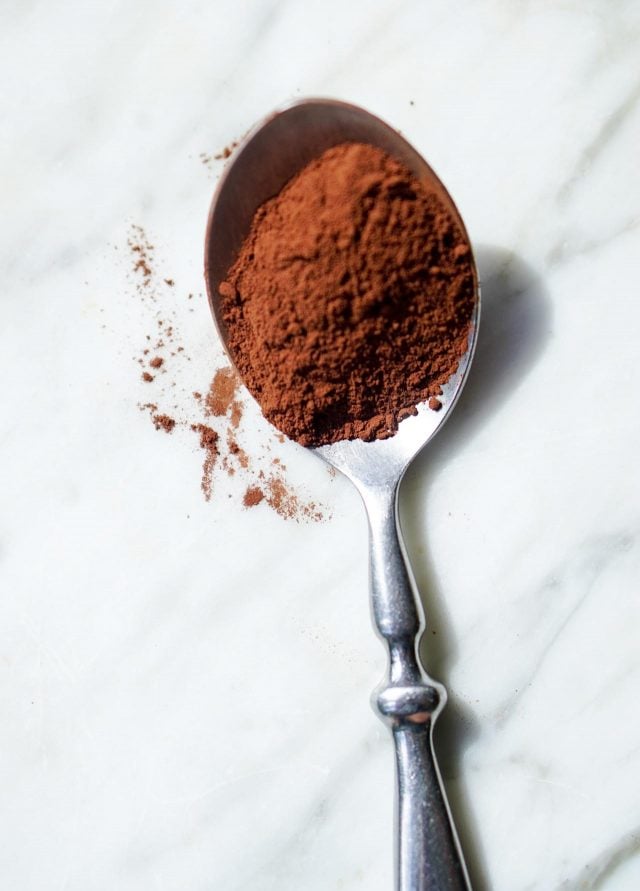 So I was thrilled when I was flipping through Steak and Cake: More Than 100 Recipes to Make Any Meal a Smash Hit by Elizabeth Karmel and spotted a cake that brought back those flavors to me. Elizabeth's book celebrates her two favorite foods: Steak and cake. One of my recipes is included in the book, but I was especially intrigued by this one, with a billowy marshmallow frosting. Who knew that three egg whites could become a gloriously fluffy mound of silky marshmallow goodness? And who knew that you could ice a cake with it? That required some investigating…
This cake is dubbed "candy bar cake" as it's meant to recreate my favorite chocolate-coconut combo bars. (Planter's Peanut Bars, with their enticing mix of caramel, peanuts, and salt were a close competitor for that spot.)
The cake gets its intense chocolate flavor from cocoa powder. Like many classic American cakes, natural cocoa powder is called for, the kind you get at the supermarket. It's not available elsewhere in the world, where almost all cocoa powders are "Dutched," a process of neutralizing the acid in the cocoa, that darkens it and makes it more compatible with baking powder, rather than the more acidic baking soda. However when I asked food science writer Harold McGee about that, he sort of hemmed and hawed before speculating that when you add eggs to the batter, the pH is neutralized, and all bets are off.
I made a few other modifications to the recipe, and it worked like a dream. A soft, creamy, creamy, marshmallow-frosted dream.
Let's get this out of the way before we go any further: I'm not a cake decorator. I spent my life baking and cooking in restaurants that were flavor- and ingredient-driven, so while I peel the most beautiful apples and make (what I think) is pretty good ice cream and cookies, my layered cake decorating skills are rudimentary, at best. There's also a tendance to make ultra-high layer cakes, which require more than two cake pans, and lots of garnishes, embellishments, fancy cake stands, chocolate dripping down the side, and even flowers.
As a baker, I was always ingredient- and flavor-driven,  so I never spent a lot of time decorating. It's not in my skill set as it is with others, which I'll leave to them. Instead, this cake is just fine as it is, with a couple of swipes of frosting. (With a few for the decorator to lick!)
Seeing as I had all the ingredients on hand to make this cake, I was ready to go. One newer addition to my baking arsenal, however, is a round silicone cake pan liner.
One of my least-favorite baking tasks is cutting parchment circles to line cake pans. Yes, I've seen those packages of pre-cut ones, but I've always been too cheap to spring for them. (I am my mother's son, after all.) So I was excited when I saw a prototype for these silicone cake pan liners a couple of years back. When they finally started production of them, they sent me one. How could they not? I was going crazy, which possibly I exaggerated a little when I saw the prototype at a baking trade show, and may have even forced out a few tears when I saw it, just for extra effect. But it worked.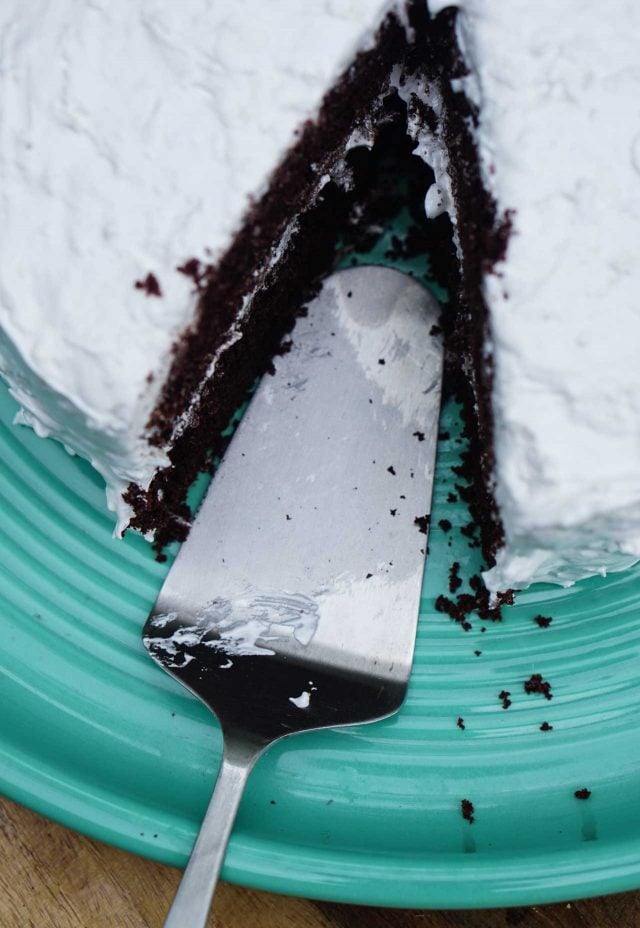 Since I had to bake the cake in two cake pans, I tried one cake following Elizabeth's instructions of spraying the cake pan with non-stick spray, and leaving it at that, and another with the silicone mat. Both released well, so you can use whatever.
When all was said and done, when the cake layers were both released, the frosting was whipped to perfection (and yes, three egg whites makes a whole bowlful of frosting), I stacked the cake up on a cake plate, and finished it.
Some coconut cakes use whipped cream for the frosting, which I'm down with, but the marshmallow-like coating took this cake over the top and I'll admit that I could not stop eating it right after I made it. I eventually did, of course, but I went back the next morning, for more.
Chocolate Coconut "Candy Bar" Cake
Adapted from
Steak and Cake: More than 100 Recipes to Makes Any Meal a Smash Hit
by
Elizabeth Karmel
I made some tweaks to the original recipe, which called for natural cocoa powder. I used Dutched-process and it turned out fine. (You can read more on the subject at my
Cocoa Powder FAQs
.) I also didn't use cake flour, because I didn't have it, but if you want to use that, you can substitute 2 1/4 cups of cake flour for the all-purpose flour, and increase the milk to 1 1/3 cups, which were in the original recipe. Sweetened shredded coconut gives this cake its "candy bar" flavor, but you can use freshly grated or unsweetened shredded or grated coconut. Try to find one that's coarsely shredded or grated, for textural appeal and character.
For the cake
2/3

cup (140g)

coconut oil

,

preferably virgin (which has more coconut flavor)

1 2/3

cups (330g)

sugar

3

large

eggs

,

at room temperature

2

cups (280g)

all-purpose flour

2/3

cup (70g)

unsweetened cocoa powder

,

natural or Dutched-process, sifted if lumpy

1 1/4

teaspoons

baking soda

1

teaspoon

salt

1/2

teaspoon

baking powder

, preferably aluminum-free

1 1/4

cups (310ml)

whole milk

2

teaspoons

powdered instant coffee

,

(optional)

1

teaspoon

vanilla extract
For the frosting
1 1/2

cups (300g)

sugar

1/2

cup (125ml)

water

1/2

teaspoon

cream of tartar or

,

a few drops of lemon juice

pinch

salt

3

large

egg whites

,

at room temperature

1 1/2

teaspoons

vanilla extract

1 1/2

cups (300g)

shredded sweetened coconut

,

(see headnote for other options)
To make the cake layers
To make the cake layers, grease two 9-inch (23cm) cake pans with non-stick spray or butter. Line the bottoms with rounds of parchment paper or silicone baking mats, which'll help ensure the layers release easily, although aren't necessary. Preheat the oven to 350ºF (180ºC).

In the bowl of a stand mixer fitted with the paddle attachment, cream the coconut oil and sugar on medium-high speed until well-combined. (You can also mix the batter in a large bowl with a spoon or spatula.) It may look a little ragged but will come together when you add the eggs in the next step.

Add the eggs one a time, stopping the mixer after each addition to scrape down the sides, to incorporate the eggs.

In a small bowl, whisk together the flour, cocoa powder, baking soda, salt, and baking powder. In a measuring cup, mix together the milk, instant coffee (if using), and vanilla.

On low speed, stir one-third of the flour mixture into the beaten coconut oil mixture. Add half of the milk, then another third of the dry ingredients (which, technically, is half of what's left in the bowl). Add the rest of the milk then the remaining flour mixture. Stir until smooth.

Divide the batter into the two prepared cake pans, smooth the top, and bake until the center of the cakes feel just set, 25 to 30 minutes. (A toothpick inserted into the center will come out almost clean.) Let the cakes cool on a wire rack.
To make the frosting
In a small (2 quart/2L) saucepan, fitted with a candy thermometer, heat the sugar, water, cream of tartar or lemon juice, and pinch of salt over medium heat. Put the egg whites in the bowl of a stand mixer fitted with the whip attachment.

When the temperature of the syrup reaches about 225ºF (108ºC), begin whipping the egg whites on medium speed. As the syrup climbs toward 242ºF (117ºC), increase the speed to high, and whip the whites until they're stiff enough to hold a peak. (If you don't have a candy thermometer, Elizabeth says the syrup is done "until the syrup spins a thin 8-inch/21cm thread when poured from a spoon.")With the mixer running, slowly beat the syrup into the egg whites, trying to pour the syrup in the space next to the side of the bowl, not on a beater. (Which will cause it to splatter onto the sides of the bowl, and not go into the egg whites.)

Once the syrup has been added, beat in the vanilla. Stop the mixer and using a spatula, fold in the coconut.

Remove the cake layers from the pans and peel off any parchment paper or silicone cake pan liners. Set one layer of the cake on a cake platter. Spread one-third of the slightly warm coconut frosting on the top of the cake layer. Place the second layer of cake on top of the frosted cake layer, then spread the rest of the frosting over the top and sides of the cake.