Absinthe Cake Recipe
When I told Luc-Santiago from Vert d'Absinthe here in Paris that I didn't like anise very much (or, stupid me, how long have I lived in Paris? I should have said, "I don't appreciate anise very much."), I wished I had my camera cocked-and-ready, as the look on his face was priceless. While I appreciate the culture and mystique of Absinthe and its cousin pastis, I'm not a fan of anise-based drinks.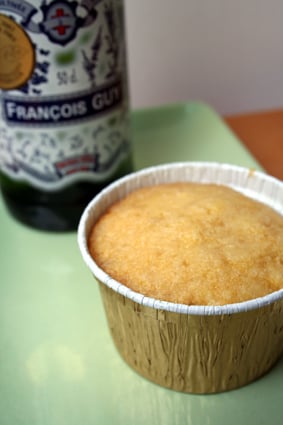 But luckily I am a fan of anise-baked anything, and do like that flavor when baked in cakes and cookies, such as biscotti and the like. I had a suspicion that a buttery cake with a healthy shot of Absinthe in the batter, then more Absinthe added as a crunchy glaze would be a success…and it was! Happily, the flavor of anise goes amazingly well with chocolate too, so feel free to pair this with a favorite Chocolate Ice Cream or a dark, slick chocolate sauce.
But it's also lovely with a compote made of fresh or dried apricots, or a Nectarine and Cherry Compote. During the winter, I plan to make a colorful fruit salad of navel and blood oranges with a few rounds of tangy kumquats to serve alongside, since I'm suspicious of that green bottle on my shelf, with an alcohol content of 72%, may fall and explode. (Now that would have made a good opening for an episode of Six Feet Under.) But mostly I enjoy serving this Absinthe Cake all on its own and if you make it, I'm sure it won't fail to get your guests full attention no matter how you serve it.
If you don't have a convenient source for finely-ground pistachio meal, you can use almond meal (sometimes called almond flour). I've tested this cake with stone-ground cornmeal too, which provided a nice crunch, but Parisian friends found it a tad unusual since they're not really used to desserts, or anything else, with cornmeal.
And I didn't have any candied angelica on hand (like, who does?), but next time I make this cake, I'm definitely going to add a handful of finely-chopped angelica to the batter. I think tiny flecks of green flitting around in this cake would be rather festive and certainly in the spirit of le fée verte, aka; The Green Fairy, oui?
If you live in a country where you don't have the freedom to get Absinthe, move. Aside from that, write a letter to your highest-ranking elected official whose job it is to protect the good of society from such ills, you can substitute an anise-scented apertif, such as Pernod, pastis, or ouzo, although they don't have that sublime, sneaky herbaceous flavor and aroma found in true Absinthe. The other downside is that you won't see any green fairies floating around your kitchen…which may, or may not, be a good thing…depending on which highest-ranking elected official you last voted for, I suppose.
Oops, and before I step down down from my high-horse, I do recommend that you use Rumford baking powder, or a similar brand, that doesn't contain any aluminum. Most natural-food stores and Trader Joe's carry aluminum-free baking powder and you'll notice a major difference in your baking once you go aluminum-free. You'll never miss that tinny aftertaste you get when using other brands.
Don't be put off by the sugary-looking glaze. As the cake cools, the glazes melds beautifully with the cake, which won raves from all who tried it.
| | |
| --- | --- |
| Absinthe Cake | Print Recipe |
One 9-inch (23cm)
rectangular cake
For the cake:
1 1/4
teaspoon
anise seeds
1 1/4
cup (175g)
cake flour
1/2
cup plus 2 tablespoons
(65g) pistachio or almond meal (or 1/2 cup (70g) stoneground yellow cornmeal)
2
teaspoons
baking powder
8
tablespoons (105g)
unsalted butter,
at room temperature
1
cup (200g)
granulated sugar
2
large eggs,
at room temperature
1/4
cup (60ml)
whole milk
1
orange
preferably unsprayed
For the Absinthe glaze:
1/4
cup (25g)
granulated sugar
1. Preheat the oven to 350 degrees (175 C). Butter a 9-inch loaf pan, then line the bottom with parchment paper.
2. In a mortar and pestle or spice mill, grind the anise seeds until relatively fine. Whisk together the cake flour, cornmeal, baking powder, salt, and anise seeds. Set aside.
3. In the bowl of a standing electric mixer, or by hand, beat the butter and sugar until light and fluffy. Add the eggs one at a time, until they're completely incorporated.
4. Mix together the milk and Absinthe with a few swipes of grated orange zest.
5. Stir half of the dry ingredients into the beaten butter, then the milk and Absinthe mixture.
6. By hand, stir in the other half of the dry ingredients until just smooth (do not overmix). Smooth the batter into the prepared loaf pan and bake for about 40 minutes, or until a toothpick inserted into the center comes out clean.
7. Remove the cake from the oven and let cool 30 minutes.
8. To glaze the cake with Absinthe, use a toothpick and poke 50 holes in the cake. In a small bowl, gently stir together the 1/4 cup (25 g) sugar, and 1/4 cup (60 ml) of Absinthe until just mixed. (You can add a bit of orange zest here if you'd like too.) Be sure not to let the sugar dissolve too much!
9. Remove the cake from the loaf pan, peel off the parchment paper, and set the cake on a cooling rack over a baking sheet.
10. Spoon some of the Absinthe glaze over the top and sides of the cake, allowing it to soak the top and spill down the sides a bit. Continue until all the glaze is used up.
(Note: The photo at the top was this cake, but baked in an individual-sized cake mold.)
Related Links