For those of you wondering what the difference between 'sorbet' and 'sherbet' is, technically a sorbet has no dairy or eggs in it, and sherbet is usually made with milk or may have egg whites. If you're avoiding milk, you could use a non-dairy alternative, such as rice, coconut, almond, or soy milk. Or if you prefer, you can water in place of the milk to make Chocolate Sorbet.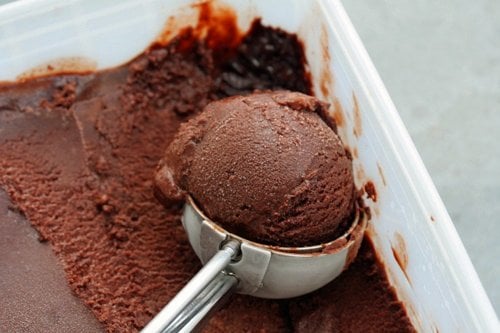 I'm a big fan of full-flavored sherbets such as this because it's much more refreshing in the summer than a full-on scoop of Chocolate Ice Cream. I refer to scoops this size as "European-style"—since it's so intense, one modest scoop is big enough on flavor to satisfy my craving for chocolate. And anyone who has walked away from Berthillon in Paris, wondering if they really meant to you that much (or actually, that little) sorbet or ice cream, one lick is usually all it takes to realize that it's enough.
Another reason I'm particularly-interested in lighter fare right now is that I just bought a couple of pairs of pants at les soldes (the sales) this week and no matter how much tugging and yanking I did, I realized that I had to do at the French department store, Men's-Department Walk of Shame, and go from the dressing room back to the rack, to grab the next size. Yes, looking good is extremely important here, but to me, breathing isn't optional.
While I'm confident that the two pairs that didn't quite fit were both mis-marked, I'm taking a breather from rich desserts for awhile. But I'm not ready to give up chocolate. Let's not get that crazy.
Chocolate Sorbet
Recipe adapted from
The Perfect Scoop
Technically the recipe below is a sherbet since there's milk, but it sounds more appealing to use the word
sorbet
. So feel free to use either water or milk. You can use either
Dutch-process or natural cocoa powder
, using a brand that you like. (I like
Valrhona
Dutch-process cocoa but any brand will do.) Since much of the flavor depends on the quality of the cocoa powder, use a top-quality brand that you like. A little shot of coffee-flavored liqueur augments the taste and gives the sherbet a more scoop-able texture. Feel free to use another liqueur, or omit it. If you don't have an ice cream maker, check out my post:
How to Make Ice Cream Without a Machine
.
2 1/4

cups (550ml)

milk or water

,

(you can use whole, low, or non-fat)

1

cup (200g)

sugar

pinch

of salt

3/4

cup (75g)

unsweetened cocoa powder

6

ounces (170g)

bittersweet or semisweet chocolate

,

chopped

1/2

teaspoon

vanilla extract

optional: 2

tablespoons

coffee-flavoured liqueur

,

such as Kahluà
In a medium-sized saucepan, warm 1 1/4 cups of the milk or water with the sugar, salt, and cocoa powder.

Bring to a full boil while whisking, then reduce the heat and simmer gently for 30 seconds.

Remove from heat and add the chocolate, the vanilla, and the coffee-flavored liqueur, if using. Stir in the remaining 1 cup milk.

Taste, and if the mixture is a bit grainy, puree it in a blender to smooth it out.

Chill thoroughly, then freeze in your ice cream maker according to the manufacturer's instructions.
Notes
Note: This would likely work with non-dairy milk, but be sure to use one that can stand up to being boiled.
Ice Cream-Making Links & Recipes
Easy Chocolate Ice Cream (Recipe)
Vanilla Ice Cream (Recipe)
Agave-Sweetened Chocolate Ice Cream (Recipe)
Salted Butter Caramel Ice Cream (Recipe)
Tips for making homemade ice cream softer
Recommended equipment to make ice cream
Making ice cream without a machine
The Best Chocolate Sauce (Recipe)
Meet your maker: buying an ice cream machine
Candied Bacon Ice Cream (Recipe)
The Perfect Scoop (Amazon)