Chocolate-Coffee Milkshakes
If you're thinking that you've been 'set up' by the previous post for Chocolate Sherbet, je suis coupable. (I am guilty.) You likely know Adam Ried as the man who obsessively tests equipment and recipes on America's Test Kitchen. He was also an editor at Cook's Illustrated for ten years. So when I saw his new book devoted to milkshakes, because I always have a freezer full of ice creams, sherbets, and sorbets, I was delighted to have a fool-proof collection of well-tested recipes—and my blender has been begging for mercy ever since.
Because he's super-sweet, I asked Adam if he'd like to share a recipe from Thoroughly Modern Milkshakes, his all-new collection of milkshake basics, plus everything from Malted Caramel to Mango, Chile, and Lime. I was delighted when he agreed.
So get out those blenders, and welcome Adam Ried!.. dl
Shake de l'Opéra (Chocolate-coffee Milkshakes)
"Opera."
Quick….. what leapt to your mind when you read that word? For the culture vultures among us, maybe it was Monteverdi. Or Mozart. Or Wagner.
For me, it would be chocolate (which, admittedly, often comes to mind no matter what words I'm reading), followed immediately by coffee, and then almond.
This winning flavor trifecta defines gâteau de l'Opéra, an ever-present stalwart of pâtisseries from one end of Paris to the other. Most gâteaux de l'Opéra hew pretty close to this alluring formula: thin layers of almond cake, soaked in coffee syrup, alternated with layers of coffee buttercream and chocolate ganache, all hidden under a cloak of glistening chocolate glaze.
So you know what you're dealing with, the name "l'Opéra" is usually written across the top of the cake, also in chocolate. The almond is the master stroke here, because it gently underscores the myriad sweet, fruity, and nutty flavor notes in the chocolate itself while balancing some of the bitterness of the coffee.
Wondering why les gâteaux should have all the fun, I poached the combo in question to flavor a milkshake— to very nice effect if I may say so. And that was just the beginning. Finding myself on something of a blender bender, I raided many corners of the food world for milkshake inspirations, resulting in the 100 recipes that comprise my book, Thoroughly Modern Milkshakes.
Jokingly referred to (by me, and friends who are willing to humor me since I ply them regularly with shakes) as "the world's preeminent treatise on the critical topic of milkshakes," the book sets forth to do the very important work of both dusting off the old classic shakes like vanilla, chocolate, coffee, and strawberry, and sprucing them up with simple, delectable, and unexpected flavor twists.
L'Opéra is a fine example. At its heart, it's a simple chocolate shake. Add a drop of almond extract and a little espresso powder, and you've transformed plain chocolate into something new, surprising, and – I hope — intriguing.
The chocolate portion of the program is brought to you by chocolate sorbet rather than the usual syrup. For generations chocolate syrup has done a perfectly lovely job of flavoring chocolate shakes, but have you tasted a spoonful of the stuff straight up? Helloooooo corn syrup. Chocolate is but a distant afterthought. Chocolate sorbet, on the other hand, packs a turbocharged cocoa wallop, and that intensity comes through full throttle in a milkshake. In fact, sorbet – chocolate and otherwise — is central to my milkshake modernization program because, regardless of the flavor, sorbet blazes past syrup in terms of flavor intensity, and you can taste that in the shakes.
Instant espresso powder covers the coffee angle. Though I wouldn't dream of using the stuff to make an actual hot coffee beverage (espresso? Methinks not. I tried it once, and there is no need to go there again), yet neither would I make a batch of basic brownies without it. Or a flourless chocolate cake. Or chocolate mousse. Or truffles. Or………
Whether you use enough to actually create a coffee flavor depends on our tastes. In baking and custards and such I use just a little to pick up and extend the bittersweet, toasty, earthiness of the chocolate, adding complexity, but not a strong coffee flavor.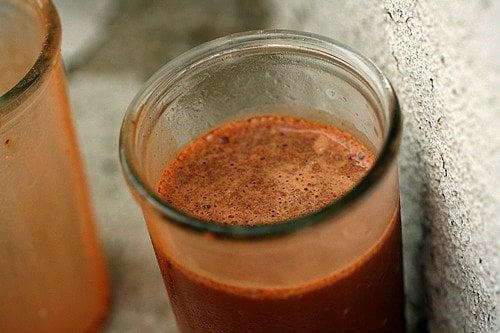 Does the Shake de l'Opéra trump the original gâteau? Bien sûr, non! Without a doubt the cake will forever have a place in my heart. But for a quick, frosty, summertime fix, blending beats baking.
| | |
| --- | --- |
| Chocolate-Coffee Almond Milk Shake | Print Recipe |
Makes about 3 1/2 cups
2 milkshakes
Adapted from Thoroughly Modern Milkshakes (Norton) by Adam Reid Medaglia D'Oro is a popular brand of instant espresso powder that you can often find in gourmet and Italian specialty shops. Tread lightly with it, and with the almond extract, especially in dishes that don't see any heat. Almond extract is stronger than you may expect. It's an unmistakable flavor that's out-loud-and-proud, unlike vanilla extract, which blends into the scenery easily.
1/2
cup (125ml)
cold whole or low-fat milk
2 1/2
teaspoons
instant espresso powder
1/2
teaspoon
almond extract
4
medium scoops French
vanilla ice cream (about 1 pint/340g), softened until just melty at the edges
4
medium scoops chocolate sorbet (about 1 pint/340g)
or chocolate sherbet, softened until just melty at the edges
1. Place the milk, espresso powder, and almond extract in a blender and blend to mix thoroughly, about 15 seconds.
2. Add the slightly-softened ice cream and sorbet and pulse several times to begin breaking the scoops up. With the blender motor off, use a flexible spatula to mash the mixture down onto the blender blades.
3. Continue pulsing, stopping, and mashing until the mixture is well blended, thick, and moves easily in the blender jar. Pour into a chilled glasses, and serve at once.
David Notes: Merci Adam! This was amazing and tasted exactly like the famed gâteau Opéra. I wasn't planning on drinking the whole blenderful, but sitting on my roof in the heat, after a few sips, the rest of it went down just too-easily. I was powerless to resist.
Although Adam's recipe calls for Chocolate Sorbet, I'm sure he'd agree that it'd be fine to use Chocolate Sherbet, as I did. I also used instant coffee, because instant espresso isn't easily available here, and tripled the quantity. Also, depending on which ice cream you use, if you find the shake too thick, feel free to add another splash of milk, or a bit of coffee or espresso to the blender.
Thoroughly Modern Milkshakes (Amazon)
AdamRied.com (Adam's Website)