White Negroni
While my computer is still in the shop (it's going on week three…) I've been eking out posts while praying to the gods, or technicians at Apple, that I get it back soon. In the meantime, it gave me a good excuse for a cocktail.
It wasn't just the frustration; as soon as I got 3-Ingredient Cocktails: An Opinionated Guide to the Most Enduring Drinks in the Cocktail Canon by Robert Simonson, I immediately took to the book since every cocktail only had three ingredients, most of which I already have on hand. So while the fate of my computer is unclear, I definitely know there will be more cocktails in my future.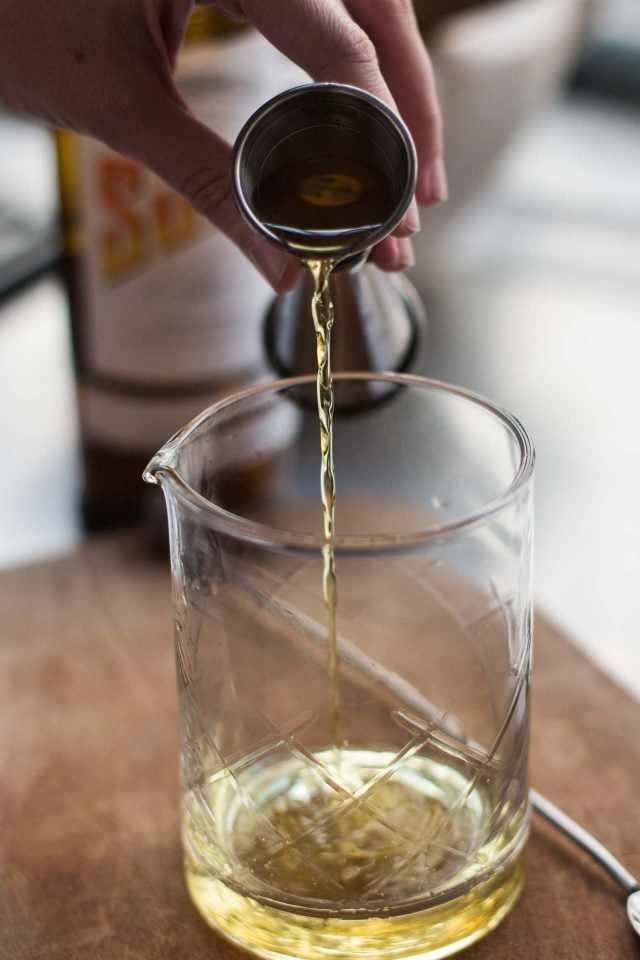 I love this book because rather than cocktails with twelve ingredients, three or four being things you have to hunt down or mail order, or climb the Hungarian alps to procure, few will have any trouble getting a majority of the ingredients called for in this book. Most cocktails don't need more than three ingredients; I'm not saying multi-ingredient cocktails are bad, but some of those multi-bottle ones are better left to the pros, who don't mind buying a bottle of alkermes to use 1/4 teaspoon since they can use it for other drinks in the future.
The most famous 3-ingredient cocktail, at least these days, is Negroni. I fell in love with White Negroni at Dante in New York, who has the best Negroni happy hour ever: $10 per cocktail. (At the time of this writing.) And if you think there's only one Negroni, their list is a page long, and all of them are winners. How do I know that? I…um, er…
Having tried quite a few, this one remains my favorite. While it's probably not the exact same recipe served at Dante, it's terrific. According to Robert Simonson, the White Negroni was invented in France when British bartender Wayne Collins had to make some Negronis, but couldn't find Campari or sweet vermouth. (This was in 2001, and perhaps that was the case back then, but those are both readily available now.) He instead reached for Suze and Lillet, two classic French apéritifs, and created the White Negroni.
One twist for making this one is to use Kina L'Aéro d'Or made by Tempus Fugit. It's an orange-based apéritif, like Lillet, but has more bracing quinine and wormwood flavors, meant to mimic the older style of the orange-based apéritif, and tastes richer and bolder. I'm a big fan of Lillet, but if you come across a bottle of the Kina L'Aéro d'Or on a trip to the liquor store, you might want to give it a try, especially here.
| | |
| --- | --- |
| White Negroni | Print Recipe |
Adapted from 3-Ingredient Cocktails by Robert Simonson Suze is a bitter apéritif that gets its flavor, and strength, from gentian roots. It's fairly prominent in this drink, which is great if you like cocktails on the bitter side, as I do. Similar gentian-based apéritifs include Avèze and Salers and could be used in place of the Suze. For those who like their drinks on the less bitter side, increase the gin to 1 1/2 ounces and reduce the Suze to 1/2 ounce.
1
ounce
Lillet blanc or Kina L'Aéro d'Or
1. Add the gin, Suze, and Lillet or Kina L'Aéro d'Or a cocktail mixing glass. Fill glass halfway with ice and stir briskly until well-chilled.
2. Strain into a chilled coupe glass. Express the oils from the grapefruit zest over the top of the cocktail by squeezing the zest colored side down over the cocktail to spray the oil over the top of the drink, then drop the grapefruit twist into the glass.