Chocolate-Hazelnut Spread
I'm probably not the sharpest knife in the drawer, because about a decade ago, I met two guys who were planning to start a bean-to-bar chocolate company in America. And I remember thinking, "Hoo-boy, are these nut-jobs going to lose their shirts! Who in America cares that much about chocolate?"
Fast-forward to a few years later, and Scharffen Berger chocolate became a huge hit, challenging, and changing the way Americans thought about chocolate. It was eventually sold for a substantial sum of money, and the rest is history.
And I'm living in a drafty, two room rooftop apartment where getting hot water is a miracle that might happen weekly. If at all. So who's the nut-job now?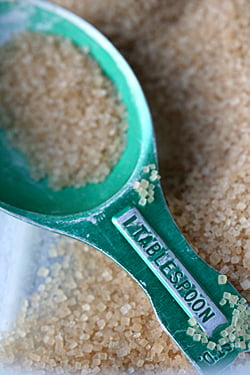 Although I wasn't an investor (which stinks, because I have a thing for hot showers), I spent a lot of time with the owners and chocolate-makers anyways, tasting chocolate, and even working in the factory a bit so I could learn about chocolate-making. In spite of what you might think, my favorite part was not sampling the finished bars, but was dipping into the mélangeur, where immense granite rollers pulverized ground cocoa nibs and special, very coarse sugar, into a paste.
The process took several days, and before the chocolate was completely smooth, I was hooked on that chunky, chocolate-rich bittersweet paste that I'd swipe from the machine with the handy disposable popsicle sticks which were kept nearby. I begged them to jar it at that half-finished point and sell it as spread for toast. Or illegally as a drug, if they really wanted to rake it in. (But I assume by now that they knew better than to listen to me.)
I hadn't thought much about that paste in a while, until World Nutella Day came around and I thought about giving it a go in my own kitchen. When I was a scruffy backpacker just out of college thumbing around Europe, I remember sticking a knife into a jar of Nutella for the first time and thinking that it was absolutely, positively, the best thing I'd ever tasted. And I carried one solitary jar back to the states, not sharing it with anyone, trying to make it last as long as possible.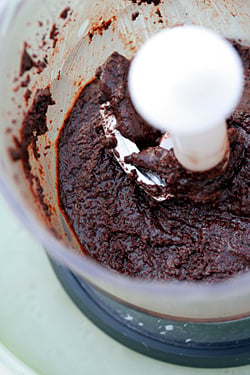 Nowadays Nutella is made in America, and I live in Europe. So no matter where I go, I'm not far from a jar. (Plus I don't have to worry about breaking any of my own crazy food rules.) But the food police has swooped down and I haven't checked lately, so am not sure if Nutella is on the yea or nay list.
Curiously, in France, chocolate often comes with labels noting how healthy it is for you, since it contains a good amount of magnesium. Robert Steinberg, who was a doctor and one of the founders of Scharffen Berger chocolate, would go ballistic when people brought up the subject of chocolate and health: "Why can't people just eat chocolate and enjoy it for what it is?"
And indeed, whenever people ask me about health benefits in chocolate, I keep my cool a bit more than he did, and note that there are some, but "It's like baking a vitamin C tablet in a cheesecake. Does that mean you should eat cheesecake to get your vitamin C?" (Although I should try it; people apparently will buy anything.)
Still, there's nothing wrong with regular chocolate, but I'm pretty entranced by cocoa nibs, the unsweetened ground beans that chocolate is made from, which are the essence of pure chocolate. At the factory, the sugar they used was very coarse, which I replicated pretty easily, adding extra at the end to ensure when you ate the paste, the crackly sugar crystals would crunch nicely in your mouth, alternating with the bitter, roasted flavor of the unsweetened cocoa nibs.
Like the mixture in the machine at the chocolate factory, once cooled, it'll harden and turn into firm chocolate, even though I've added a spoonful of hazelnut oil, in honor of chocolate-hazelnut Nutella spread. So it's best eaten right away. Not that that'll be any problem.
(For those looking for a more traditional Chocolate-Hazelnut Spread, check out my post and recipe for Homemade Nutella.)
Chocolate-Hazelnut Spread
The spread needs to be served warm: once cool, it'll firm up, as hard as a block of chocolate. It can easily be rewarmed in a microwave or by setting the jar in a pan of barely-simmering water. In the winter, I just warm it by setting the jar on the radiator until it softens. Take care not to get any water or steam into it, which will make it seize and become grainy. This recipes uses hazelnut oil and I've listed a few sources below. It's somewhat expensive, but I use it frequently to dress spinach or arugula salads, and keep a small bottle in the refrigerator just for those. If that's unavailable to you, another pure nut oil can be substituted. Or you can use a neutral vegetable oil, or even a
fruity
olive oil. If that sounds odd to you, trying it. Sprinkled with a little bit of sea salt, it's my new favorite afternoon snack.
1

cup (120g)

roasted cocoa nibs

2

tablespoons

plus 1 1/2 teaspoons coarse-grained granulated sugar

, (such as free-flowing cassonade or Hawaiian washed sugar)

2 to 3

teaspoons

pure hazelnut oil

flaky sea salt
Spread the cocoa nibs in a skillet and toast them over low heat, stirring continuously, until they're warm and shiny. It should take about three minutes.

Remove from heat and transfer the nibs into a blender or mini food processor. Add the 2 tablespoons of sugar, 2 teaspoons hazelnut oil, and a big pinch of salt.

Grind the mixture until it forms a smooth paste, stopping the machine and scraping down the sides, to help the ingredients mix thoroughly. The mixture is done when it forms a shiny paste, but will still be quite crunchy. It will take between one and three minutes. Depending on how powerful your blender or food processor is, and the cocoa nibs, you might need another teaspoon (or more) of oil if it absolutely won't come together. But it shouldn't be a smooth puree.

By hand, stir in the remaining 1 1/2 teaspoons of sugar.

Spread on warm toast and sprinkle with a few grains of sea salt.
Hazelnut Oil
Nut oils should be fresh, and kept under refrigeration once opened. There's nothing worse than rancid nut oil. I use Leblanc hazelnut oil, which is my favorite and I buy at the Leblanc shop in Paris. It is also available in well-stocked grocery stores and via online at: Leblanc hazelnut oil (Amazon)
La Tourangelle is one hazelnut oil that pressed in California. I haven't tried it, but the best way to buy nut oils is to buy from a trusted source, and if there is a shop that has an open bottle that you can smell first, or the staff recommends it, all the better.
Cocoa Nibs
I purchase Valrhona cocoa nibs from G. Detou, and they costs less than €15 for a kilo (#2.2). If that seems like a lot, find a friend to share them with you.
Many well-stocked supermarkets and gourmet foods stores now carry cocoa nibs.
Other Places to Get Cocoa Nibs Online
Valrhona Cocoa Nibs, 1 kg (2.2#) (The Chef's Warehouse)
Askinosie Cocoa Nibs (Askinosie Chocolate)
Theo Cocoa Nibs (Theo Chocolate)
Chocolate Alchemy (Chocolate-making Website)
Related Links
Ms Adventures in Italy (World Nutella Day Co-Host)
Bleeding Espresso (World Nutella Day Co-Host)
World Nutella Day Facebook Fan Page
World Nutella Day (Twitter)
Homemade Hazelnut Chocolate Spread (Los Angeles Times)