The 12 Year Old Lahham
(Just a note: This post contains a somewhat graphic image of meat being prepared which some folks might not wish to view. For that reason, I've placed it after the jump and near the end of the post so you don't have to see it. If images like that are challenging to you, I recommend that you don't scroll further and perhaps that you not read this post. As regular readers know, I share and aim to respect diverse cultural and gastronomic issues, and am presenting this aspect of life in rural Lebanon because I was fascinated watching his talent and skill. That said, I promise the next post will be about Lebanese pastries : ) -dl)
---
I'm not sure what concerned me more; watching a sheep being slaughtered for dinner, or finding out that a 12 year old boy would be preparing the meat, beginning with him being the one to do the first, swift act of putting the animal down. Although I was a vegetarian for a while, I eat meat now. And I spent the majority of my career cooking in a restaurant that was one of the pioneering supporters of small farms, local producers, and raising food humanely. So I'm not one of those people who needs to see each and every aspect of how the food I eat is prepared. Just like I believe in brain surgery, I don't need to witness it to appreciate the skill that goes into it.
Still, I was considering the week before the meal whether I should watch the whole process, including the beginning, because I had never seen that before. Later in the week, when we were out in the hills of Ayoun, where preparing food this way has been a natural part of their life for centuries, I saw the lahham (butcher), a 12 year old who had been trained in his father's craft. For a moment, I reached back to think about what I was doing when I was twelve years old, and was a little embarrassed that my skills were limited to listening to Partridge Family albums, playing tv tag, and constructing a makeshift boat with friends that was intended to carry us triumphantly down the local stream. (It sank with us on it in a few feet of water as soon as we pushed ourselves away from land.)
This young jazzar was a compact dynamo. I've worked with a lot of chefs who possessed various degrees of bravado, and when this kid took one of the knives out of his sheath to sharpen it, I immediately could assess his skill because he moved with remarkable confidence and precision. It made a number of the great cooks and chefs I worked with look like amateurs. And I don't mean that as any offense to friends and former co-workers; I felt like a nitwit in the little fella's presence, too.
I ended up not watching the initial act, but did watch him expertly break the parts of the fat-tailed sheep down, working methodically. I was stunned to see how cleanly and quickly he put all the various pieces in their place, including cutting and trimming the meat and lieh (fat) into cubes for kebabs, which my Lebanese friends insisted I try raw.
Like watching part-one of our dinner, I wasn't convinced my life would change if I declined a cube of lamb fat, no matter how much they were smacking their lips and suggesting I was missing something fabulous (some non-Lebanese folks tasted it, and weren't as convincing.) And I was glad I didn't fill up on raw fat because the kababs that were grilled – and the cubes of browned, crusty fat that were skewered between the meat – were some of the best meat I've ever tasted. It was so good I ate three kebabs, which we rolled up in locally made saj.
A while back, a journalist friend wrote about children who work and she reminded me that in a lot of cultures, youngsters help out on farms and work with their families in other ways. And it made me think about many bakers in France who choose their line of work early on, so they head into pastry kitchens in their early teens, rather than engaging in more formal education. (Chocolatier Jacques Genin worked in an abattoir when he was 12 years old, before moving on to become a master of pastry and chocolate.) And from the look of the older men from the area watching him, they were impressed by his skills as much as I was.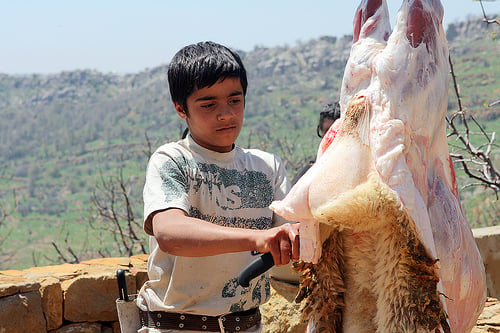 My take is that this kid has a bright future although I'm not sure raw lamb fat is going to be all that popular with an international audience. So who knows? Maybe next time I'm in Lebanon, I'll be sampling chocolates and caramels from a young pastry talent that we discovered.