Glaces Glazed Ice Cream Shop in Paris
Paris is known for its classical ice cream shops, as well as a few Italian-style gelaterias, but until a few years ago, there weren't any young people forging out on their own, churning up more contemporary flavors of ice cream and sorbet for modern palates. Don't get me wrong, I love glace au chocolat and glace au caramel beurre salé, but I'm no fuddy-duddy, and happy lap up what the next generation of glaciers are doing in Paris, such as Henri Guittet at Glaces Glazed.
Henri started off as a delivery-only service for his ice creams, which were available by subscription, then expanded to a camion when les food trucks started rolling around the city. (He has a vintage HY Citroën truck that I keep thinking would be fun to ride around with him in, scooping ice cream across Paris together.) But now he has a full-fledged shop on the lively rue de Martyrs, a street that's become a destination for food-lovers, with pastry shops, waffle makers, and chocolatiers lining both sides of this historic street, that lead up to Montmartre.
Henri is a rock and roller, in addition to being a frozen dessert rock star, and he brings that esprit to his ice cream flavors, which aren't only creative, but outstanding and brilliantly combined.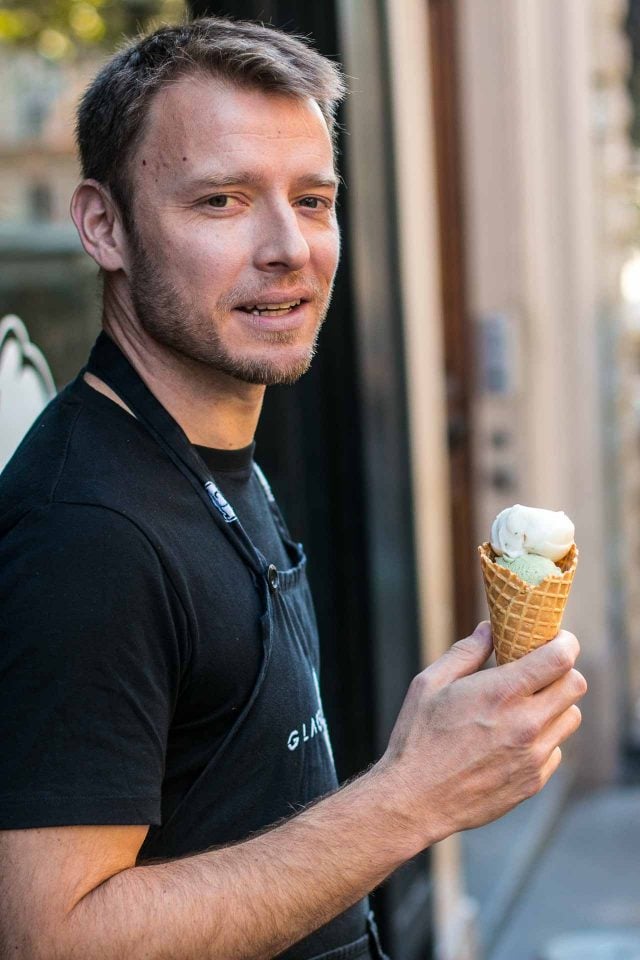 We met via e-mail and I'm not sure how. But perhaps I sent him a fan letter? However it happened, we continued to correspond infrequently over the years. I'd always wanted to visit his ice cream lab, but he was working pretty hard to get the business going, and we never seemed to connect. It was when I had a book event in Paris that he provided ice cream when we finally met, and I got a taste of his ice cream. And I loved what he was scooping!
One problem with "unusual flavored" or offbeat ice creams is that I don't necessarily want a cone of cranberry-clam chip ice cream, or tire-smoked peanut butter with lemon-tuna swirl. I want something that tastes good, and I want to be able to eat a whole cone or bowl of it.
Like Ice & Vice in New York, at Glaces Glazed, every flavor works, which is no small feat. The wasabi and fresh ginger partner perfectly with dark chocolate in Black Sugar Sex Magic, sumac and lime add another dimension of tanginess to the raspberries in Dirty Berry. And Basque piment d'Espelette (dried red chili powder) adds French fire to silky mangoes in Pump Up the Volume.
Henri brings the French sensibility for not overdoing it to his frozen flavors, and his scoops hit the balance just right. The spices are present, but don't knock you over. The fruit and berry flavors are right on the mark. Basil is used judiciously with lemon and vodka, and a touch of rose perfumes his grapefruit sorbet, to counter the tartness.
Henri also started doing Vacherins Parisiens, jars packed with layers of ice cream and sorbet with crunchy French meringues sandwiched between them. These updates on a classic French dessert are inspired by the twenty arrondissements of Paris, including Cococaine, with coconut and pomelo (not sure which neighborhood that one's from), Dirty Berry (which may be inspired by the racy neighborhood of Pigalle that's nearby?), a combo of berries, lime, and sumac, and Voodoo Chile, a banana and curry blend, an homage to the multiculturalism of Paris.
Skimos are short for les esquimaux, the Eskimo pie-style ice cream pops that are dipped in chocolate, which hardens to a crackly coating. Of course, these come in a variety of flavors that include mango-shiso and absinthe-apple.
I was glad to finally meet Henri face-en-face, and we went outside his shop to eat our cones to enjoy the nice weather. In between talking, he took licks of his cone while I polished off mine. As he neared the middle of his cornet, he stopped, looked at it, then at me, and said, "Hey…this is good!" And I'd had to agree.
Glaces Glazed
54, rue de Martyrs (9th)
Tél: 09 81 62 47 06
Métro: Pigalle, Anvers or Saint-George
[Open Tuesday through Friday, 1:30pm to 8:30pm, Saturday and Sunday, 11am to 8:30pm.]