Inside The KitchenAid Factory
"You're going to flip out."That was the message I got from a representative and friend from KitchenAid when he found out I was finally going to visit their factory. It was a visit I've been waiting years to make.
I'd been meaning to visit the KitchenAid factory ever they brought up the idea to me a few years ago, asking me to give a baking demonstration there as well. I can't imagine life without my KitchenAid mixer and most other bakers I know feel the same way (and I love seeing how things are made, anything. I just find it fascinating, no matter what I'm watching being put-together.)
And if you have a KitchenAid mixer, you know what I'm talking about. It's without a doubt the one essential tool that most home bakers can't live without. The mixer we used at Chez Panisse was a solid performer after twenty years of hard restaurant use (it outlasted me!) and my personal mixer has been in service for well over 15 years. When I began doing baking demonstrations over a decade ago, I was so enthusiastic that I reached my arms around the one that I was using and gave it a big, generous hug.
Word of that hug reached KitchenAid headquarters and ever since then, I've been lucky to get to know many of the terrific folks who work for KitchenAid, both in the United States and Europe. And when they heard I was heading to the US this month, we worked in a date to visit their factory for a private look at how the mixers are put together. They gave me special permission to take photographs so much of what you'll see here was generously allowed by KitchenAid.
A visit to the factory begins with a viewing of some of the classic stand mixers. The first produced was the Model H, introduced in 1919 and sold until 1927. It weighed a hefty 60-pounds and stores were so skeptical of its saleability that it was lugged door-to-door by housewives, hoping to convince other homemakers of its value.
The price? The Model H sold back then for $199 which is the equivalent today of about $1400.
The First Ever KitchenAid Mixer

Over the next several decades the designs changed to reflect the times, with my favorite being this one, totally streamlined with swoops and curvilinear lines, suggesting speed and industrialism. Someday I hope this one is re-issued as a Special-Edition, since I think it's the most beautiful of all the models ever produced.
I love the graceful curve of the (useful) handle, which you grasp to lift the head of the machine. And I love the little 'fin' that's affixed to the back.
Others models were made of materials strong enough to withstand the rugged KitchenAid motor within.
There were contemporary mixers on display too, including custom models made to commemorate certain events, including this one. One hundred of them were made and donated as thank-you gestures to the New York City Fire Departments for their efforts and heroism after September 11th.
Another 100 were made later and sold on eBay, with the proceeds going to 9/11 charities.
I learned that KitchenAid is the only company in America which still makes counter top appliances in the United States. All others brands are made overseas, although a few select KitchenAid appliances like the heavy-duty Pro-Line Espresso Maker (which I seriously envy) is made in Italy. Each and every KitchenAid appliance manufactured out of the United States is taken out of the box, vigorously-tested, then re-sealed before it's ready for sale.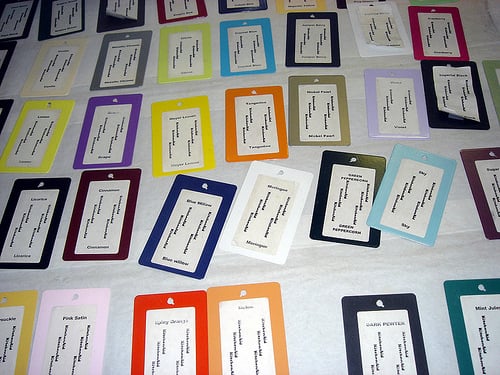 The first thing that I saw when I entered the factory are the newest models and colored mixers lined up, practically floor-to-ceiling! They ranged in hues like sunny Meyer Lemon, Martha Green (named after…), Caviar (black with silver flecks), a cheerful Green Apple, Olive, and colorfully-red Bing Cherry.
Mixers Ready To Be Dipped in Paint
If I didn't already own several mixers, I would have tried to sneak out the brilliant-yellow Meyer Lemon model under my jacket, although it's being considered for retirement. New colors are constantly introduced, then retired, so that new ones can be added. So if you ever see a color that you like, get it while it's hot. One enduring color that's been offered for years, with a new expanded product line, is the pink mixer, with 10% from the sale of each going to the Susan G. Komen Breast Cancer Foundation. There's no plans to retire that one, and in fact, they've added other products in that color range.
Each KitchenAid mixer takes about one-day to assemble. The actual building of the mixer is done in several stages: The engines are assembled and installed in the cast-metal housing by one team, the parts are heavily oiled (using three-times the amount of lubrication required for a lifetime of use), then sealed tight by another group, then the mixers are tested in another area, replicating 30 years of normal home use. Once they pass inspection, they're packaged up and ready to be shipped off.
Blenders Are Tested With Cubes of Ice, Which Are Perhaps the Hardest Things You'd Put In a Blender.
Each person in the factory makes an average of 92 standing mixers per day, with 22 people working on the line at any given time. Christmas starts in June at KitchenAid, when temporary workers are hired to assemble mixers to meet the upcoming holiday demand.
I left my resumé.
One of the newest improvements to the KitchenAid standing mixer is their sturdiest whip yet. Unlike the dough hook and paddle attachments, the whip has several different parts affixed together, making it the part that takes the most abuse (sometimes I think I know exactly how it feels.) I watched how each individual whip was spun around while a woman patiently threaded each wire, interlacing them and securing them to the core.
A Woman Wields Her Whip

The happiest folks in the factory are not on the floor, but in a special, plusher chamber. These are the "call girls", as they're known. These happy cookers spend their days servicing clients, tirelessly, one right after the other. They're the on-site customer service team, helping customers seeking advice about their appliances. Although the main call center is elsewhere (in Michigan), KitchenAid likes some of their customer service workers to remain in the factory, keeping them in touch with the manufacturing process, so they can respond to requests quickly and accurately.
So when you call KitchenAid, you can ask to speak to someone in the factory in Greenville. You'll get connected to one of the highly knowledgeable service team members there (…and tell them I sent you…they're not likely to forget me!)
Is your mixer making a funny sound?
Hold the phone to the machine while it's operating and they can diagnose it for you.
Wondering how you can raise the bowl so that the whip reaches the absolute bottom of it?
There's a tiny screw located underneath the mixer head that you can turn counterclockwise (on the K5) that'll do the trick. I've been using my KitchenAid mixer for years and never knew that.
Of course if I had read the instructions…and we all read instruction manuals, don't we?
Just a short ride away is the KitchenAid Experience, an interactive center where everything that KitchenAid makes is available to try out and play around with.
How Do You Decide?
There's also a teaching kitchen with demonstrations throughout the day. I did one, making all sorts of chocolate treats for guests, including chewy Chocolate Financiers, Rocky Road with Homemade Marshmallows, Peanuts, and Cocoa Nibs, and Double Chocolate Ice Cream with Stracciatella, using the brand-new ice cream attachment, which works with all KitchenAid standing mixers.

Each and every appliance is available on the floor to play around with and bargain-hunters should descend to the lower-level, a room packed floor-to-ceiling with factory refurbished mixers and blenders.
When a KitchenAid product is returned to a store, it's sent back to the factory. The box is opened, the appliance removed and thoroughly inspected and tested. Then it's re-sealed and offered for sale at a substantial discount: Each appliance meets the same rigorous standards as a spanking-new model.
I saw hyper-powerful 6-quart KitchenAid mixers available for slightly more than $200 and chrome blenders being sold for less than half the retail price. And there was lots and lots of mixers and other appliances in colors that had been retired or in various experimental finishes that you won't find anywhere else.
If you can't make it to the KitchenAid Experience, you can shop find your own bargain on a reconditioned model at Amazon.
Big thanks to the staff at KitchenAid for taking the time to show my everything, as I poked through boxes and rifled through bins of parts. They answered all my questions and I'll never rev up my KitchenAid standing mixer again without thinking of what went into it before it became a fixture in my kitchen and my life.
Related Links:
Bargain KitchenAid Mixers & Appliances
You can find amazing bargains on reconditioned KitchenAid appliances at Amazon, such as powerful K5 mixers for only $129, and gorgeous chrome-plated blenders for only $39, which will save you hundreds of dollars.
The KitchenAid Experience
The KitchenAid Experience is located in Greenville, Ohio, about 45 minutes from Dayton and 2 hours from Cinncinati.
The KitchenAid Experience
423 South Broadway
Greenville, Ohio
Tel: 1-888-886-8318
Factory Tours of KitchenAid
KitchenAid
1701 KitchenAid Way
Greenville, Ohio
Tours given Monday through Friday, at 10am and 1pm (subject to change, so call ahead.)
Local Bed & Breakfast
St. Clair Place
224 E. Third Street
Greenville, Ohio
Email: stclairplace@earthlink.net
110V-220V, and International Questions
Will my KitchenAid Mixer Work Abroad?