A Visit to the All-Clad Cookware Factory
There's nothing I love more than a factory tour, especially when it has something to do with food, or cooking. So I jumped at the chance to visit the All-Clad factory while on book tour. Pittsburgh is a city known for its metal industry – most notably, steel, and while much of the metalworking factories have wound down, or closed, All-Clad is still going strong.
I was first introduced to All-Clad cookware when I started working in restaurants. The pots and pans were rugged, easy to manoeuver, and not too heavy, so as a line cook, you could lift a whole stack of skillets when setting up your station, but they were strong enough to stand up to restaurant cooking, which involves a lot of unpredictable heat, and banging around. I threw a sauté pan against a wall during a particularly stressful service, which fortunately missed a lot of people in its trajectory. The pan also survived my tantrum, unscathed.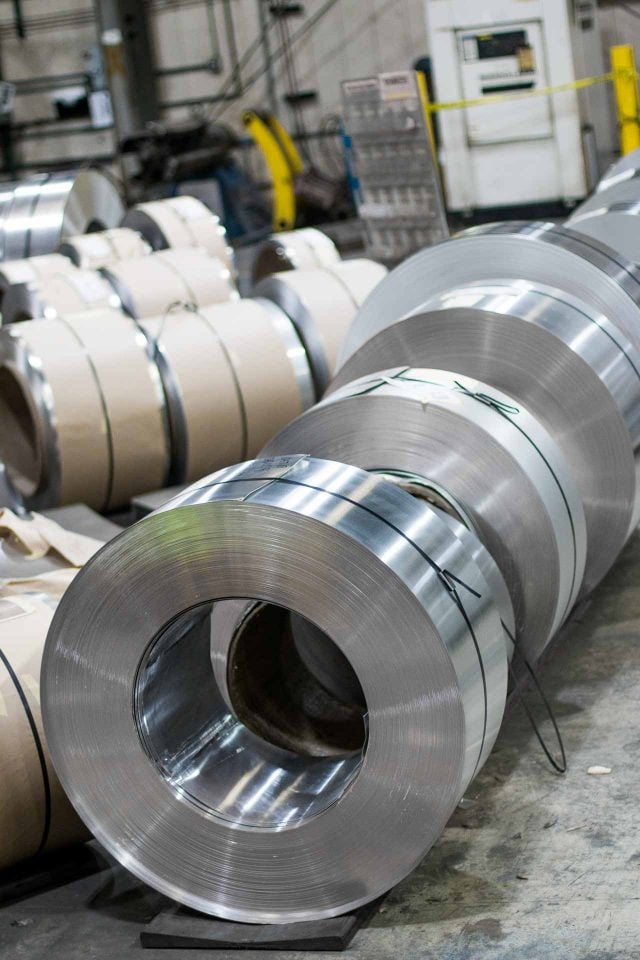 All-Clad cookware is made in America, whose parent company is SEB, a French company that produces Tefal and Moulinex cookware, as well as small appliances. (Yes, I did tell them to please do a reissue of the Mouli julienne in metal, which shreds that carrots the ideal size for the French classic salade de carottes râpées, or grated carrot salad. I also volunteered to be the spokesman for it, too.) All-Clad started off in 1967 as a metal bonding company, "cladding" various metals, exploiting the best qualities of each. Many of the metals they developed were originally used for making coins.
In 1971 they decided to produce cookware. Two features of All-Clad cookware are the metal cladding which means that a core of metal that conducts heat well, such as copper or aluminum, is sandwiched between sheets of stainless steel, then molded into saucepans, skillets, gratin dishes, and Dutch ovens.
Another second feature is their stay-cool handles, which don't get hot when used on the stove top. A few years back, I remember someone who was disappointed because they didn't stay cool in the oven. I think some scientist would have to work pretty hard to figure that one out! But that's something professional cooks appreciate since kitchen towels are always in short supply, and sometimes you've given only two per shift. And that's it, folks.
I lugged most of my pieces over to France with me, piece-by-piece. I do have other brands of pots and pans, since I like certain ones for oven-roasting, baking gratins, or when doing a stove top braises or stews. And I have a lovely copper bowl for whipping egg whites, a copper syrup pot for candy making, and a few I picked up at flea markets (and discount stores in Paris!), that make me feel assuredly French. But it was exciting to take a detour to the small town of Canonsburg, Pennsylvania, to see the process of the most reached for members of my batterie de cuisine.
It takes two to three days to make a pan, from forming the metal disk to attaching the handle and boxing it up. The process starts with metal that's delivered to the factory in giant rolls.
The rolls are cut into pieces. The surfaces are roughed up a little (which helps them adhere better), then sandwiched, or cladded, by running them through heavy rollers.
Cladding is different from plating, which is covering the surface with metal. Cladding bonds metals together. Some All-Clad pots and pans are three-ply; the MC2 Line (which used to be referred to as Master Chef and was the first cookware they made), and others go up to 7-ply. Weight, and heft, is important in cookware, but not everyone wants overly heavy pots and pans, especially older people or those with mobility concerns. So they make several lines of cookware to meet various needs, and budgets.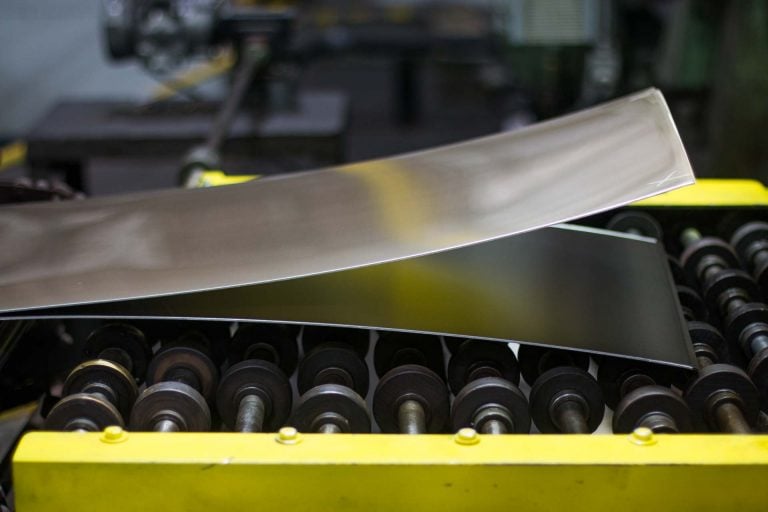 Most of their cookware has an aluminum core (some is copper), which is surrounded by stainless steel. Aluminum is an excellent conductor of heat, whereas stainless steel is more durable. Copper is the best but it's heavy and adds to the cost.
As the metal banged around behind us (we wore earplugs), the factory director explained that aluminum heats horizontally whereas stainless heats better vertically. Which is another reason for that particular mix.
The metal goes in…then comes out of the machine, clad, and in rectangles.
Once the sandwiched sheets come out, they're fed into another machine and disks are stamped out of them.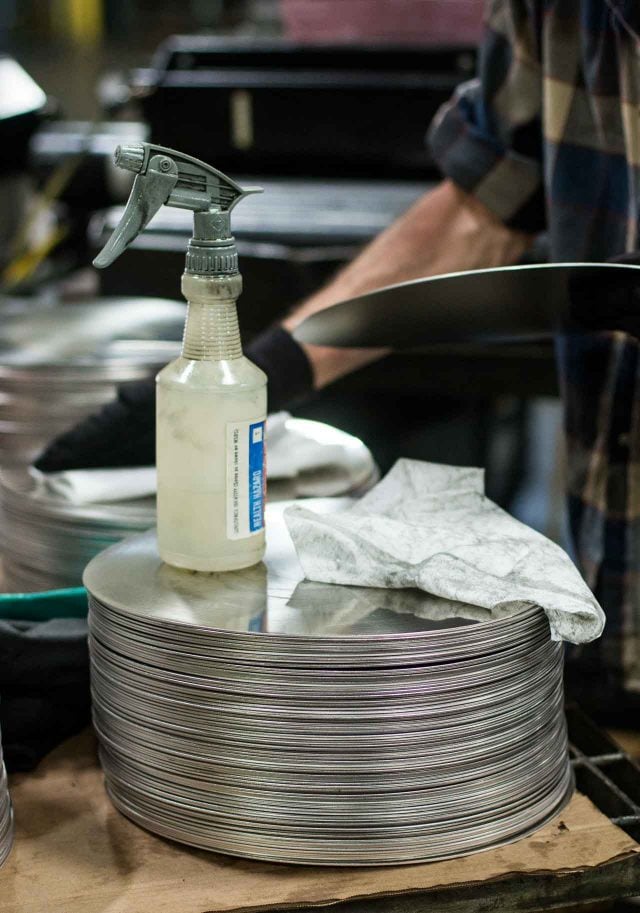 Each disk is placed in a machine which molds the metal around a die, to form the shape of the pot.
Different machines have various size dies (molds) that turn them into saute pans, Dutch ovens, rondeaux, roasting pans, braising dishes, as well as sauciers with sloped sides, and saucepans with straight ones.
Once the machines mold the disk into shape, out comes a not-quite-yet gleaming piece of cookware.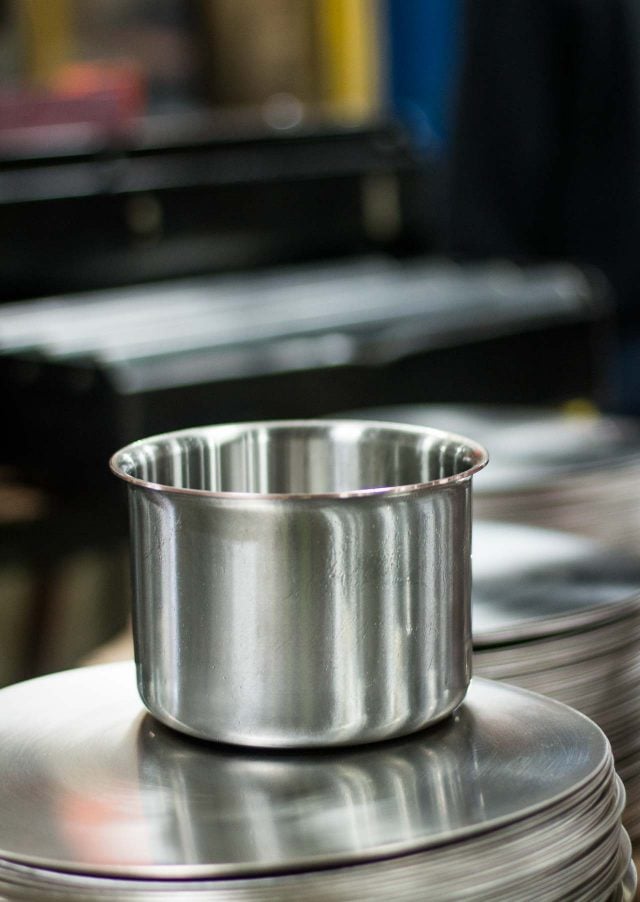 Each piece is hand polished, buffing out burrs and rough edges.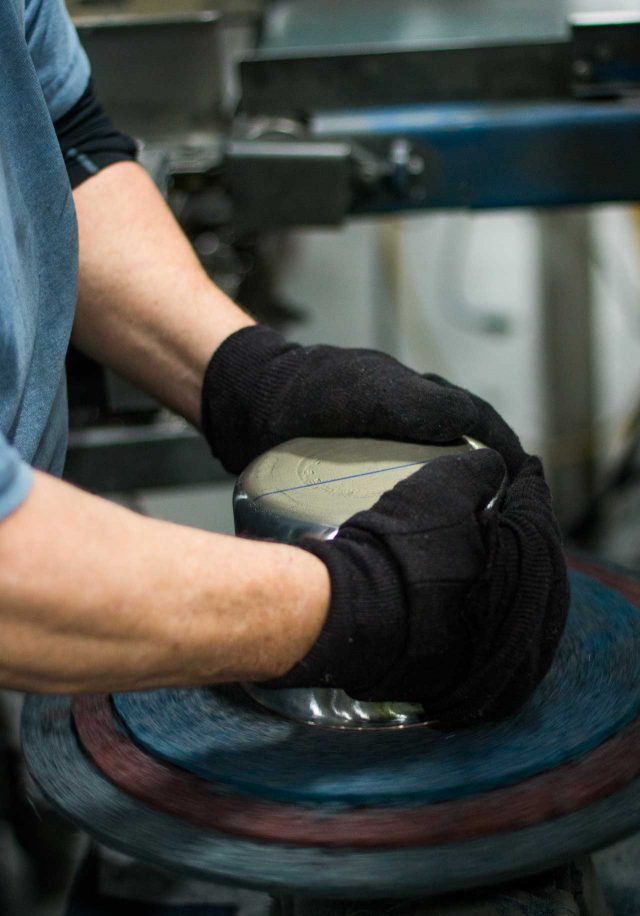 It's also visually inspected at each step of the way, to make sure the rims are smooth and there aren't any flaws or imperfections.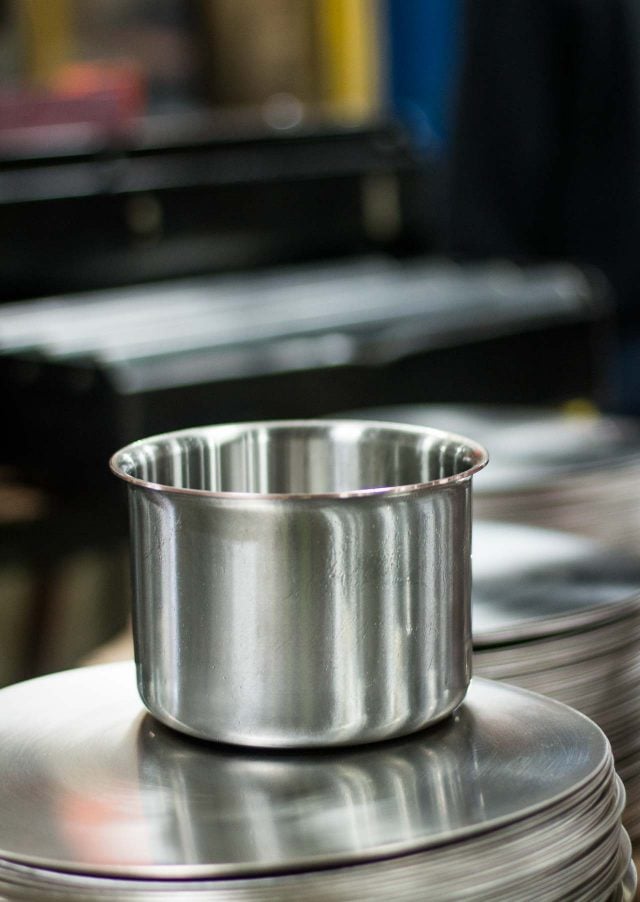 While it's easy to think of a factory as an assembly line, people outnumbered the machines here. About 240 people work in the factory and it's nice to see how personally everyone grabs pieces of cookware, takes a look at each step, before sending it on its way to the next.
Once the pots get okayed, they're ready to have their handles attached. Like most cookware factories, the handles are made elsewhere. Handles are particularly tricky to produce and require another level of expertise. So those are made for All-Clad elsewhere.
But first, a little "highlighting" is in order. I never noticed this, at least not deliberately, but each pot and pan has a star-like reflection that's buffed into it by a machine called a highlighter.
You can see the difference here:
Outside finishes are cosmetic. Professionals use the Masterchef (MC) pans because they don't care what the outsides look like, which I'd mentioned were three-ply as opposed to 5-ply. But lifting the two, one right after the other in the factory, there wasn't a huge difference in the weight. If you're looking for a starter set at a good price, the MC2 is the place to start.
A few weeks ago I noticed a great sale on a starter set online and passed it along to readers on my Facebook page. A few people noted that MC2 wasn't supposed to go through the dishwasher. I always run my All-Clad cookware through the dishwasher, and, of course, we did when I cooking in restaurants. So I'm happy to report that the factory engineer told me that it could.
After the handles are attached, another inspection is in order and anything with scratches goes back and get rebuffed so each piece is free of imperfections, before it's boxed up.
If they can't bring a pan back, if it's something relatively minor, they'll sell the piece at their twice-annual factory sale, which takes place at the Washington County Fairgrounds. (They announce those dates on their Facebook page and on the Washington County Fairgrounds events page. It may also be announced on the Visit PA website events page.)
Sounds like reason enough to visit – sorry, they don't ship. When I did a book event at a terrific local bookstore, locals spoke fondly of getting there and picking up some bargains. So if you go, you'll have a little competition, but everyone seemed to enjoy the fun of the hunt.
[Disclosure: There was no compensation for this post but All-Clad did provide round-trip transportation to and from the factory.]