Roasted Kale Sprouts
For the longest time, we didn't get kale in Paris. As the crinkly greens with the tough stems zoomed in popularity in the U.S., those of us used to, and craving, the rugged flavor of these branchés (plugged-in, or trendy) bunches, were out of luck. I remember chancing across some curly kale in a natural foods store over in the 5th arrondissement, and sweeping the whole shelf of it into a bag, stuffing it all inside, and bringing it to the register. The cashier looked at the bag, then looked at me, and said, "Vous êtes…américain, monsieur?"
Indeed I was. But now, Paris has firmly gotten on the chou kale bandwagon and although it's mostly green curly kale you come across, you can sometimes find red kale and even Tuscan (lacinato) kale at outdoor markets, and even in some supermarkets as well as the frozen food chain, Picard. And, being Paris, where trends are often taken to the extreme, there's even a Miss Kale café.
Much of it is due to Kristen Beddard, who made it her mission to get growers to plant kale, as she chronicled in her engaging and delightful memoir, Bonjour Kale. But I was surprised last week at my local market when I saw these tiny bunches of what looked like mini cabbages, or over-developed sprouts, and brought a bag home. I'd asked the vendor what they were called and he didn't know. He just shrugged his shoulders and said, "les pousses", an all-encompassing name for "sprouts."
So I asked the internet (on my Instagram stream), and a few responded that they were Kalettes, and delicious when oven-roasted. Some said that they added a squirt of lemon juice just after roasting and another woman from Australia offered up that they were part of an "Aussi breakfast." Another called them "snack crack."
Noted food stylist and recipe developer, Susan Spungen, chimed in as well, mentioning to let them get close to crisp when roasted. I was intrigued and rifled through my teetering pile of hard-won vintage French gratin dishes, scored perhaps at some flea market?…grabbing the largest one, and went to work.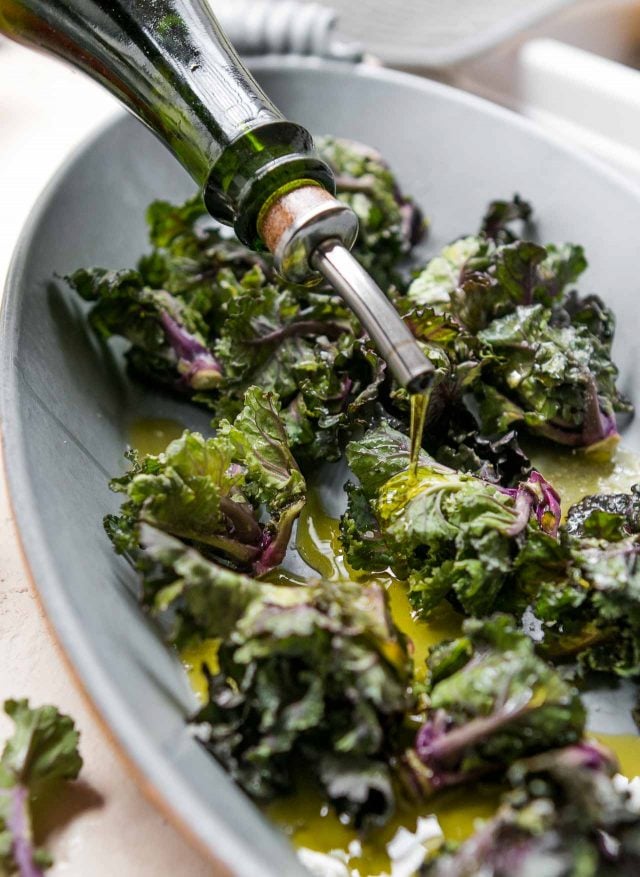 I drizzled my kale sprouts, as I'm going to call them, with Sicilian olive oil, sprinkled them with flaky sea salt, and added a few good turns of black pepper from my pepper mill.
The verdict? I loved these! They have the faint flavor of Brussels sprouts but not enough to stink up your kitchen, and the heartiness of kale, without having to chew on them forever. I roasted them just enough so the outer leaves were crunchy, but the sprouts were still tender inside, and I saw why someone said you could eat them for breakfast. I think I could eat them for every meal.
When I went back to the vendor the following week to get more, I didn't see anyone else buying them, so I bought an entire kilo (a little over two pounds), for a price that covered a good portion of the rent on his stand that day. But they were worth it.
| | |
| --- | --- |
| Roasted Kale Sprouts | Print Recipe |
A number of people chimed in, letting me know that these were referred to as kale sprouts, lollypop kale, kale-brussels sprouts, flower sprouts, and petit vert (プチベール), in Japan. They're best cooked until the outsides are crisp, but tender inside. For those who like kale chips, they could be cooked until completely crisp throughout, although they are messy to eat. I can't say where you can get kale sprouts where you live, and I was surprised to find them in Paris! Trader Joe's in the U.S. sometimes carries them, but you may need to do a little searching at your local greenmarket, farmers' market, or well-stocked grocery store, to find them. Variations include a sprinkling of Parmesan before or after roasting, a couple of cloves of finely chopped garlic, or red pepper flakes, to add a little heat. I've linked to some recipes and ideas after the basic recipe. Feel free to leave other ideas in the comments.
1
pound (455g)
kale sprouts,
rinsed and spun dry
2 1/2
tablespoons
olive oil
freshly ground black pepper
1. Preheat the oven to 450ºF (230ºC).
2. Trim any tough ends off the kale sprouts and spread them over a baking sheet, or in a gratin dish (or two), in an even layer. They can be touching as they'll shrink when roasted.
3. Drizzle the olive oil over the sprouts and season lightly with salt and pepper. Roast the kale sprouts in the oven on the lower third of the oven, turning them over on the baking sheet midway during baking, until they are cooked through and crisp on the outside, about 10 to 12 minutes, depending on the sprouts. (Large ones may take longer.) I like them so they are tender inside, crisp outside.
4. Remove from oven and serve warm.
Serving: Although delicious on their own as a side dish, the kale sprouts are great served with a whole grain salad, such as one made with wheat berries, or alongside roasted meats or vegetables. One batch I made was served alongside sautéed fish filets with crumbled crisp bacon over the top.
These are also good is you finely grate Parmesan, or another grating cheese, over the sprouts when they just come out of the oven.
Related Recipes
Kale sprouts with bacon (Kalettes)
Kale sprouts with Parmesan and garlic (Steamy Kitchen)
Balsamic roasted kale sprouts (From a Chef's Kitchen)
Spicy sautéed kale sprouts (Body Mind Freedom)
Kale sprouts (Trader Joe's)
How to Find Foods Mentioned on the Site