L.A.
I'm one of those people who loves Los Angeles. Even rarer, I'm one of those San Franciscans who loves Los Angeles. Each sometimes writes off the other, and the two big cities in California are often at odds with each other. One is serious, grey, and a little foreboding and mysterious. The other sunny and warm, with an upbeat attitude that even after visiting for the umpteenth time, I find refreshing. And it always makes me happy to be in LA.
My first "Aha!" moment on this visit was when I woke up the morning after dinner at République, the stunning restaurant that took over the space of the former Campanile restaurant. I took the elevator up to the breakfast room of my hotel, on the top floor. When the door opened, my eyes took a moment to adjust after being greeted by a sky so bright-blue, I was wondering why I had spent so many years trying to stay warm under the blanket of chilly fog of San Francisco.
So a poolside breakfast it was, a plate of scrambled egg whites with kale, squash, avocados and Sriracha sauce, along with a thermos of coffee, and a terrace view. I was ready to move in.
Although I would have been content to spend my entire life up there, I packed up my Sharpies and headed over to the Hollywood Farmer's Market for a book signing.
As much as the blue skies wowed me, I had forgotten the magnificence of California produce. Stands with smiling vendors were piled high with tangles of earthy greens, and dewy heads of oak leaf lettuce were lined up in orderly rows. Yikes, I wonder what their refrigerators look like at home. I guess that is something for my produce at home aspire to.
An array of citrus was on display in a number of booths, which took every bit of my willpower not to pack up and take home with me. And being on the cusp of summer (which seems to be the case, daily, in southern California), flats of California berries were making their first appearance.
My guide was Daniel Mattern, the chef-owner of Cook's County restaurant, who knows the market well as he does a lot of the shopping for his menus there. (When I ate there a few days later, I know it's très américain to list where you source everything, but I think places that do, carry those words as a badge of honor. As he does.)
Roxana Jullapat, co-owner and co-chef at Cook's County, made some treats from my book to serve to folks who came to my event; little bites of chocolate and dulce de leche cake, and salted olive crisps.
While I was signing books, a man stepped up to the table who looked very familiar. I almost leapt out of my seat when I realized it was Robert Dedlow, who I'd worked with at Chez Panisse, beginning way back in the 1980s. When I naïvely walked up to the front door of the restaurant, where I was hoping to snag a job, Robert had a slightly aloof demeanor, which I found off-putting at the time – actually, he put the fear of God in me…but I persevered.
Looking back to that moment, Robert was my gateway – rather than gatekeeper – as he directed me inside the kitchen in the direction of the chef. Who wasn't interested in talking to me at the time, but somehow, I succeeded in getting them to let me try out. Because I was so motivated, I landed the job and Robert and I worked together for many, many years – he as a waiter, and I in the kitchen. I came to appreciate his understated humor, which I had mistaken for cool reserve and we had a lot of fun together working during those crazy early days at Chez Panisse.
As happy as I was to see him, I was especially thrilled that he and Andrea, who pioneered growing the lettuces for Chez Panisse in the restaurant's garden, are not only baking beautiful breads at Kenter Canyon Farms, but are raising their own wheat and grains for the loaves. A woman in Paris recently asked me why she couldn't find good bread in southern California, and if she's reading, well, in the words of probable SoCal resident Steven Tyler, "Walk this way!" It's easy to see why they sell out quickly.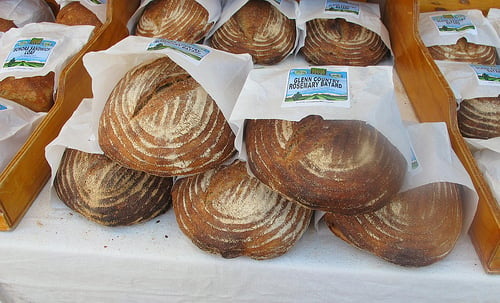 After ripping into a loaf, I can attest to how fantastic this bread is and if anyone thinks all this organic, local, etc. stuff is hooey, go ahead and take a bite: you can taste the actual grains that are used in the bread in each slice. Honestly, if I did decide to take up permanent residence on the roof of my hotel, I'd still make the trek to the Farmer's Market to pick up my bread.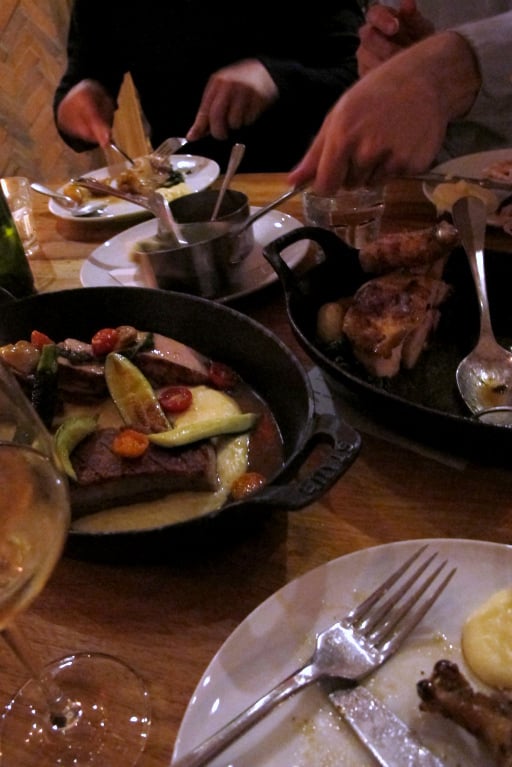 I was glad I had fortified myself for the day, the night before, with a great meal at République, which was quite dark and I wasn't able to take very good snapshots. We ordered everything, including lots of vegetables, and oven-roasted meats and fish, with impeccably sourced products. I'd told myself that I was going to really curb my consumption of alcohol and coffee on this trip, since it's been so hectic.
But I couldn't resist a cocktail, whose name escapes me in my book tour stupor, but was an enticing blend of rye whiskey and vermouth, with a dash of bitters – just up my alley. It was worth the woozy feeling the next morning. (Although I was glad I limited myself to just one!)
After my chat with Evan Kleiman at the packed-to-the-rafters William-Sonoma store in Santa Monica (special thanks to the staff there for doing such a great job, and to all those who came, too), I hustled over to Lucques restaurant to take part in their weekly Sunday supper event.
I'd worked with chef-owner Suzanne Goin, who prepared a menu from My Paris Kitchen, and while I didn't have time to sit down and eat my way through the menu, I made a ton of new friends – and connected with long-time pal from Los Angeles who came by for dinner, as I did the LA-thing; table-hopping, meeting and greeting everyone, and signing books.
Of course, the team at Lucques did a bang-up job with the food, including roasted cherry tomato crostini with homemade cheese, one of the best leeks vinaigrettes I've ever had, bitter chicory salads piled in wooden bowls, piping-hot chicken Parmentier, all capped off with warm chocolate cakes with hazelnut ice cream and salted butter caramel, which even the stick-thin LA ladies and gents couldn't resist. Probably a biased opinion, but my aunt told me the next day that the crostini was one of the best things she'd ever eaten.
I couldn't stop myself from talking to everyone, until I found myself in a near catatonic state, while Caroline, the co-owner of the restaurant, kept me revived with sips of cool rosé. (What is it they say about those "best intentions"?) Waking up the next day, after saying goodbye to the blue-skied terrace overlooking LA, I packed up my things to meet my aunt for lunch.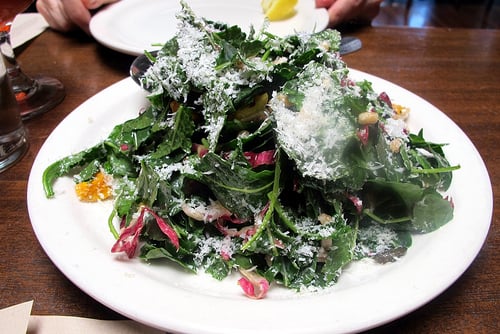 We ended up at Cook's County, starting with a healthy kale salad (which, if you can believe, I've never had) with farro, squash, and a flurry of grated cheese, which made me realize what all the hoopla was over kale salad. Main courses were steamed clams and mussels, and orecchietti pasta with a beef ragù, along with a healthy side of sautéed broccoli sprouts, greens that I want to take bundles of back to Paris.
While I didn't leave my heart in Los Angeles, I did leave with some great memories of fine meals and friendly faces, and perhaps a bit of a tan from my (former) morning rooftop perch over the city.