Ten Belles Bread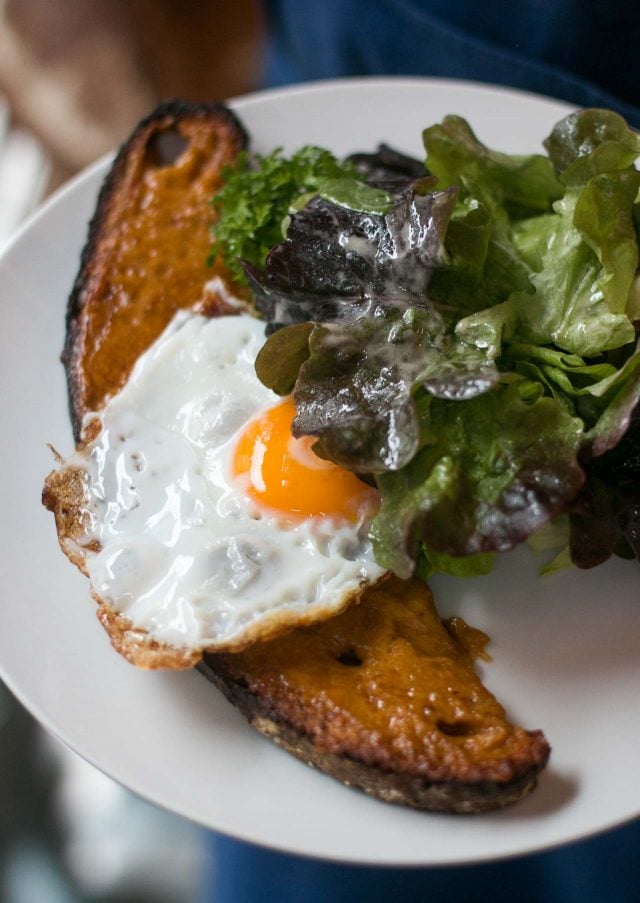 I'm always on the lookout for new bakeries and pastry shops that have opened in Paris. Although to be honest, it's hard to keep up these days! The number of new boulangeries and pâtisseries that are focusing on everything from artisanal grains to organic flours, are spreading like wild yeast across the city.
I'd met Alice Quillet a few years back, when she, and her partners ran Le Bal Café. A few years ago she went on to open Ten Belles coffee shop with her business partners, Anna Trattles and Anselme Blayney (who co-created Belleville Brûlerie), a few blocks from the Canal Saint-Martin. (I can't remember if it's one block or two, because I'm always racing up the street because I need my coffee!) They were instrumental in being part of the coffee "revolution" in Paris, as a growing number of young people are opening cafés that focus on good-quality, well-made coffee. And now, bread is getting its turn.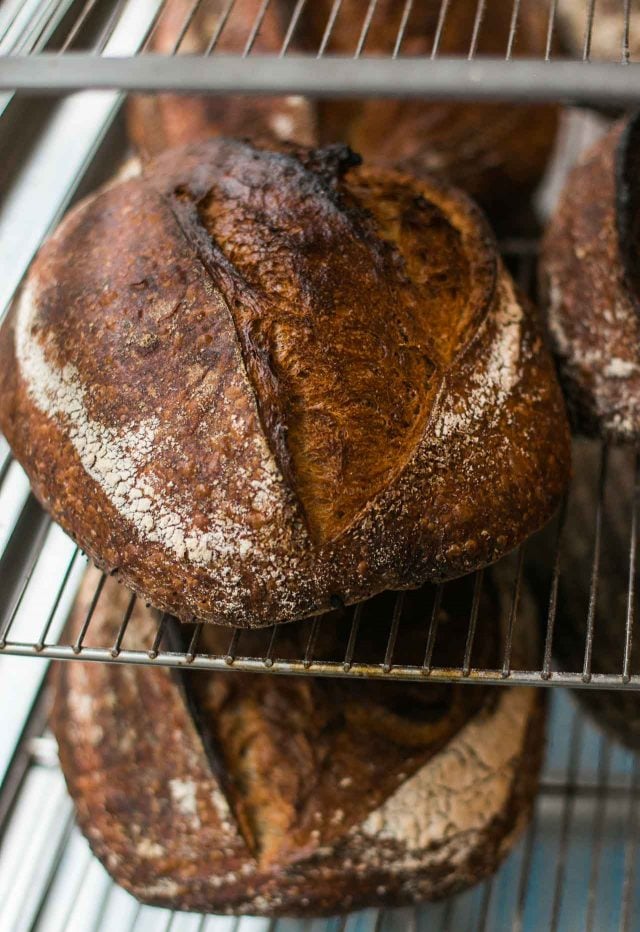 Bread is an important staple in the French diet and even at Asian and Indian restaurants, you'll see locals searching around for a bread basket. (I have a couple of French friends that simply cannot eat unless there is bread on the table, no matter what.) I love bread, and thankfully, Paris has over a thousand bakeries where people line up morning, noon, and late afternoon, for their daily bread. As part of the vague (wave) of younger people making their mark on the food scene, Alice is at the forefront, kneading up whole-grain loaves and using dough to create treats for a new generation of Parisians.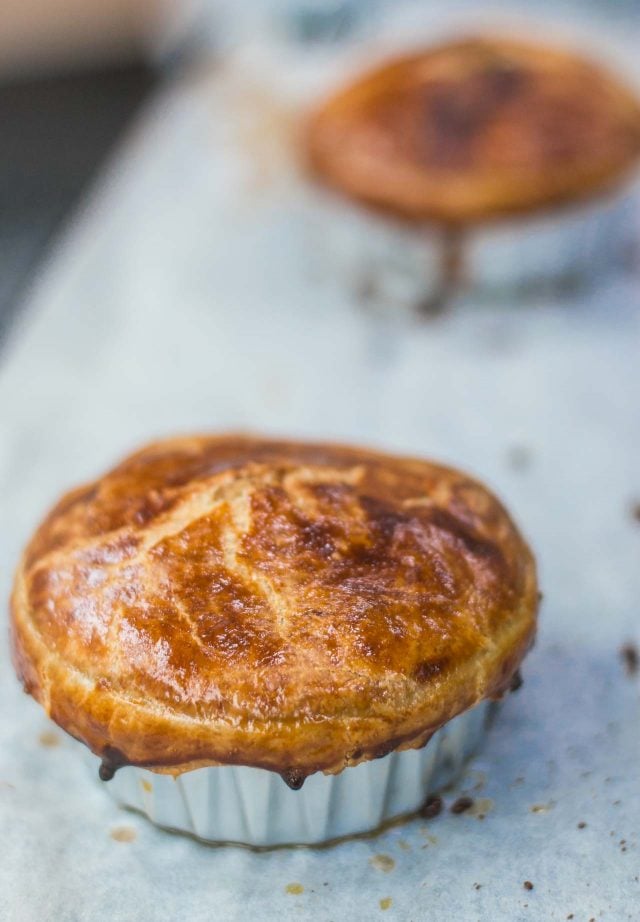 Alice was born in Paris and opened the bakery last year, after honing her craft at Tartine in San Francisco and Mirabelle in Copenhagen. She returned to Paris, bringing a little bit of Britain with her (a place she shares dual-citizenship with), by creating savory pies, which are available at lunch and at le brunch, a meal which has become more popular (and better) in Paris over the last few years.
[UPDATE: They are no longer serving brunch, but are open weekend morning for coffee and pastries.)
Because the number of people who come in at that hour have had a rough night before (young Parisians like to party!), morning pastries range from sweet to savory, but lean heavier on the latter, and change daily. I don't go out for brunch (because my hard-partying days are over), but I would come in for one of the spinach-cheese brioche buns (above), even if I didn't need something to soak up the previous night's over-saturation of liquid refreshments.
I was also intrigued watching them experiment with chocolate bread, which is tough to get right. (Spoiler: They got it right.) Alice has a few helpers in her kitchen, like Mathilde (below), who all work calmly in the airy space, pulling hearty levain loaves, some riddled with seeds and grains, or spice, which change daily.
The space was particularly interesting to me as the generously sized bakery and café is on the ground floor of a building near my old post office, a nondescript street that sits in the middle of a bustling residential area. There wasn't much there when a few buildings of new apartments were erected, and as part of the deal, residents were asked what kinds of businesses they wanted. They replied, "A restaurant, a wine shop, and a bakery," so they located there, right between the other two businesses.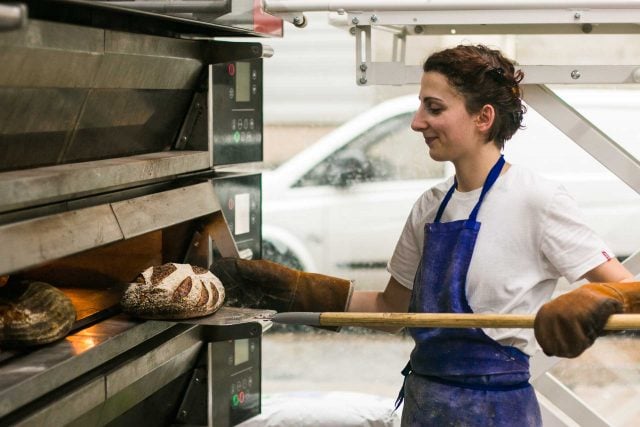 Unusual for bakeries in Paris, Ten Belles Bread is also a café where you can go for a basket of toast served with a French butter and jam, or something more hearty, like an excellent Welsh Rarebit (shown at the top of the post) and Eggs Benedict (shown below), topped with crisp strips of Brit-style streaky bacon.
Although I don't get out of the house for brunch, I do get to do lunch every once in a while and have had a "toastie" sandwich (which was huge, I recommend just getting a half, or sharing a full-size one), along with a whole grain bulgur salad, or focaccia sandwiches filled with pickles, vegetables, or whatever they have planned for that day. The present winter weather isn't so conducive to eating outdoors, but there's a huge terrace behind the bakery that I'm sure is going to be packed once spring arrives, which we all hope will be soon.
I'm an especially big fan of grainy breads and while I took home a loaf of levain (and I loved the sturdy, éco-friendly paper wrapping around it!), even better was the sprouted rye bread, made with rye berries left to sprout 3 to 4 days. Needless to say, I've got tons of bread to go through, which I jokingly refer to as "The French Bread Crisis," meaning I buy way too much bread, and am always looking for something to do with it. But my favorite way to enjoy it is simply as toast, with butter and honey or jam, or just with warm butter melting all over the crisp surface. Et basta, as they say.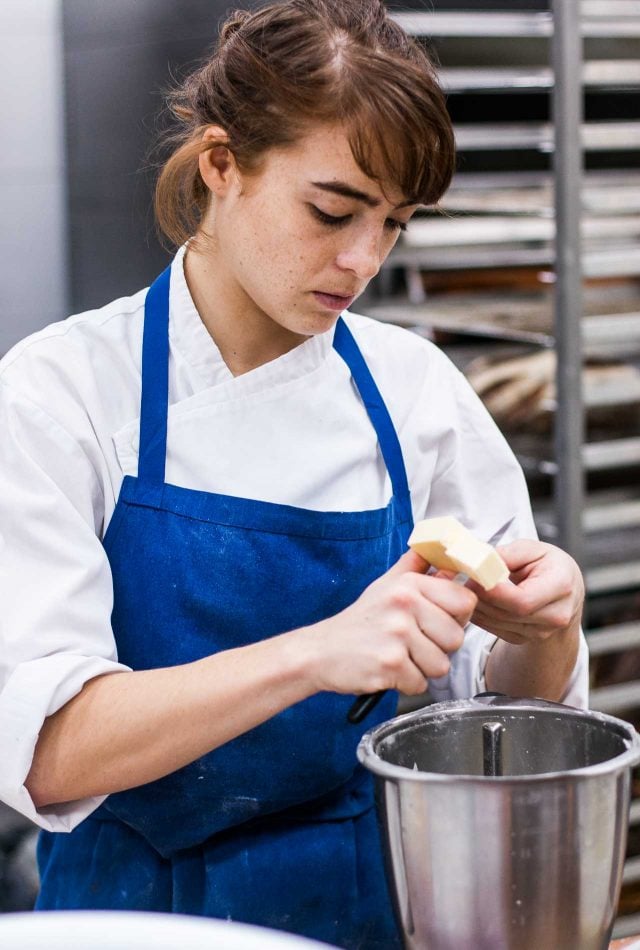 Being a bakery, Ten Belles bread is no slouch in the dessert department either with fresh fruit tarts, cookies and cakes, all of which can be enjoyed at any time of the day with some of the best coffee in Paris.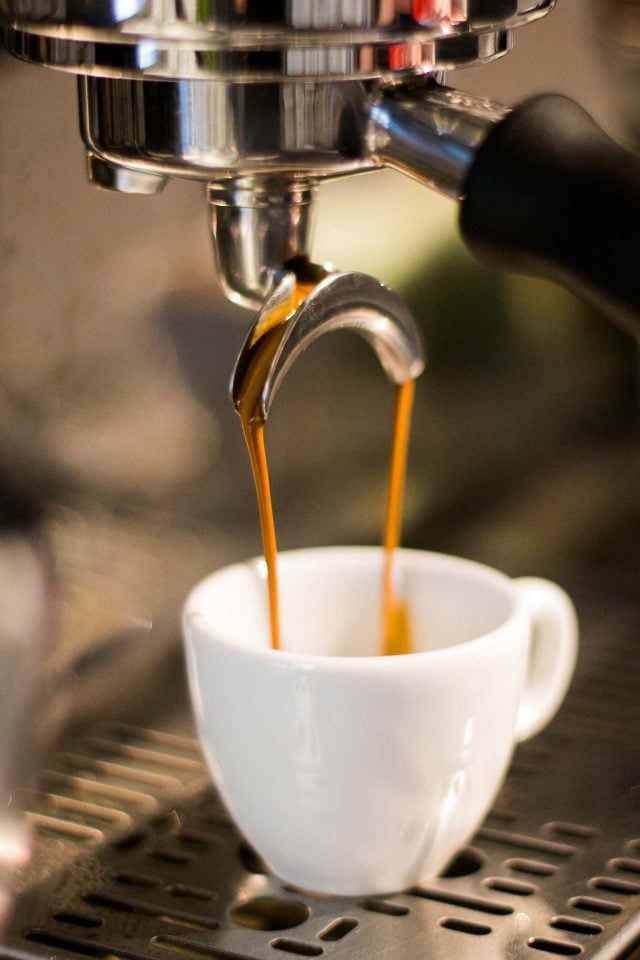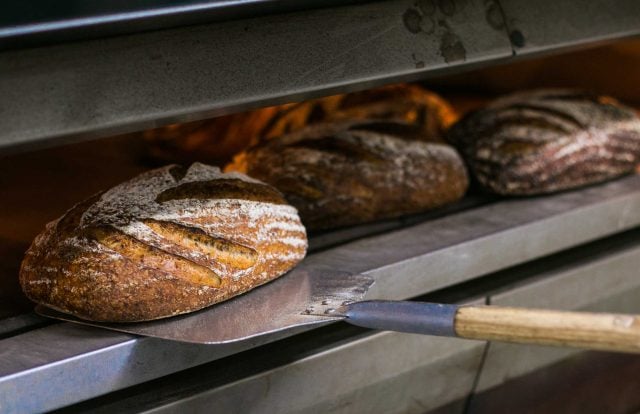 While it may be the breakfast or lunch, or brunch, that tempts you, pastries come out of the ovens at all hours, including puff pastry apple tarts, lemon, plum and berry tarts, chocolate-raisin brioche, glazed gâteau citron, feta-Comté swirls, scones, financiers, or whatever else they're baking up that day. Perhaps in the afternoon, with a expertly made coffee, bien sur…
Ten Belles Bread
17-19, bis rue Bréguet (11th)
Tél: 01 42 40 90 78
Métro: Bréguet-Sabin, Voltaire, or Richard Lenoir
The bakery and café is open weekdays, 8:30am to 7pm, and weekends, 9am to 6pm. Lunch and breakfast are served daily in the café. Brunch served on weekends from 11am to 3pm.
UPDATE: Ten Belles bread has opened a second location at 53, rue de Cherche-Midi (6th)