When I got the opportunity to re-release my first two books, which had gone out of print, my publisher and I decided that they should be combined into one brand-new volume, Ready for Dessert, with new photos and more than a dozen new recipes added. So I made a master list of all the recipes, then chose my absolute favorites: the ones I'd found myself making over and over again during the years invariably rose to the top.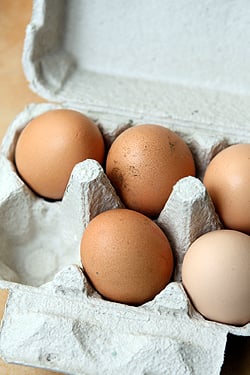 I had to choose le top du top, as they say in France. Then I sent the list to my editor, who worked for many years at a food magazine known for their exactitude and trying a recipe over and over and over again with every variation (a bit crazy, like me), and we went back and forth for a while, until we agreed on the ones for the final book.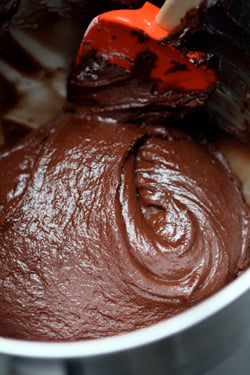 I originally imagined I would sit down and cut and paste recipes, putting them in order, and maybe adding a few notes here and there. But as I scrolled through the recipes, many of which I hadn't made in over a decade, I started reading through them more carefully. And soon I realized that I was not just making mental notes, but I was jumping up from my desk chair and heading to the kitchen, taking butter out of the refrigerator to soften, and running to the market to buy eggs by the flat.
Then, of course, there were those inevitable slips of paper that I make notes on, that became scattered around my apartment, finding their way into various files or transcribed hastily onto my computer with doughy fingers. (I am still scraping chocolate off my keyboard, by the way.)
As I mentioned in the introduction to the book, recipes aren't set in stone—which is a good thing, because otherwise using cookbooks would be a herculean task, sometimes when you look at something with a fresh perspective, you have those "Eureka!" moments.
This Chocolate Bread was in my second book, Ripe for Dessert, and when I was picking and choosing which recipes would make the cut, I had an overload of chocolate cakes and other treats in the book, including cream-filled Chocolate Cupcakes dipped in chocolate ganache. So this one didn't make it.
Another reason was that I didn't want people to make this and expect it to be like a decadent chocolate torte or rich chocolate pound cake. It's bread, and the resulting loaf will be firmer and less-buttery than a traditional cake. What you should expect, though, is the most amazing chocolate aroma wafting from your oven during the excruciating time it takes to bake and cool down. And it does make a wonderful afternoon snack, with a strong cup of coffee.
So I thought it'd be fun to give it a makeover here on the site. When giving it another look, I tried it a few times. Okay, who am I kidding? I re-did it about eight or nine times, exhausting every possibility I could think of.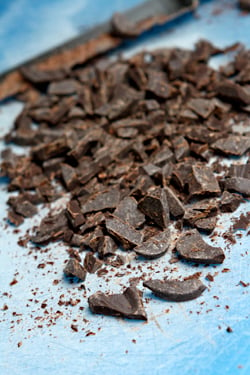 What did I try? Well, since you asked…
1. Egg Yolks vs Whole Eggs: Yolks are almost pure fat, so they make things moister. And I thought maybe an extra yolk would make a substantial difference.
Verdict? Not enough difference to merit having 2 egg whites leftover.
2. All-Purpose flour vs Bread Flour: Because bread flour isn't something everyone has on hand, I wanted to see if it was vital for the bread.
Verdict? I hate to make you go to the store, but bread flour has more gluten and you'll get a better rise if you use it.
3. Dutch-Process Cocoa Powder vs Natural Cocoa Powder: I dipped into my stash of American cocoa powder, trying it with both Hershey's and an artisan brand. Then I tried it using Dutch-process cocoa and the difference in flavor was pretty profound.
Verdict? Dutch-process. (The bread made with natural cocoa didn't rise as well, which makes me think the acid in the cocoa somehow interfered with the yeast action.)
4. Nuts vs No Nuts: Originally I made the recipe with nuts because, well, I like nuts and chocolate together. But I was on the fence about them in the end. So while they were nice and crunchy in there, you don't have to use them.
Verdict? You choose.
5. Instant vs Active Dry Yeast: Instant yeast isn't widely available in France yet, so I didn't try it. Fresh yeast, however, is. (You can ask your local boulanger for some.) Call me a stickler, but I used active dry yeast.
Verdict? If you want to swap one out for another, check the links at the end of the recipe for substitutions.
6. Butter vs Oil: Because butter is part water, about 20%, I thought using a neutral-tasting vegetable oil might make the chocolate bread moister. And thought that maybe the flavor of the butter might not be that important with all that chocolate anyways. But the loaf came out with an odd, slightly greasy taste, and I went back to butter.
Verdict? Oil works, but doesn't taste very good so I'm sticking with butter. Perhaps a nut oil might be something to try, but am guessing the flavor might be rather strong for most tastes.
7. Milk vs Water: Originally I used water, but decided to give milk a try, since bread doughs made with milk have a softer crust and are a bit more tender.
Verdict? Whole milk works best, but low-fat milk or water is okay, too.
8. Chocolate Chips vs Chopped Chocolate: Chocolate chips are designed not to melt, and while that's sometimes an advantage, I don't mind softer bits of chocolate embedded in the bread. So I chopped mine up myself. And besides, I only have one bag of chocolate chips left that I brought back from the states, and I didn't want to use them up quite yet.
Verdict? I prefer chocolate chunks, but chocolate chips are fine to use.
I also made the dough a bit softer, and even considered trying a no-knead variation, although I decided that I actually like kneading bread. And also my friends (and neighbors…and vendors at the market…and delivery men…) were beginning to request something other than loaves of chocolate bread with a few slices taken out. So I decided it was time to stop.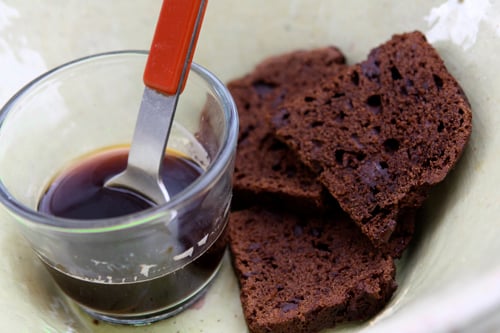 You also might try slicing up a loaf and using it in your favorite bread pudding recipe (or the Orange-Almond Bread Pudding in Ready for Dessert). Or using it for a batch of French toast, if you're one of those people that need to get their chocolate fix first thing in the morning—as I must confess, I often do.
Chocolate Bread
After much experimenting, I opted for a dough that much softer than the one I'm kneading up in the photos. And I eventually I settled on one that was soft enough to be scraped into the baking pan, just as is. Use very good cocoa powder; here I used Valrhona, since I think the darker color and strong taste are important in the loaf. But another brand of Dutch-process cocoa should work fine, too. If you don't have the coffee powder, you can leave it out. I like it since it add a subtle boost to the chocolate flavor. This recipe works best with bread flour, but if you can't get it, all-purpose flour works well, too. I've made a few notes at the end of the recipe about yeast and flour substitutions.
3/4

cup

whole or low-fat milk

,

heated until just tepid

1

envelope active dry yeast (1/4 ounce

,

or 2 1/4 teaspoons)—see Note

6

tablespoons (75g)

sugar

4

tablespoons (55g)

butter

,

salted or unsalted

3

ounces (85g)

bittersweet or semisweet chocolate

,

coarsely chopped

1 1/2

teaspoons

instant coffee or espresso powder

,

optional

1

large egg

1/2

teaspoon

vanilla extract

3/4

teaspoon

kosher or sea salt

2

cups

bread flour

,

280 g

1/4

cup

unsweetened Dutch-process cocoa powder

3/4

cup

(3 1/2 ounces

,

90 g) chocolate chips or coarsely chopped bittersweet or semisweet chocolate

1/2

cup (70g)

toasted pecans

,

walnuts, almonds, or hazelnuts, coarsely chopped (optional)
In the bowl of a stand mixer or in a large bowl, sprinkle the yeast over the milk. Add one tablespoon (11g) sugar, then set aside in a warm place for 10 to 15 minutes, until bubbles form on the surface.

While the yeast is activating, in a small saucepan, melt the butter and 3 ounces (85g) chocolate over a pan of barely simmering water. Stir occasionally, until the chocolate is melted and the mixture is smooth. Remove from heat.

Once the yeast mixture is frothy, mix in the remaining sugar, the instant coffee (if using), the egg, vanilla, and sea salt.

Stir in half the flour and cocoa powder, then the melted butter and chocolate, then the remaining flour mixture, stirring until well-incorporated. If using a stand mixer, attach the dough hook and beat for five minutes, until smooth. If making by hand, mix vigorously with a flexible spatula for the same amount of time. The dough will seem quite moist, resembling sticky brownie batter when ready.

Cover the bowl and let rise in a warm place for 2 hours.

Butter a 9-inch (23cm) loaf pan.

Stir in the chopped chocolate and nuts, if using. Then use a spatula to fold the dough over on itself in the bowl for about thirty seconds, then transfer it to the buttered pan, pressing a bit to spread it to the corners. Let rise in a warm place for one hour.

Ten minutes before you're ready to bake the bread, preheat the oven to 350ºF (175ºC.)

Bake the bread for 35 to 40 minutes, until it feels done and sounds hollow when you tap it. You can stick an instant-read thermometer in the bottom if you're unsure; the bread is done when the temperature reads 180ºF (82Cº).
Notes: The equivalent amount of fresh yeast to one packet of dry yeast is .6 ounces. I've not used instant or quick-rising yeast (also called rapid-rise, or levure boulangère instantanée in France), but if you do try it, please let me know how it works out. According to various websites from yeast suppliers (see below), you can use it in place of regular yeast. If you have questions about yeast, active dry or instant, I've included a few links below to the websites of various yeast companies, which you should find helpful.
In France, there really isn't any equivalent of bread flour. Due to the proliferation of bread machines, one can find farine pour pain or farine boulangère, but it usually has leavener already added. There's a 'hack' for making bread flour, in the links below.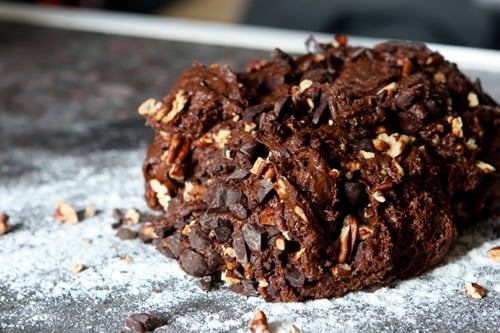 Related Links and Posts
Yeast FAQs (Red Star Yeast)
Bread World (Fleischmann's Yeast)
Ingredients for American Baking in Paris
How to Make Bread Flour (eHow)
King Arthur Bread Flour (King Arthur Baker's Catalog)
James Beard's Amazing Persimmon Bread