Every once in a while there are contests in Paris to decide who makes the best croissant, a hot new restaurant list get published somewhere, or a market way on the other side of Paris that supposedly has great onions grown in the same soil where Louis the XIV once took a squat, becomes a "must visit". It's pretty encouraging to see and hear about new places, especially when it's a young baker or chef getting some recognition for maintaining the high-quality of one of France's emblematic pastries or breads. And often I add the restaurant to my hand-scribbled list in hopes of one day being able to say "I've been there!" (The jury is still out on those onions, though.)
When I moved here years ago, I'd gladly cross the city to find and taste all these things. I remember one day tracking down what was known as the best croissant in Paris, as mentioned in an issue of The Art of Eating. At the urging of a visiting friend, we trekked out to some distant bakery in the far-away fourteenth arrondissement, only to find the baker closing up shop for his mid-day break. There seems to be a corollary around here: The longer you have to travel to get somewhere, the more likely it is to be closed when you get there.
But the longer one lives in Paris, the more one stays in their neighborhood for their daily needs. Personal relationships are very important here and once you get to know the local merchants and vendors at your market, it just feels right to get your baguette from the same corner bakery.
La fidélité has its rewards and the woman at my bakery knows how I like my baguette cooked. If I want a croissant, they'll go in the back and get one just out of the oven rather than giving me one that's been sitting in the basket on the counter. And when I get home from shopping at the market, there's no unpleasant surprises rotting away in the bottom of my bag of peaches.
This week, because of the cloud of volcanic ash that robbed me of my much-needed vacation, and because I gave my apartment to a friend in exchange for her house in the south this summer, I had the enviable task of moving out of my own apartment for a week. (On the plus side, I'm getting to spend time with her, which I don't get to do when we swap places. And I won't be complaining this summer when I'm relaxing in Provence over a glass or two of chilled rosé.)
So I'm staying with Romain, who lives near Barbès-Rochechouart, which is becoming an experiment in international living, and I'm discovering even more cultural differences. I've had to train him not to talk to me until I've finished at least half of my coffee in the morning. (Or until after 10 am, whichever comes first.) Plus he needs to get used to the fact that my iPhone is now the most important thing in my life.
Although phones and tranquility in the morning are both important to me (in that order), one must eat. And with the Barbès market just a few steps away, I set out this morning to round up some food. I grabbed my reusable nylon shopping bag, as well as my camera, which Romain warned me away from bringing—but I did anyways.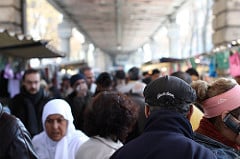 The Barbès market is located in what one might call a 'transitional' neighborhood, which means a lot of different types of people and ethnicities share the quartier. You'll find Africans dressed in brightly colored robes, Arabs haggling in their excitable voices, a few French people scoping out bargains, and an occasional American thrown in the mix. The market is a massive crush in places and I often think that if I picked up my legs, the crowd would simply carry my along, from one end to the other. If you don't like being jostled or having someone push you out of the way, you might want to stick to one of the tonier markets on the Left Bank. Although they still push you out of the way, too. It's just they use an Hermès tote.
Being part Arab, not much fazes me and I've learned one word, "تقدم!" which essentially means, "Get outta my way!" One just needs to remember that pushing people out of your path, and running over other people's feet with your shopping caddie, is a cultural difference. In New York, someone would deck you. Here, c'est normal.
Locavores, folks into organic produce, and those looking for specialty foods, wouldn't do so well at this market. The accent is on value and price, not necessarily quality. Hence thrifty Parisians shop here when they need to stockpile things like avocados, strawberries, and tangerines. Of course, cabbage and root vegetables are in good supply, and this is where I come in the winter to find unusual things like butternut squash, parsnips, and chile peppers.
There are vendors selling fin de series (end of the line) cheeses, sold at prices to get rid of them quickly, and industrial candy bars, which are stacked taller than I am. Today I saw an enormous display of jars of freeze-dried coffee and Cadbury chocolate chip cookies. I didn't buy either, but there was quite a frenzy around them.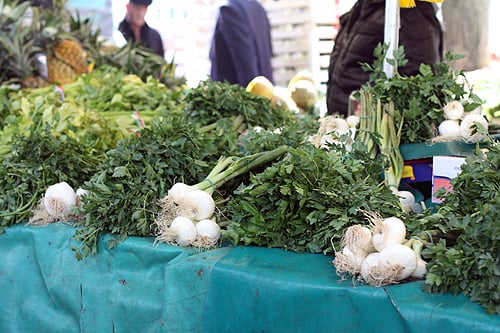 Part of the fun, depending on your idea of fun, is sorting through everything. Most of the stuff is in good shape. But because of the prices, some of the produce is nearing the end of its usefulness. So you'll see a few dings and browned tips here and there.
In your bag of strawberries, more than one or two will have soft spots, if you're not paying attention, a few overripe pears will find their way into the bottom of the bag the vendor insists on packing for you. But if you're one of those people that hates to see food go to waste, who doesn't mind picking around bumps and bruises, then you'll find the market as interesting as I do. It's easy to forget people living on more modest means that us, and markets like this remind us that although it's nice to be able to enjoy organic strawberries and artisan cheeses, unfortunately not everyone has access to those things. No matter where you live.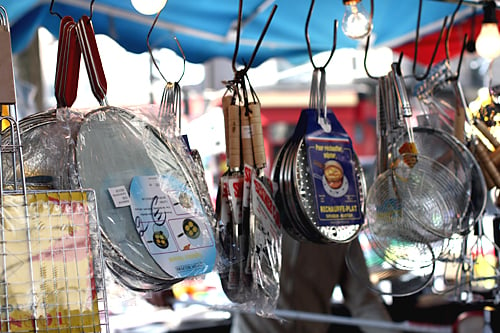 I, for one, always feel lucky to be able to stock up on olives. Like many of the ethnic markets in Paris, they're always very inexpensive and here they're sold for just €4 per kilo, about $2 per pound. Because of the halal influence, you won't find charcuterie or other pork products (I was surprised to see turkey bacon, although it was a processed product), but you will find red-hot, spicy merguez sausages sold by the rope-load, poulet fermier (farm chickens) for half the price you'd see elsewhere, and there's three excellent fishmongers tempting the shoppers who are lifting and poking the fish to ensure their freshness.
After my experience working with the fish boys, I have lots of respect for these folks. I scoped out everything from tiny, slender barracuda to the meanest looking octopus I ever saw. I settled on a Dorade sauvage, a hefty specimen which they gladly cleaned and gutted for me. The woman dressed in the blue rubber apron also told me how to cook it, as he handed it off to me.
On way home, overloaded with stuff—and I think I spent less than twenty euros, I passed a rôtisserie with beautifully bronzed chickens lolling on the spit. And lord help me, I couldn't help bringing one of those home, too. And for those who were following the saga of my crack baguette, some young men have taken over the bakery and are now producing quite decent baguettes and a few other breads.
I still miss my baguette sésame dearly, but the baguette paysanne I bought was quite good. They have a ways to go before they can win the prize of best baguette in Paris, but that's okay. I'm happy to support them in their efforts; the other places I'm sure aren't lacking for customers. And that crusty baguette is on the menu today with a container of green olive tapenade that the fellows selling olives gave me a deal on.
The Barbès market is a lot of fun, and very, very crowded. It's not the kind of place to go and snap a bunch of pictures: I got scolded a few times for taking pictures of lemons and carrots…I'm still not sure what the big deal is. (Actually, I do. Which I keep meaning to write a post about.) But it's a lively way to spend a Saturday morning, and with the métro rumbling overhead, the bins of inexpensive housewares to rifle through, and the overflow of plastic bags that I kept refusing, but they insisted I take, I felt like I won a small battle by the time I got back home.
So for the rest of the day, I'll be spending time steaming the two artichokes I got for a mere 20 centimes each, stuffing the Dorade with a generous handful of fresh herbs, slices of golden lime to tucked in the middle, and some nice spring onions before baking. Afterward I'll be infusing the bunch of fresh mint I got into a pot of steaming tisane (herb tea), and eating what's left of the strawberries I started to snack on before I left the market. But first, I've got some crispy chicken skin to deal with.
Barbès Market
Métro: Barbès Rochechouart
Wednesday and Saturday Morning, until about 2 pm
(Map)
Notes: The market is located just under the métro tracks and is across from the giant Tati discount store, which is also worth a visit if you've not been. Nearby is the Marché St. Pierre, a fantastic multi-storied fabric store, and Sacré Cœur church lords over the neighborhood as well.
Many of the fish shown don't correspond to anything commonly-known in the United States. I usually refer to my trusty A-Z Guide to French Food for obscure translation. But since I'm in exile, it's currently out of my hands.
As mentioned, the market is pretty animated. It's not dangerous, but if you go, do not keep your wallet in your back pocket, don't wear flashy jewelry, and leave valuables at home. Taking pictures is tolerated, somewhat, although you will get a lot of looks and is not really recommended unless you're pretty savvy in dealing with the locals.
And remember, "تقدم!"
Related Posts and Links
List of Paris Markets (Paris.fr)
The Truffle Market in Lalbenque
Le Marché de Barbès (La Goutte d'Or, in French)
Barbès Rochechouart (Wikipedia)