Wild Garlic (or Ramps) Pasta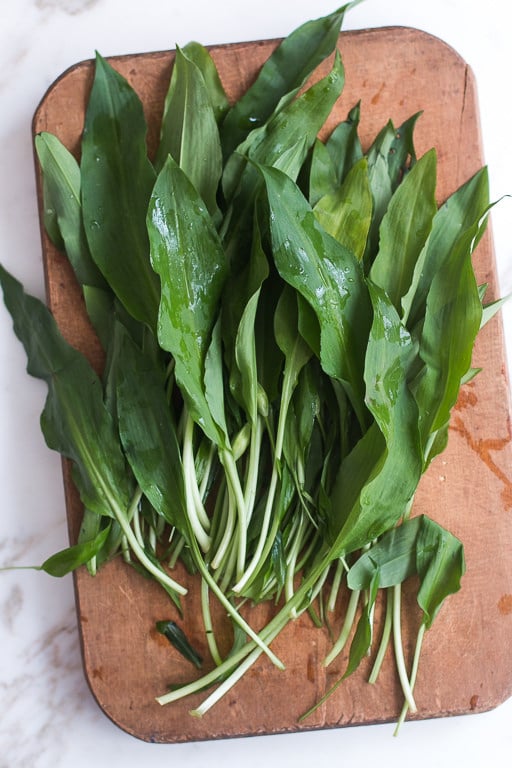 I've become weary – and wary – of the American aisles in European supermarkets. And have come to the conclusion that people think we all eat badly because we live on bottled salad dressings, orange cheese in squirt bottles, and strawberry Fluff, which is something I've never seen in America. And I like Fluff just fine. (Just the plain, though. The red scares me. However truth be told, I've been known to succumb to the magic of Lucky Charms, a long time ago.) But when that's the sole image representing American food, it's sad to me, because we've had a wonderful renaissance in the last few decades of marvelous farmers' markets sprouting up everywhere, even in the middle of the most urban city in the world, New York.
Of course, no one is exporting fresh American goat cheese to France, farm eggs, small-batch jams, or artisan honeys, since they have those things in abundance here. (And the French have their share of goofy foods, too, including unusual flavors of tinned ravioli, but they don't seem to make it across the Atlantic.)
In Switzerland recently, while touring with my group, I noticed at the sweet little auberge near Lausanne where we had dinner the final night, that the blackboard propping the door open said the plat du jour was fondue with bear's garlic (ail des ours). Although lunch that day was cheese beignets, and dinner the night before was fondue at Café Grütli, and we'd had a cheese-tasting that afternoon at a cheese-ripening cave, for some reason, I was hungry for yet another hit of melted cheese. Happily, the owner was kind enough to bring me, and my group, a small pot for a taste. And let me tell you, if we weren't facing another full-on dinner of Swiss food, I would have scraped that entire pot clean.
Bear's garlic is known as alliuym ursinum, whose leaves are similar to ramps (allium tricoccum), but there are no bulbs on the ends. (I've seen it called ramson, and it's often referred to as wild garlic, in English as well.)
Ramps, which are closely related to bear's or wild garlic, are a big deal in the United States and apparently their first appearance provokes a frenzy at farmers' markets when just the last few bunches of them remain at farm stands. I can't say I've ever seen them in Paris, and I was surprised (and delighted) to see bear's garlic at my local market at the stand of the woman that sells odd root vegetables – like orange-colored beets, parsley roots, and watermelon radishes – and immediately asked for a bunch.
Ours is one of those tongue-twisting words that can be a challenge for English-speakers to get right (well, at least me), and the vendor had no idea what I was asking for when I requested a bunch. Ours is pronounced, according to my Larousse French dictionary, as urs. I knew she knew what ail des ours was, since she was selling it. But no one behind me in line did. And, as so often happens at outdoor markets in Paris, it prompted a discussion from the others, asking about what it was that I was buying. When I said that it had a specific fresh garlic flavor, reminiscent of very strong chives as well, I don't think I was winning them over. But I was thrilled to have a bunch to prepare last weekend.
(I should have said that the bear's garlic was "Très bon pour la santé", or "Good for your health," since I use that to convince reluctant people here to try new things that they are skeptical of and it always works. When I was trying to find out why it's called bear's garlic, I was led to a bunch of health websites, like WebMD, that said that people take bear's garlic for indigestion, gas, high blood pressure, and arteriosclerosis. Another site said that it got its name because bears in Europe ate it.)
I was hoping to make a fondue but with the warmer weather we're been having, I decided me to go with fresh pasta. And honestly, when you have something special, it's sometimes best just to do as little to it as possible. Which I did.
Wild Garlic Pasta
We don't get ramps in France, at least I've never seen them. But I am certain you can use those in place of the bears' garlic. Since they have tiny bulbs at the bottom, you may need to trim those and sauté them first, before adding the leaves, as they will take a bit longer to soften. Ramps can be less-strong in flavor than wild garlic. So if you want to use them, you could use up to 8 ounces (225g.) It's vital to use
fresh pasta
, which you can make yourself – I used the recipe from
My Paris Kitchen
, without adding fresh herbs – or you can use the recipe for fresh pasta here on the site. You'll need about 1 1/4 pounds (565g) – my recipe is generous because I love homemade pasta so much, so you can dry the rest of the batch to use for another purpose. (Or freeze the leftover dough.) I cut my noodles wide, by hand, creating what's called papparadelli. You can use fettucini-shaped pasta if you have a pasta cutter attachment, or are buying fresh pasta. Gnocchi would work well, too. I shaved a bit of ricotta salata (dried ricotta), a mild Italian cheese that my local Italian restaurant has been selling me, with an agreeable tang that doesn't interfere with other flavors, over each serving. But I didn't snap a picture of them as it was getting dark – and I was hungry! So feel free to do so, if you can get your hands on some.
6 to 8

ounces (170g to 225g)

wild garlic

,

or ramps

3

tablespoons

olive oil

,

plus extra for finishing the pasta

1 1/4

pounds (565g)

fresh pasta

sea salt

fresh ground black pepper
Wash and dry the leaves of wild garlic (or ramps). Coarsely chop the leaves. You should have 1 1/2 to 2 cups, loosely packed. (If using ramps, trim off the thicker bulbs before chopping the leaves, and sauté them in the pan first, since they'll take a bit longer to cook through than the leaves, in step #4.)

Bring a big pot of salted water to a boil.

Heat the oil in a large skillet. When hot, add the wild garlic, seasoning with salt and pepper.

Meanwhile, drop the pasta in the boiling water. While the pasta is cooking, stir the garlic in the pan until it's wilted and soft.

When the pasta is done, drain well then toss in the skillet with the garlic.

Divide the pasta among 4 bowls and drizzle each with additional olive oil and a sprinkle of salt, if desired.
Related Recipes and Links
Bear's Garlic Pesto (Sweet Pea)
Wild Garlic and Asparagus Risotto (Lovely Greens)
History of the popularity of ramps (Grub Street)
Pasta with Stinging Nettles and Ramps Pesto (Sassy Radish)
Ravenous for Ramps (Gourmet)
Wet and wild garlic risotto (The Guardian)
Wild Garlic Hummus (Nami-Nami)
Wild Garlic Butter (A Life of Geekery)