Lockhart Smokehouse BBQ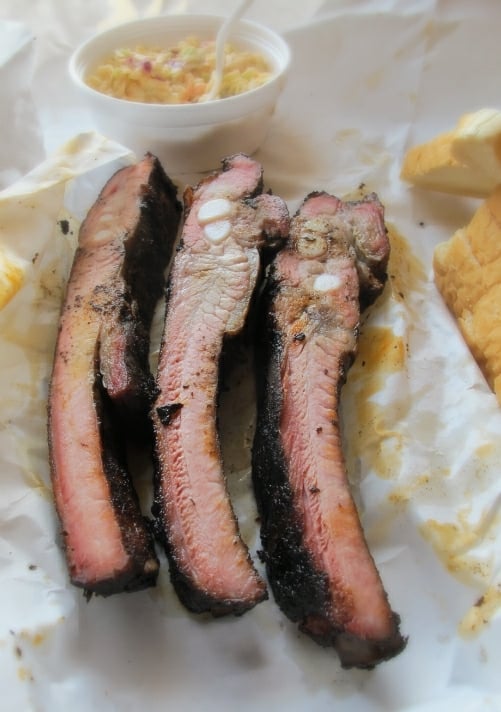 It takes me a few days to readjust to life when I come back to the U.S.A. On our last trip, as we stepped off the plane at Dulles, we were confronted with a huge picture of a giant overstuffed sandwich plastered on the wall of a restaurant, which was aptly named, Potbelly. Like the clever titling of The Pretty Kitty salon that I passed the other day in Dallas, whose speciality was Brazilian waxing, I admired the witty double-meaning. (Albeit referring to a place a little farther south.) But I had assumed the only places where a big belly was à la mode were Polynesian places like Guam and Hawaii. Years back, I did an event with a bunch of nice Hawaiians on the Big Island, who invited me to an after-party. Hûi! I'd never seen so much unrestrained indulging in my life. It was funny being at a party where their weren't many people, but it was very crowded nonetheless because a big belly is a sign of contentment. (Am not sure what a Brazilian waxing is a sign of.)
After arrival in the States, some things I get up-to-speed with right away – customer service, sidewalks not being a constant game of "chicken", folks politely apologizing if they happen to get in your way, and clean public bathrooms. Other things, like men calling each other "bro", waiters stopping by every three minutes to see if anything has changed since the last three minutes that they stopped by to ask you if everything is okay, the proliferation of cooking as a competitive activity, and total strangers taking an intense interest in your welfare: My hotel was kind enough to call my room two hours after I'd arrived, after eleven hours of flying, to see if everything was okay. I wanted to say, Well, it was…until you called and woke me up." But slipping into my polite American mode, I mumbled under my fog of jet lag into the phone, "Everything is okay" instead of saying, "Actually, no, everything is no longer okay. You woke me up and now it's going to take me seven hours to get back to sleep."
After a good night of one-and-a-half hours of sleep, revived, the next morning I decided to walk to the Apple store to get my phone fixed. My map app said it was about thirty-five minutes away by foot, which seemed reasonable to me. And I thought it'd be nice to take a stroll through town and see a bit of Dallas. Yet the friendly folks at the front desk of my hotel were momentarily stunned, their faces frozen with mouths agape, when I told them I had wanted to walk somewhere. They warned me of how far it was, and since it didn't seem all that far to me (which says something about how long I've been away…), I slipped on my shoes and took the plunge.
Other than walking, another hazard of traveling – and eating – is that no matter where you go, someone is going to tell you that you should have gone somewhere else, that another place – somewhere that you didn't go – is much better than the place that you did go to. So it was with trepidation that I mentioned that I was going out for bbq in Dallas on social media. To be honest, the worst bbq is Texas is better than what I'm used to back home (although that may be about to change), and after trusting hundreds of reviews on Yelp for another place in Dallas (not bbq) where I had an extraordinarily mediocre dinner, I'm not entirely convinced of the merits of crowdsourcing where you're going to eat.
Still, Lockhart Smokehouse BBQ came highly recommended by everyone. Like hummus joints in Jerusalem, everyone in Texas (and Kansas) has their opinion of who makes the best bbq. Even my new friends at the front desk of my hotel (in spite of our rocky start..), engaged in a lively discussion with me about bbq. Since I was car-less, the place that was four hours away was clearly out of the question (then they would have been allowed to look at me like I was crazy if I suggested walking), someone from the hotel offered to drop me off at Lockhart.
I got to Lockhart right as they opened, at 11am, and I wasn't the only one hovering around the ordering counter, hungry for Texas bbq. The fellow presiding over the back counter was pulling jalapeño sausage links out of the smoker and while I didn't think I could manage an entire link on my own, I was more excited by the charred mounds of steaming meat he was hefting from the smoker with a long, sharp fork. I ordered some slices of brisket, a few pork ribs, and beef clod. As he sliced each piece for me, he'd put the warm pile of meat in front of me, and ask if that was enough. "Er, how about one more?" I kept saying, not knowing what I was getting myself in to.
When all was said and done, and weighed (which fortunately, wasn't me on the way out…), I realized that I'd ordered over a pound of ribs and a pound of sliced beef. If I had only had the ribs, I wouldn't have been as excited. But the brisket – yo, bro, the brisket! When he asked me if I wanted "Lean, or moist?", I'd instinctively answered "Moist", which was obviously the correct answer. The muscular shoulder clod was, indeed, muscular. But each slice of beef brisket was juicy, pull-apart tender, and clearly well-worth the drive. Or even a six mile walk.
Realizing that I gave it my best shot early on in this trip by tackling nearly 2-pounds of meat all by my lonesome, dinner that night was a chopped vegetable salad at a nearby restaurant (I asked them to hold the meat), and I stopped by a store to get some provisions, to help me survive the rest of the trip.