"Do you want Texas barbeque, or Mexican food?"
Honestly, have you ever heard such sweeter words?
When my friend picked me up by the airport in Austin, those were the first words out of his mouth. How did he know?
Since I'd never ventured out much into the outskirts of the cities in Texas (it's hard when you don't have a car, or time), here was my chance, and after much careful consideration—okay, maybe about four seconds of discussion, we floored it outta Austin.

When we pulled up to Kreuz Market, it looked like nothing much; a big, old abandoned-looking building with a dusty parking lot.
The pit boss recommended the beef brisket, which didn't take much prodding to get us to order. The beef shoulder, which was described on the chalkboard as "lean" sounded good. And seeing as I love pork and lamb shoulder, we ordered a few hunks of that, as well as a couple of racks of beef ribs.
After being weighed, the cashier plunked everything in the middle of a few sheets of heavy-duty paper, tossed in a half a loaf of sliced white bread, gathered up the corners, and slid it across the counter in my direction.
After stopping at the counter next door for pickles, raw onions, and Arnold Palmers—iced tea and lemonade, we headed to out table and started picking at the heap 'o meat between us.
I know meat-eating probably isn't so good for the planet, but I've noted in America, even though everything is heavily air-conditioned and the cars are HUGE, everyone is concerned about going green and offsetting their carbon footprint. Since I don't own a car, nor do I have AC, I didn't feel too guilty about overindulging. (God bless America!) Plus we did our part…as good Americans, bien sûr…since no plates or silverware get used at Kreuz's: just drip on the bright-red hot sauce, and dig in with your fingers.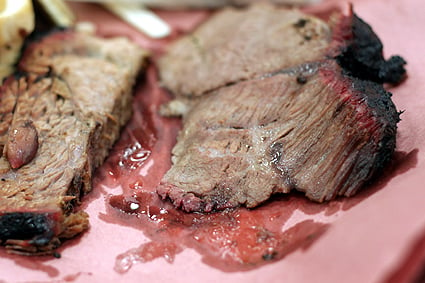 We weren't too wowed by the beef shoulder (my wallet would have been easier to chew), but the brisket and ribs were like salt-crusted, sauce-slathered morsels of meat from heaven. The meat on the ribs just slid from the bone and the brisket was so tender, and perfectly moist, it might make even a vegetarian fall off the wagon. I was a vegetarian for a number of years until I was felled by a corned beef sandwich, piled high on warm rye with Hebrew National mustard many moons ago, so I speak on good authority.
Now I'm off in search of Mexican food.
Once I finish digesting that mound of Texas 'Q…
Kreuz Market
619 N. Colorado St.
Lockhart, TX
(512) 398-2361