Bacon and Radicchio Risotto
I don't make risotto nearly as much as I should. I never order it in a restaurant unless I'm absolutely sure they're going to do it right because there's nothing worse than a not-very-good risotto. But there's nothing better than a good one. Especially a good one with bacon in it.
One night, back when I was working at Chez Panisse, Paul Bertolli, one of the world's great cooks (Italian, and otherwise), was standing over the stove, tending to steamy pots of risotto for diners. So I go over to him and ask him for a lesson. And he was happy to teach me. As he presided over several pots of barely simmering rice, I got a few pointers from him.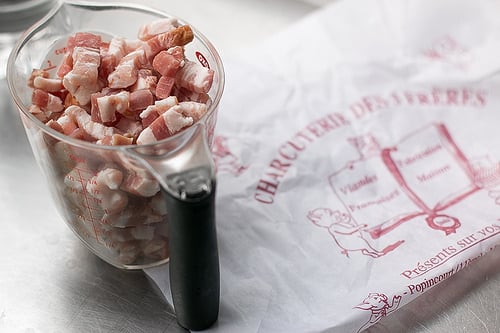 The first tip he said was to use turkey stock if you can, which he said was more flavorful than chicken stock. The second tip was, as you go, to add more stock only when there was just a thin layer, ¼ inch (1cm), of starchy, cloudy liquid floating on the surface of the rice. Risotto is an emulsion, and like any emulsion, you try not to break them during cooking. So add the stock as studiously as possible.
Lastly, when you stir the rice, make sure to knock any rice grains off the stirring utensil, back into the pot.
Same with any rice grains sticking to the side of the pot after stirring. Knock 'em off!
Those errant grains won't cook at the same rate as the rice in the pot so you'll have some uneven grains of rice in your risotto when it's finished.
We never talked about what kind of rice to use, but most Italians have told me that carnaroli rice is better for risotto than arborio, so that's what I use. It's said to be starchier, resulting in a richer dish. I don't argue with Italians so you can use either.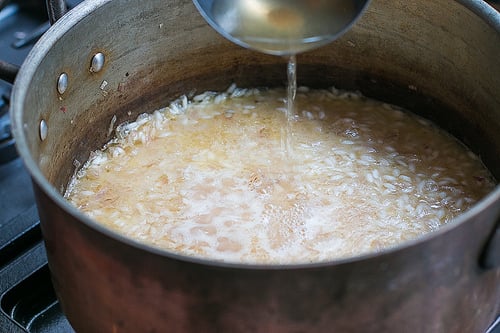 And perhaps I might get in trouble for going rogue, but I sometimes use pecorino or asiago in risotto, which may or may not be authentic, but sometimes it's hard to cook with the authenticity police peering over your shoulder. And let's face it, if you're going to eat it, then you can do what you want.
Here I used some gorgeous red chicory that one of the producteurs (producers) has been selling at the market. I first thought it was radicchio, but it's less bitter. I don't mind bitterness. In fact, bitter greens go well in risotto, a nice contrast with the starchiness of the rice and the richly reduced stock. So I make it with either.
To me, a bowl of risotto is a complete meal, although you know you're in France when guests look around the table, and ask for the bread to go with the rice. And darn if my guests didn't use the bread (which I've learned to have, just in case…) to sop up the rice. But traditionally risotto is served in a mound in the center of the bowl, meant to be eaten from the outside – where it's cooler – keeping the thicker center warm, until you get there. The best accompaniment is a bottle of nice white wine, some Italian cheese to grate over the top, and, depending on where you're from, perhaps some bread.
Bacon and Radicchio Risotto
Because the bacon, the stock, and the cheese all have salt in them, use a light hand with it when seasoning the rice and shallots. You can swap out another green in place of the radicchio. I recommend something strongly flavored, such as kale, mustard greens, or arugula. I had some leftover duck meat from another project, so feel free to add some if you want to make the risotto feel more like a main course. For a vegetarian version, leave out the bacon and add about 1 1/2 cups (200g) sautéed mushrooms, bite-sized pieces of steamed or oven-roasted asparagus, or peas, and use vegetable stock. If you don't drink alcohol, omit the white wine and add a squeeze of lemon juice at the beginning, with the first addition of stock, to add a touch of acidity.
8

cups (390g)

torn radicchio leaves

sea salt

fresh ground black pepper

6

cups (1.5L)

chicken or turkey stock

,

(preferably homemade)

1/3

cup (60g)

peeled and minced shallots

1 1/4

cups (240g)

carnaroli or arborio rice

1/2

cup (125ml)

dry white wine

1 1/2

teaspoons

minced fresh thyme

optional: 2

cups (260g)

diced (in small pieces) cooked chicken or duck meat

1

cup (90g)

grated Parmesan

,

asiago, or pecorino cheese, plus additional for finishing
In a wide saucepan, fry the bacon over moderate heat until just crisp on the outside, but not overcooked. Remove the bacon bits with a slotted spoon and drain on paper towels.

Wipe excess bacon fat from the pan add the radicchio, seasoning it lightly with salt and pepper. Cover, and cook, stirring a few times while it's cooking, until wilted, about 5 minutes. Remove from heat, uncover, and let come to room temperature. Once cool enough to handle, chop the radicchio into bite-size pieces, and set aside.

Heat the stock in a saucepan and keep it warm while you make the risotto.

Melt the 2 tablespoons of butter in the wide saucepan and add the shallots. Cook, stirring constantly until translucent. Add the rice and cook another minute, stirring. Add the wine and continue to cook until the wine is completely absorbed by the rice.

Using a ladle, add enough of the warm stock to cover the rice, enough so there is about 1/4-inch (1cm) liquid above the rice. Continue to cook at a gentle simmer, stirring frequently, adding more warm stock as you go, making sure there is no more than 1/2-inch (1cm) of liquid on the surface.

When you've added almost all but the last few ladlesful of the stock, stir in the thyme, bacon, and radicchio. Continue cooking, adding the rest of the stock (and the chicken or duck, if using), until all the liquid has been added. It's done when you taste a few grains of rice, and they are cooked through. If not, continue cooking, adding a bit of hot water or more stock if you have it, until it's the right consistency.

Stir in the additional tablespoon of butter and the grated cheese. Remove the risotto from the heat, cover, and let stand a few minutes before serving. Serve in warm bowls, with additional grated cheese on top.