Rose Sangria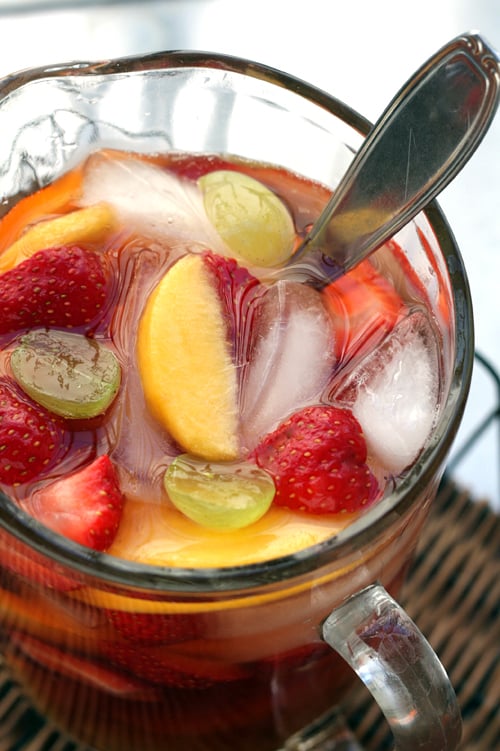 Summer in France means a lot of things in France. En masse vacations, a blissfully empty Paris, price increases (which notoriously happen during August, when everyone is out of town – of course), and vide-greniers and brocantes, known elsewhere as flea markets, where people sell all kinds of things. If you're lucky enough to take a trip to the countryside, the brocantes are amazing. But some small towns in France also have little antique shops that are always worth poking around in. And when your other half has a station wagon, well, the possibilities are endless. (And sometimes voluminous!)
I was buying vintage linen sheets in one shop that were gorgeous; the nice fellow was offering them at €10 each, and I snapped up all of them. After a good soaking in OxiClean, they were as beautiful as new. (Actually, there were better than new. Because if they were new, they would have been ten times more expensive.) On the way out of the place, I spotted a small glass pitcher which was priced at €9 in the far corner of the window, which the owner gave me for half-price. And what immediately came to mind was to use it for sangria.
I'm pretty sure I'm in some kind of trouble for using rosé instead of red wine, but hear me out. The rosé I had on hand was super dark, almost maroon. So I may, or may not, be in the clear. But the important thing is that everyone was happy with the results. I was happy to find a use for that darkish bottle of rosé that was waiting to be used before summer slipped away, my new pitcher worked like a charm, and picture me sleeping pretty on new sheets. On second thought, maybe just think about the pretty pitcher.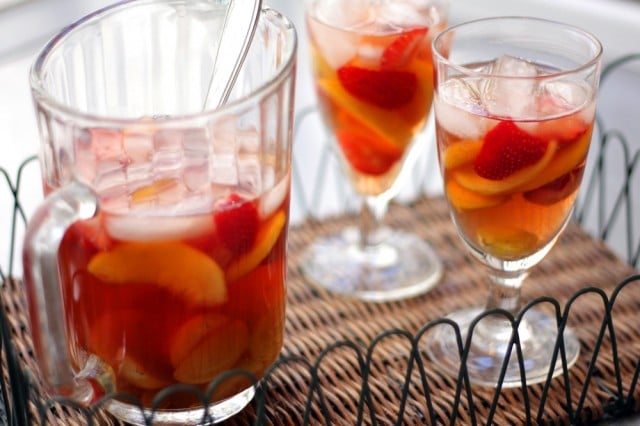 Since it's summer, I dropped in some peeled and sliced peaches, strawberries cut into quarters, and grapes, just because I saw bunches of them at the market from Italy. Of course, you can use other fruit such as sliced oranges or lemon, apples, cherries, pineapple, or what-have-you. And if you want to switch to red wine, be my guest. But not at my place, because I've got nice clean sheets and don't want to stain them. Not that I ever drink wine in bed. But if you saw the sheets, I don't think you could resist the temptation to hop at any and all times, either.

| | |
| --- | --- |
| Rose Sangria | Print Recipe |
Some folks use sparkling lemonade or another not-too-sweet soda in place of the sparkling water. But don't fret about using a fancy wine; for most fortified wine-based drinks, people use the inexpensive stuff, which a chef friend of mine who works with a prestigious Bordeaux château, told me was obligatoire. Speaking of fancy wines, in place of the sparkling water, you could add a sparkling wine instead – a cava, prosecco, or cremant would do nicely. You'll noticed I iced my sangria down with a few cubes in the pitcher because I had forgotten to chill the rosé and was planning to serve it shortly after I made it. (Uh, as in, right away!) But it's best to chill the mixture with the fruit for a few hours to let them meld and macerate, then add ice to individual glasses.
1/4
cup (60ml)
Triple Sec,
Grand Marnier, or Cointreau
1
cup (200g)
halved seedless grapes
1
cup (180g)
quartered strawberries
1-2
peaches or nectarines,
sliced, peeled
optional: 1-2
tablespoons
sugar
1
cup (250ml)
chilled sparkling water
1. Pour the rosé into a pitcher.
2. Stir in the Triple Sec, brandy and the fruit. Taste, and add sugar, if desired.
3. Chill for a few hours. Right before serving, add the sparkling water to the pitcher, then pour the sangria into glasses and add ice.