Nach Waxman's Beef Brisket
Over the holidays, we were in the U.S. to spend time with my family (and – gulp – to see my editor…), and I made brisket for Romain. He doesn't like bœuf bourguignon, because it he says it's always "dry," so decided for a treat, I'd make brisket, a beef dish that is anything but.
Because I'm such a champ, I actually made it a few different times, because I had access to brisket meat, which becomes ridiculously tender when cooked over the course of several hours. The French are big eaters of beef, but beef in France is less-marbled, and the breeds are different (which is why some French restaurants and butchers are also offering imported beef, often from America and Ireland), and after the first bite, he declared brisket the best beef dish he's ever had. All I know is that I now have to make brisket more often, to keep the peace at home.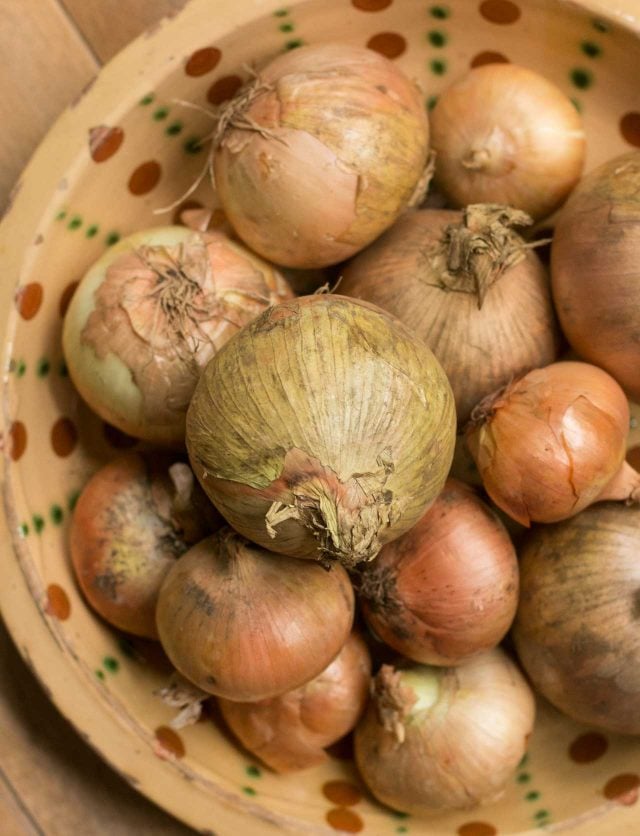 And I kept my word on that, and during the week between Christmas and New Year's, I made a brisket one last time for the year. (If you live in France, to find the French equivalent of brisket meat, check out my post on Homemade Corned Beef.)
I worked on a couple of recipes, one using vinegar, another using beef stock. Doing some searching, I've seen brisket recipes that use everything from kimchi to red wine. And I was especially intrigued by this Brisket in Sweet-and-Sour Sauce, which has both wine and Coca-Cola in it. But I know from taste-memory that none of my aunts, who were all-star brisket bakers, ever put wine (or fermented cabbage) in theirs, unless it was Manischewitz. In which case, it was highly likely that they wanted to open the bottle "to take a snort," as my grandmother would say when she drank her nightly glass – or glasses – of Scotch.
While having lunch with a friend of mine while in New York, the subject of brisket came up, and she said, "You know what the secret to making the best brisket is? Use the same weight of onions as the weight of the beef…and a lot of fat." And that made me think of Nach Waxman's famous brisket recipe, which uses eight onions and zero liquid.
It was a bit of a chore to chop all those onions up, although it was easier after I went to the market myself, after sending Romain and he came back with petits oignons, which I replaced with ones that size of American baseballs. Once I sliced them up (when he wasn't looking), the rest was smooth sailing.
Since there's no water, stock or wine added to this recipe, I wasn't confidence there would be enough liquid in the pot. But sure enough, when I lifted the lid during cooking, the half-cooked slab of beef was already floating in a bath of sweet onion juices. And when I took a sip to check the seasoning, it tasted like the best French onion soup imaginable. I sliced the beef up, sneaking a few more sips of the onion-rich broth, and put the slices of beef back in the pot to finish.
In addition to brisket, Romain learned about the wonders of fresh horseradish, which I've only seen them once in Paris; my local supermarket had a Festival de Racines display, a cart of root-vegetables, and I noticed a few horseradish roots tucked in amongst the parsnips and rutabagas, and snagged one of the craggy roots. (The cashier had no idea what it was.)
I can't tell you where to get one nowadays in Paris, unless you have Alsatian friends who might be willing to send you one from Alsace. Otherwise, you can use the jarred stuff, which makes a zippy sauce mixed with crème fraîche, or sour cream, to go along with the brisket.
Fortunately there's no shortage of crème fraîche in France, which is sold in supermarkets as sour cream is sold in the States. But I was at my fromagerie and got a tub from them. Theirs is extra, extra-thick, sticky, and so dense that you can barely drag a spoon through it. It's pretty much heaven in a pot.
I grated up my raifort root and marinated it in vinegar, careful not to take too close of a sniff. I did that once by accident when I was grating some up in a food processor and the searing heat blasted right up through my sinuses, and permanently singed the back of my eyeballs. As tempting as it is to fully take in that glorious, fiery smell – I don't recommend it.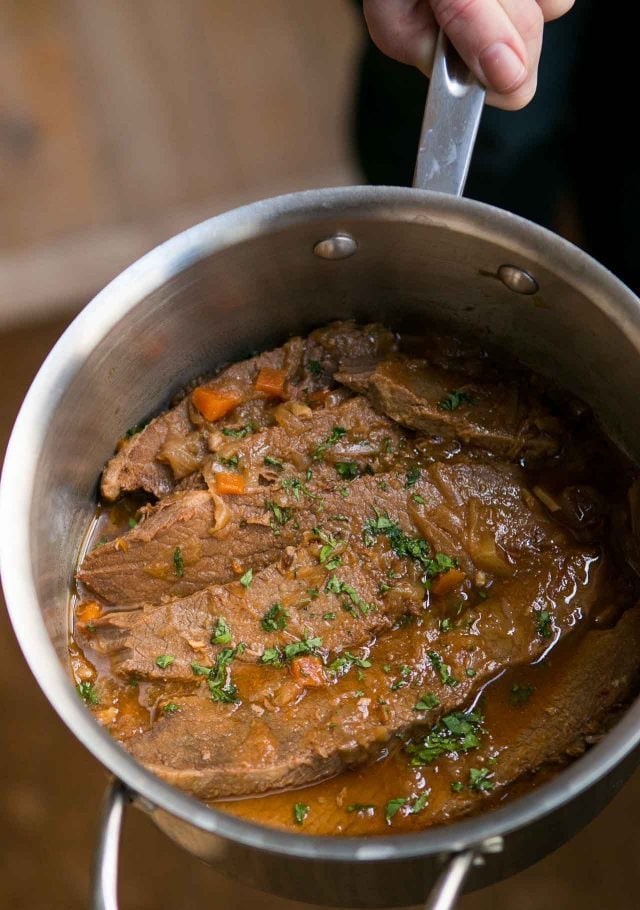 I didn't want to keep our brisket all to ourselves, so I invited friends for dinner, who are half-American, half-French. The dinner seemed to incorporate the best of both worlds, and good food tends to brings people together, no matter what cultures we're from. It's something we all seem to agree on. And in this case, everybody agreed: This recipe makes a great platter of brisket.
Nach Waxman's Brisket
This is slightly adapted from Nach Waxman's famous brisket recipe. Nach is the owner of
Kitchen Arts and Letters
, one of the world's great cookbook stores, in New York City. It's said that the first place it appeared was in
The Silver Palate New Basics
book. (And subsequently in
The Brisket Book: A Love Story with Recipes
.) This makes quite a bit of brisket. Mine was 6 pounds (2,75kg), which barely fit in the pan (and I used a very large pan), but it shrunk down considerably during cooking. My pot has a capacity of at least 8 quarts (7,5l) but you can also use a roasting pan that has a lid, or one that can be covered tightly with foil. This is one of those recipes that's better the second...or even the third... day. Leftovers freeze well, too. I added a bit of fish sauce, which is undetectable in the finished brisket but adds a savory undernote to the sauce. You can leave it out if you wish. If you live in France, I've given tips on where to find similar cuts of beef at my post:
Homemade corned beef
. Note that brisket is best if you salt the beef the day before.
6 pounds (2,75kg)

beef brisket

kosher or sea salt

2

teaspoons

flour

3

tablespoons

olive or vegetable oil

8

medium

onions, peeled and sliced

freshly-ground

black pepper

3

tablespoons

tomato paste

4

cloves

garlic

,

peeled and thinly sliced

1

tablespoon

fish sauce

,

(optional)

1

carrot

,

peeled and diced
Trim excess fat from the brisket, but leave a thin layer of it intact. Season it all over with salt, rubbing it into the meat. Put the brisket in a shallow baking dish, cover, and refrigerate overnight.

Sprinkle the brisket with the flour. Heat the oil in a large, wide pot or roasting pan over medium-high heat on the stovetop and brown the brisket on both sides, which will take about 10 to 15 minutes, total. Transfer the brisket back to the baking dish.

Preheat the oven to 350ºF (180ºC).

Lower the heat to medium and add the sliced onions to the pot, season them with a bit of salt and black pepper, and cook, stirring frequently, until they are soft, wilted, and golden brown. While cooking them, scrape up any stuck on bits of beef from the bottom of the pan, and stir them into the onions. If the pan is too dry and the onions are sticking to the bottom, add a tablespoon or so of water. The onions will take about 10 to 15 minutes to cook.

Add the brisket back to the pot, laying it over the onions, along with any juice that may have pooled in the dish it was resting in. Smear the tomato paste over the brisket, sprinkle with the fish sauce (if using), the garlic slices, and the diced carrots. Cover and cook in the oven for 1 1/2 hours, lifting the lid once or twice during cooking, to spoon any juices over the brisket.

Remove the pot from the oven and reduce the heat of the oven to 325ºF (160C). Set the brisket on a cutting board and slice it in 1/2-inch (1,25) slices against the grain, or thinner if you like, then place the slices back in the pot so that they are snugly overlapping, keeping them in the same order as they were when you sliced them. Cover the pot and bake for another 2 hours, or until tender. You can serve the brisket right away, or let it cool and refrigerate it overnight. (It's actually better served 2-3 days after it's baked.) The beef slices can be rewarmed in the pot along with the sauce.
Notes
Serving: The brisket can be served with roasted or boiled potatoes, mashed potatoes, or another root vegetable puree, with juices from the pot and the long-cooked onions. Roasted or boiled carrots are also a nice accompaniment.
Storage: The brisket will keep for 4 to 5 days in the refrigerator, or can be frozen for at least two months.
Horseradish Sauce: To make horseradish sauce, mix 1 cup (65g) of freshly grated (fine) horseradish with 2-3 tablespoons cider vinegar. (Add 1/2 teaspoon of sugar, if you wish.) Let it rest 30 minutes. Mix in 1 cups (240g) crème fraîche or sour cream and a pinch of salt. Taste, and add additional horseradish, vinegar, and salt if you wish. If it's too thick, it can be thinned with milk. The sauce will thicken if refrigerated. You can also make a similar sauce with prepared horseradish, mixing about half the amount of jarred horseradish with crème fraîche or sour cream, to taste.