Cheesecake Brownie Recipe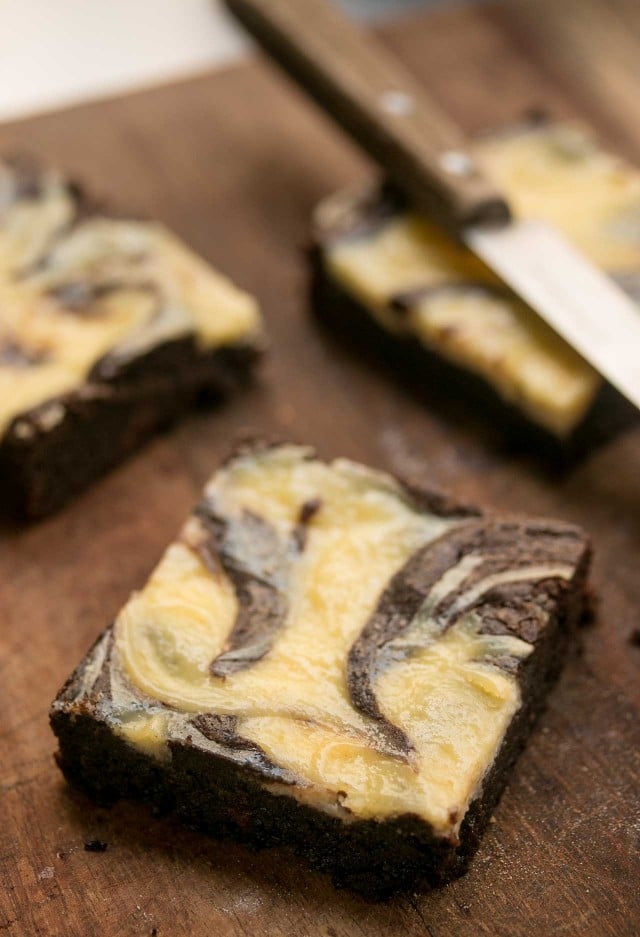 If you want to see a normally unflappable Parisian go into a little bit of a crazed frenzy, you don't need to watch their reaction to me mercilessly butcher their beautiful language. One just needs to utter a single word — cheesecake. As soon as I took the cream cheese out of the refrigerator this morning, my French other-half started circling the kitchen counter, to see what was up.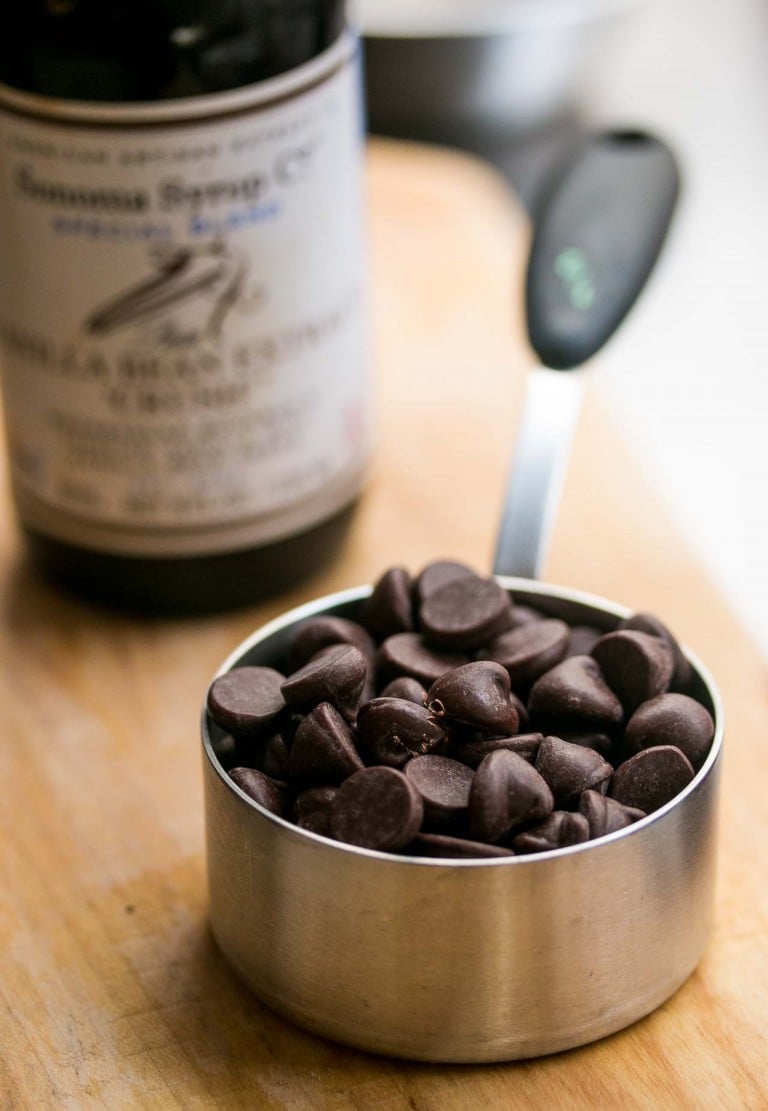 I've never met a French person whose face didn't soften and melt at the mere utterance of the word, and le cheesecake is always spoken of with a reverence normally reserved for the finest French cheeses and most exclusive wines.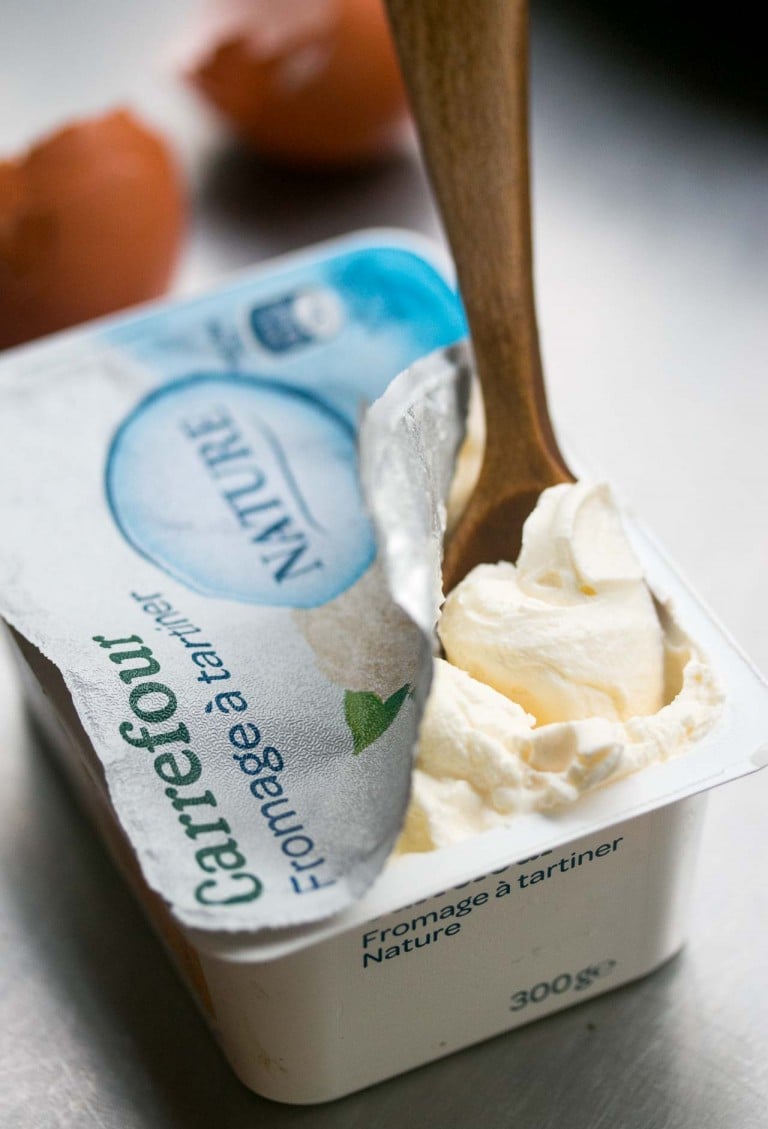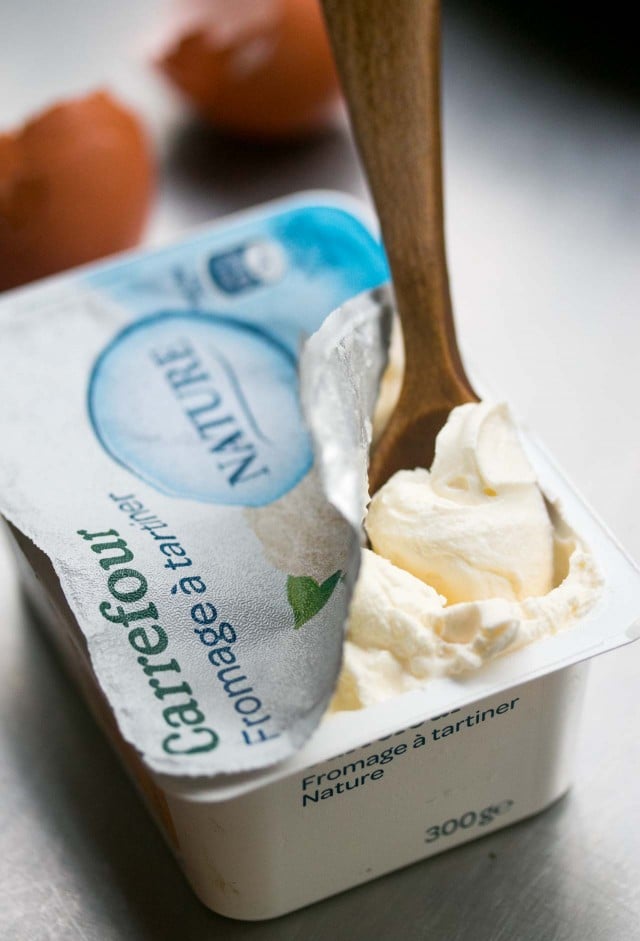 Just as popular as cheesecake has become in France, cream cheese is equally popular and is now widely available, called fromage à tartiner – or "spreading cheese." I decide to combine the two with another popular baked good on both sides of the Atlantic, brownies, wanting to show how marvelously the creamy topping melded with rich, deep-dark brownies, in one luscious, swirly bar.
These were a big hit and I had trouble keeping them around. Thankfully I stored a few in the freezer for myself, so I have a stash for the future. Am not sure if French people are ready to enjoy brownies straight out of the freezer, but that's okay, because I won't feel so bad about not sharing all of them.
Cheesecake Brownies
Adapted from
Ready for Dessert
(Ten Speed) For those of you who like higher brownies, use an 8-inch (20cm) pan.
For the brownies
6

tablespoons (85g)

unsalted butter

,

cut into pieces

4

ounces (115g)

bittersweet or semisweet chocolate

,

chopped

2/3

cup (130g)

sugar

2

large eggs

,

at room temperature

1/2

cup (70g)

flour

1

tablespoon

unsweetened cocoa powder

,

natural or Dutch process

1/8

teaspoon

salt

1

teaspoon

vanilla extract

1/2

cup (80g)

chocolate chips
For the cheesecake topping
8

ounces (225g)

cream cheese

,

at room temperature

1

large egg yolk

5

tablespoons (75g)

sugar

1/8

teaspoon

vanilla extract
Line a 9-inch (23cm) or 8-inch (20cm) square pan with foil, making sure it goes up all four sides. Use two sheets if necessary. Mist with non-stick spray or grease lightly.

Preheat oven to 350 degrees (180C).

In a medium saucepan, to make the brownie batter, melt the butter and chocolate over low heat, stirring until smooth. Remove from heat and beat in the 2/3 cup (130g) sugar, then the eggs.

Mix in the flour, cocoa powder and salt, then the vanilla and chocolate chips. Spread evenly in the prepared pan.

In a separate bowl for the cheesecake topping, beat together the cream cheese, the yolk, 5 tablespoons (75g) of sugar, and vanilla until smooth.

Distribute the cream cheese mixture in eight dollops across the top of the brownie mixture, then take a dull knife or spatula and swirl the cream cheese mixture with the chocolate batter. Rap the pan on a countertop a few times to let the batter and swirl settle together.

Bake until the batter in the center of the pan feels just set, 35 to 40 minutes.

Let cool, then lift the brownies out holding the foil and peel it away. Cut the brownies into squares.
Notes
Storage: These cheesecake brownies will keep in an airtight container for a couple of days. They also freeze well for up to two months. I recommend freezing them individually so you can remove them one at a time.